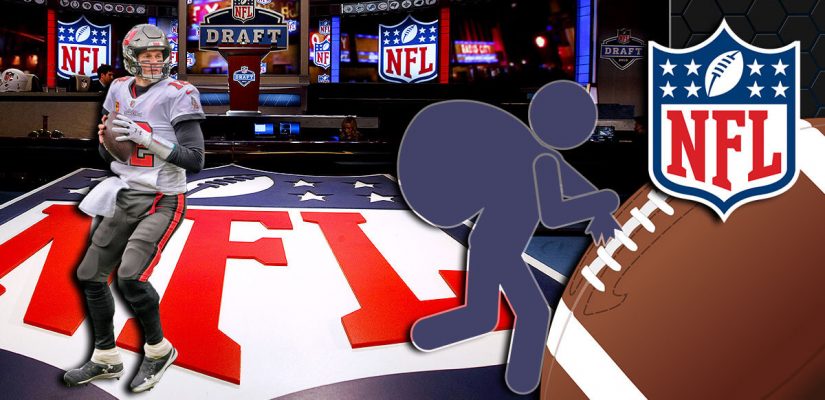 The NFL Draft is a long slog for a reason. All 32 NFL teams have to fill out 53-man rosters before each season. That's nearly 1,700 players on active rosters every NFL season, not counting expanded training camp rosters, practice squads, and the like. Teams use the seven-round draft every year as a way of adding talent and filling certain areas of need.
Needless to say, not every team nails every single draft pick every year.
Even the best draft minds have their fair share of hits and misses along the way. Lots of the busts are memorable. Ryan Leaf, JaMarcus Russell, and Trent Richardson are a few of the notable high-profile college stars that failed to live up to expectations at the NFL level.
Of course, we also remember the biggest NFL Draft steals. These are players that weren't expected to do much, if anything, at the NFL level before they went on to become stars. Tom Brady will go down as the prime example of this for the rest of his life. The Patriots infamously selected Brady with the 199th overall pick back in the 2000 draft, and he has since gone on to become the greatest player the league has ever seen. Good value, I'd say.
You know all about Brady by now, and there has been no shortage of coverage of his status as a great NFL Draft steal. Brady is far from the only mediocre prospect to shatter the expectations laid before him on draft day. These are the top 10 NFL Draft steals of all time.
Russell Wilson (Round 3, Pick 75)
Russell Wilson was something of an afterthought in a loaded 2012 draft class that also included Andrew Luck and Robert Griffin III. A total of five quarterbacks were drafted before the Seahawks called Wilson's name with the 75th overall pick. Back then, Wilson's height and age kept him from being a first-rounder. The 24-year-old was considerably older than every QB in that class not named Brandon Weeden. Former Heisman Trophy winner Chris Weinke said at the time of the 5'11" Wilson, "If he was 6–5, he'd probably be the No. 1 pick in the draft."
Whoops!

Naturally, every other team's loss was the Seahawks' gain. If NFL teams had the benefit of foresight back then, Wilson certainly would have been the top pick in that draft based on the career he's enjoyed ever since. Ryan Tannehill is the only quarterback selected ahead of Wilson that year still in the league.
Wilson seized the Seahawks' starting job out of training camp as a rookie and never looked back. He led Seattle to its first and only Super Bowl title in 2015 before nearly winning another the very next year. He's a nine-time Pro Bowler and a former Second-Team All-Pro. When it's all said and done, Wilson is likely to wind up in Canton as a first-ballot Pro Football Hall-of-Famer.
It should be interesting to see what the rest of his career has in store. The 33-year-old was traded to Denver this offseason after spending the first 10 years of his career in Seattle. Wilson will ultimately retire as the Seahawks' all-time leader in passing yards, passing touchdowns, completion percentage, completions, and QB rating.
Not too shabby for a former 75th overall pick.
Roger Staubach (Round 10, Pick 129)
The NFL Draft doesn't even have 10 rounds anymore, which tells you how long ago Roger Staubach was taken. Unlike most of the other top 10 NFL Draft steals, however, Staubach wasn't taken that late because teams doubted his talent. He won the 1963 Heisman Trophy, after all.
However, he had to embark on a stint in the Navy shortly after finishing college, so he didn't start his football career until five years after he was drafted 129th overall in '64 by the Dallas Cowboys. Interestingly enough, he was also a 16th-round selection of the AFL's Kansas City Chiefs that same year, but he would ultimately opt to play for Dallas in the NFL.
Fortunately for the Cowboys, Staubach was certainly worth the wait. All he would do after making his NFL debut was lead the Cowboys to a pair of Super Bowl titles, including the first in the team's illustrious history.
Staubach was a six-time Pro Bowler, a four-time passing yards leader, and the MVP of Super Bowl VI.
Staubach is still remembered as the greatest quarterback to ever play for the Cowboys, which is no small feat. Thanks to his future commitments to the Navy, Staubach is easily one of the biggest NFL Draft steals in league history. He was inducted into the team's Ring of Honor before earning permanent enshrinement in the Pro Football Hall of Fame in 1985.
Bart Starr (Round 17, Pick 200)
The NFL didn't have nearly as many teams back in the 1960s as it does now. Regardless, Bart Starr is still one of the most noteworthy NFL Draft steals of all time after he was selected with the 200th overall pick by Green Bay back in 1956. Football was a lot different back then for a variety of reasons.
Chief among those reasons is that teams didn't value the QB position the way they do now. Football was much more run-heavy back then, and throwing the ball was largely viewed as a risky endeavor. So, there was a lot more focus on running backs than there was on signal-callers. Starr helped change that, however. He led the Packers to five championships during his illustrious career, including victories in Super Bowls I and II.
Starr won the NFL MVP Award in 1966. He was a First-Team All-Pro that same year, and a Second-Team All-Pro thrice more. Starr retired in 1971 with the second-best passer rating in NFL history, trailing only Otto Graham. He is one of just six Packers to have had his jersey number (15) retired by the team, and he was inducted into the Hall of Fame in 1977.
Shannon Sharpe (Round 7, Pick 192)
Nowadays, you may think of Shannon Sharpe as just another "take artist" that spends most of his time yelling at Skip Bayless on TV. However, don't let his active career distract you from his status as one of the top 10 NFL Draft steals. Back in 1990, Sharpe was a little-known tight end coming out of a tiny college, Savannah State.
Despite a decorated college career and his status as the younger brother of Packers star wide receiver Sterling Sharpe, Shannon still wasn't taken until the seventh round by Denver in that year's draft. Most NFL scouts viewed the 6'2″, 230-pound Sharpe as too big to be a receiver but too small to play tight end at the pro level. In the end, every single one of the naysayers was proven wrong.
All Sharpe did from there was earn eight Pro Bowl nominations, four First-Team All-Pro selections, and a Second-Team All-Pro selection.
He was a key member of the Broncos' back-to-back Super Bowl teams in 1997-98, and he won a third championship in a four-year span with the Baltimore Ravens in 2000. Sharpe still holds the NFL record for most receiving yards in a game by a tight end with 214.
Over the course of 14 years in the league, Sharpe caught 815 passes for 10,060 yards with 62 touchdowns across just over 200 games. He was inducted into the Pro Football Hall of Fame in 2011.
Deacon Jones (Round 14, Pick 186)
One of the lowest picks on our list of top 10 NFL Draft steals is Deacon Jones, who was a flier of a 14th-round pick for the Los Angeles Rams back in 1961. Jones is now widely regarded as arguably the best defensive end in the history of the sport, and easily one of the best defensive players the game has ever seen.
The Rams were able to get the 6'5″, 275-pounder out of Mississippi Valley State in the latter stages of the '61 draft. All he did after that was earn two Defensive Player of the Year awards and eight Pro Bowl selection. He was a First-Team All-Pro five times and made the Second Team another three times. While Jones never won a Super Bowl, he did lead the NFL in sacks five times. His jersey No. 75 was retired by the Rams, as well.
No other player in league history has led the NFL in sacks as many as five times. He was inducted into the Hall of Fame in 1980 after 14 seasons with the Rams, San Diego Chargers, and Washington Redskins.
Joe Montana (Round 3, Pick 82)
Before Brady came along, Joe Montana was widely regarded as the most successful QB in NFL history. While the former 49ers standout has since been overshadowed by a few other greats from the modern era, Montana's legacy still lives on. What you may not remember is that Montana himself was once an NFL Draft steal, as well.
Despite a successful four-year career at Notre Dame, Montana wasn't viewed as a great prospect entering the pro ranks. His arm strength was viewed as a weakness by some scouts. In the end, San Francisco nabbed him with the 82nd overall pick in the third round of the 1979 draft. Three other quarterbacks – Jack Thompson, Phil Simms, and Steve Fuller – were all taken before Montana that year. Some of those general managers might like a mulligan.
Montana would go on to win four Super Bowl titles as a member of the 49ers. That record stood for a long time before Brady came along and subsequently shattered it. Montana won Super Bowl MVP in three of those games in addition to a pair of regular-season MVP trophies.
He made eight Pro Bowl appearances and earned an NFL Comeback Player of the Year award in 1986.
Montana wrapped up his career with two seasons with the Chiefs after the 49ers decided to replace him with another future Hall-of-Famer, Steve Young, in 1993. Going in the third round and enjoying a remarkable career afterward makes Montana one of the biggest NFL Draft steals we've ever seen.
Richard Dent (Round 8, Pick 203)
Richard Dent made a name for himself as a linchpin of the famed Chicago Bears defenses of the 1980s. He even earned Super Bowl MVP honors at Super Bowl XX with Chicago before going on to win another Lombardi Trophy several years later with the Niners.
Before starting his Hall-of-Fame career with Chicago in 1983, however, Dent wasn't much of a prospect. The Bears managed to nab the pass rusher with the 203rd overall pick in the eighth round in the '83 draft out of Tennessee State. Speed was his primary asset as a pass-rusher, and he set a Bears franchise record with 17.5 sacks in that legendary 1985 campaign
Dent returned to Chicago for a second stint with the Bears in 1995 before spending his final two seasons with Indianapolis and Philadelphia.
Dent earned a First-Team All-Pro nod in 1985 with three more Second-Team appearances. He was also named to four Pro Bowl rosters and twice led the NFL in forced fumbles.
Dent finally made his way into the Pro Football Hall of Fame as a part of the 2011 class.
Johnny Unitas (Round 9, Pick 102)
It's remarkable how many of the greatest quarterbacks in the history of the league rank among the biggest NFL Draft steals. We can add Johnny Unitas to that category, as well. The Pittsburgh Steelers actually nabbed the Louisville product with a ninth-round pick back in 1955, but he ultimately failed to make the team. Pittsburgh's coach, Walt Kiesling, admitted he thought Unitas wasn't actually smart enough to play quarterback at the NFL level.
A year later, Unitas latched on with the Baltimore Colts after impressing them during a tryout.
Following a shaky start as a backup, Unitas wound up setting a new rookie record for completion percentage (55.6) in his first year. Yeah, I'd say the bar for QBs was a pretty low one back in the day.
Unitas would go on to lead the NFL in passing yards and touchdowns in his first full season as the starter in 1957. He led the league in both categories four times apiece over the course of his career on his way to three league MVP awards and eight All-Pro selections. Unitas won a total of three NFL championships during his career, including a victory in Super Bowl V over the Dallas Cowboys.
Unitas' 10 Pro Bowl selections were a record for a QB until Brett Favre surpassed him in 2009. He also retired with a record 118 regular-season victories and earned enshrinement into the Pro Football Hall of Fame in 1978. I'd say that's a pretty impressive track record for a guy that was allegedly too dumb to play in the NFL.
Terrell Davis (Round 6, Pick 196)
While running backs once ruled the NFL, they're now relatively undervalued. The mantra now is that you can find a quality running back in the later rounds of the draft. Over the years, that's proven to be quite accurate. There is arguably no better example than Terrell Davis, who went from being a sixth-round selection to a Hall-of-Famer within just a few years.
Unfortunately, injuries limited Davis to just seven seasons of pro football, all with the Broncos.
He made the most of his limited time, however. Davis topped 1,000 rushing yards in each of his first four NFL seasons, including an astounding 2,008-yard outburst in the 1998 season. Denver won back-to-back Super Bowls with Davis leading the charge out of the backfield.
Davis was viewed as a long-shot to even make the Broncos' roster coming out of Georgia in 1995. By the time the season rolled around, however, he won the team's starting running back job and never looked back. That 1998 season was prolific enough to earn him NFL MVP honors, which is a rare accomplishment for a running back. He won Super Bowl MVP honors the same year. Davis was a three-time First-Team All-Pro and a three-time Pro Bowler, as well.
While his short career made his Hall of Fame case a complicated one, Davis did ultimately get voted in as a member of the 2017 class.
Kurt Warner (Undrafted)
Does an undrafted player count as one of the biggest NFL Draft steals of all time? Probably not, but I'm the one making the list, after all.
Kurt Warner is probably the most infamous rags-to-riches story in league history. In fact, they even made what appeared to be a terrible movie about his rise from grocery store worker to Hall-of-Fame NFL QB just last year. Warner competed for a spot on the Packers' roster after going undrafted out of Northern Iowa in 1994, but failed to make the team.
After bouncing around a few minor-league stops, Warner successfully made the 1999 Rams' roster as the backup to Trent Green. Warner was quickly thrust into duty when Green suffered a season-ending torn ACL in a preseason game and ascended to the top of the depth chart.
Thanks, in part, to an absolutely loaded offense featuring a slew of other future Hall-of-Famers in Marshall Faulk, Isaac Bruce, and Torry Holt, Warner and the Rams would go on to post one of the most electrifying and memorable offensive seasons in the history of the sport.
Warner threw for over 4,300 yards and 41 touchdowns with a completion percentage north of 65 percent in that first season before leading St. Louis to a Super Bowl title. Warner won MVP and Super Bowl MVP that year along with Pro Bowl and First-Team All-Pro selections. It was his first of two MVP awards in a three-year span, and he would later go on to find success as a member of the Arizona Cardinals.