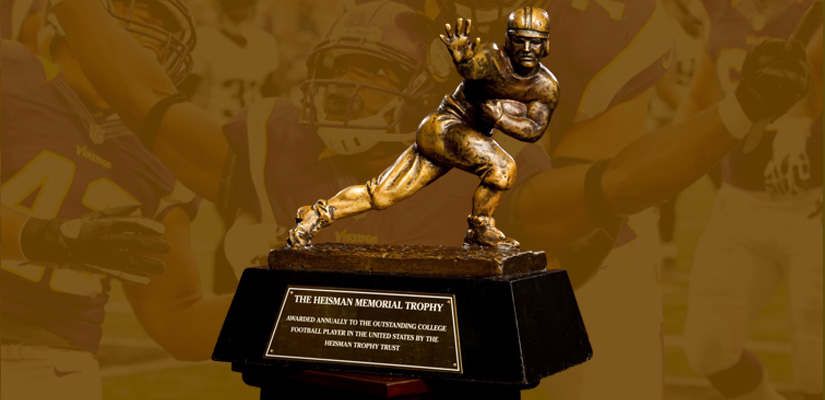 College football's best players will be back in action this weekend, and the Heisman chase will be on.
After looking up Bovada's odds for who will win the stiff-arming trophy, I realized something interesting. And that's the fact both the odds-on favorite and the second pick aren't my pick.
Even more interesting was some of the value picks that were buried within the 34 players they had listed to choose from on the prop. There are certainly a couple diamonds in the rough.
So below are the favorites who will be in the discussion at year's end and the dark horses I see making an impact.
The full list of Bovada's Heisman prop players can be found here. If you can't bet before the deadline this week, fear not. The prop will be opened again the following week, and the odds shouldn't shift much.
So without further ado, this is who I see factoring into what should be another highly-competitive race.
The Favorites
First off, it's worth briefly mentioning those high on Bovada's list who I'm not considering.
Dwayne Haskins (+1100) is near the top of the betting options. He'll be taking over QB duties at Ohio State for former Heisman contender JT Barrett. But considering the fact he's not the best player on his own offense and he's still a bit unproven, I'd pass on him.
Same goes for Penn State QB Trace McSorley. I think he'll see a drop in 2018 with three of his top four targets having left school. That includes a generational player in Saquon Barkley.
And while I like the young arm of Jake Fromm (+1500) at Georgia, I still think he'll play second-fiddle to the run game.
Clemson's Trevor Lawrence, meanwhile, may have a better chance than anyone previously listed. That is if he could only start for his own team. He will be out there in that role for the year's over. But it's reckless to expect that to be anytime soon with Clemson's easy early schedule.
With those out of the way, let's get to who you should consider at the top of college football's food-chain.
Bryce Love, RB, Stanford (+650)
Since the opening bets don't conclude for this prop until September 1st, potential bettors can take his opener against San Diego State into consideration.
Sure, it won't be as big as the games against the likes of Notre Dame or USC. But his performance against a pretty stout Aztecs' defense is a good early-season marker.
Love could've won the Heisman last season with his 2,118 yards and 19 rushing touchdowns. This year, behind one of the top five offensive lines in the nation, don't expect his numbers to deflate much, if at all.
Rushing for over 2,000 yards twice is almost unheard of. Troy Davis did it for Iowa State back in the 90's, and Ron Dayne did the same during his illustrious career at Wisconsin.
Stanford may try to balance out the offense a little more this season. They'll need to if they want to beat a team like the Fighting Irish on the road. That means K.J. Costello will get more opportunities through the air.
But again, it shouldn't budge Love much. I still expect him to come close to 2,000 yards rushing.
Tua Tagovailoa, QB, Alabama (+750)
The hype may prove to be real on this guy. But with such a small sample of work, it's odd to see him as the second-favorite for the Heisman.
He will be the starter this season for the Crimson Tide and will more than likely stay in that spot. He has more talent around him than pretty much any QB in the country and has a sturdy O-line placed in front of him.
Bringing a downfield throwing threat of this caliber to the Tide makes this offense as deadly as ever. Though Bama has had good offenses under Nick Saban, the defenses have gotten most of the praise in the past.
But not this year. This year, they're as balanced and electric as they've been during the Saban era. And that should open up all kinds of new options for the passing game, knowing opposing defenses have to respect a whole stable of good running backs too.
The only downside is that Tagovailoa wasn't as sharp as some remember him being in that championship game against Georgia, at least on the deeper passes. Of course, he got it when it counted against one of the nation's best defenses.
But it's better to pass on this option. If he were the seventh or eighth betting choice, I'd say that'd be a good value pick. But second overall at +750 is a little too much confidence for a guy who's only had 77 career pass attempts.
Jonathan Taylor, RB, Wisconsin (+850)
Life is good for Jonathan Taylor.
He has the best offensive line in college football pancaking defenders in front of him. He has the opportunity to join one of the best positional pedigrees (Wisconsin RBs) of all-time. And he will be getting plenty of carries to find that "Heisman moment."
It will be business as usual at Camp Randall. The offense there has long been in place and just keeps churning with no end in sight.
And unlike a lot of top running backs, like J.K. Dobbins at Ohio State and Damien Harris at Alabama, he doesn't have to worry about backups taking away some of his carries. He may wind up with way over 300 of them.
And he has a quarterback in Alex Hornibrook who can control the offense and keep defenses guessing just enough. Making sure defenses don't load the box is essential. If the quarterback has improved at all, he is setting up Taylor for bigger numbers than he had last year (1,977 rush yards, 13 rushing TDs).
And playing in the Big 10 against three potential top 10 opponents (Penn State, Michigan, and the Big 10 East winner) could make his Heisman pitch that much sweeter to voters.
Yes, Love will play some good teams. But Taylor has every chance to take advantage in his conference. And he's shown he can play big in big games, doing so as a true freshman.
Will Grier, QB, West Virginia (+1,100)
If there are four or five finalists this year, I fully expect Grier to make it to the ceremonies.
He already looked settled into the West Virginia offense in his first year starting there. And his relationship with star receivers David Sills and Gary Jennings is extremely tightknit. So there's no telling what these three can accomplish with another year together.
Dana Holgorsen has put together plenty of productive offenses over the years. But this may be the best long-range passer he's had at WVU. And while Grier may not be Pat White, who once torched defenses with his legs as a Mountaineer, Grier does have some athleticism in the pocket.
What he won't have in rushing numbers he will more than make up for through the air. He had nearly 3,500 yards and threw for 34 touchdowns in 2017. That latter stat was good for eighth in the nation despite the fact Grier missed most or all of the last three games.
Expect the WVU offense to still have plenty of balance with Kennedy McKoy and Alec Sinkfield at running back. Hopefully they'll expand their repertoire and end up as out-of-the-backfield threats.
If they do, Grier will have an embarrassment of riches when it comes to offensive weapons.
Khalil Tate, QB, Arizona (+1200)
Allow me to avoid sounding repetitive from all my other "Tate praising", as I'd call it. Let me start by going over Arizona's scheme changes and how they'll affect the quarterback.
With Rich Rodriguez out as head coach and Kevin Sumlin coming in, Tate will have to make some adjustments.
He will be throwing the ball more this season. Sumlin has stated his quarterback will be adapting to the coach's offense, not the other way around. But even though Tate gained a lot of praise for his rushing abilities last season, he can flat-out sling it around the yard.
He will also be required to make more reads and progressions on a down-by-down basis. It will be more of a challenge for him. It also could pay major dividends if he can make the proper modifications to his game.
Giving defenses a different look could be the best thing for Tate anyway. He was getting a bit too predictable at the end of last season. And it's not like Sumlin will be keeping him on a leash in the pocket.
I expect his numbers to go up in the ground game given he'll be starting four more games than he did last season. He already had 1,411 yards on the ground. His throwing numbers will see a huge spike from 1,591.
He may not combine for Lamar Jackson-like numbers. But he will have big enough marks in a power-five conference to get to New York in December.
The Dark Horses
This group of players is classified as +2000 or larger.
A couple names that just fit into this category are quarterbacks Shea Patterson (Michigan) and (Oklahoma) Kyler Murray. Both transferred from other power-five schools and both are starting for the first time at their new colleges.
Patterson has a little too big of a learning curve in Jim Harbaugh's offense for me to jump on his line.
And I don't think Murray is necessarily the savior Oklahoma is looking for. He can extend plays like Baker Mayfield did at Oklahoma. But he doesn't have the same pinpoint accuracy, even after posting crazy numbers in mop-up duty last season.
A couple other quarterbacks I like but not enough to go into detail over are Oregon's Justin Herbert (+3000) and Missouri's Drew Lock (+4500). I think Herbert will see a boost in numbers but will be overshadowed by QBs Tate and Jake Browning in the PAC-12.
And I think Lock hit his ceiling with Josh Heupel as his offensive coordinator. Derek Dooley is not necessarily a prized replacement.
Also worth noting are Houston's DT Ed Oliver and UCF's QB McKenzie Milton. These are two AAC performers who will post huge numbers. But the Heisman has not been kind to players at group of five or non-BCS qualifying schools in the past.
So with all that said, here's some value picks to consider.
Jake Browning, QB, Washington (+2500)
It seems like Browning has been at Washington for a decade.
It's also easy to forget how good his 2016 was after an average (for him) 2017. He threw for 19 touchdowns (only five picks), had a 68.5% completion percentage, and still was far below his numbers from the year before.
Whether he's capable of throwing 43 touchdowns, 3,430 yards, and a 167.5 passer's rating depends on the quality of his receivers. Key departures definitely hurt his figures last year. Losing lead receiver Dante Pettis may set him back a bit this year too.
But if the offensive line is as improved as expected, Browning's numbers should at the very least level out. The O-line gave up the 33rd-least amount of sacks last season. Look for a top-10 finish with all the experience coming back.
J.K. Dobbins, RB, Ohio State (+4000)
In terms of sheer talent, Dobbins is one of the top three or four running backs in the game.
But Vegas is concerned he'll share too much Heisman consideration with Dwayne Haskins and too many carries with Mike Weber to garner enough votes. They wouldn't be wrong to think these things.
However, I don't think Haskins's involvement in the offense will be as prolific in his first year as a starter. We've seen many quarterbacks at Ohio State come in and own the place. But I don't see enough to assume he'll be a Heisman favorite.
Weber is the real concern to Dobbins's Heisman candidacy. He is a former 1,000-yard rusher and will chip away at the starter's numbers if he stays healthy.
But with 7.2 yards-per-attempt last year (on 194 carries), it's hard not to be intrigued by what Dobbins could do with just fifty or sixty more.
AJ Dillon, RB, Boston College (+8000)
These are ridiculous odds for a player of this caliber. I don't have Dillon winning the Heisman, but I have him making it to NYC for the ceremony.
Only Love, Taylor, and FAU's Devin Singletary remain out of the running backs who gained more yards than Dillon last season.
Dillon also has a top-five offensive line he's running behind and a truckload of carries to be unloaded to him. He had 300 last year and those numbers could rise even more.
With his 245-pound frame, he has quite the power to get into the end zone on short-yardage plays. He compiled 14 rushing touchdowns last year as a feared downhill runner.
And he did all of this as a freshman in the ACC, one of the toughest conferences in the country. His encore is setting up to be even better.
The Pick
My finalists are as follows in alphabetical order: AJ Dillon, Will Grier, Bryce Love, Khalil Tate, and Jonathan Taylor.
I love the idea of a value pick on AJ Dillon. After all, if he's leading a surprise team in a tough conference with huge numbers, the voters will notice.
And when a practical $10 bet could actually reap an $800 reward, it's easy to see why pulling the trigger might be intriguing. Especially with the best O-line in the conference and some consistency at the quarterback position.
But if I'm picking the one person I believe will win, it's Jonathan Taylor (+850). What he did as a freshman was amazing but can be built off of. He'll be playing for a team I have going to the playoffs, and he'll be the poster boy of it. He has the undisputed best offensive line in front of him.
Yes, Wisconsin's system caters to having a successful running back. But Taylor takes that to the next level in the way Melvin Gordon and Ron Dayne did for the Badgers.
He knows he has a great offensive line and uses it to his advantage fully by being patient and picking the right time to shoot through a hole. His burst up the field is deceptively good, as is his physicality. The mixture of discipline and skill Taylor has is matched by few college running backs in recent years.
And like I said, this is from watching film of his true freshman season.
Just look at Gordon's stats, or James White's, or Anthony Davis's, or Montee Ball's. All these former Wisconsin running backs progressed in the offense and had a better statistical season waiting for them after their freshman years. Taylor will too.