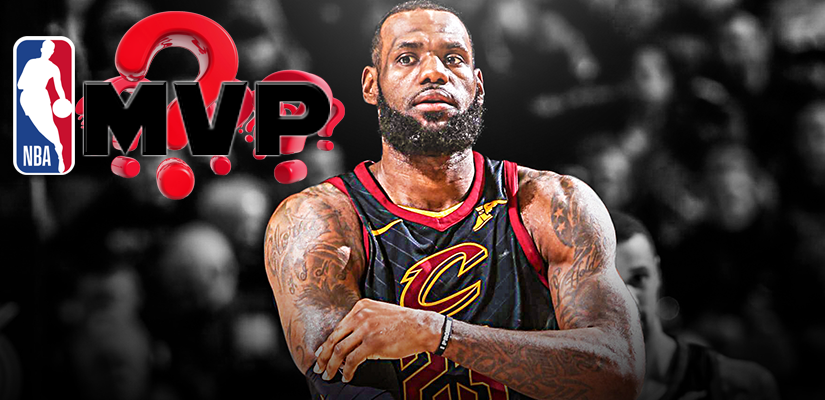 LeBron James has a lot of questions to answer in his immediate future.
In less than a month those questions will largely deal with where he'll be playing ball next year, but for right now the main one is if he can lead the Cleveland Cavaliers to another title.
Vegas doesn't think he can.
The Dubs are almost -1000 favorites to repeat as NBA champions at just about every NBA betting site and it's tough to deny that logic.
There are absolutely a few reasons why Cleveland can win the NBA Finals this year, but they're admittedly a collective reach.
In the end, the Dubs are probably winning it all again and that's probably where you'll find the NBA Finals MVP.
BetOnline asks an interesting question, though; could LeBron James win the MVP even though the Cavs might lose?
Betting on King James
It's a bold move to bet on a guy on the losing side. The Super Bowl MVP almost always goes to the star of the winning team and that's been the case for most title winners across all sports.
For the NBA Finals specifically, the losing team produced the top player of the series just once.
That prestigious right belongs to the iconic Jerry West, who went nuts against the Boston Celtics in a tense seven game series that was decided by just two points in the finale.
It was a deserving anomaly, though.
West put up 53 points in a game one win and went on to average a triple-double throughout the series, despite being hobbled by injury.
If anyone was worthy of this rare feat again, it was probably King James himself when his Cavs fell to the Warriors the first time around.
James averaged 35.8 points, 13.3 rebounds and 8.8 assists per game in the series, which Cleveland managed to keep relatively close despite losing Kevin Love earlier in the playoffs and Kyrie Irving early in the Finals.
While James probably should have become the second player ever to take home the MVP award from the losing side, that honor instead went to Andre Iguodala, who became the first bench player to ever secure the hardware.
The question, of course, is if a similar (or better) effort out of James would get him MVP honors this time. Here are the gaudy odds at BetOnline:
The fact that this has been done one time is pretty telling.
You also need to keep in mind two things; James might not deliver throughout this series, Cleveland actually has to lose for this bet to convert and the Warriors have numerous viable threats to this award.
Please Note:
I'm not really making a pick here, but the Cavs are projected to lose and no matter what happens, it's fair to assume James will beast out on a regular basis.
The value is just too good here to bypass this prop bet completely. Throwing a little money on James winning MVP in another title series loss is certainly worth your time.
Who Will Win Finals MVP?
There's two other ways to look at this NBA Finals prop bet; Cleveland wins and the prior bet is a total waste of time, or they lose and history repeats itself with a winner once again being the top dog.
Realistically, you're only chasing that LeBron James MVP prop because of the upside. You could double down here as well, but it may make sense to pick a different winner.
Call it hedging, call it what you will, but there's still solid value to be had by picking a more logical NBA Finals MVP.
Here's the latest NBA Finals MVP odds at BetOnline:
Kevin Durant – Golden State Warriors (-150)
Stephen Curry – Golden State Warriors (+175)
LeBron James – Cleveland Cavaliers (+650)
Draymond Green – Golden State Warriors (+1000)
Klay Thompson – Golden State Warrior (+1400)
Field – Any Other Player (+2000)
KD took home his first NBA title and Finals MVP last year, so he's the most obvious threat to do so again this year.
His team is heavily favored, the Cavs had zero answer for him in the Finals last year and a second championship (and Finals MVP) are legacy builders.
As much as everyone wants to make this about LeBron or KD, though, there is a very compelling narrative for Stephen Curry.
Curry recently shrugged off chatter about him being unable to secure the hardware in three previous Finals runs, but you have to think he'll be on a mission this time around.
With a pretty fantastic playoff run to this point, there is a very real possibility Curry continues his torrid pace and lights the Finals afire.
After all, Cleveland has to account for Durant, Thompson, Green and Golden State's role players.
Cleveland doesn't really have a go-to lockdown defender to throw on Curry for the entire series, so it's easy to see how he could enjoy his best Finals and steal the show from both James and Durant.
You can still consider the other two Dubs stars here, too.
If Andre Iguodala can take home a Finals MVP, then these two guys are in play as well. The value is there, although they aren't my favorite bets.
The Field wager is at least worth a cursory glance.
Kevin Love is likely Cleveland's only real threat, but if the Cavs win (and maybe even if they don't), I find it awfully hard to believe anyone but James would take home the MVP honors.
Betting on this spot would likely mean you're buying into someone on the Dubs not being listed here. Iggy is probably the only other viable play, but since he's banged up (he won't play in game one), this bet feels like a lost cause.
Ultimately, I think James deserves long, hard looks at both of these wagers. If you think he's going to beast out and the Cavs are destined to lose, he makes a lot of sense as a +900 flier bet.
If you're a Cleveland backer, then +650 is also pretty great if James and company are about to shock the world.
For me, the best bet here is Curry. He offers solid value at +175, his team owns home court advantage, he's been great throughout the playoffs and he has a strong narrative driving him to win this trophy.
Rather than this year's title series be about James or Durant, I get the feeling it's more about Curry hammering home his own legacy.
Pick: Stephen Curry (+175)