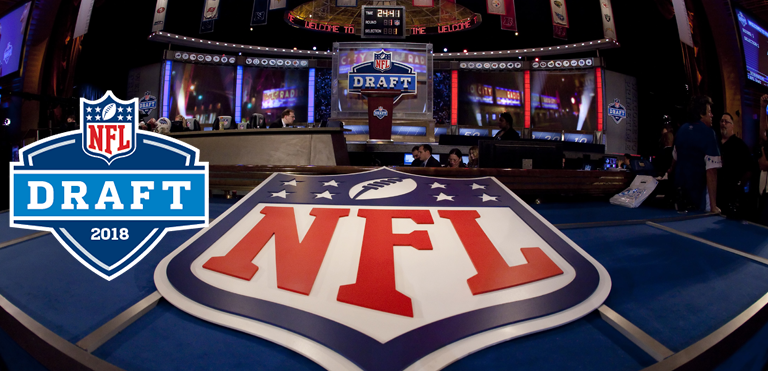 There was a brief moment last summer in which the Cleveland Browns looked like potential playoff contenders. DeShone Kizer was still fresh off a tremendous collegiate career at Notre Dame. The offensive line was being rebuilt with marquee talent. Isaiah Crowell and Duke Johnson looked like up-and-comers at running back. Defense looked like a potential bright spot.
Cut to 2018, and the ignominy of a disastrous 0-16 season looms over the Dawg Pound. As usual, there are many theories about how it all went so wrong. Kizer was a fright, Crowell and Johnson barely combined for a thousand yards, and the Cleveland defense played well enough to lose 16 times in a row.
With the Browns' record far and away the worst of all 32 teams, the franchise at least gets to start all over (again) by claiming rights to the first overall NFL draft pick in April. "Draft-niks" will go crazy as if the selection process is more exciting than a 50-yard bomb for a touchdown, but a savvy bettor can also score big by picking the lucky number one.
And he doesn't even need to count on Cleveland winning a game to do it.
While a trio of quarterbacks have dominated futures betting for the 2018 NFL Draft, speculation is rampant that the Dawgs will defy conventional wisdom. After all, the Browns don't just need a passer.
Let's take a look at some hot "sleeper" picks on the odds-board for the first-overall selection, but not before a review of which top-rated QBs the upstarts are up against.
The Triumvirate: Darnold, Allen, and Rosen
There is no doubt that the three quarterbacks atop this year's draft pool are amazing players. Each, however, comes with a bugaboo that could give Cleveland GM John Dorsey a gut-churning sensation about making the pick.
Sam Darnold (+200 odds for first selection overall) is another in a long line of great USC signal-callers. His measurables are classic: 6'4″ tall and 225 pounds, sturdy enough to take a beating but mobile enough to juke an NFL lineman. Darnold punished arch-rival Stanford while taking the Trojans to a Pac-12 title win and a Cotton Bowl appearance. But USC quarterbacks don't always work out in the National Football League. Matt Leinart's ghost is always present.
Josh Allen (+300) brings even better specs to the table at 6'5″ and 240. The former Wyoming Cowboy has a big arm and nimble feet, but no conference championships to credit and limited experience against premier defensive backs.
Finally, Josh Rosen of UCLA is in an absurd spot with (+450) odds and an NFL future far from certain. Rosen passed for almost 10,000 yards three NCAA seasons and could prove to be special at the next level. But the concussion issue that kept the Manhattan Beach native out of last year's Cactus Bowl makes a first-overall pick highly unlikely.
With three cannon-armed favorites as potentially-flawed as they are exciting, the door is open for a "sleeper" pick to surprise at first overall. But which long-shot has the best chance? Here's a glance at the top five candidates.
Top 5 Underdog Picks Who Could Steal First Overall
No. 1: RB Saquon Barkley, Penn State
Saquon Barkley's current odds average around (+300), so why are we touting him as a sleeper? For one thing, because the swift running back's odds opened long and are tightening as bettors go all-in. Many pundits will argue that a tailback is just not important enough to draft first overall anymore. But Cleveland is in desperate need of real talent in the offensive backfield. The Browns also have five picks in the first pair of rounds, giving them options as per when to draft a QB.
Barkley is versatile, durable, and scary-good. At one point in 2017, he out-gained the Iowa Hawkeyes offense by himself. The junior excels in route-running, catching, and blocking, and is a fantastic all-around playmaker. He would lend instant credibility to the Browns' franchise.
There's also the intriguing chance of a trade with Indianapolis. The Colts are rumored to be "falling in love" with Barkley, and the only thing that would spark a Colts-Browns pick swap may be a chance at the Nittany Lion rusher. Cleveland could still take a QB with its fourth overall pick.
No. 2: QB Baker Mayfield, Oklahoma
The Big 12 champion signal-caller is currently treading water on the futures board at an average of (+650). Front and center in every NFL scout's mind are the incidents involving an unhinged Mayfield getting drunk and getting into trouble at Oklahoma, then almost getting into his own pants while shouting vulgar insults at the hapless Kansas Jayhawks.
But it would be a good idea to consider Baker's play on the field, too, as his numbers are arguably as fine as anyone in the college draft. The senior has thrown for 14,607 yards, 131 touchdowns, and only 30 interceptions in his collegiate career, and played in Orange, Sugar and Rose Bowls in the past three years. If the Browns (or another team) decide to throw caution to the wind and pick the best pure athlete, Mayfield could be the guy.
No. 3: Minkah Fitzpatrick, Alabama
This defensive back from Alabama certainly has the goods to be a number one overall pick. Fitzpatrick is a former Freshman All-American who developed into an interception machine. His size is appealing at 6'1″ and nobody can accuse the Crimson Tide standout of lacking big-game experience.
Fitzpatrick at first overall is unlikely but possible. Cleveland would have to decide to take a defensive back right off the bat, trading the fourth pick or looking for a QB after three selections are on the board. For that scenario to occur, there will need to be enough buzz surrounding the pick from 'Bama that the Browns get scared of losing him. Fitzpatrick is not a bad bet at long-shot odds of over 25 to 1 in most markets.
No. 4: Bradley Chubb, North Carolina State
A defensive lineman from NCSU, Bradley Chubb is included here by popular demand. He feels like a player that NFL Draft nerds just won't be able to stop talking about, but that doesn't mean he'll go first in the actual draft.
There's no doubt that the sleek, muscular 275 lb. lineman is devastating and versatile on the field. Stout against the run, Chubb set the all-time sack record for the Wolfpack last season.
He was also named ACC Defensive Player of the Year. However, there is no logical scenario for any team drafting Chubb first overall, because he's too far down most coaches' scouting boards. Not far down, actually – he'll be a first-rounder and possibly a superstar for the Shield. He's just dubious as a first-overall pick.
Bookies are skeptical, as the lineman's odds to be picked first are at least (+3000) and going longer at some books.
No. 5: Bryce Love (and company)
Apart from the seven players we've profiled, most sportsbooks are simply offering a long-shot wager on "the field," as in any first-overall pick who isn't named Allen, Rosen, Darnold, Mayfield, Fitzpatrick, Chubb or Barkley. That's an interesting proposition, but is it worth taking a chance?
Perhaps, thanks to the ever-present probability of injuries or personal life woes at the last minute. Or maybe that should be "probabilities" since the number of plausible scenarios is important. Any particular QB out of the top four has little chance to go first overall. But everyone else's tiny percentage chances put together could add up to betting value.
Suppose Cleveland's trading strategy forces Dorsey's hand in choosing a running back with a lone leading pick in the first round, and with 24 hours to go, Saquon Barkley remarks that he'd rather play on the coast somewhere.  In that scenario, Stanford's Bryce Love could be an emergency replacement pick. Love is fast, brutish, consistent and has all the tools He just needs a team willing to invest in a few slow Sundays before the light comes on.
It's not how a player looks when he's drafted, it's how he ends up which is crucial to a franchise. By the same (gambling?) token, it's how a futures bet ends up and not how ridiculous it might seem when it is placed. Don't get tricked into the QB-QB-QB diatribe. It's 2018. NFL teams are starting to do whatever they want, and it won't be shocking if the first overall pick isn't a passer.