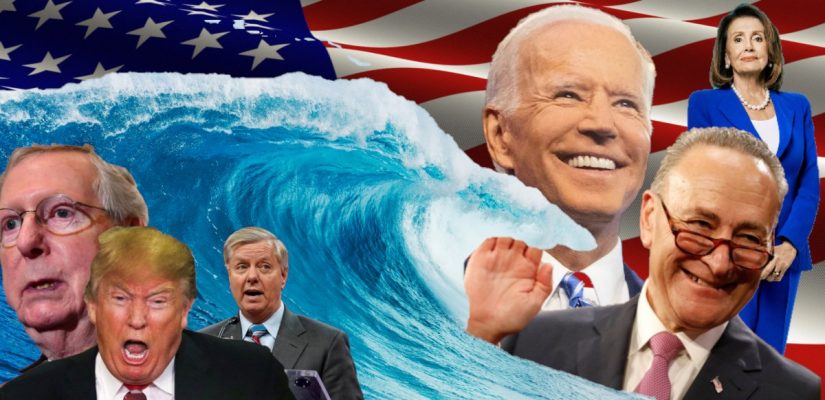 It's undeniable now; things are looking very good for the Democrats. So good, in fact, it's time to start discussing one of BetOnline's latest US politics props:
Will the Democratic Party sweep the election?
To do so, they'd need to keep control of the House, regain a majority in the Senate, and defeat incumbent President Donald Trump. At the rate things are going, a clean sweep in November's elections is a more realistic outcome than it's been at any other point in the election cycle.
Democratic Party Election Sweep?
In a sense, you can look at the Democratic sweep wager as a parlay.
Joe Biden is a –150 favorite to win the presidency;
the Democratic Party is a -125 favorite to take control of the Senate,
and favored at –155 for the balance of power to be anything other than Dem House/ Rep Senate.
(It's highly unlikely the GOP will flip the House, so that last line just means the Democrats will control both chambers.)
Betting them all together as a Democratic sweep nets you +130 moneyline odds! Since the Democrats are favored to win each individual condition, that's a pretty solid bet!
Democrats Sweep House, Senate, & White House
The Presidential Election
| | |
| --- | --- |
| Candidate | Odds to Win US Presidential Election |
| Joe Biden | -150 |
| Donald Trump | +130 |
| Kamala Harris | +5000 |
| Hillary Clinton | +10000 |
| Michelle Obama | +10000 |
| Mike Pence | +10000 |
| Elizabeth Warren | +15000 |
| Nikki Haley | +25000 |
Once a shoo-in for reelection after his impeachment trial, President Trump has been derailed by his administration's late, and arguably inadequate, response to the novel coronavirus pandemic. The subsequent lockdowns sent his economy crumbling as well, for most Americans. Even when the stock market flourishes, the gains aren't being felt on main street.
The 2020 general election odds show the incumbent slipping further behind Joe Biden after briefly pulling even – and was actually favored at some political betting sites! — in early September. Now, the two candidates' lines are closer to where they hovered for most of the Summer.
Trump's one opportunity to turn things around this late in the election cycle was probably during the first presidential debate. In that regard, his performance on Tuesday was an abject failure.
Besides facing an opponent that people don't hate as viscerally as they hated Hillary Clinton, the President seems not to grasp what made him a desirable candidate to so many voters in 2016. He acts like he's under the impression that being rude and hurling insults is all it takes.
In all actuality, Donald Trump has been co-opted by the free-market fundamentalists that Republican primary voters rejected for the eventual President's more populist tone four years ago.
He's not attacking the corrupt political establishment or making trade and immigration the cornerstones of his campaign against Joe Biden.
Instead, the incumbent is hell-bent on framing the former VP as a "Trojan Horse for socialism" and parroting the kind of economic libertarianism away from which he was supposed to be leading the new Republican Party.
The Trump campaign desperately misses Steve Bannon and Roger Stone.
Say what you want about their respective characters; they knew how to strategize. After all, if there's one thing a con-man must do well, it's read their audience.
The team around the President today is either clueless, or they're purposely sabotaging his reelection effort.
Either way, it's beginning to look like we have this third of the "Democratic sweep" bet in the bag.
The US Senate
Majority Control of the US Senate
Bet

Odds

More Dem Senators in 117th Congress

-125

More Republican Senators in 117th Congress

-105
The Democratic Party is narrowly favored to retake majority control of the Senate. Republicans currently hold a 53-47 advantage. However, 23 GOP Senate seats are up for election this year, while the Democrats must only defend 12 of their own.
According to FiveThirtyEight's election model for the Senate, Democrats have a 62% chance of winning enough seats to take control of the upper chamber.
Some of the GOP's most vulnerable seats belong to:
Martha McSally (AZ),
Cory Gardner (CO),
Thom Tillis (NC), and
Susan Collins (ME)
— and Joni Ernst's seat in Iowa is a toss-up!
"Democrats' single best pickup opportunity is probably in Arizona, where Republican Sen. Martha McSally — who lost to Democrat Kyrsten Sinema in the race for Arizona's other Senate seat two years ago — badly trails Democrat Mark Kelly in polls. Nor is McSally, who was appointed to the seat following the death of Sen. John McCain, likely to benefit much from incumbency, as appointed incumbents typically perform much worse than elected ones."
"Meanwhile, the two Republicans in Clinton-won states, Gardner and Collins, are also behind in polls. Still, it may be premature to write their political obituaries, especially for Collins. She won her last race by a large margin, she has a fairly moderate voting record, Maine only barely voted for Clinton in 2016, and experts continue to rate the race as a toss-up, all factors that help keep her afloat in our Classic and Deluxe models."
Later in the piece, he breaks down the model forecasts:
"In an average simulation, our forecast has Democrats picking up about six Republican-held seats in the Lite model, around five in the Classic model and about four and a half in the Deluxe model. And that would be enough for them to win control of the Senate — even if they fail to capture the presidency."
The House of Representatives
US Congress Balance of Power
Bet

Odds

Any Other Balance of Power

-155

DNC Control House, GOP Control Senate

+125
All 435 seats in the House of Representatives are up for election in November.
Democrats hold 233 seats, while Republicans occupy 196, giving the "blue team" a comfortable 37-seat advantage. There are also five vacancies up for grabs — four of which were last held by the GOP. Even if Republican candidates manage to retain the four vacant seats they previously owned, they must still flip another 18 seats to win a majority.
In 2018, the DNC gained 40 seats in the House, 31 of which were in districts that President Trump had won two years prior.
This week, top election analyzer Sabato's Crystal Ball released the following updates to their House of Representatives forecasts:
Sabato's US House Analysis
"Today's rating changes solidify our belief that the Democrats are better-positioned to net seats this year than the Republicans. We're shifting a dozen races, all but one in the favor of Democrats."
"The headline changes include shifting a number of Leans Republican districts to Toss-up: the open seat in VA-5 — a central Virginia district that covers the University of Virginia — as well as those held by Reps. David Schweikert (R, AZ-6), Jim Hagedorn (R, MN-1), and Jeff Van Drew (R, NJ-2). In VA-5, former Campbell County Supervisor Bob Good (R) beat Rep. Denver Riggleman (R) at a nominating convention, and now Republicans are concerned that Good is going to kick away the seat against Cameron Webb (D). These are all Trump-won districts where Democrats nonetheless appear to be running strong challenges."
Further down the page is Sabato's most important insight:
"With these rating changes, we now have 232 seats at least leaning to the Democrats, 188 seats at least leaning to the Republicans, and 15 Toss-ups. Splitting the Toss-ups down the middle 8-7 one way or the other would produce a 4-5 seat net gain for the Democrats compared to the House results two years ago."
If you're searching for an indication that 2020 will follow a similar script as 2018's "blue wave," look no further than the Democratic Congressional Campaign Committee's (DCCC) fundraising numbers.
The House Democrats' campaign arm told The Hill that it "currently has $104.7 million cash on hand — nearly $35 million more than it did at the same point in 2018 — and has raised $248.8 million so far this cycle."
Will the Democrats Sweep 2020?
The Democrats sweeping the 2020 general election is far from certain, but you have to like their chances.
Conditions around the country are working to the DNC's benefit.
A motivated electorate is raising record-breaking amounts of money for Biden and down-ballot candidates alike.
And the President is doing a horrible job of recreating the magic that fueled his 2016 victory.
Following the first debate, I'd argue the most uncertain aspect of this wager is whether the Democrats win the Senate.
They hold a sizable incumbency lead in the House, and Donald Trump is flushing his chances of reelection down the toilet; they only need to net three or more Senate seats to complete the sweep.
Whatever working-class base the Republican Party was building on the back of Trumpism is surely waning after watching Congress pass trillions in bail-outs for corporations and Wall St while leaving small businesses and everyday Americans hanging out to dry.
I'm betting on a blue tsunami in 2020 that puts 2018's wave to shame.
At +130, I'm firmly behind the Democratic Party sweeping the White House and both chambers of Congress.