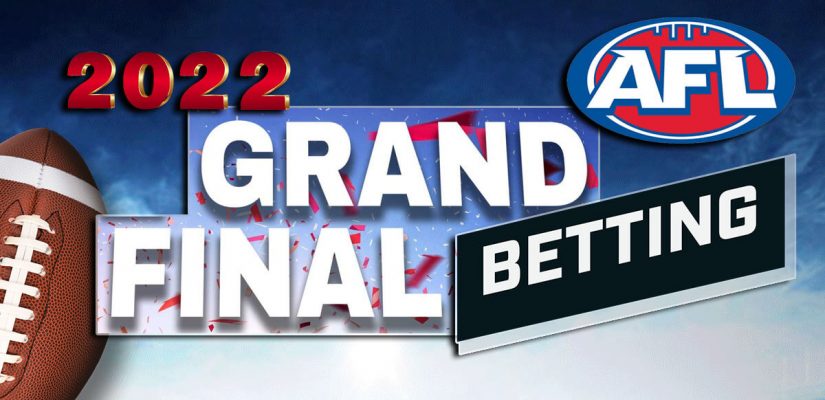 In this futures betting pick, we are looking at who will win the 2022 AFL Grand Final. Bets must be in by September 24th, but odds will change as the season begins and we move closer to our winning team, with each team's payout gaining or losing based on performance.
Melbourne Demons Football Club took home the Final, which we called in our
betting pick
. We told you to pick the over 156 ½ Points bet, and that paid out with a final score of 140-66.
Let's see if we can do it again this year, with a futures call for AFL Grand Final Futures!
AFL Top Teams and Betting Odds
| | |
| --- | --- |
| AFL Team | Betting Odds |
| Melbourne Demons | +350 |
| Western Bulldogs | +550 |
| Brisbane Lions | +800 |
| Port Adelaide Power | +900 |
| Geelong Cats | +1000 |
| Richmond Tigers | +1000 |
| Sydney Swans | +1000 |
| GWS Giants | +1500 |
| West Coast Eagles | +1500 |
There are another nine teams in the AFL, all with betting odds over +2000. We'll be focusing on these top nine teams and how they could win the Grand Final.
Melbourne won last year, beating the favored Bulldogs by a landslide.
Let's take a closer look at some of the nine teams and put some stats behind our betting pick.
Betting on the Melbourne Demons
The Demons went to the finals for the first time in 21 years last season, ending a 57 year skid. Over the course of eight years, under the leadership of Paul Roos, they've remodeled the entire team.
They scored an average 211 kicks, 149 handballs, and 368 disposals. This put them in 8th place from a stats specific standpoint, and made analysts skeptical of a repeat. Melbourne took Jacob van Rooyen in the first round draft pick, a high versatility player form Claremont, scoring 24 goals in his last six outings.
Betting on back to back AFl wins feels right for this ever improving team. Many teams repeat an AFL win, such as Richmond 2019-2020, Hawthorn 2013-2015 and Brisbane Lions 2001-2002. Over the last 20 years, multiple wins account for just about 25% of all AFL Finals.
Betting on the Western Bulldogs
The Bulldogs took the 2016 Premier, and haven't been able to make a return to the Grand Final until 2021.
They're the second favorite for the bracket, and received Sam Darcy during the draft in round 1. Son of Luke Darcy, Sam is a third generation Bulldog. Darcy's talent is in disposals, averaging 16 per game. He should be the right kind of added mobility the Bulldogs need.
Bulldogs scored #1 in stats for the league last year, with 214 kicks, 160 handballs, and 375 disposals.
The Bulldogs have been vying for the Grand Final since 2016, their second ever Final. They've been runner up twice, and if the stats are any prediction of what 2021 holds, we'll see a big year for the Bulldogs.
Betting on the Brisbane Lions
Brisbane Lions are a new team, founded in 1996. In that time they went from nobodies to the Triple Premiership winners 2001-2004. They've drafted Darcy Wilmot. He's a defender who's speed and tactical advantages should add a level of defensive leadership to the Lions.
He's a tall player and the youngest player in the draft pool for 2021.
The lions were way down last year in scoring, averaging 126 handballs per game total. However, their skill has always been in defensiveness and grit. I think the Lions may be due for another Grand Final.
What Coaching Changes are Happening in AFL 2022?
Adelaide
The Adelaide Power is losing Brent Reily, a defensive coach being replaced by no one for the time being. It's unclear if Scott Burns doubled his efforts or if another coach is being brought on. There's no telling how this will affect Adelaide in the first half of the season.
Brisbane
The Power are losing Dale tapping and gaining Cameron Bruce. Bruce will be the midfield coach, formerly a Hawthorn and Carlton coach. He is a young man with plenty of experience. He's faced off with Brisbane many times before.
Melbourne
Melbourne will be losing no one, but gaining a few administrators. They did lose their performance manager Darren Burgess. That's troubling that they don't have a replacement. A good strength and conditioning coach can mean everything during the pre-season training.
Western Bulldogs
The Bulldogs lost Steven King and Ashley Hansen, both senior coaches for offense and midfield. Multiple coaches are expected to be hired shortly. This may have something to do with AFL budget cuts, but the coaches for the Bulldogs are currently covering multiple positions
"This is an advantage for the Brisbane Lions. Of the top four teams, they seem to be the only one that isn't catastrophically missing staff."
What Major AFL Players are Injured for 2022?
Melbone has six players out for the season, including quality midfielder #2 Nathan Jones. Jones
Bulldogs are missing five players, including two out for the season. This includes Josh Bruce, with 100 clean catches last season and an 86% tackle success rate.
AFl has also announced a crackdown on high -head contact in the 2022 season. This could affect more physical teams.
Why Melbourne will Lose the 2022 AFL Grand Final
Melbourne is down two key coaches, and they were at the bottom of this year's draft. The way they played last year will be difficult to replicate. They played 17-4-1, leading the Finals Series by only one win. I expect them to struggle to make this happen two years running.
Final Betting Pick
I see the Brisbane Lions having a good year. They have the right coaching staff and new drafts to cover some of their 2021 weaknesses. The players are healthy, and they've been gearing up for this 2022 win for the last few years.
Bet the Brisbane Lions at +800, an eight times return on your wager.
2022 AFL Grand Final Wrap Up
Expect the AFL to see some new regulations with covid and concussion regulations in 2022. Many analysts see a Bulldog or Melbourne win, which I agree are possibilities. Adalaide is my fourth place pick, but if you're a fan, stay realistic this year and don't lose your money to some of the best teams the AFL has ever seen in Melbourne, Bulldogs and Lions.