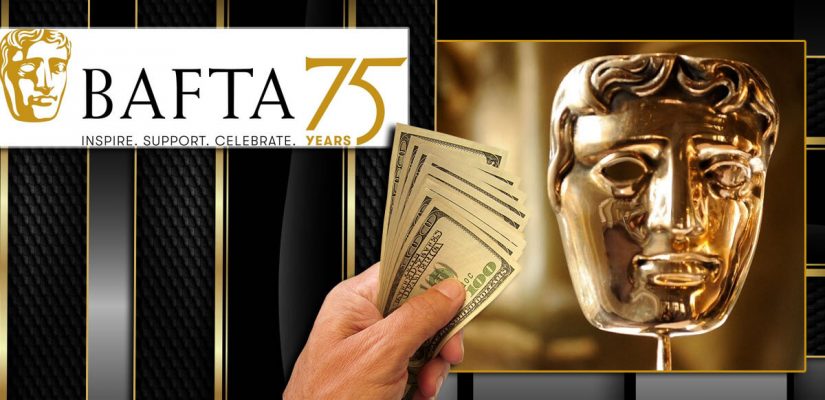 It's awards season, which means it's time to reward the actors, actresses, directors, and films that best captured our imaginations over the past year. We're just a couple of weeks away from the Academy Awards, which is, obviously, the main event.
However, the Oscars won't be the only awards show on your TV in the near future.
The rescheduled Critics Choice Awards will hit the airwaves this Sunday. The BAFTA (British Academy of Film and Television Arts) will also air on March 13. So, this is shaping up to be quite the busy weekend for those within the film and TV industries.
Of course, the awards shows happening so soon means you only have so much time left to do your own research. Everybody roots for their favorite movies, TV shows, actors, and actresses at these things. If you already have a rooting interest, why not get some extra skin in the game by placing a bet or two? Yes, entertainment betting sites offer odds on just about every awards show under the sun. The BAFTAs are certainly no exception.
While the BAFTAs may not get as much buzz in the US as some of the other major awards shows, the BAFTAs do still have quite a history. This show first took place back in 1949, and it was televised for the first time in 1956.
Best Sites for Betting on the 2022 BAFTA Awards
If you've patronized our site before, you're surely aware by now that the aforementioned entertainment betting sites are the best in the industry for a variety of reasons. Some of the sites' best attributes are listed here:
Competitive Entertainment Betting Odds
Advantageous Bonuses and Promotions
Fast Payout and Withdrawal Speeds
Banking Options (Including Crypto!)
While more and more sites are now starting to take bets on various entertainment options, that wasn't always the case. Sadly, there are many sketchy betting sites out there that don't have your best interests in mind. Rather than risking it all at some scammy-looking website, we recommend placing your bets at the trustworthy, reputable sites we recommend.
You can't go wrong with any of them. All of those sites have long, decorated track records within the industry, which is why they're incredibly popular stops for American bettors. So, what are you waiting for? Read on for a full guide on how to bet on the 2022 BAFTA Awards.
2022 BAFTA Awards Key Information
Where:
Royal Albert Hall, London, UK
When:
Sunday, March 13, 2022, at 3 pm ET (US)
Where to Watch:
BBC (UK), BritBox (US stream)
The BAFTAs and the Critics Choice Awards weren't originally slated to take place on the same day. However, the Critics Choice Awards were postponed for pandemic reasons, and they just happened to choose March 13th as the new date.
So, we'll see how many of the nominees show up for the BAFTAs, which will go down, as usual, in London. Last year's BAFTAs were pushed back from February into April because of Covid. However, the event was largely virtual, though this year's festivities will be largely in-person.
The 2022 BAFTAs will be hosted by Rebel Wilson, who, contrary to popular belief, is Australian. This will be Wilson's first BAFTAs hosting gig. Stephen Fry, who has hosted a record 12 BAFTA Awards, won't reprise his role this year. Last year's show was co-hosted by Clara Afmo, Edith Bowman, and Dermot O'Leary.
Now that we've gotten the basic details out of the way, let's dive right into the BAFTA awards 2022 odds, shall we?
BAFTA Odds for Best Film
The Power of the Dog:
-190
As is the case with the vast majority of other awards shows, The Power of the Dog is an early favorite to win Best Film honors. Jane Campion's latest work is designed to tug at your heartstrings, but it will also keep you guessing. The ending's twist has caused some moviegoers to go back for a second viewing just to try and process the final scenes.
So, The Power of the Dog is certainly an intriguing candidate, but should it be a -190 favorite? Probably not. Belfast (+175) has picked up a number of nominations, as well, since its theatrical release earlier this year. Belfast and The Power of the Dog actually tied with seven nominations apiece at the Golden Globes. The Power of the Dog wound up winning in the Best Picture Drama category.
Dune (+2000), Licorice Pizza (+2000), and Don't Look Up (+3300) are all long shots, per the latest odds from Bovada.
The Power of the Dog may be the most likely winner here, but I think this is a good spot to take a shot on the better value that comes with Belfast's +175 odds.
There's a lot more profit potential to be had there. It's not a bet that will pay off most of the time, but the upside is good if you get lucky.
BAFTA Best Director Odds
Jane Campion – The Power of the Dog:
-600
Ryusuke Hamaguchi – Drive My Car:
+750
Paul Thomas Anderson – Licorice Pizza:
+1000
Aleem Khan – After Love:
+1400
Audrey Diwan – Happening:
+1800
Julia Docournau – Titane:
+2000
The previously-mentioned Campion is a -350 favorite to take home the Best Director nod at the Critics Choice Awards. She's an even heavier -600 favorite to do the same at the BAFTAs. And, as you may expect, it will be quite an upset if any other director takes home the same prize at the upcoming Oscars, as well.
Campion was nominated for three BAFTAs back in 1994 for her work on The Piano, but she went home without any trophies. She's picked up another three nominations this year for The Power of the Dog. Based on the odds, it's hard to imagine she'll be leaving empty-handed this time around.
Paul Thomas Anderson deserves some recognition for Licorice Pizza, but he's still only a +1000 long shot to win the Best Director BAFTA. Ryusuke Hamaguchi, who is nominated for the Oscar in this category for Drive My Car, checks in at +750 to win the BAFTA.
We probably don't need to filibuster with this one.
The award is Campion's to lose, but the -600 odds are awfully limiting.
Odds For BAFTA Award for Best Actor in a Leading Role
Benedict Cumberbatch – The Power of the Dog:
-150
Will Smith – King Richard:
+135
Leonardo DiCaprio – Don't Look Up:
+1600
Stephen Graham – Boiling Point:
+1600
Mahershala Ali – Swan Song:
+2000
Adeel Akhtar – Ali And Ava:
+2500
The odds for BAFTA Best Actor in a Leading Role are interesting. We saw Will Smith take home the hardware for his portrayal as Richard Williams at the SAG Awards and the Golden Globes. Smith is favored to win another trophy at the Critics Choice Awards. However, native son Benedict Cumberbatch is actually the odds-on -150 favorite to win Best Actor at the BAFTAs.
Is there a pro-British bias in play here?
Perhaps. It's a British awards show, and Cumberbatch is from London. It doesn't take a rocket scientist to do that math. Of course, Cumberbatch is plenty deserving himself for the job he did as brooding, domineering ranchhand Phil Burbank in The Power of the Dog. It wasn't a typical role for Cumberbatch, but he thrived nevertheless.
Given his early success this awards season, Smith sure stands out as an excellent value at the current +135 odds. He's been dominant early on, and Cumberbatch looks like his only real competition at the BAFTAs.
All of Leonardo DiCaprio, Stephen Graham, Mahershala Ali, and Adeel Akhtar are listed at +1600 or above. It's somewhat appealing to take a shot on actors with the resumes of DiCaprio or Ali at such long odds, but they're likely huge underdogs for a reason this year.
It all comes down to risk tolerance. Cumberbatch is a worthy -150 favorite, but Smith should probably have the better odds. I do think the pro-Brit bias is very real with this particular awards show, but I think Smith is too good of a value to pass up.
Value Bet:
Odds for BAFTA Award for Best Actress in a Leading Role
Lady Gaga – House of Gucci:
+150
Renate Reinsve – The Worst Person in the World:
+250
Joanna Scanlan – After Love:
+350
Emilia Jones – CODA:
+400
Alana Haim – Licorice Pizza:
+900
Tessa Thompson – Passing:
+2000
Well, well, well, things are starting to get interesting! You won't find many acting performances quite as divisive as Lady Gaga's portrayal of Petrezia Reggiana in House of Gucci. While the film itself seemingly fell flat with critics after a ton of hype, Lady Gaga has earned some recognition in her starring role.
However, she was one of the more surprising snubs at this year's Academy Awards, as she failed to earn a nomination in this category. She was nominated at the Golden Globes and SAG Awards but didn't win either trophy. Nicole Kidman and Jessica Chastain, who won for Best Actress at those shows, weren't even nominated for the BAFTA. Gaga, meanwhile, wasn't only nominated, but entertainment betting sites have her listed as a +150 favorite to actually win it.
Given her lack of success at other shows, should Gaga be the favorite? It's an interesting question considering most of the other leading nominees for Best Actress at the BAFTAs didn't earn Oscar nods, either.
None of Kidman, Chastain, Olivia Colman, Penelope Cruz, or Kristen Stewart are in the running for a BAFTA this year. So, Gaga does look like a solid bet at +150 considering she's contending with a fairly inexperienced field. Nothing against Renate Reinsve, Joanna Scanlan, Emilia Jones, Alana Haim, or Tessa Thompson, but there isn't exactly a Meryl Streep-type vying for this award.
As a result, taking a shot on Gaga at +150 makes plenty of sense. You're getting plus-money odds, and she was the only member of this group that did attract some Oscar buzz.
Best Bet:
Odds for BAFTA Award for Best Actor in a Supporting Role
Kodi Smit-McPhee – The Power of the Dog:
-165
Ciaran Hinds – Belfast:
+500
Jesse Plemons – The Power of the Dog:
+2000
Woody Norman – C'mon C'mon:
+2000
Mike Faist – West Side Story:
+2500
West Side Story generated plenty of nominations at the Critics Choice Awards, but Steven Spielberg's reboot of the classic musical has gone largely overlooked at the BAFTAs. Ariana DeBose is a good bet to take home the hardware in the Best Supporting Actress category, however, while Mike Faist is a long shot for Best Supporting Actor.
The favorite for this award is Kodi Smit-McPhee, who earned lots of praise in a move with plenty of star power.
It's hard to stand out in a film that also features such luminaries as Cumberbatch, Jesse Plemons, and Kirsten Dunst, but the young actor more than held his own. Smit-McPhee is a worthy favorite in this category at -165.
One good value to consider is Woody Norman.
The 11-year-old isn't your typical nominee, but the youngster clearly has a bright future in the acting world if he wants to pursue it. Speaking of daunting tasks, Norman was assigned a role next to Joaquin Phoenix in C'mon C'mon. The film was a massive letdown at the box office, but Norman looks like a breakout star. Something tells me this won't be the last time we hear his name. At the long +2000 odds, Norman makes for an intriguing value bet if you're looking for massive profit potential.
In the end, The Power of the Dog will likely rule the day. As a result, Smit-McPhee is the safest bet on the board at the aforementioned -165 odds.
Value Bet: Woody Norman (+2000)
Odds for BAFTA Award for Best Actress in a Supporting Role
Ariana DeBose – West Side Story:
-230
Caitriona Balfe – Belfast:
+400
Jessie Buckley – The Lost Daughter:
+600
Ruth Negga – Passing:
+1600
Aunjanue Ellis – King Richard:
+2000
Aunjanue Ellis, who plays Brandi Williams in King Richard, earned a Best Supporting Actress nomination at the Oscars for the role. It's Ellis' first major nomination in any category, and she's also a +2000 long shot to win the same award at the BAFTAs.
Interestingly enough, she wasn't nominated for a SAG Award.
Ariana DeBose looks like a worthy favorite here at -230. She won the Golden Globe and the SAG for her role as Anita in the legendary story. As you may expect, DeBose is also the betting favorite to win the Oscar, as well. Caitriona Balfe is next at a distant +400, while Ruth Negga is an interesting long-shot at +1600.
Based on her previous successes, however, DeBose is a hard bet to pass up. Take her to add to her growing awards collection with a BAFTA on Sunday.
BAFTA Awards Betting Strategy
Don't Be Afraid to Hedge Your Bets
There is no rhyme or reason when it comes to betting on major awards shows. Reading the tea leaves can only get you so far. Going back and looking at the results for previous awards shows is helpful, but it isn't a be-all, end-all strategy. Different voters have different tastes, of course.
Nominees like Ariana DeBose and Kodi Smit-McPhee look like close to surefire winners, but nothing is certain until we see them up there giving their acceptance speeches.
I'm typically against the idea of hedging your bets, but it's not a terrible strategy to employ with something as up-in-the-air as BAFTA awards betting odds. The oddsmakers themselves don't have any special insight. They typically do just as much research as you do before settling on their odds.
The favorites don't always win.

This isn't the NBA where the cream almost always rises to the top. That's why rolling the dice on some nominees with massively long odds is a risk that can pay off if you happen to get lucky. Will Smith has won every Best Actor award thus far for King Richard, yet he's an underdog to Cumberbatch at the BAFTAs. There is no real reason for that, which is what makes Smith such a quality value bet.
Taking stabs at long-shot options is inherently risky, but it only takes one hit in order to help you turn a profit on the night. Even smaller monetary risks can pay off in a big way if you play your cards right.
Betting on the 2022 BAFTA Awards
It's the most wonderful time of the year to be an entertainment bettor. With a seemingly endless array of awards shows scheduled for the next few weeks, you'll have plenty of opportunities to pad that betting bankroll.
Watching the BAFTA Awards is a lot more fun if you have some money riding on the outcomes. You only have a couple of days left to get those bets in, so time is of the essence!