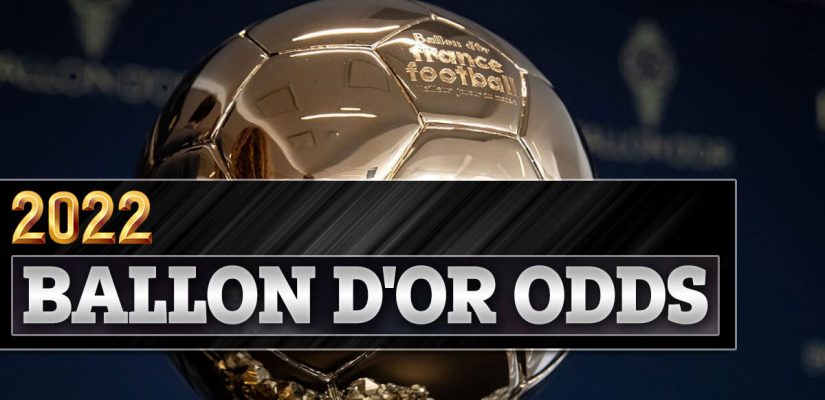 These days, soccer doesn't really have an offseason. Most European domestic leagues will finish their 2021-22 seasons in the coming weeks, but things will ramp up again once August rolls around. Just a couple of months after that, the men's World Cup will kick off from Qatar.
Over the past decade or so, the Ballon d'Or Award has been dominated by two players: Lionel Messi and Cristiano Ronaldo. The two old rivals have combined to win 12 of the 13 Ballon d'Or trophies that have been handed out since 2008, which is a rather remarkable streak. Luka Modric, who claimed the award in 2018, is the only other player to have won it in the past 13 years. Messi has a record seven Ballon d'Or trophies sitting on his mantle at home. Ronaldo is second all-time with five. However, with both players reaching the latter stages of their legendary careers, we may have already reached the end of their dominant run.
Both are on the fringes of the race this year, but the 2022 Ballon d'Or odds don't favor either player to win it. As always, soccer betting sites are keeping tabs on the race as it progresses. The current Ballon d'Or odds favor one of Ronaldo's old teammates to claim the prize for the first time in his career.
2022 Ballon d'Or Odds
| | |
| --- | --- |
| Player | Odds |
| Karim Benzema | -225 |
| Mohamed Salah | +700 |
| Kevin de Bruyne | +800 |
| Sadio Mane | +1000 |
| Robert Lewandowski | +1600 |
| Kylian Mbappe | +1600 |
| Lionel Messi | +2500 |
| Neymar Jr. | +2500 |
| Harry Kane | +3500 |
| Cristiano Ronaldo | +3500 |
Karim Benzema (-225)
As you can see, Karim Benzema is an odds-on favorite to win his first Ballon d'Or in 2022. The Real Madrid striker is no spring chicken at the age of 34, but he's in the midst of the finest individual season of his outstanding career.
Benzema was previously overshadowed by Ronaldo when the two were teammates at the Santiago Bernabeu.
But Benzema is enjoying the spotlight now that Ronaldo is back in England. The France international has 43 goals in 43 games for Real Madrid so far this season, including a whopping 15 in 11 Champions League matches.
Real Madrid's best player of April:

Karim Benzema! 🌟🇫🇷 pic.twitter.com/JQAhXzM36h

— Madrid Xtra (@MadridXtra) May 19, 2022
Benzema has come up with a slew of timely goals for Los Blancos. As of this writing, he has a goal in each of his last four appearances in all competitions. That includes a brace in Madrid's thrilling 4-3 defeat at the Etihad Stadium to Manchester City in the first leg of ther Champions League semifinal clash.
Benzema subsequently supplied the game-winning penalty when the two met at the Bernabeau a week later. Benzema has already lead Real to the La Liga title. Later this month, he'll have the chance to push Madrid back to the top of Europe when they take on Liverpool in the Champions League final. It's only fitting that the game will take place in Paris. Los Blancos going on to win the competition would further cement Benzema's status as the clear-cut Ballon d'Or favorite.
Clearly, you're not getting great bang for your buck in Benzema's current -225 Ballon d'Or betting odds. This year's Ballon d'Or will be handed out in October, which means the World Cup, which starts in November, won't be a factor in the voting.
Mohamed Salah (+700)
Mohamed Salah has done nothing but put numbers on the board since arriving in Liverpool from Roma back in 2018. However, the Egypt international is still looking to win Ballon d'Or for the first time.
Liverpool are in the midst of one of the most remarkable seasons we've ever seen. Salah's Reds have already claimed the FA Cup and League Cup trophies, with two more titles still yet to be determined.
Liverpool will have the chance to overtake Manchester City to win the Premier League if a few breaks go their way on Sunday. The following Saturday, Liverpool have the chance to win the Champions League for the second time in four years when they face Real Madrid in a rematch of the 2018 UCL final.
Paris Saint-Germain are reportedly the front runners to sign Liverpool winger Sadio Mane if he does not sign a new deal with the club 🔴https://t.co/dSel8ATGJm

— Anfield Watch (@AnfieldWatch) May 19, 2022
Needless to say, Salah has been heavily involved in all of Liverpool's exploits. Salah leads the Premier League in both goals (22) and assists (13), which is no small feat considering the English top-flight is widely regarded as the most competitive league on the planet. Liverpool's No. 11 has a total of 30 goals with 15 assists in all competitions.
Additionally, he led Egypt to the final of the Africa Cup of Nations, where they ultimately fell at the hands of Sadio Mane and Senegal. Salah scored twice more with another assist at AFCON, for good measure. At this point, Salah's Ballon d'Or odds may hinge entirely on whether Liverpool can complete the elusive quadruple.
If he plays a big role and helps to deliver two more trophies, the pendulum could swing in Salah's direction. The fact that Liverpool will have to beat Benzema's Real Madrid in order to win the Champions League does give Salah some hope here despite the fairly long +700 odds. Benzema has been more productive than Salah this season, but there is still hope for Liverpool's winger.
Kevin de Bruyne (+800)
Benzema and Salah are worthy favorites, but it's hard to believe Kevin de Bruyne has never won the Ballon d'Or Award. The Belgian midfielder is regarded by many as the most influential footballer in the world right now. All he's done since arriving at the Etihad is help lead Man City to three Premier League titles, five League Cups, and an FA Cup victory.
If City are able to beat Aston Villa on Sunday, de Bruyne will be a Premier League champion for the fourth time. His numbers aren't as sexy, which is probably why he faces fairly long +800 Ballon d'Or odds. In 48 appearances this term for City in all competitions, KDB has 20 goals with 12 assists. That includes 15 strikes and seven helpers in Premier League play. De Bruyne scored four of City's five goals in a 5-1 demolition of Wolverhampton back on May 11th. Not only has de Bruyne never won Ballon d'Or, but he's never even been a finalist for the award. Ditto for Salah, amazingly.
Based on the 2o22 Ballon d'Or odds, it sure doesn't look like this will be de Bruyne's year, either. It's hard to justify his lack of global recognition, but it is what it is. Perhaps de Bruyne would have a better chance to win if Manchester City had finally found success in the Champions League, but the team's collapse against Real in the semis will likely cost him yet again.
Sadio Mane (+1000)
Arsenal legend Thierry Henry believes this year's Ballon d'Or should come down to Benzema and Sadio Mane. Mane is often overshadowed at Liverpool, but the Reds' other star winger has done an awful lot of winning this year, too.
Senegal won AFCON thanks, in large part, to Mane's outstanding play. Mane scored three goals and supplied two assists in seven games in the competition. Combine that with his 20 goals and two assists in the Premier League and Champions League combined, and you've got quite the impressive resume for the 30-year-old. Additionally, Mane helped Senegal get past Salah's Egypt to clinch a spot in this fall's World Cup, to boot.
Henry believes this year's Ballon d'Or race will be decided by the upcoming Champions League final. Benzema will take home the trophy if Real Madrid win it yet again, while Mane will be the choice if Liverpool exact their revenge.
Benzema 🆚 Mane.

Thierry Henry believes the #UCL final is a battle between the two Ballon d'Or favorites. 🏆 pic.twitter.com/ZZoZjjAfMd

— CBS Sports Golazo ⚽️ (@CBSSportsGolazo) May 4, 2022
Henry said, "So that will add an extra little spice into it. I still believe that Benzema is ahead, but if Mane wins it with Liverpool and they do make the quadruple, that's a pretty strong case. And it will be great for Africa, but I'm still going for Benzema."
Mane does make for a compelling long-shot wager at his +1000 Ballon d'Or odds. Salah's overall numbers may be slightly better, but Mane does belong among the frontrunners.
Robert Lewandowski (+1600)
Inexplicably, Robert Lewandowski continues to be underrated. All he's done this season for Bayern Munich is score an incredible 50 goals in all competitions, in addition to four more for Poland in four appearances.
Lewandowski only has six assists on his ledger, but why pass when you can just score all of the goals yourself instead? There isn't a more dominant striker in world soccer right now, and the 33-year-old is showing absolutely no signs of slowing down. Lewandowski just won the Bundesliga for the eighth time, though the German giants were eliminated in upset fashion by Villarreal in the Champions League quarterfinals.
Perhaps that early European ouster will ultimately cost Lewandowski in his quest to win Ballon d'Or for the first time. He finished as the runner-up to Messi a season ago, but the current Ballon d'Or odds indicate he'll be lucky to be named a finalist again this term.
Who Will Win Ballon d'Or?
While Benzema is the clear favorite, and deservingly so, I don't think the French forward is home free just yet. Real Madrid's upcoming Champions League final clash against Liverpool may well decide which player goes on to win the coveted prize later this year.
If Liverpool are able to win Europe's premier club competition, I think both Salah (+700) and Mane (+1000) will gain serious steam in this race. It may depend on which player has the better game, in fact. Both players will also see their stock improve if Liverpool shock the world and steal the Premier League crown from Man City this weekend.
If you want safety, there is still room for some upside in betting on Benzema's -225 Ballon d'Or odds. If you want more profit potential, however, I do think both Salah (+700) and Mane (+1000) are worthwhile dart throws. If Liverpool make the impossible dream a reality, it will be hard to deny either player's claim to the trophy.
| | |
| --- | --- |
| Player | Odds |
| Mohamed Salah | +700 |
| Karim Benzema | -225 |
| Sadio Mane | +1000 |