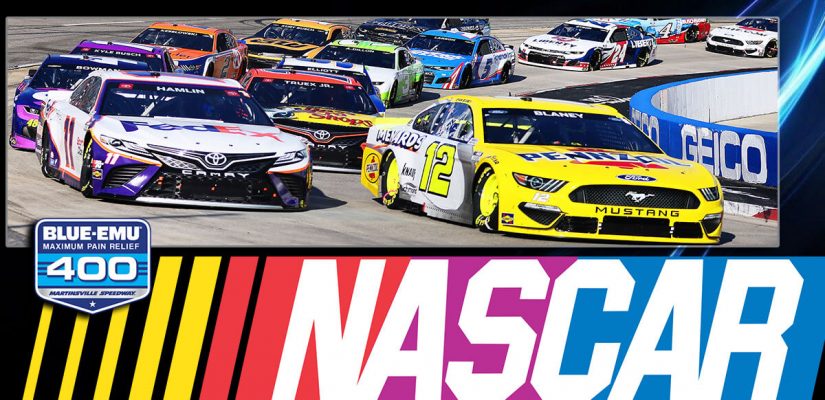 After shot track racing at Richmond Raceway, we're off to the shortest track in NASCAR at Martinsville Speedway for racing under the lights Saturday night.
This isn't a track for speed:
But it's always an entertaining race in close quarters. We have the latest and best NASCAR odds at Martinsville for Saturday evening in Virginia.
There were familiar names near the front at Richmond last week. The usual short-track specialists had a big say towards the end of the race.
Everything changed with just a few laps to go. @dennyhamlin | @JoeGibbsRacing pic.twitter.com/dkoN2YKvPh

— NASCAR (@NASCAR) April 6, 2022
Denny Hamlin, Kevin Harvick, and Martin Truex Jr. were all on our bet list for Richmond. Hamlin won the race, with Harvick finishing 2nd and Truex Jr. 4th. William Byron was leading late, but was running on bald tires.
The Best NASCAR Online Betting Sites
Truex Jr. reeled Byron in with less than 10 laps left in the race. However, Hamlin was lurking on fresher tires than Byron and Truex Jr.
As soon as Truex Jr. caught Byron, he fell back while Hamlin surged to the front. Truex could beat the NASCAR odds at Martinsville this week as well.
He's liked racing here in the past, so could he bounce back from a disappointing loss to Victory Lane? The odds certainly suggest it's a good possibility at Martinsville this weekend.
ANOTHER SHORT-TRACK SHOT FOR TRUEX JR.
The
Martinsville odds
for NASCAR this weekend don't come as a big surprise, though there is value to be had on the board. After coming up short last week, Truex Jr. is likely going to be on the hunt again.
Ryan Blaney and Chase Elliott are tied atop the NASCAR leaderboard. Truex Jr. snuck up to third after another steady performance at Richmond. None of these drivers have a win yet this season.
Head below for the best Martinsville odds for NASCAR and picks this weekend in Virginia.
NASCAR Odds Martinsville 2022
The NASCAR odds at Martinsville have Martin Truex Jr. at the top of the board. The oddsmakers have a sense that Truex Jr. can carry over his success from last week to Martinsville.
At another short-track on Saturday, Truex Jr. should be close again. He won three of five races at Richmond before coming up just short last week. Like Richmond, he's been a force at Martinsville. Truex Jr. will be a popular pick, so his NASCAR odds at Martinsville may not carry the best price on race day.
Having said that, there's no denying how strong he is at this track and has to be considered. However, there might be better value on the Martinsville odds board in 2022.
| Odds | Driver | Team |
| --- | --- | --- |
| +500 | Martin Truex Jr. | Joe Gibbs |
| +700 | Chase Elliott | Hendrick Motorsports |
| +800 | Denny Hamlin | Joe Gibbs |
| +800 | Kyle Busch | Joe Gibbs |
| +800 | Ryan Blaney | Penske |
| +1000 | Joey Logano | Penske |
| +1000 | Kyle Larson | Hendrick Motorsports |
| +1000 | William Byron | Hendrick Motorsports |
| +1400 | Alex Bowman | Hendrick Motorsports |
| +1400 | Christopher Bell | Joe Gibbs |
| +2000 | Ross Chastain | Trackhouse Racing |
| +2200 | Kevin Harvick | Stewart-Haas |
| +2200 | Tyler Reddick | Richard Childress |
| +2800 | Chase Briscoe | Stewart-Haas |
Martin Truex Jr. (+500)
Martin Truex is the favorite on the NASCAR odds at Martinsville going into this week. He was highly rated at Richmond after winning three of five races there. Truex's tires just couldn't hold up well enough with five laps remaining.
Martin Truex Jr. wins the second stage at Richmond Raceway.

More» https://t.co/wOilURxmwg pic.twitter.com/lXPncid3iU

— Bob Pockrass (@bobpockrass) April 3, 2022
He still picked up valuable points finishing 4th and is in the top-3 in the NASCAR standings. Truex Jr.'s success at Martinsville will make him a popular pick at Martinsville on Saturday.
He has finished 1st, 1st, 22nd, 1st, and 4th in his previous five starts at Martinsville. As was the case going into Richmond last week, Truex Jr. has won three of the last five races at this venue. Note that Truex was in the top-10 in eight of his last nine outings at Martinsville.
While his Martinsville odds at this NASCAR race aren't the best, it's hard to ignore his potential. His team knows how to deliver at short tracks.
NASCAR Odds Martinsville
---
William Byron (+1000)
William Byron had a great car last week. Hendrick put together a car that easily could have and should have won with at Richmond. There was just one miscalculation.
Byron had a comfortable lead, but was reeled in by Truex, Harvick, and Hamlin. His old tires were unable to compete in the later stages of the race.
The Byron team took a gamble, and while it didn't pay off for a win, he still had a solid go at it to finish 3rd. Don't look for Byron to fall out of favor at Martinsville after a competitive run at Richmond.
After failing to get into the mix in his first three career races here, Byron has finished in the top-10 in four of his last five, and top-5 in three of his previous five attempts at Martinsville.
He's getting a good feel for short tracks and has to be worth considering to win the Martinsville race.
NASCAR Odds Martinsville
---
NASCAR at Martinsville Prediction
Brad Keselowski (+3300)
Are you looking for the best value odds on the board at Martinsville in the Blue-Emu Maximum Pain Relief 400? It's hard to pass over Brad Keselowski after a promising outing last week at Richmond Raceway.
Keselowski had a good car that he kind of wasted after receiving a huge penalty and fine after getting caught modifying his Next-Gen car. His team was docked 100 points, 10 playoff points, and a $100,000 fine.
Keselowski had a fast car and finished 13th at Richmond despite the distractions. This has been a disappointing campaign for Keselowski, but he has something to build on after a decent showing.
MARTINSVILLE KIND TO KESELOWSKI
His form at Martinsville in the past provides something to like as well. Keselowski has finished 1st, 3rd, 3rd, 4th, 33rd, 3rd in his previous six starts at Martinsville.
He has two wins in his career here and has finished top-5 in nine races since 2016. The Michigander has to be a hot pick at these odds.