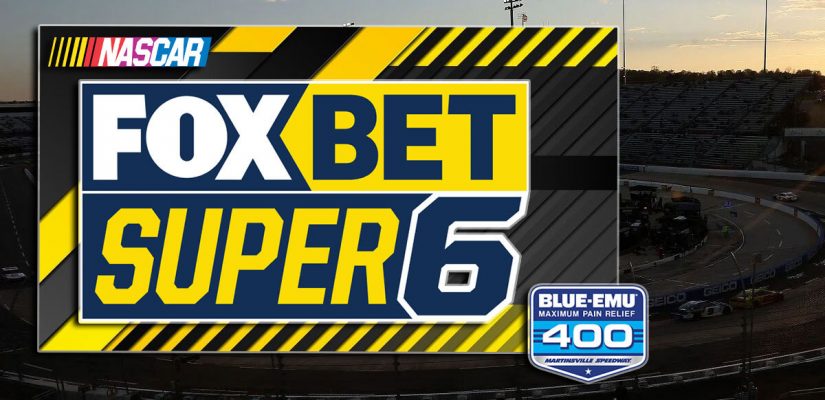 NASCAR has night racing for the first time this season on Saturday night. The Blue-Emu Maximum Pain Relief 400 is at Martinsville Speedway this weekend. We have the NASCAR Martinsville Super Six questions, and Martinsville Super Six picks for the season's eighth race.
? NASCAR ?? ????? ? pic.twitter.com/9gKSXFoYSC

— NASCAR (@NASCAR) April 6, 2022
Eighth race? It feels like the Daytona 500 was just two weeks ago, but we've already had seven races. Following seven races, Ryan Blaney and Chase Elliott shared a piece of the lead with 241 points. It was an entertaining race last week, with Denny Hamlin outlasting William Byron, Kevin Harvick, and Martin Truex Jr. on fresher tires.
The NASCAR Martinsville Super Six presents another opportunity to win free cash this season. Check out the best NASCAR online sportsbooks if you want to bet at Martinsville.
We will provide our favorite Martinsville Super Six picks. Feel free to follow or disagree and go with another option. Some of the questions are an educated guess more than something you can properly predict. The $5,000 FOX Bet pool could be yours if you find some luck.
Head below for our best Martinsville Super Six picks for April 9, 2022.
Keep in mind that the Super Six runs up to Stage 2. Whatever happens following Stage 2 is irrelevant to these questions.
1. Where Will the Pole-Sitter Finish at the End of Stage 2?
Without knowing who the pole-sitter is this can be one of the trickier questions. Looking at data from previous races is a good place to start.
In other words, how well have the pole-sitters at Martinsville done in the past? In the last race at Martinsville in October, Kyle Larson qualified 1st and dropped to 14th by the end of the race.
He was 2nd going into Stage 2.
Last April, this race had Joey Logano starting at the front, and then ultimately finishing 6th. Brad Keselowski won the pole three races back at Martinsville and finished 4th, 7th at the end of Stage 2.
In the first race in 2020, Ryan Blaney had a good run to capture the pole, then 2nd at the end of Stage 2 and the race.
In a completely random guess, we'll go with E, and the pole-sitter will be 6th or 7th by the time Stage 2 rolls around for the first Martinsville Super Six pick.
NASCAR MARTINSVILLE SUPER SIX:
2. Drivers Will Have the Fastest Lap by the End of Stage 2?
Martin Truex Jr. fast at a short-track? Where have I heard that before. After having more success in Richmond last week, Truex gets a gift with another short-track on Saturday night.
Martinsville is another place where Truex has liked going to race in his career. Expect another fast car for him at Martinsville. His team really doesn't have to do much else.
They had a good car and were just outplayed by Denny Hamlin's team. Hamlin had the freshest tires and outlasted the rest, including Truex who dropped to 4th.
Truex came back to beat Hamlin last year at Martinsville. He's 1st, 1st, 22nd, 1st, 4th in his previous trips to Martinsville.
Another fast trip for Truex at Martinsville on Saturday night looks assured.
NASCAR MARTINSVILLE SUPER SIX:
3. Drivers Will Have the Fastest Lap at the End of Stage 2?
Austin Cindric has only raced at Martinsville three times in his career, but he's had success every outing. He will have it tougher this time in his Cup Series debut at Martinsville.
The 23-year-old hasn't taken to the track at Martinsville as a Cup Series driver. However, the Daytona 500 winner has been fast and comfortable here in the Xfinity Series.
In three races at Martinsville, he's finished 10th, 6th, 2nd in Xfinity races. In qualifying, Cindric has won the pole twice and 6th in the other attempt.
Since winning Daytona, he has been up and down, with Martinsville likely a positive start for the young gun. He stands out as the Martinsville Super Six pick for question 3.
NASCAR MARTINSVILLE SUPER SIX:
4. Laps Under Caution Will There Be by the End of Stage 2?
Cautions are generally common at Martinsville. This is a tight track, the shortest on the NASCAR schedule. Contact and trading paint is part of racing here.
It's a physical race that demands the attention of drivers from beginning to end. Accidents and mishaps aren't unheard of at Martinsville.
There has been an average of 8.7 yellow flags at Martinsville over the last five years.
It's a small track, so the laps can add up in a hurry.
I will go with the high side in this question, with 15-17 caution laps the answer for question 4.
NASCAR MARTINSVILLE SUPER SIX:
5. How Many Lead Changes Will There Be by the End of Stage 2?
Strategy is the most important aspect of a short-track race. The team in the pits has a lot of pressure to have a good race.
There has been an average of 10.8 lead changes over the last eight races at Martinsville. In the previous two races, there was 11.2 lead changes.
If we want to go back 18 races back, there is an average of 15.1 total lead changes, so it's been coming down.
Selecting D, E, or F would be going well against the grain.
The most realistic answer to this question has to be B, with 6 to 10 lead changes by the end of Stage 2.
NASCAR MARTINSVILLE SUPER SIX:
6. Winless Drivers at Martinsville Will Finish the Best at the End?
In question 6 of our final NASCAR Martinsville Super Six picks, Ryan Blaney and Kyle Larson jump off the page. However, I'm pointing towards William Byron, who is coming off a strong performance last week.
Byron had a strong car and led 122 laps in the race. His team took a gamble for the win, but his tires didn't have enough left.
Denny Hamlin cruised to the win after timing the race perfectly and running on the freshest tires. I'm not giving up on Byron just yet. He's likely going to come back with another strong performance.
Byron has liked racing at Martinsville in past starts. He has finished 2nd, 8th, 35th, 4th, 5th in his last five trips to Martinsville.
As a good contrarian pick against the public, Byron is a good open for question 6 in the Martinsville Super Six.
NASCAR MARTINSVILLE SUPER SIX: