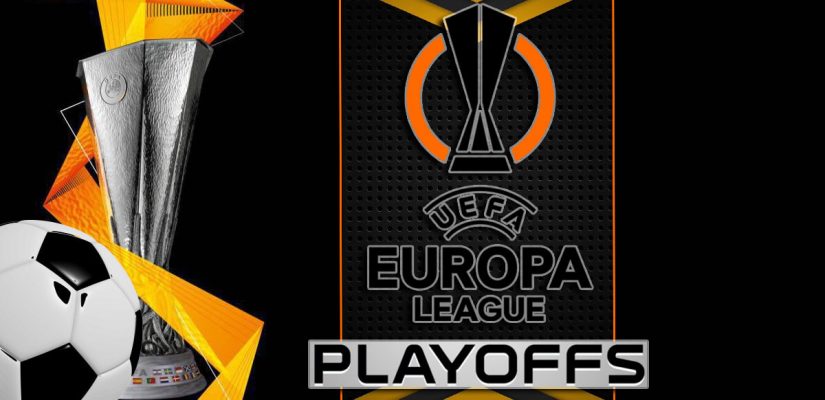 Betting on 2022 Europa League playoffs has already started. You don't have to rush things, though, because there's still plenty of time before the first matches kickoff. The EL playoffs are scheduled for the same week as the Champions League. CL starts on the fifteenth, EL on the seventeenth. The second legs are set up for the 24th.
Knockout round play-off draw ✅

? Which game are you looking forward to most? #UELdraw | #UEL pic.twitter.com/J7q7sJDiCs

— UEFA Europa League (@EuropaLeague) December 13, 2021
Sixteen teams will do their best to cement their spot in the ro16 that's going to be held in early March. We already know eight ro16 contestants; we'll find out the remaining ones after these ro24 legs.
With teams like Barcelona, West Ham, Borussia Dortmund and Sevilla all in the same boat here, this season of Europa League is bound to be a whole lot of fun!
2022 Europa League Playoffs Overview
As mentioned earlier, the playoffs action starts on February 17th with the eight first-leg clashes. There are fine matches for us to explore, like Barcelona vs. Napoli and Borussia Dortmund vs. Rangers.
Keep in mind that, starting from this season, the away goals advantage is no more! Now, if the score is level at the end of the second 90 minutes, the game goes straight to overtime no matter how many away goals each team has scored.
Europa League playoffs betting lines have been around for a while now. Not only can you bet on the outright winner but on the first legs and teams to reach the next stage too. There's something for everyone so make sure you check out your favorite online sportsbooks!
One last thing – we're looking at two-legged contests here; one home and one away for every team. Don't take home turf advantage for granted as it's bound to hit you right in the face! Just something to think about as we move forward with our guide for betting on 2022 Europa League playoffs.
That's it for our general overview. Let's move on to the betting side of things!
Predictions for Betting on 2022 Europa League Playoffs
Like we've already pointed out, there are lots of EL bets already available across the vast sea of online sports betting sites.
Here, we'll be closely inspecting outrights – bets based on who will win the whole event.
These bets go all the way to the grand finals, which makes them perfect for people who love watching the whole campaign cheering for one team… unless their team gets eliminated in the first round, that is.
Outright Winner Odds and Picks
Let's start off with the odds:
| Team | Odds |
| --- | --- |
| Borussia Dortmund | +550 |
| Sevilla | +700 |
| Barcelona | +750 |
| Atalanta | +900 |
| West Ham | +1000 |
| RB Leipzig | +1400 |
| Napoli | +1600 |
| Porto | +2000 |
| Real Betis | +2500 |
| Real Sociedad | +2500 |
| Lazio | +3300 |
| Olympiakos | +6600 |
Borussia Dortmund and Sevilla are the rightful favorites to win the Europa League title this year. They are both playing in tough leagues, La Liga and Bundesliga respectively; they're both currently in second place and have been playing good football thus far in the season.
But, the challengers are looking mighty fine too.

The front runners are surely Barcelona and West Ham, with Atalanta looking rather dangerous too. The further down the line we go, the further we're starting to talk about Cinderella stories. If we're being realistic here, 2022 Europa League will be decided between the following five teams: Borussia, Sevilla, Barcelona, Atalanta, and West Ham.
Which one should you pick? Well, the value is definitely on West Ham, given the way they've been playing in the toughest league in the world. But, Sevilla at +700 is my pick here. They have a history of winning this competition and, despite not having Unai Emery anymore, will still fancy their chances at clinching this one.
Previous Europa League Winners
| Season | Winner | Runner-Up |
| --- | --- | --- |
| 2014 | Sevilla | Benfica |
| 2015 | Sevilla | Dnipro |
| 2016 | Sevilla | Liverpool |
| 2017 | Manchester United | Ajax |
| 2018 | Atletico Madrid | Marseille |
| 2019 | Chelsea | Arsenal |
| 2020 | Sevilla | Inter Milan |
| 2021 | Villarreal | Manchester United |
2022 Europa League Playoffs Betting Picks
Here comes the main part of this piece, the part that will be of great importance for everyone looking to get into betting on 2022 Europa League playoffs. There are eight matches in this round, but only six of them have somewhat valuable odds. Let's have ourselves a closer look!
Barcelona vs. Napoli Pick
Barcelona to Advance:
-140
Let's go headfirst into what's bound to be the hottest ro24 clash this season. It's Barcelona vs. Napoli. Two teams that we usually expect to see in Champions League playoffs have been downgraded to Europa League action this season. But, just because it's a lower-tier event doesn't mean they won't perform at their best. It's quite the contrary – neither of them are doing well in domestic competitions so winning the Europa League would be a fine way of saving their seasons.
Camp Nou is the location of the first leg in which Barcelona has a slight advantage.
The moneyline on Barca is set up at +100, which should be enough for most people. I know Barcelona haven't been the best team this season. Without Messi, they're just a shell of their former selves… but they have a couple of world-class players coupled with high-potential youngsters. Napoli will be a tough cookie to crack, but I'm sure Barcelona will start sealing the deal with an important home win.
Sevilla vs. Dinamo Pick
Dinamo Zagreb to Advance:
+375
Next up, Sevilla vs. Dinamo Zagreb! Dinamo Zagreb had a massively successful last season where they reached all the way to the Europa League quarterfinals. They played quite well too, but got eliminated by the eventual winners Villarreal. The Croatian team surprised everyone with a splendid comeback against Mourinho's Tottenham. A quick reminder – Tottenham won 2:0 at home but ended up losing 3:0 thanks to Oršić's quarterfinal-worthy hat-trick.
Dinamo are to face in-form Sevilla and I'm afraid the clash with this La Liga powerhouse will be the end of their European campaign this season. The current Dinamo roster is far from the one that almost went to the semifinals last season. They sold several key players, plus the ones that did stay seem to be struggling. They haven't even decided their domestic league yet, which is usually already done at this point…
As for Sevilla, they're having one of their best seasons ever! At the moment, Sevilla are second on the Spanish La Liga table, just behind Real Madrid by five points… but with a match to play. Sevilla are showcasing the best defense of the league, and they're bound to prevent Dinamo Zagreb from scoring a goal. I'm not just talking about the first leg that's going to be played in Spain but the second leg too. If you came here looking for regarding betting on 2022 Europa League playoffs, you ought to appreciate this piece of information!
RB Leipzig vs. Real Sociedad Pick
Real Sociedad to Advance:
+120
RB Leipzig vs. Real Sociedad promises quality Europa League action too. Both teams will be fancying their chances here, though we have to point out Leipzig are the slightest of favorites coming into the first clash. The first leg is going to be played in Leipzig, Germany, and knowing RB's form in home fixtures, they shouldn't have issues with clinching the W.
However, when looking at this two-legged contest as a whole, I have to give Real Sociedad a slight advantage. Overall, the Spaniards are in better form, they're in a better spot in their domestic league, and they have more in-form players capable of deciding important clashes like this one.
At +120, betting on this Europa League playoffs contest definitely has a ton of value. But, Leipzig is not to be taken for granted despite their struggles this season. Thanks to a bunch of high-profile individuals and Nkunku's impressive performances, Leipzig has looked dangerous.
But, given the fact they're now nothing more than a one-man show means they're likely to be eliminated from a teamwork-oriented Sociedad.
So yeah, we're going against the favorites here. Soccer bookmakers value Leipzig's roster too much. They're disregarding form, and that's going to end up costing them because at +120, I would take Sociedad over them any day of the week.
Bor. Dortmund vs. Rangers Pick
Borussia to Advance:
-550
As mentioned earlier, Borussia Dortmund are the heavy favorites of taking the Europa League crown this season. Their Champions League fallout was a result of Haaland's injury, no doubt about it. But, now that the Norwegian wunderkind is back in action, there's no doubt in my mind Borussia will reach far into the playoffs this season.
As for who's going to go through here, the answer is quite obvious.
Haaland and Reus-powered Borussia will not stumble against Rangers. True, the Scottish champions are already six points away from their eternal rivals Celtic, and should continue in a similar fashion and go on to win yet another title.
But, their European campaign is likely to end with a round of 24. If it was any other team besides Sevilla, Barcelona, and Borussia, I'd give Rangers some chances of going through.
But, they're just not on the same level as the German powerhouse.
Yes, I know Morelos and Tavernier are both in exceptional form… Aribo too… but I just don't think it will be enough to do anything noteworthy. They might go away with a win at Ibrox in the second leg, but I reckon it won't matter in the end because Haaland and co. are likely to pump up the numbers at Signal Iduna Park.
Porto vs. Lazio Pick
This is surely the toughest matchup in this round. Lazio and Porto, two well-rounded teams going up against each other for a spot in the final sixteen. Who's going to go through? Well, the odds point in Lazio's direction, though only ever so slightly.
I wouldn't bet on this one. There, I've said it right away. It's just too risky in my books! On one end we have Lazio who are, truth be told, in not-so-good Serie A position right now. But, they've scored plenty of goals and are definitely among the strongest attacking teams in the league right now.
On the other end, we have Porto who are on top of Liga Portugal, three points ahead of Sporting and seven ahead of Benfica. Yes, Liga Portugal is a lot easier than Serie A, especially in defense. However, we have to point Porto's defensive efforts as absolutely superb, having conceded just eleven goals in seventeen matches.
Porto will score at least one goal in both home and away clashes. We know Lazio's defensive struggles are real and the Portuguese wingers ought to exploit them. As for whether or not Lazio will score in both clashes too, I honestly can't say anything with enough certainty. I mean, Immobile is having a blast, just like Milinkovic-Savic. But, Porto's defense has been rock-solid and the Italians will have a lot of trouble bursting through.
But, as I said before, this is going to be a tricky contest and I'd advise you to stay away from it. If you're interested in betting on 2022 Europa League playoffs, there are far better and more valuable clashes for you to explore and bet on.
Zenit vs. Betis Pick
Zenit vs. Betis is the last of our Europa League playoffs betting guides! But, that doesn't mean you should stop looking at other matchups if you're interested in betting on 2022 Europa League playoffs. There are more options available, these are just our favorite ones. So, with that in mind, let's finish up with this piece so you can start placing some soccer bets!
I'd go for Real Betis to advance without thinking twice about it. Real Betis have been one of the best La Liga teams this season. They do have issues in defense at times, but their offense is more than capable of scoring plenty of goals. At the moment, they are third in La Liga and will likely contest for a top-four finish to clinch Champions League football next season.
As for Zenit, they are first in the Russian Premier League, though their form isn't the greatest. Their biggest rivals, Dinamo Moskva, are just two points behind them right now, catching up with every dropped point by Zenit.
But, we can't really compare the Spanish La Liga with the Russian Premier League.
The former is miles tougher, and Betis' third-place means they're in far better state than Zenit at the moment. So, let me repeat what I said earlier – I'd go for Betis to advance without thinking twice about it!
Wrapping Things Up
This season of Europa League is absolutely packed with top-tier teams. I mean, it's not every year that we see the likes of Borussia Dortmund and Barcelona in this competition.
Dark horses are plentiful too.
Several teams that await in the next stage of the playoffs look quite powerful too. Lyon and West Ham will be fancying their chances no matter who they go up against.
So yeah, overall, we're in for some splendid Europa League playoffs action this year!