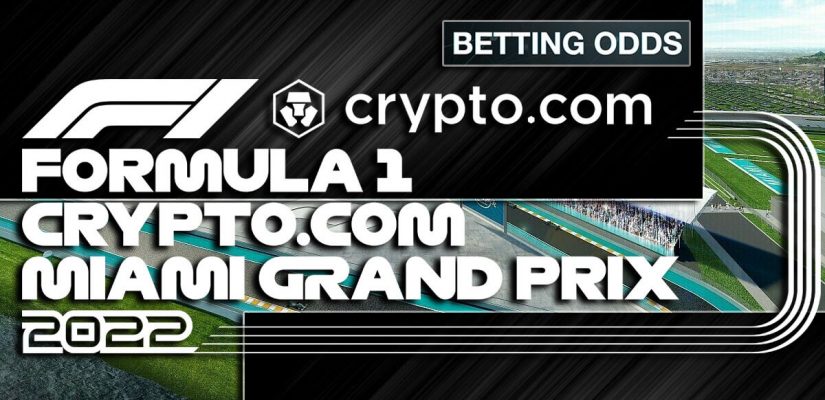 Formula One is in the United States this week at the Miami Grand Prix. This is the fifth race on the F1 circuit, following a stop at the Emilia Romagna Grand Prix in Italy last week. TheSportsGeek has the latest F1 Miami GP odds and best bets for this weekend in Florida.
The energy. The noise. The excitement! 🌴

Thank you for a welcome like no other, @f1miami 😍#MiamiGP #F1 @HardRockStadium pic.twitter.com/SfOEBvqsVz

— Formula 1 (@F1) May 5, 2022
The F1 Miami GP in 2022 is one of two races in the US this year. The other American race is held at the Circuit of the Americas in Austin, Texas. There will be another US race after Las Vegas joins the schedule.
F1 continues to grow in popularity in the US, and they are tapping into this quickly. Las Vegas is set to host the F1 beginning next season for a yearly race. If you're not counting the Caesars Palace race in 1984, the inaugural event is scheduled in November of 2023.
Will Lewis Hamilton and Mercedes be back in contention by then? After getting embarrassingly lapped by Max Verstappen last week, Mercedes has a lot of questions to answer. This isn't necessarily a Hamilton issue when his car is getting lapped.
Lewis Hamilton pain eased as Toto Wolff hints at Mercedes upturn with Miami 'experiments' https://t.co/Zl55DyQVbb

— Express Sport (@DExpress_Sport) May 5, 2022
His team needs to lock themselves in a room and figure out this set-up. It's a two-driver race, but Verstappen isn't dealing with Hamilton in his rearview mirror. That's Charles Leclerc of Ferrari. Verstappen and Leclerc have exchanged blows this season.
Verstappen is the most recent winner, as he qualified P1 and didn't look back during the race for an easy win in Italy. Sergio Perez and Lando Norris rounded out the podium. Leclerc struggled in P6, but maintains the lead in the standings. He enters with 86 points over Verstappen's 59 points.
Remember that Verstappen didn't finish two races, so he's going to be playing catch up. Both Leclerc and Verstappen each have a win going into Miami, with the Verstappen DNFs currently the reason for the separation. Let's get into the circuit and the F1 Miami GP odds in 2022.
F1 Miami GP 2022
There is no history in the Miami Grand Prix, as this is the first race taking place here. It's a brand new track for the drivers, so it should be interesting.
What we should probably expect is another battle between Verstappen and Leclerc. It's weird not including Hamilton, but he's not in the mix on the F1 Miami GP odds board.
The Miami Grand Prix consists of 19 corners on a 3.36-mile track, which is just outside Hard Rock Stadium in Miami Gardens. It's a fairly basic track that resembles a street circuit, though this isn't a street course.
Not as basic as Las Vegas, which looks like just long straights, but there are plenty of medium and high-speed corners in Miami, and it should be fun. There is one long straight, another shorter straight, and then medium and high-speed corners. Basic doesn't mean boring, though.
Are you ready to rock Miami International Autodrome?! 🎸🤘

Jump aboard with F1 22 cover star and F1 ambassador @Charles_Leclerc for a lap around @f1miami's sun-soaked 5.41km course 🌅#MiamGP #F1 @Formula1game pic.twitter.com/IDgzOKXWJD

— Formula 1 (@F1) May 5, 2022
It's a fairly free-flowing track that would have benefitted Mercedes greatly last year. There are some narrow areas on this track, which should make overtaking difficult. Qualifying should be especially important.
F1 Miami GP Betting Odds
| Odds | Driver | Team |
| --- | --- | --- |
| +100 | Max Verstappen | Red Bull |
| +150 | Charles Leclerc | Ferrari |
| +1000 | Sergio Perez | Red Bull |
| +1200 | Carlos Sainz Jr. | Ferrari |
| +2500 | Lewis Hamilton | Mercedes |
| +4000 | George Russell | Mercedes |
| +4000 | Lando Norris | McLaren |
| +8000 | Daniel Ricciardo | McLaren |
| +15000 | Valtteri Bottas | Alfa Romeo |
| +17500 | Fernando Alonso | Alpine |
| +25000 | Esteban Ocon | Alpine |
| +35000 | Kevin Magnussen | Haas |
| +40000 | Pierre Gasly | AlphaTauri |
| +50000 | Mick Shumacher | Haas |
F1 2022 Miami GP Prediction
Max Verstappen (+100)
There was some nervousness in the Red Bull camp after Max Verstappen had to retire for the second time this season. He fell out of the Australian Grand Prix and received no points two races back.
It didn't take long for Verstappen and Red Bull to fire back and say everything is fine with an exclamation point. They did their talking on the racetrack, as Verstappen completely dominated over the weekend in Italy two weeks ago. From qualifying to the race, Verstappen was much the best.
His car for the first time this season looked unstoppable. In the first win this season, Verstappen got into a duel with Charles Leclerc at Jeddah. Verstappen didn't need a duel to win in Italy. He left nothing up to chance.
YES BOYS 🔥

Winning here today caps off a perfect weekend for us. Very happy with the performance from the car and the team this weekend, so thank you to @redbullracing for that.

Good to see @SChecoPerez coming in second, let's build on this #ImolaGP pic.twitter.com/1bk18rCOVh

— Max Verstappen (@Max33Verstappen) April 24, 2022
And with that, Verstappen showed that nothing is wrong with his machine. That set-up was perfect from Red Bull, and they have to be looking at this circuit and see another good opportunity to clear away from the field.
If his car is in the same shape as it was in Italy, this should be easy work for Verstappen. He's too good in medium and high-speed corners to be bothered at the Miami Grand Prix. It's tough on the competition when he's at a track that suits his strengths, and the car is running well.
Another Verstappen vs. Leclerc Duel?
In a way, this track resembles Jeddah, with medium and high-speed corners. Verstappen looked good at Jeddah with a win over Leclerc earlier in the season. A repeat performance in that one or from last week should be sufficient.
After Red Bull had some explaining to do after Verstappen retired for the second time this season, they are just fine following a dominant outing in Italy.
Look for the momentum to trigger another win in Miami for Red Bull with Verstappen atop the podium. His F1 Miami GP odds at even or better are a good bet.
F1 Miami GP Betting Odds To Win