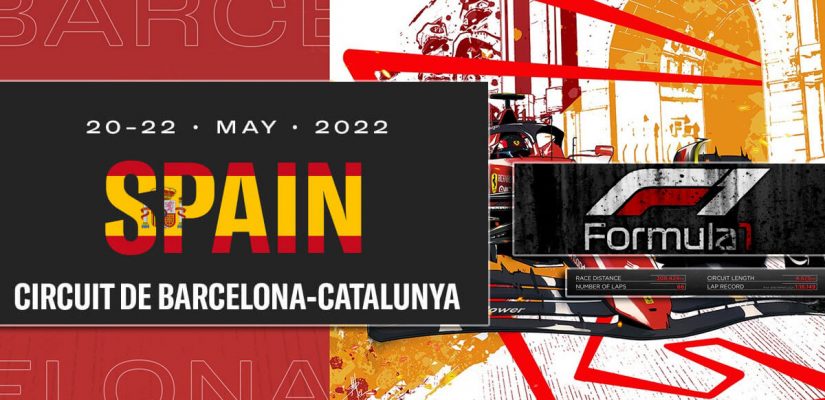 Formula 1 returns for Round 6 of the 2022 season, which means it's going to be a good weekend. The Spanish Grand Prix is scheduled for this Sunday in Barcelona after the debut of F1 in Miami two weeks back. TheSportsGeek has the best Spanish GP odds and top F1 betting sites.
Lewis Hamilton has won a staggering 31 different Grand Prix in his career, 9️⃣ more than Michael Schumacher managed! 🤯

Will anyone ever come close to beating Hamilton's record? 💬#Motorsport #MotorsportStats #LH44 pic.twitter.com/ifhLapHYtA

— Motorsport Stats (@msportstats) May 19, 2022
Through the first five races of the season, there haven't been a lot of answers to our questions. One that has been answered is Mercedes has a lot of work to do to get back into the mix. There will be upgrades going into Spain, but it's unlikely to happen this season.
Lewis Hamilton hasn't had the best car to work with, while Ferrari and Red Bull have turned the 2022 F1 season into a two-team race. It's been Red Bull and Mercedes in recent years, but Ferrari has made drastic improvements to their race team.
It would have been one heck of a season if Mercedes, Red Bull, and Ferrari were all in the fray. That's not the case, with Ferrari leading the Constructors with 157 points by 6 points over Red Bull. Charles Leclerc continues to lead Max Verstappen in the Drivers' Championship, 104 to 85 points.
Smiles in sunny Barcelona 😄

Race weekend 🔜#SpanishGP #F1 pic.twitter.com/Zz1vOwQVtH

— Formula 1 (@F1) May 19, 2022
Hamilton isn't involved in the hunt, as he is sixth with 36 points. He's had just one podium going into Spain this weekend. Carlos Sainz Jr., George Russell, and Sergio Perez all have more points than Hamilton.
The 2022 campaign is all about Leclerc and Verstappen. Leclerc has the lead, but if Verstappen didn't DNF two races, this would be all Red Bull.

His car has been faster on the track than Leclerc when it isn't blowing up. That could change with teams making upgrades for Spain, though.
The Spanish GP odds indicate another Verstappen vs. Leclerc duel. I can't argue with the Spanish Grand Prix odds for 2022.
2022 Spanish GP Odds
If you've been following Formula 1 in 2022, you could probably accurately guess who the Spanish GP odds favorites are at the Circuit de Barcelona. Verstappen is the Spanish Grand Prix odds favorite following a dominant win in Miami.
Looking good, @Circuitcat_eng 😍

Jump on board with home hero @alo_oficial for a hot lap of the circuit in F1 22! Launching worldwide, July 1 🗓#SpanishGP #F1 pic.twitter.com/VklBDSUAGr

— Formula 1 (@F1) May 19, 2022
At even odds to win the Spanish GP, his main antagonist isn't that far behind on the odds board, though. Leclerc's Spanish GP odds are listed at +130 to win on Sunday. Outside of Verstappen and Leclerc, it would be a notable upset if another driver wins.
Could it be time for someone else to win? Maybe Carlos Sainz Jr. can win at his home track. Sergio Perez is likely going to threaten for a spot on the podium again this week as well. The way Verstappen is running, it might require him falling out of the race with mechanical problems again, though.
| Odds | Driver | Team |
| --- | --- | --- |
| +100 | Max Verstappen | Red Bull |
| +130 | Charles Leclerc | Ferrari |
| +1100 | Carlos Sainz Jr. | Ferrari |
| +1600 | Sergio Perez | Red Bull |
| +2500 | George Russell | Mercedes |
| +2500 | George Russell | Mercedes |
| +6600 | Lando Norris | McLaren |
| +6600 | Valtteri Bottas | Alfa Romeo |
| +17500 | Fernando Alonso | Alpine |
| +20000 | Esteban Ocon | Alpine |
| +25000 | Daniel Ricciardo | McLaren |
| +50000 | Kevin Magnussen | Haas |
| +50000 | Mick Shumacher | Haas |
| +50000 | Pierre Gasly | AlphaTauri |
2022 Spanish GP Predictions
Max Verstappen (+100)
Max Verstappen has won every race that he's stayed on the track and didn't DNF. Verstappen didn't finish to open the season in Bahrain.
Then two races later, after winning the Saudi Arabian Grand Prix, Verstappen ran into car problems again and received a DNF for no points for the second time in three weeks.
Other than the thrilling duel at Jeddah in the Saudi Arabian Grand Prix against Charles Leclerc, Verstappen has been in the clear.
That was an entertaining race in a chess match between Leclerc and Verstappen. There was nothing of the sort in Rome and Miami.
Verstappen beat Leclerc by 16.527 seconds in the Emilia Romagna Grand Prix. He did not qualify P1 in the following race in Miami, though it still didn't matter.
Leclerc was at the front of the grid, but Verstappen took over and didn't look back. The Red Bull star had over a 10-second lead before the safety car came out to make things interesting for a second.
Verstappen quickly built up a 3-second lead and held for a 3.786-second win. It could have very easily been another 16-second win or thereabout if the safety car doesn't come out in Miami.
Lewis Hamilton won this 4.675-kilometer race last year, but Mercedes doesn't have the right car for him in 2022. There is a long straight from Turn 16 to Turn 1, which Hamilton used to his advantage in his fast rig.
The Dutchman trailed Hamilton by 15.841 seconds, with Verstappen finishing well back for P2. Hamilton's teammate, Valtteri Bottas, did well enough to finish on the podium. Leclerc was P4, well behind Hamilton at 54.616 seconds.
Charles Lerclerc (+130)
Given recent history, this looks like a Verstappen race on paper, but Ferrari is bringing major upgrades to Spain. If it weren't for the upgrades permitted for Round 6, Leclerc's Spanish GP odds probably wouldn't be at +130.
Ferrari feels confident, and so do the oddsmakers in Leclerc taking a step forward after finishing P2 last week in Miami. Leclerc and Sainz Jr. are expected to have a new floor for the F1-75. This was tested in Monza and cleared for racing by the FIA.
Leclerc is expected to cut time off his laps with the new package. The high-speed corners will work in his favor, with Verstappen and Red Bull stopped at two straight wins. Expect Leclerc and Verstappen to continue to exchange body blows. This time, Ferrari and Leclerc deliver the biggest shot in a small upset.
Leclerc Spanish GP Odds To Win