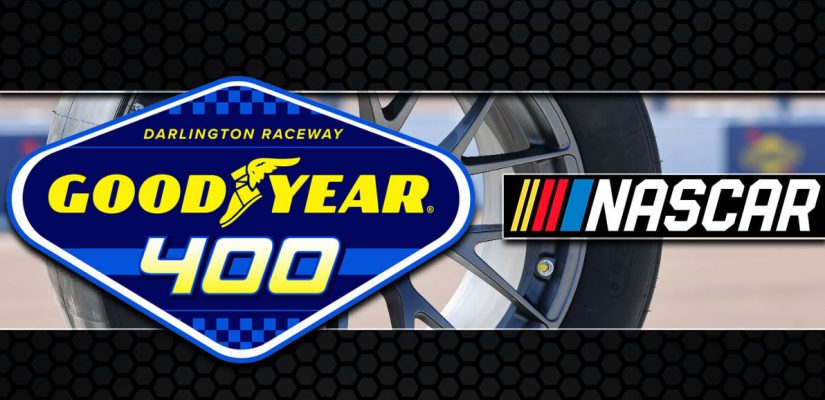 Despite it not feeling like we've had 11 races, this season is flying right on by in 2022. The NASCAR Cup Series is in South Carolina at Darlington Raceway for the 12th stop on the 2022 schedule. TheSportsGeek has the best Goodyear 400 odds for this week at Darlington.
The best finish ever?

— NASCAR (@NASCAR) May 4, 2022
It has been a profitable success so far with our NASCAR betting at TheSportsGeek, as we had another winner last week at Dover International Speedway. If you want to join the party, check out the best NASCAR betting sites.
Chase Elliott got it done on Monday after the weather postponed the race. Along with the best Goodyear 400 odds, hopefully, the best Darlington Raceway picks as well.
Chase Elliott has been a consistent throughout the season, but was still without a win before Dover. Elliott scored his win and owns a comfortable lead in the Cup Series standings.
Elliott is going into the 12th race on the Cup Series schedule with a win and two top-5 finishes. That doesn't sound impressive, but when you consistently finish in the top-10, the NASCAR points calculator likes a driver in contention often.
Goodyear 400 Darlington
The 2022 Goodyear 400 takes place at Darlington Raceway in South Carolina. Darlington is a 1.36-mile track with 25-degree banking for Turn 1 and 2, and then 23-degree banking for Turn 4 and 4.
This isn't the easiest track on the Cup Series schedule. Some drivers absolutely love Darlington and loathe this place. As one of the tougher tracks in NASCAR, this isn't a track that comes with much luck.
If a driver makes a mistake, Darlington is unforgiving, and it will show. While getting into wrecks at a superspeedway can sometimes be unpredictable, scraping the wall at the Lady in Black is often because of an error by a driver.
Taming Darlington is most of the battle at this track. If you are somebody that appreciates tracks that rewards a driver that runs a good race instead of who built the best car, Darlington is your place.
2022 Goodyear 400 Odds
Denny Hamlin has won at Darlington three times since 2017. He won in 2017, 2020, and then last year in 2021. It's the fourth victory for Hamlin at Darlington, including a win back in 2010.
The other driver that has been successful at Darlington in recent memory is Kevin Harvick.
Harvick has had three wins here since 2014, with the most recent in 2020. Harvick, Martin Truex Jr., and Hamlin are the most recent winners.
It's no surprise to see Kyle Larson as the leading candidate on the Goodyear 400 odds board. Larson has never won at Darlington before, but he's been close.
Hamlin predictably has the next best odds to win, but oddsmakers don't seem confident in Harvick.
Harvick is +1600 to win at Darlington following two top-10 finishes at Talladega and Dover. There isn't a lot of confidence in Harvick to record a fourth win at Darlington on Sunday.
Goodyear 400 at Darlington odds are courtesy of Bovada:
| Odds | Driver | Team |
| --- | --- | --- |
| +500 | Kyle Larson | Hendrick Motorsports |
| +600 | Denny Hamlin | Joe Gibbs Racing |
| +700 | Martin Truex Jr. | Joe Gibbs Racing |
| +800 | Chase Elliott | Hendrick Motorsports |
| +1000 | Kyle Busch | Joe Gibbs Racing |
| +1100 | Ross Chastain | Trackhouse Racing |
| +1200 | William Byron | Hendrick Motorsports |
| +1400 | Alex Bowman | Hendrick Motorsports |
| +1500 | Ryan Blaney | Team Penske |
| +1600 | Joey Logano | Team Penske |
| +1600 | Kevin Harvick | Stewart-Haas |
| +1800 | Tyler Reddick | Richard Childress Racing |
| +2500 | Chase Briscoe | Stewart-Haas |
| +3000 | Erik Jones | Petty GMS Motorsports |
NASCAR Goodyear 400 Best Odds To Win
Kevin Harvick (+1600)
It's hard not to like Kevin Harvick at +1600 to win the Goodyear 400. The oddsmakers aren't giving him a chance at these odds. I'd argue he has a better chance than +1600.
Harvick has liked racing at Darlington in the past. He has won at Darlington thrice since winning in 2014. In his most recent win, Harvick won three races ago in 2020.
It isn't like Harvick has been running poorly recently, either. He is coming off two top-10 finishes and is competitive. Going into Darlington, Harvick is 12th in the Cup Series standings with one top-5 finish. He fought hard to finish 2nd at Richmond, a track he's been good at as well.
Harvick may not have the best car in the NASCAR Cup Series, but he's a talented driver that knows his way around Darlington.
Driving ability accounts for a lot at Darlington, and Harvick has been one of the better over the last two decades. I will take a chance at this price on Harvick.
Goodyear 400 Odds
Denny Hamlin (+600)
The oddsmakers like Denny Hamlin, and so do I at Darlington. He's another driver that "gets" racing in South Carolina at this facility.
Again, that accounts for a lot at this track. It's not an easy place to navigate, and those who know how to tame Darlington ultimately have favorable results.
Hamlin has certainly had favorable results in his career at Darlington. He is the last winner here and has won two of the last four races.
Hamlin won at Richmond five races back. That's a track he's liked racing at and had success. Darlington is another specialty for Hamlin.
He hasn't done anything since winning that race. 18th at Talladega was his best finish. However, expect Hamlin to get back in the fold with a chance to win.
Goodyear 400 Odds
Goodyear 400 Prediction
Kyle Larson (+500)
Kyle Larson completed the task at Darlington thus far in his career, but he keeps knocking on the door hard. Larson has finished 3rd, 2nd, 2nd, 2nd in his last four trips around Darlington.
Darlington is forgiving to drivers that are in good form that have the talent to handle such a tricky track. The defending Cup Series champ is one of if not the best driver on the active roster.
Despite not winning at this track yet, Larson has exhibited that he knows what he's doing at Darlington. Larson has the car and the talent to get into Victory Lane for the first time in his career in the Goodyear 400.
Throwin' it back to Tim. @KyleLarsonRacin | @TeamHendrick pic.twitter.com/ts3zVL5IcP

— NASCAR (@NASCAR) May 6, 2022
Larson isn't where he'd like to be in 8th in the Cup Series standings. However, has five top-5 finishes and a win on his 2022 resume.
Larson finished 4th, 4th, 6th in his last three races. Looking for his second win in 2022, Larson has to be considered a top contender to win the Goodyear 400 at Darlington on Mother's Day in 2022.