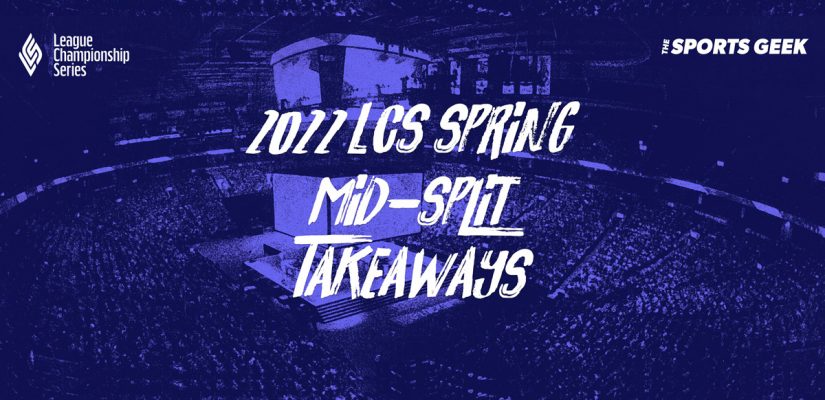 Just nine games are separating us from the 2022 LCS Spring Split playoffs — a meager amount, all things considered. And it's a wholly shocking realization, too! The last two months have passed by in a blink of an eye and it feels like we still have more questions than we do answer.
A lot has happened thus far — some of it good, some of it bad. It's been a "standard" LCS split thus far, by which we mean the following: packed with action, a ton of upsets, and more fiestas than you can shake a stick at!
And don't take it the wrong way: we're not complaining whatsoever! The North American region is always ripe with mouth-watering narratives, and this split, in particular, has been no different in that regard.
Moreover, with the meta being so flexible and hectic, these aforementioned fiestas have been far more entertaining than we ever thought possible! Not all of it is good, though.
We now have a fairly solid sample size at our disposal and yet we're still quite wary to label teams as "contenders" or "gatekeepers" or what have you.
A STATE OF FLUX
These roles and "identities" shift and change and evolve on a weekly basis. Nothing is set in stone; betting on the North American region has, therefore, been a fairly taxing endeavor — we do so with hesitation and wariness, always afraid and apprehensive by what might occur.
And, well, we still haven't processed many of the twists and turns that have taken place over the last few weeks. Some of them are so baffling we don't even want to attempt to wrap our heads around them…
100 Thieves are struggling, Cloud9 are somehow even better without Nick "LS" De Cesare, Immortals are on the up-and-up after getting smacked around for weeks, the Golden Guardians are actually a layered threat, CLG can actually put up a fight, and TSM FTX — the winningest team in NA history — has won just a single game thus far.
In short: the Spring Split has been absolutely chaotic and there's very little rhyme or reason behind it all.
2022 LCS Spring Mid-Split Report Card | Standings
The current standings are as follows:
The 2022 #LCS Spring Split Standings:

(1) #TLWIN | 7-2
(-) #C9WIN | 7-2
(3) #FLYWIN | 5-4
(-) #100WIN | 5-4
(-) #GGWIN | 5-4
(6) #DIGWIN | 4-5
(-) #IMTWIN | 4-5
(-) #EGWIN | 4-5
(9) #CLGWIN | 3-6
(10) #TSMWIN | 1-8

What are predictions for the second half of the season?

— LCS (@LCSOfficial) March 1, 2022
We can immediately discern three distinct "tiers:"
1) the crème de la crème (i.e. the biggest and most capable favorites)
2) a bunch of flawed and/or struggling contenders/gatekeepers (all of whom have been trading heavy blows over the last few weeks)
3) the third and final tier, reserved only for the bottom-dwellers — a title and "role" ascribed to just a single team at the moment: TSM FTX
The tier in the middle will resolve itself in a few weeks' time, but it's nonetheless an endlessly interesting segment for us to dissect and go over. There are many surprises, too, but more on that below.
Time to Get Serious
As already mentioned, there are just nine games left to be played. The margin for error is shrinking by the minute and teams no longer have the luxury of experimenting or dropping games at random.
This is especially true for any team currently clumped up in the middle of the standings — which is basically 70% of the league. They are the ones who'll have the hardest job going forward: they'll have to win consistently and, in doing so, separate themselves from the rest of the pack.
The fact that they're all so similar in terms of strength and potential also further complicates things. Are Immortals better than FlyQuest? Are the Golden Guardians really as good as they look? Is Dignitas still a threat? Who knows! These things shift and change on a weekly basis, so what's true today might not be true tomorrow and vice versa.
They're all so incredibly inconsistent. It's baffling, really, and it's not going to get much better any time soon. That's just the reality of it all. When synergy is lacking, mind-blowing upsets tend to occur fairly frequently.
So, with that in mind, take everything that happens with a bit of reserve. No loss is a reason to sound the alarms, and no win is necessarily an indication of anyone's strength and long-term potential.
As we move closer towards the end of the regular season things will start to crystalize. That's just the way things work. In the interim, try not to buy into anyone's hype.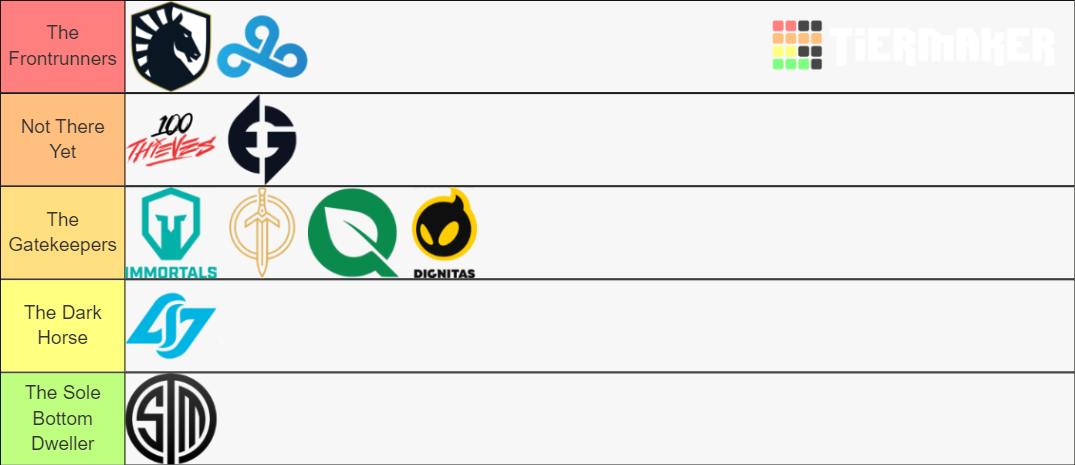 2022 LEC Spring Mid-Split Takeaways | Report Card
Our tier list is fairly straightforward design-wise so we'll forgo the preliminaries and dive straight into the nitty-gritty!
S Tier — Team Liquid, Cloud9
Two teams stand on top: TL and C9, both of which have been absolutely incredible throughout the last few weeks. Their wins have been exceedingly dominant and watching them play has, frankly, been an absolute pleasure and joy. They're the most layered and capable out of all North American teams and are currently the biggest favorites to go the whole nine yards and etch their names in history.
We're still not quite sure what to think of Cloud9 but one thing's for certain: they're extremely good at what they do and are a bona fide behemoth whenever they draft to their strengths and execute to the best of their ability.
And that, frankly, has been quite a frequent occurrence — to the glee of their many fans and followers.
Their four most recent wins were all astoundingly clean and dominant. It's like they're in a league of their own. Granted, they didn't go up against any top tier teams other than 100 Thieves, but the point stands nonetheless.
Park "Summit" Woo-tae and Kim "Berserker" Min-cheol, in particular, have blown us away. The gap between them and the rest of their peers is much wider than any of us thought coming into the split, and it's safe to assume that they'll only get better and better as they continue to acclimate to their newfound surroundings.
It's still a bit too early to make any sweeping statements or draw any overly theatrical conclusions, but their dominant play has made one thing perfectly clear:
their sights are set on claiming the LCS throne and they'll stop at nothing to turn that goal into reality
.
By the same token, Team Liquid have been about as dominant and commanding as we thought they'd be. Theirs is one of the most capable line-ups in the history of Western League of Legends, and they, too, have all the right tools to claim the throne and represent North America on the biggest of stages against the many LPL and LCK giants.
A Tier — 100 Thieves, Evil Geniuses
This tier is a lot more complicated. It is comprised of two teams, both of which are stacked beyond measure. But for all their might and talent, they lack the synergy and consistency which are necessary for them to truly stand a chance at winning the LCS.
Their strengths are obvious, pronounced, and most impressive, but for some odd reason they cannot harness their prowess on a consistent basis. Will that change over time? Almost certainly, but there are never any guarantees and we simply cannot predict (not confidently, at least) whether they'll mount an offensive in time for the playoffs.
Evil Geniuses underwent immense change during the off-season, so their struggle to maintain a certain level of play can, in fact, be justified. What's wrong with 100 Thieves, however, still remains to be seen.
One thing's for certain: they've been absolutely dreadful and it's hard not to be worried.
Nothing they try seems to work and their individual play? Absolutely terrible. It's mind-blowingly bad, really, and it's hard to understand exactly why they've regressed so darn much. It's not just a small fluctuation, either — they're dreadful in every sense of the word.
The mistakes they're making, the constant mispositioning, the bad engages, and fumbled skillshots, you name it — they've been terrible and it mattered very little if they were up against a top-tier team or a bottom-dweller.
COULD BE WORSE
That, in essence, is a good thing. It means that their biggest issues are internal rather than external. Or, to put it in a different way: they're losing because of themselves rather than someone else. They have both the experience and the right infrastructure to fix these most glaring issues and correct course.
When that'll happen still remains to be seen. There's a very real chance that they'll bounce back in a matter of days, but it's also possible that the issues they are facing go far beyond the surface and will require many weeks or hard work in order to be fixed.
Now, rationally speaking, they do have the tools to bounce back. We know this. But it's also baffling that they've ended up in such an unfavorable position. How is this even possible?
They've made no changes to their championship-winning line-up, so how in the world are they not wrecking house? Why are their players all of a sudden so darn bad and out of sync? Why are they making such egregious, rookie mistakes? What's the issue here, really? Is this a one-off thing, or an indication that a most dramatic fall from grace is taking shape before our very eyes?
We'll find out soon enough.
B Tier — Immortals, Golden Guardians, FlyQuest, Dignitas
This is where the chaos begins. We have four teams, each of which has very pronounced strengths and weaknesses. And, well, saying who's better than whom is nigh impossible at this point in time. They're all good, and they can all, at times, be absolutely dreadful.
WHOLLY COMPLICATED
Betting on these gatekeepers, therefore, is the stuff of nightmares. There's really no other way to say it. Immortals seem to be the best of the bunch (i.e. the ones with the most long-term potential), but that, too, is only an assumption and is by no means a definitive statement or conclusion.
The jury's still out on all four of them. The Golden Guardians feel somewhat volatile but they've nonetheless been very impressive over the last two weeks. Their games are always incredibly entertaining; they're a fun team that loves to skirmish and they also revel in their underdog status.
Then we have FlyQuest, a team whose five minutes of fame have now faded into oblivion. Their whole hype train came crashing down in the most dramatic of fashions; FlyQuest is now nothing but a middling gatekeeper, which was always their destiny. The only question now is: will they be able to keep it together and actually make a run for the playoffs?
It's an important question, made all the more interesting by the fact that both Immortals and the Golden Guardians have a ton of more hype compared to the eco-friendly boys in white and green.
Last but certainly not least we have Dignitas. Are they any good? We really have no idea. Whenever the stars align and they play their absolute best League of Legends — which has become a fairly rare occurrence — they can, in fact, trade blows with the LCS pantheon (and even win out from time to time).
But these moments of brilliance seldom happen, and even when they do it's like they come out of nowhere. They cannot be counted upon nor can they be predicted beforehand. Dignitas are, therefore, an absolute nightmare to bet on.
You can never be too certain whether they'll come out the gates swinging or implode spectacularly — both scenarios are wholly possible and, to make things even worse, they tend to occur most randomly.
C Tier — Counter Logic Gaming
Then we have Counter Logic Gaming: a mystery in every sense of the word. Are they any good? Well, that depends on the day. They can pack a punch — as evidenced by their most surprising win over the Evil Geniuses — but we're still reluctant to give them any noticeable amount of praise.
They're a talented bunch. Of that much we're certain. The only problem is that they're competing in a region packed with teams that are more experienced, talented, and capable.
And, well, getting a few upset wins on the board isn't going to change that —
not now, not ever.
They have picked up steam, and they do deserve a bit of praise for it, but it's still way too early to extrapolate any meaningful conclusion from it all.
Now sure, you could argue that they won mostly off of EG's egregious oversight (i.e. not banning out Zeri), but such a statement, while not entirely incorrect, wouldn't be fair towards CLG; getting an OP pick is great and all, but you still need to execute in the heat of the moment for it to actually matter, and that's easier said than done. CLG started the week off with a pretty dreadful record of 1W-5L and they've ended it with a much more commendable 3W-6L.
That's… not so bad, all things considered. And the fashion in which they were able to win makes it all the more impressive. They're young, feisty, and they obviously don't mind taking a few shots on the chin; we're talking about a pretty stellar combination here, one that should, by all means, result in a few more upsets further down the line.
That, however, is probably the most they'll be able to accomplish. They're just not seasoned or capable enough to compete with the likes of IMT, GGS, and DIG — to say nothing of the LCS crème de la crème!
D Tier — TSM FTX
Finally, we have none other than TSM FTX — an organization renowned for its momentous triumphs. That, however, is not the TSM of 2022. They have just a single win to their name and have been absolutely dreadful ever since the split began.
TIME TO JUMP SHIP
We're all out of optimism and hope for TSM. There's really no other way to say it. They might be able to get a few more wins on the board but that isn't going to change anything in the grand scheme of things. For them to stand a chance at correcting course and actually doing some damage to the LCS status quo, huge, sweeping changes will need to be made.
How huge, you might ask? Well, that's up for debate. They need a more consistent mid laner (at the very least), someone who can speak the language and who's going to deliver once the going gets rough. Pairing Edward "Tactical" Ra with a more seasoned support would also do wonders for the team, although Wang "Yursan" Sheng-Yu definitely deserves a bit of praise for the way he's handled things.
This line-up simply doesn't work. The language barrier seems to be too big of an issue (to absolutely no one's surprise) and the odds of them ever solving it are waning by the minute. And, well, we're not happy for that being the case.
Still, not all is grim. Three of TSM's five members have both the experience and the talent which are necessary to compete at the highest of levels, so all the coaching staff needs to do is make a few simple (but premeditated) roster changes and things will change for the better.
Until that happens, though, they're bound to remain the biggest bottom-dweller in the LCS.
2022 LCS Spring Mid-Split | Biggest Takeaways
There were many peculiar occurrences over the last few weeks, and some of them don't augur particularly well for the North American region and its chances on the international stage. It's still a bit too early for us to draw any sweeping conclusions, but rarely throughout the years has the LCS been this top heavy.
We have two exceptional teams on top, then two heavily flawed (but still mighty capable) contenders, and then a bunch of gatekeepers none of which stand a chance at claiming the throne.
And the lower you go down the standings the worse it gets — the gap is perhaps wider than it's ever been. Now, that's not necessarily the worst thing in the world but it does mean the region itself is less competitive. Iron sharpens iron, after all, but if only a handful of teams have the tools and weapons to compete, then no one will prosper and grow all that much.
That's definitely worrying, but we'd rather not be all doom and gloom about it just yet. It is, however, something worth keeping an eye on. The biggest silver lining in all of this — and it could definitely end up playing a much more important role than people realize — is that the top four teams all have an exceptional foundation along with a fleshed-out coaching staff.
These things are vital and should, by all means, give them a fighting chance once they start competing on the international stage.
Team Liquid, Cloud9, 100 Thieves, and Evil Geniuses are the only four teams in North America that stand a chance. They have the best players, the most experience, and the highest skill ceiling. They're not perfect, mind you, but the gap between them and everyone else is astoundingly big and there will be no narrowing it any time soon.
With that being said, they, too, will need to be on their "best behavior." Team Liquid feels like the most complete (i.e. least exploitable) of the bunch, but that could easily change by the time they step foot on stage to face the best teams the world of competitive League has to offer.
In any case, just nine games are separating us from the Spring Split playoffs which means that teams can no longer afford to experiment and drop games to their direct competitors — we've come to the point where each and every single game matters and could, potentially, make a world of difference further down the line.
And, well, we're dying to see who'll thrive amidst such challenging circumstances!