The 2022 LCS Spring Split playoffs are right around the corner which means it's the perfect moment for us to talk about the biggest frontrunners for the highly coveted MVP award; these incredible candidates have all left an indelible mark and are amongst the most capable and revered players the North American region has to offer.
The MVP voting isn't exactly a popularity contest, but certain narratives and storylines do play a fairly important part. Ditto for recency bias and a host of other external factors that are seldom talked about.
This split, in particular, has been absolutely incredible when it came to individuals stepping up and carrying their teams like their lives depended on it. Some, of course, did this better than others, but the point stands nonetheless.
Down below, you'll find our list of favorites; we're talking about some truly exceptional players here, each of whom stood out in one way or another. They all embodied the very meaning of MVP, but it's fair to say that only two or, at most, three players actually have a shot at getting the nod. And, interestingly enough, they're all top laners!
There's a lot of ground for us to cover, so let's dive straight into the nitty-gritty!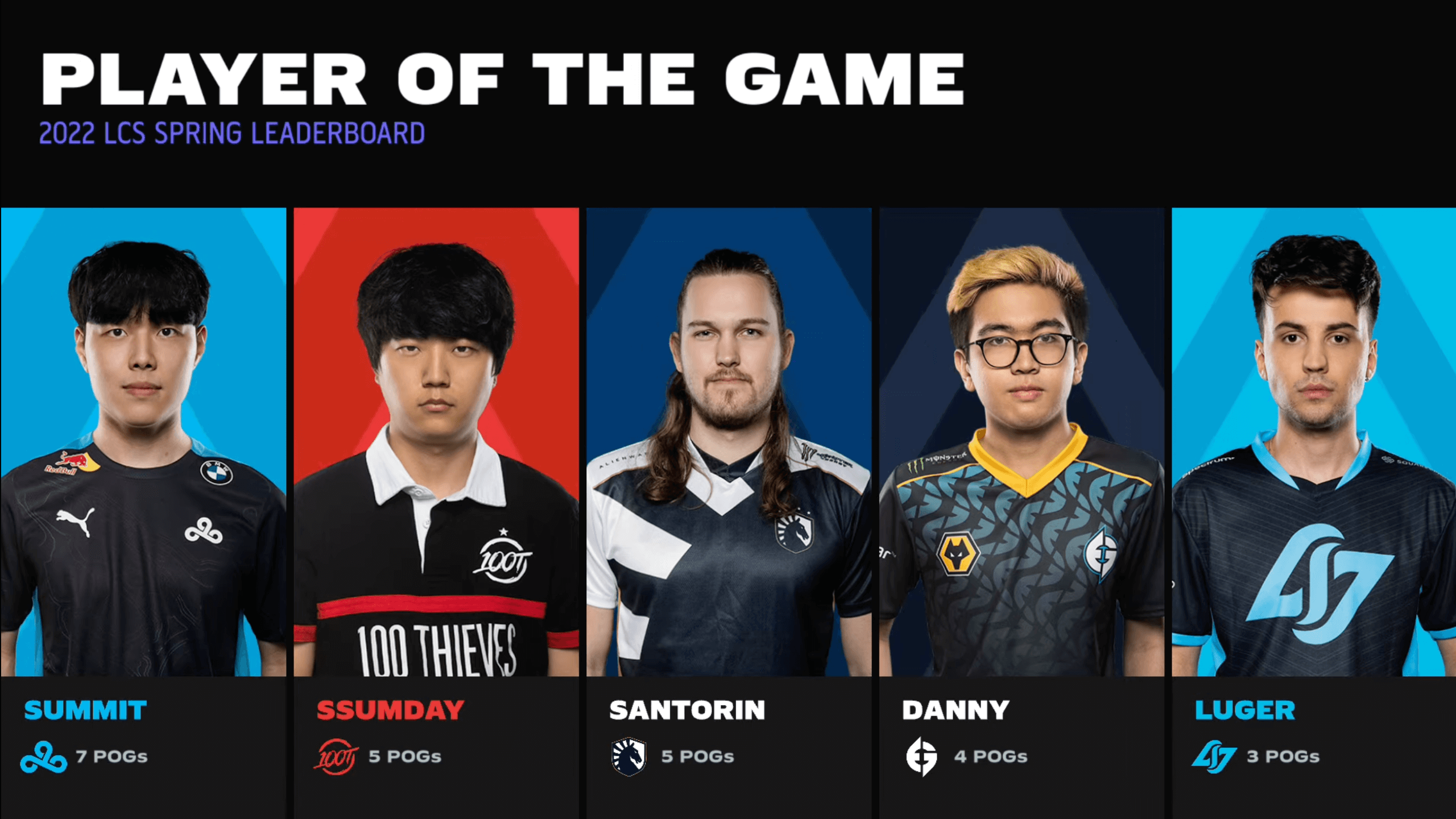 Park "Summit" Woo-tae — Cloud9 [Top]
Our number one pick has pretty much demolished his opposition — and he has the most Player of the Game awards to prove it, too! They broke the mold when they made Summit. There's really no other way to say it.
He's a top laner so dominant and capable it's not even fair to the vast majority of his adversaries.
Many of his teammates talk about Summit as if he were the next best thing since sliced bread. They know he's going to win lane and so they play with extra confidence, knowing that that whole side of the map is "dealt with" right from the very get-go. They feel as if they were playing 5 vs. 4 and, frankly, they're sort of right. With the opposing top laner neutralized, there's one less threat to worry about come mid and late game.
And Summit doesn't judge edge out his opponents — he blows them out of the water.
Better yet, he's not just a laning behemoth a la Barney "Alphari" Morris but can also put on one heck of a show once those crazy teamfights start breaking out. He's as well-rounded a player as they come and has given Cloud9 an edge many a time.
They've played eighteen games and Summit was the MVP in a whopping seven of them. That's simply astounding.
Still, things are no longer quite as clear as they were just a week ago. Summit had his worst week yet and, frankly, it wasn't easy to watch.
For the first time in 2022,
he
was the one who was on the receiving end of things. And, well, he sure did endure one heck of a beating!
He had an 0/8/2 KDA against 100 Thieves.
He didn't just lose — he was outclassed and demolished as if he were an absolute rookie unworthy of playing on the LCS stage.
He did step up just a day later against FlyQuest, but Cloud9 didn't really set him up for success — they had drafted a thoroughly abysmal team comp and had very few win conditions. And, frankly, we don't have a problem with Cloud9 losing. Far from it, in fact. What we do have a problem with is the fashion in which it all went down.
WE'RE WORRIED
Their two most recent losses have a certain weight to them, as if we're on the brink of an "implosion" — one we'll talk about and reference for the years to come. And, well, remember the way Cloud9 fell off a cliff back in 2020? This feels eerily similar.
And, well, it might seriously affect Summit's chances of winning MVP. Imagine being in the lead for the entire split and then dropping the ball at the very finish line.
What agony.
Now, we're not quite certain what'll end up happening, but we sure do hope that those who'll get to vote have not been influenced too much by this most recent series of events. Summit is our number one pick, and it'd be quite a shame if he were to lose out because of a bad case of recency bias.
2022 LCS Spring Split MVP Odds:
Gabriël "Bwipo" Rau — Team Liquid [Top]
Our second pick is none other than Bwipo, formerly of Fnatic. This exceptional Belgian has garnered quite the following over the years, and it's not just because of his outspoken persona either: he's amongst the very best players the West has ever produced!
And, well, that's really saying something.
In fact, there's no one quite like him. We simply can't think of a player with whom we could compare him to. Bwipo has the craziest picks, the most mind-blowing engages, and can teamfight like his life depends on it.
He's a momentum-based player which is a nice way of saying that he can, at times, int and feed like he's on the other team's payroll. A "coin flip" kind of player, if you will.
Still, his highs are far more frequent and impressive than his lows, so it sort of balances itself out. He's always clutch when his team needs him to be, and his bravado-fuelled plays and set-ups are second-to-none. He's second in KDA (3.4), fourth in Kill Participation (56.5%), second in Damage Per Minute (501), and third in Damage Share (25.8%).
Double TP flank for @TeamLiquidLoL! #LCS pic.twitter.com/fupoKDZSOx

— LCS (@LCSOfficial) March 27, 2022
But his stands really don't tell the whole tale. They don't showcase his ability to influence the map, to create pressure on the side lanes, to TP at just the right moment, to play weak side or, conversely, to hard-carry like a madman — he can really do it all.
He did, in all fairness, slightly regress near the very tail end of the split, but the things he did and the plays he made still linger in the back of our minds. He was the kind of player Team Liquid needed and is, without a shadow of a doubt, one of the very best top laners in the West.
2022 LCS Spring Split MVP Odds:
​​
Kim "Ssumday" Chan-ho — 100 Thieves [Top]
Ssumday's journey has been the opposite of Bwipo's; he started the season off with a few iffy performances but then quickly ramped up and is now widely considered as one of the biggest frontrunners to win MVP.
And, well, rightfully so!
Statistically speaking, he's right up there with Summit which, frankly, is as big a compliment as they come. He's first in KDA (5.3), third in Kill Share (21.3%), first in First Blood Rate (a whopping 39%), and has the absolute lowest Death Share amongst all top laners (a measly 15.2%).
He, too, has that "X factor" and can make the game-winning play in the blink of an eye. Ssumday is a beast — it's really as simple as that. In fact, this was his best split in North America by a country mile! The fact that he's still finding new ways to grow and evolve after all these years is simply mind-blowing, and is no doubt a testament to his inherent talent and incredible work ethic.
He's also one of 100 Thieves' most valuable players and is the only man in the LCS that had made Summit look like a scrub — whilst playing Malphite, no less. The severity of that beating was not easy to watch.
It was a statement game through and through and one of the most impressive performances we've seen all split. And, well, the fact that it came at Summit's expense made it all the more impressive and impressionable.
Ssumday has about as good a shot at winning MVP as Bwipo, but his last few games — their brilliance, to be more exact — may well have given him an edge. We'll find out soon enough.
2022 LCS Spring Split MVP Odds:
Robert "Blaber" Huang — Cloud9 [Jungle]
The sheer fact that Blaber is in the running for MVP yet again is simply astounding. He's won twice already! How in the world does he keep doing this?
By "this" we mean being absolutely brilliant at League of Legends and utterly skilled at getting his team across the finish line — come hell or high water.
There's no player out there like Blaber, and we all know it. He just keeps finding new ways to dominate. We're really not sure how it's even possible. He just takes the stage, picks whatever he wants, and proceeds to run circles around his opposition as if it were the easiest thing in the world.
A VERITABLE BEHEMOTH
And they've yet to find a way to stop him. He's by no means perfect, don't get us wrong, but whenever he brings his "A game" there's not a jungler in North America capable enough to stop him. Certain peers of his do come close, but not close enough for it to matter.
Blaber's a real dark horse here. We don't expect him to win, but you could definitely make a case for why he might be the most deserving. The reason why we don't have him any higher is because he didn't shine quite as bright as Summit did, and he also wasn't talked about (or talked up) as much by his peers and analysts.
Again, this isn't a popularity contest, but the players that get the most attention almost always have the best shot at getting the nod — everyone's susceptible to hype and split-long narratives.
2022 LCS Spring Split MVP Odds:
Can "Closer" Çelik — 100 Thieves [Jungle]
Yet another exceptional jungler and a rock for 100 Thieves — Closer really came into his own this year and is now widely regarded as one of the absolute best junglers in North America. And, well, it was about time he got his due!
A MOST CONSISTENT PERFORMER
He's flashy, consistent, he can play a wide variety of champions, and is always at the right place at the right time. What more could you ask for? He was instrumental in 100 Thieves' wins but was also their best performer whenever they failed to emerge victorious.
He was the driving force behind his team's success and is more than worthy of our praise and commendation.
Still, he wasn't as impressive as the four players listed above, even though he did embody the very essence of what it takes to be an MVP — without him, 100 Thieves wouldn't have been nearly as successful as they were.
2022 LCS Spring Split MVP Odds:
Lucas "Santorin" Tao Kilmer Larsen — Team Liquid [Jungle]
Santorin's talents — which are abundant in number and great in depth — are somewhat hard to fully assess and gauge. The thing is, he's playing on one of the most stacked line-ups in Western history. So the fact that he's wrecking house on a weekly basis should really come as no surprise.
Still, even when Team Liquid struggled, Santorin was the one player leading the charge. We don't remember the last time he had a bad game. We really don't, and that's rare, even for a seasoned veteran of his stature. He's always on point no matter what's happening on the Rift and whom he's playing against.
That kind of consistency is extremely hard to find. Most of his veteran peers sort of declined. Heck, some of them fell off a cliff performance-wise — but not Santorin. This Danish legend has aged like fine wine, and it's safe to assume that he still has room to grow and further evolve.
Congratulations to @Santorin on winning the @MastercardNexus Player of the Week for week 8 of the 2022 #LCS Spring Split! pic.twitter.com/N7hvyTpfCc

— LCS (@LCSOfficial) March 28, 2022
His stats say it all: 6.1 KDA (first amongst all junglers), 70.6% Kill Participation, 24.5% Kill Share (first), 18% Death Share (third best), 39% First Blood rate, and 296 Damage Per Minute (third). He's not the leader in every single category, but he is the most well rounded of all his peers.
He's a team player, one with immaculate pathing and a very cerebral style of play; those are the kinds of things and intangibles that cannot be fully grasped by numbers and stats and graphs alone.
So why do we have him ranked so low here? Well, it's because of one very simple reason: he's as consistent as it gets which means he's rarely making headlines. Most folks aren't even aware that he's near the very top of the Player of the Game leaderboard. His last three wins say it all: 16/3/27 KDA, 2.3 K+A at the fifteen-minute mark, 28.1% Kill Percentage, and a whopping 75.4% Kill Participation.
He's the ultimate facilitator, and he rarely (if ever) hogs the spotlight.
Santorin is the kind of player that unlocks others and makes them look good. That means he rarely gets his due. We all know he's incredible and so there's "no need" to talk about it.
And that's a shame, really.
2022 LCS Spring Split MVP Odds:
Loïc "toucouille" Dubois — FlyQuest [Mid]
This guy really came out of nowhere. We had very limited information about toucouille coming into the split and, needless to say, he has exceeded our expectations by quite a wide margin. Most folks thought he'd be a control mage kind of player — a la Tristan "PowerOfEvil" Schrage — but he's actually a jack of all trades.
A ROCK IN THE MID LANE
He's surprisingly consistent, too, and was often the main reason why FlyQuest were able to compete on even footing with the rest of their contemporaries.
Toucouille's stats are also very interesting — by which we mean astoundingly impressive relative to what we had expected coming into the split: 4.0 KDA (fourth best), 70.8% Kill Participation (third best), 22.4% Kill Share (fourth best), 489 Damage Per Minute (fifth best), and a whopping 30.6% Damage Share amongst all mid laners.
These are all very respectable numbers for a player whose LCS career has only just begun. Plus, he was competing under FlyQuest's banner so it's not like he was set up for success or anything. If he was this good despite facing such unfavorable odds, we can only imagine how much he'll grow and improve come Summer Split.
2022 LCS Spring Split MVP Odds:
Kim "River" Dong-woo — Dignitas QNTMPAY [Jungle]
Last but certainly not least, we have one of the best junglers the PCS has ever produced: River!
Him coming over to North America was definitely a twist we didn't see coming, but things actually turned out quite well for this seasoned South Korean.
Well, better than we thought they would, at least. One cannot expect any miracles or accolades when signing for Dignitas QNTMPAY, an organization that is entrenched in the gatekeeping business.
A seventh place finish isn't particularly impressive or praiseworthy, but it is a respectable result overall, especially considering the fact that Dignitas actually gave most of their adversaries a run for their money — and even won out from time to time.
IT WASN'T MEANT TO BE
They were never going to upend the status quo — that much was obvious right from the very get go. Instead, the most they could've hoped for was a respectable showing and a series of performances that would have us hyped to see them return come Summer Split. And in that, they've succeeded admirably!
River was (and probably still will be) their biggest and most important catalyst. His pathing and overall style of play took everyone by surprise. You just couldn't anticipate what he'd do and when.
He was playing "4D chess" back when his adversaries could hardly handle a game of checkers. And, needless to say, it was quite a sight.
As the split progressed, though, he sort of got "figured out," and his overreliance on a couple of champions (namely Jarvan IV) became too big of an issue. Be that as it may, we'd love to see River on a top-tier team. That, in a way, is why he signed with Dignitas in the first place: to show everyone what he can do and to, hopefully, switch teams as soon as possible.
He's definitely not going to win MVP but has nonetheless earned a shoutout.
2022 LCS Spring Split MVP Odds: