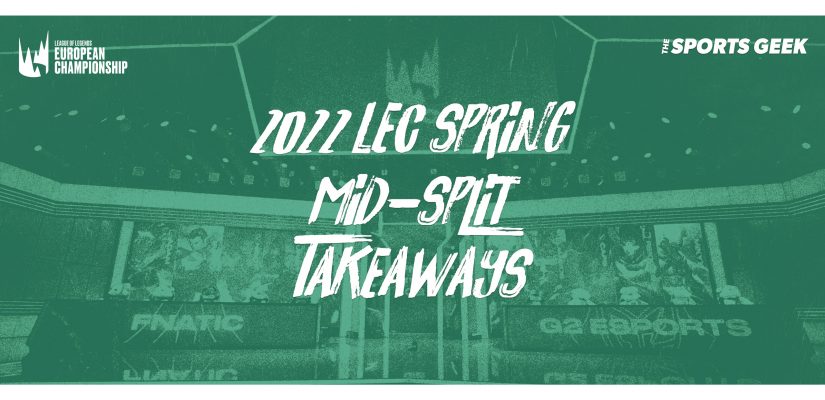 We are just nine games away from the 2022 LEC Spring Split playoffs; what a bewildering realization! It feels like things have only just begun, and yet those oh-so-exciting Best of 5s are right around the corner. So, a fairly thorough recap is in order, something akin to a report card of sorts — a list of takeaways and conclusions which we've made after watching a total of forty-five LEC games over the last four weeks.
It's not the biggest sample size imaginable — nor is it wholly conclusive — but it's not half bad either.
The point of this piece is to objectively go over everyone's performance and to theorize where they might end up once all is said and done. There are still many question marks lingering in the air, though, so just have that in mind — don't take anything you read as gospel as these things tend to shift and change fairly frequently. There are some constants, of course, but they, too, can often transform and evolve into something else, often overnight.
Time to Get Serious
Let's bring things back to the most important point: there are only nine games left to be played before the playoffs come around. That's… quite a meager amount. In less than four weeks' time we'll know who'll compete for a shot at making history and who'll wait things out on the sidelines, thinking what went wrong and what they could've done differently.
In other words: the margin for error is so small that even a single mistake can end up being the difference between advancing further and going on an involuntary vacation. This, naturally, creates an inhumane amount of pressure, and only a select few are capable of withstanding it and thriving under such unforgiving circumstances.
The #LEC Spring Season standings after week 4!

1) #RGEWIN (9-0)
2) #FNCWIN (6-3)
-) #G2WIN (6-3)
4) #MADWIN (5-4)
-) #MSFWIN (5-4)
-) #VITWIN (5-4)
7) #XLWIN (4-5)
8) #BDSWIN (3-6)
9) #SKWIN (2-7)
10) #ASTWIN (0-9)

— LEC (@LEC) February 5, 2022
The standings are fairly clear: we have Rogue in first place with a whopping nine wins and no losses, then a two-way tie for second between G2 Esports and Fnatic, followed by a three-way tie for fourth between the defending champions MAD Lions, Misfits Gaming, and Team Vitality, then EXCEL Esports in sole possession of seventh place (how ironic), and then Team BDS, SK Gaming, and Astralis all ranked eighth, ninth, and tenth, respectively.
Now, there are definitely a few big surprises here. First of all, no one in their right mind thought that Rogue would be ranked so highly at the halfway point of the split. Such a scenario simply made no sense whatsoever — and yet it happened. Secondly, the fact that Vitality are sitting on a middling 5W-4L record is also quite shocking — given whom they have competing under their banner. They are on the up-and-up, so their ranking will surely improve in a few weeks' time.
The Misfits bunch also deserves a ton of praise. They might not be the best team around but they're nonetheless a solid, well-rounded contender and a shoo-in for the playoffs. And the fact that they're playing such good League of Legends despite being the youngest team in the LEC by average age makes their unexpected (and quite sudden) rise all the more impressive. Most of it comes by way of Vincent "Vetheo" Berrié, but his teammates deserve a mention as well. All in all, we're quite impressed with what they've accomplished thus far, and can't wait to see how high they'll soar once everything is said and done.
Nothing else really stands out and, well, that's not necessarily a bad thing. The current status quo is somewhat predictable, but there's still enough "wiggle room" for an upset to happen. So we're content, all things considered — and mighty hyped for what's to come, too!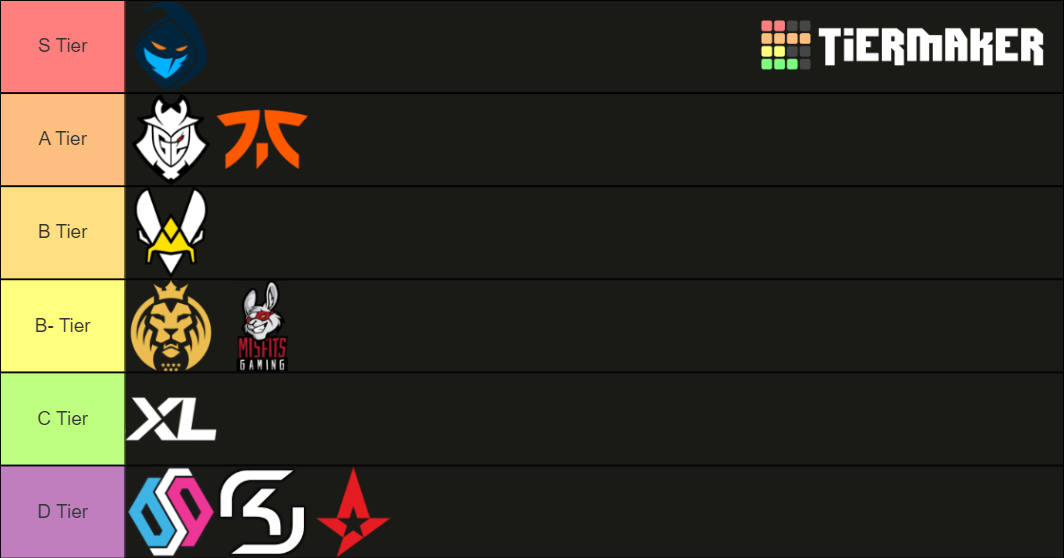 2022 LEC Spring Mid-Split Takeaways | Report Card
Our tier list is fairly straightforward design-wise so we'll forgo the preliminaries and dive straight into the nitty-gritty!

S Tier [Rogue]
The boys in blue are the only ones worthy of being ranked in S tier, and that's not because of their perfect record, but rather because of their complete and utter dominance. Records mean nothing if they aren't backed up by clean and commanding League of Legends.
The things Rogue have accomplished thus far — and the fashion in which they did so — have left no one indifferent. We've all been signing their praises for the last four weeks and they've earned every bit of it — and then some.
SLOW AND STEADY
The most important thing for Rogue right now is to continue growing and to not start resting on their laurels. If they can find a way to do that — and still somehow evolve and broaden their arsenal of weapons — they'll not only finish the regular portion of the split in first place but probably even challenge for the LEC throne as well.

A Tier [G2 Esports, Fnatic]
This tier consists of only two teams, both of which happen to have reigned over Europe at some point in the past — they're the "Kings of Europe." Ironic, we know. It's no coincidence that they're ranked so highly given whom they have competing under their banners. Both G2 and Fnatic are stacked with some of the very best players in the history of the region, and if they keep growing at such a respectable pace, they'll not only make their fans proud but they'll even stand a very good chance at claiming the number one spot.
It's not going to be easy given just how incredible and commanding Rogue have been, but these two perennial giants always find a way to leave a mark. Right now, at the time of this writing, they're both incredible and mighty inconsistent. Their weaknesses and flaws are perhaps most magnified whenever they're up against teams of equal strength, but all of that can be justified and excused given the fact that they're still trying to develop synergy and get on the same page.
All in all, we're quite happy with their play, even though it does, at times, leave a lot to be desired. The glimpses of greatness are still there, so we'll let the snafus and fumbles slide for the time being.

B Tier [Team Vitality]
Gauging Vitality's current power level feels like a fool's errand. They're good, if not even great at times, but they're also mighty volatile and, frankly, a bit too "crazy" for our liking. They're a lovable, entertaining bunch, make no mistake, but their play hasn't been all that impressive for the most part.
When they're "on" there's but a handful of teams in the LEC that can go blow for blow. But whenever that fails to be the case, they're not only sloppy and out of sync but even "offensively" mediocre. Of course we're going to hold them to the highest possible standard. How could we not, given their talent and overall potential?
LOFTY EXPECTATIONS
Anything less than extraordinary would be a letdown for a line-up this stacked and seasoned. There's really no other way to say it. Their games thus far have been all over the place. They've had some masterclass, bravura performances, and a bunch of truly dreadful ones as well.
Be that as it may, ranking them any lower than this would not only be unfair but also ludicrous — we've all seen their highs and it's fair to say that they're all but guaranteed to leave a mark once the playoffs come around!

B- Tier [MAD Lions, Misfits Gaming]
This is a pretty fascinating tier and the same holds true for the two teams that occupy it: MAD and Misfits. They're not as good as Vitality (at least not right now), but they are head and shoulders above everyone else ranked below them.
Labeling them as "gatekeepers" would be fair, but we'd rather not go down that route just yet.
Misfits have been ever so slightly more impressive, but that's only because our expectations were set much lower. Their highs aren't nearly as imposing and grand as those of MAD, but they have been on display a lot more often, so take that as you will.
Speaking of the defending champions, they've been… middling, at best. One day they'll come out the gates swinging and look like a bona fide world-beater. Then, just a day later, they'll fumble and fail their way around the Summoner's Rift as if they were a bunch of scrubs. It's baffling, to say the least.
A MOST PRECARIOUS POSITION
Now, on the one hand, we still fully believe in their ability to correct course and rebound after the last few weeks, all of which have been pretty darn rough. On the other, there's a very real chance that they simply won't have enough time to fix their issues and actually stand a chance once the playoffs come around. We'd hate for that to happen, but it's a very real possibility, regardless if we like it or not.
Misfits, on the other hand, probably won't leave much of a mark once all is said and done, but that's okay — reaching the playoffs and putting up a fight will already be more than enough for a line-up as young and inexperienced as theirs.
Baby steps, as they say.

C Tier [EXCEL Esports]
The fact that EXCEL are currently in sole possession of seventh place should really come as no surprise. But let's set aside that incredible bit of irony and talk about something important: their performance.
This is not the meek and passive EXCEL of yore. In fact, we're all surprised by just how good they've been lately. Not spectacular by any means, but good nonetheless — if not even great at times. Their most recent win over Fnatic as an absolute masterclass. They were the better team on the day and had executed their game plan to a tee. They've grown as a five-man unit and are currently a threat, an actual dark horse. We never thought we'd see the day!
Now, do we think they'll be able to reach the playoffs (for the first time ever)? Not really, in all honesty, but by no means would it be impossible, especially if they keep playing this darn well. Misfits and MAD are both better than EXCEL, but they're also quite fallible and if they end up dropping the ball EXCEL could very well leapfrog them in the standings.
Improbable? Quite. Impossible? Not in the slightest.
For EXCEL to pull off the seemingly impossible, they'll have to be on their best behavior. They cannot afford to drop any more games to anyone other than, say, the top three or four teams. They're on the backfoot and at a disadvantage, but it's nothing that a few good games can't fix.
Their next few games will be of the utmost importance — especially their upcoming clash with Misfits Gaming (February 18th). If they manage to win, they'd not only improve their record (which happens to be quite solid at the moment) but also narrow the gap between them and the boys in red. It's not exactly a "do or die" kind of moment, but it'd nonetheless go a long way towards giving them a fighting chance.
All in all, we're quite intrigued by their whole narrative, and we can't wait to see whether they'll finally make a bit of history or implode trying.

D Tier [Team BDS, SK Gaming, Astralis]
This is the tier no one wants to be categorized in (for obvious reasons). Being a "member" of D tier means your split is all but officially over. These teams do have a few wins on the board (two of them, at least), but the gap between them and everyone else is so large there's simply no way for them to narrow it and actually leave some kind of a mark.
They're not abysmal per se but they are bottom dwellers, and there's no denying it; grouping them up, therefore, kind of makes sense, even though they have differing amounts of potential and talent.
Command: Super Mega Death Rocket ?

The ult combo from @SertussLoL and @Jezu_lol in this week's @LogitechG Mechanics! #LEC pic.twitter.com/p2p5dc85NH

— LEC (@LEC) February 7, 2022
These three teams will be "used" to strengthen someone else's narrative. That's their only "job" at this point. All three of them still have nine games left to play and they're bound to lose almost all of them — hardly a surprise. Still, if they're smart, they'll use said losses as fuel — no matter how crushing they might be. It can be a truly illuminating learning experience, at least if they take it all in stride. It might not be much of a consolation prize, but it's the only thing that's available to them so they might as well take it.
Team BDS are undeniably the most capable of the bunch, although they, too, have numerous weaknesses which their more seasoned peers have easily exploited. They're not bad or untalented by any means, but they do pale in comparison to some of their most revered contemporaries. Be that as it may, they have impressed us, and we can't wait to see just how much they'll grow and improve over the coming weeks.
Much of the same can be said for SK Gaming as well, although they haven't been nearly as consistent — and their awful record reflects it as well. They're better than they've shown, but unless they can find a way to huddle up and play some good League of Legends, they're all but guaranteed to finish in ninth place.
Last but certainly not least, we have the only team in the LEC that's still winless: Astralis. Watching them fumble and fail has not been easy; they're trying so hard to mount an offensive, but they still don't have anything to show for their efforts. No matter how well they might start off, they always end up making an egregious mistake come mid or late game. And by "egregious" we mean game ending.
Don't let their horrendous record fool you: they're not half bad, even though they are, in all fairness, the absolute worst team in the LEC.
No More Room for Error
Four weeks are separating us from the 2022 LEC Spring Split playoffs. That's a meager amount of time, all things considered, and teams no longer have the luxury of dropping games — especially not to their direct competitors.
In other words: the margin for error is non-existent and even the smallest mistakes can end up having a devastating effect.
Which of these ten teams will thrive under such circumstances? We'll find out soon enough!