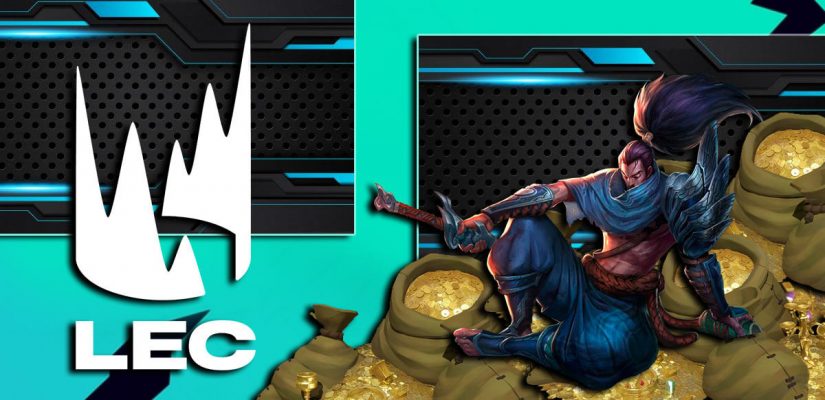 The 2022 LEC Spring Split is right around the corner and, needless to say, we're hyped beyond measure! Betting on competitive League is always a load of fun and, frankly, there's no better moment to score big upsets and earn some cash than at the very start of the season!
The month of January is always fertile ground for mind-boggling twists and upsets that can make your head spin. The reason why is quite simple: everyone's competing on a level playing field. Whenever team-wide synergy and cohesion are missing, things tend to develop in a myriad of unexpected ways. In other words: everyone has a puncher's chance.
So, if you're into betting on competitive League and have a bit of spare cash lying around, the 2022 LEC Spring Split should definitely be on your radar! As always, we have a ton of ground to cover, so let's dive straight into the nitty-gritty!
2022 LEC Spring Split Betting | Teams to Watch
Before putting your hard-earned money on the line, you first need to understand who's good and why. Some teams are equipped with all the right tools and weapons to "go the distance.
Others, however, are only good enough to compete without ever really leaving a mark.
And, finally, we have a bunch of bottom-tier dwellers, teams that have no potential whatsoever and will basically serve as punching bags for their more capable adversaries.
Our way of phrasing it might be a bit too harsh, but it is by no means incorrect.
As already mentioned, however, these lines between them will at first be blurred; over time, though, teams will distinguish and distance themselves from one another. This always happens about two months into the split and is basically the point at which the standings will begin to stabilize.
Until that happens, though, expect the unexpected.
For this piece, specifically, we'll give you a relatively brief overview of the ten LEC permanent partners and what's expected of them — we'll leave the deep dives and layered analysis for our full preview!
Fnatic & Vitality — The Biggest Frontrunners
These two teams are, without a shadow of a doubt, the biggest favorites to not only reach the LEC finals but perhaps even hoist the most prestigious trophy in all of Europe.
They're stacked with the very best players around and have so much depth and potential it's downright impossible to envision a world in which they fail to leave a mark. How high they'll eventually soar still remains to be seen, but make no mistake: they'll dominate beyond measure throughout the 2022 competitive season. Who's better than whom is up for debate, and it's fair to say that there won't be any concrete, definitive answer until they step foot on stage and settle it out mano-a-mano.
They'll face a series of hungry challengers but should nonetheless be able to take them out one by one en route to a most spectacular finish.
G2 Esports & MAD Lions — Truly Threatening
Right below Fnatic and Vitality, we have the former "Kings of Europe" G2 Esports and the defending LEC champions MAD Lions. Now, it's worth mentioning that both teams have downgraded and will enter the 2022 competitive season with a lowered skill ceiling.
Fans should, therefore, temper their expectations as neither of these two teams — stacked and talented though they are — will be able to accomplish much in the grand scheme of things. They're good but just not good enough for it to matter. And even though they might exceed expectations, we just can't imagine them trading blows with the two aforementioned giants.
Both G2 and MAD have changed their line-ups with the long-term picture in mind. Challenging for the LEC throne in 2022 is a lofty goal far outside their reach. In time that could potentially change but right now, at the time of this writing, they'll have to take a back seat and observe someone else getting showered in confetti.
Misfits & Rogue — The Gatekeepers
Categorizing these two teams is mighty challenging at this point in time. We haven't seen them play, so there's a very slight chance they'll be able to subvert our expectations. Then again, even if we give them our full benefit of the doubt, it's still impossible to envision a world in which either of them finishes higher than, say, fourth or fifth.
And, frankly, there's no shame in that. Being a gatekeeper in a league as stacked as the LEC is no small feat.
Both orgs have made two changes to their starting line-ups, and both of them have retrogressed. We all knew it was only a matter of time before their most prominent members received offers which were too good to refuse. Iván "Razork" Martín went to Fnatic, Steven "Hans Sama" Liv went to Team Liquid, Kacper "Inspired" Słoma to Evil Geniuses, and Kasper "Kobbe" Kobberup to… Astralis?
That last one definitely caught us by surprise, but the more important thing is that Misfits have replaced him with Matúš "Neon" Jakubčík — a capable (albeit far from spectacular) marksman, and a player who isn't going to etch his name in history any time soon (if ever).
Still, Misfits could've done a whole lot worse, so it's not all doom and gloom for the boys in black and red. They've still retained some of their most important catalysts and should, by all means, be able to put on a show come 2022.
Rogue, on the other hand, pretty much imploded.
It was an inward collapse that will long be talked about and, frankly, predicting for them a Top 5 finish could very well be an overly optimistic stretch. Markos "Comp" Stamkopoulos might not be as good as Hans Sama but he's nonetheless a stellar marksman whose best days are yet to come. Kim "Malrang" Geun-seong, on the other hand, is an unknown quantity and an import who's going to face an uphill battle from the moment he steps foot on stage — in a region known for its spectacular junglers.
Why exactly Rogue have decided to create a language barrier between their players is a mystery that'll continue to haunt us. The ERLs are packed with exceptional players and yet all of them have been leapfrogged by DWG KIA's substitute jungler — an individual who has accomplished next to nothing in his five-year-long career. Now, he's surely a talented bloke, there's no doubt about it, but is he talented enough to warrant the hassle of bringing him in? We're not convinced.
Be that as it may, Rogue will still be able to compete thanks to Andrei "Odoamne" Pascu, Emil "Larssen" Larsson, and Adrian "Trymbi" Trybus — three players who've done more than enough to warrant our benefit of the doubt. They're not perfect (far from it, in fact), but are nonetheless capable of trading blows with the who's who of the LEC.
Temper your expectations for the boys in blue. Otherwise, you're bound to be disappointed.
The Struggling Bottom-Dwellers
Finally, we have a slew of hungry challengers none of which are sufficiently talented to take on the LEC pantheon: Team BDS, EXCEL Esports, SK Gaming, and Astralis. These teams aren't necessarily abysmal, but they're all lacking in one way or another.
Their only purpose in the LEC is to strengthen someone else's narrative — they're the ones who always end up with the shortest end of the stick, no matter the meta and context. They also have their own unique roles within the LEC, too; the parts they play sometimes vary on a split-by-split basis, but their position within the overall hierarchy remains permanent and seemingly eternal.
Astralis, for instance, are the absolute worst of the bunch — something we've all become accustomed to. A few good games here and there are by no means enough to warrant them a spot higher up the standings. EXCEL Esports are a fair bit better but they're also the only organization in the LEC that has never reached the playoffs. They can, at times, exceed expectations, but have always fallen flat when it mattered most.
SK have had huge ups and downs throughout their LEC tenure but have rarely stooped as low as some of their peers, so credit where credit is due.
Team BDS, on the other hand, are still a question mark as they've only just entered the LEC at the expense of Schalke 04. They've assembled a respectable, albeit fairly modest line-up — one with some of the very best players the ERLs have to offer. So, if there's one team from this bunch that could potentially surprise us going forward, it's probably BDS.
Things to Watch Out For
As always, there's a myriad of things you need to keep in mind if betting on the 2022 LEC Spring Split is something you plan on doing; these factors are of the utmost importance as they'll all heavily affect your chances of scoring a big payday!
A Brand New Meta
It's the very start of the season which means huge upsets and unexpected twists are all but guaranteed.
That's what always happens, in all fairness, and this forthcoming split should be no different in that regard. The meta will change in huge, sweeping ways, and the introduction of two new Drakes and a bunch of in-game mechanics will force teams to compete on a fairly level playing field.
In other words: everyone's still figuring things out.
In due time, of course, the status quo will stabilize — i.e. the giants will distance themselves from the mid-tier gatekeepers and bottom-dwellers — but until we reach that point anything could very well happen.
No one's all too sure what the best and most optimal way of playing the game is. No one's all too sure which picks work and which don't. Figuring out the meta is a challenging, layered process, and it requires a ton of trial and error.
And, naturally, some teams are better at this than others. At first, every attempt they make will be a wild stab in the dark. Over time, though, they'll get better and more proficient at the most viable strats and picks available, at which point we'll finally be able to predict nearly any outcome with a sufficient amount of confidence.
So, to summarize, expect the unexpected over the next few months.
Favorites will drop games at the most baffling of moments, underdogs will go on huge win streaks and look like bona fide world-beaters, and even the bottom-dwellers (of which there are many) will look relatively dangerous and capable. Whatever happens, don't take it too seriously as it is not indicative of anything other than the fact that everyone's experimenting.
In due time, the bigger picture will start to appear. The LEC, much like all other major regions (other than, say, the LPL), is extremely top heavy. It has two or three teams that can vie for a spot at the top, and a bunch of flawed challengers, none of which have what it takes to truly "go the distance."
We've been watching the exact same narratives for years. There are two dynasties (G2 and Fnatic), and whenever they lose it's mostly because they got fed up with winning and started resting on their laurels. The same happened in 2021 as well — MAD Lions weren't better than G2 pound-for-pound, but they were motivated beyond measure and were willing to go the extra mile so as to get the job done.
G2, on the other hand, had the superior position for so long they no longer had any real drive to compete — they weren't burning the midnight oil sifting through the patch notes in an attempt to conjure up some esoteric, game-winning strategy. Instead, they played on auto-pilot, and by the time they realized they were losing control it was already far too late.
A Sweeping Refresh
One hugely important thing warrants a mention: the LEC throne is up for the taking. MAD Lions will no longer be able to defend it now that they've lost both their mid laner and AD carry.
The same goes for Rogue who've had their best season yet in 2021 — they won't be challenging for the number one spot any time soon without Inspired and Hans Sama under their banner. Fnatic, G2 Esports, and Team Vitality will all enter the 2022 competitive season looking a whole lot different than before — and are undeniably the biggest frontrunners to leave a mark. All of this means we'll witness one incredibly fierce fight at the top, with multiple teams having a shot at hoisting the LEC trophy. Some are more favored than others, of course, but it is nonetheless impossible to predict what'll eventually happen and who'll get their hands raised.
So, all things considered, we should be in for one heck of a ride! The LEC returns to action on January 14th, so make sure to mark your calendars!