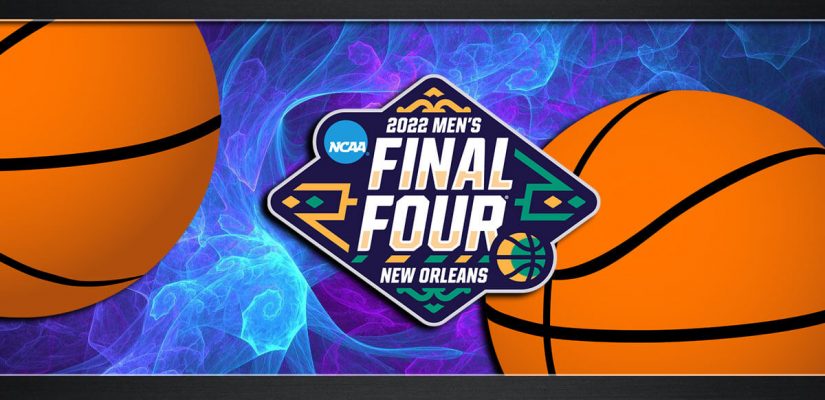 The NCAA Men's Basketball Tournament Final Four is just around and with so much attention and focus on this weekend's games, the books are rolling out all kinds of options to bet on the action. We all know the standard betting options. Bets like the point spread, money line, over/under, and even future's bets on which team will take home the national title.
But with these games being so high profile, we have even more options available to us than normal, as many of the online books are now posting Final 4 prop bets!
A prop bet, short for proposition bet, is basically a bet on any part of a game that does not involve the actual outcome of the contest. When you are making more traditional bets, bets like the point spread or the money line, those bets win or lose based on how the game plays out. These Final 4 prop bets are different, as you are betting on what may or may not happen in the game, not necessarily the outcome of the game.
This year's Final Four is full of powerhouses ??

How will it stack up against recent tournaments? pic.twitter.com/sMoII1mCte

— FOX College Hoops (@CBBonFOX) March 30, 2022
Some good examples of some Final Four prop bets might be the over/under on how many points a specific player might score, the total number of 3-pointers hit by a team, or whether or not the coaches will shake hands at the end of the game. In reality, the options are basically endless, as the books are constantly coming up with new prop bets and ways to wager on games.
Want to get in on the Final 4 prop bet action? Swing by TheSportsGeek's March Madness
betting page
, where you can check out some of our exclusive offers at the top online sportsbooks, where you can fire away on as many props as your bankroll can handle.
With so many different Final Four prop bets out there, you might get a bit overwhelmed trying to sift through all of them, but that is where we at TheSportsGeek come in, as we have scoured the internet in search of the best high-value Final Four prop bets available!
We did the homework, so you don't have to! With that, let's jump right into it, as we give you our picks for the top 2022 Men's Basketball Final 4 Prop Bets! Let's get started!
Will There Be A Triple-Double In The Final 4 Or Championship?
There are few things harder for a player to accomplish in the college game than a triple-double. Unlike the NBA where the games are longer and we have a lot more possessions and points scored, and triple-doubles are fairly common, it is exceedingly rare for a player in the college game to fill up the stat sheet enough to post a triple-double.
We can see that difficulty reflected in this betting line, as the books won't even let you bet on the no, only on the yes, and that comes at jumbo odds. I think the easy answer to this one is to just say that it isn't going to happen, but I want to dig a little bit deeper and take a look at which players are even capable of posting a triple-double.
I am going to take a look at 1 player from each of these Final Four teams that is most likely to post a triple-double this weekend. My play here is to lay off, but if you want action on the long shot, this is how you are going to get paid if the bet comes in.
Wendell Moore Jr – Duke
Wendell Moore Jr is the only player on the Blue Devils that has actually posted a triple-double this season, so he makes sense as the guy that is most likely to do it in the Final Four for Duke. Moore's triple-double came early in the season against Army, when he produced 19 points, 10 rebounds, and 10 assists, in the game against the Black Knights. Against UNC this season, Moore is averaging 10.5 points, 6.5 rebounds, and 6 assists per game, which is as balanced and strong of a stat line as we have seen in this matchup from any player.
Armando Bacot – North Carolina
Tar Heel's big man Armando Bacot is a double-double machine, as he finished his season with the 2nd most double-doubles in ACC history, trailing only Tim Duncan from Wake Forrest. Any time a player is on a list with Tim Duncan, you know that they are really good.
Bacot averages a double-double at 16 points and nearly 13 rebounds per game.
The question is, can he rack up enough assists or blocks to breakthrough with a triple-double? Doubtful. Bacot's highest assist total this season is just 4, and while he is a strong rim protector, the most blocks he has had in a game this season is 6, which he has done twice this year.
Collin Gillespie – Villanova
Collin Gillespie is the do-everything senior leader on the floor for Villanova, and now that the Wildcats are going to have to play without their 2nd best player, Justin Moore, who tore his Achilles against Houston in 'Nova's last game, Jay Wright is going to lean on Gillespie even more.
We play for each other.#ATTITUDE #GoNova pic.twitter.com/R5PiaUUYMc

— Villanova MBB (@NovaMBB) March 27, 2022
If Villanova has any shot of upsetting Kansas, it will be because Gillespie goes off, and while he hasn't had a triple-double this season, he averages double-digit points per game and he had 10 assists in the Big East tournament against UCONN and he posted double-digit rebounds against both St. John's and Georgetown in the regular season. It isn't very likely, but Gillespie is our best bet to cash our ticket on the yes, as he has what it takes to make it happen.
Ochai Agbaji – Kansas
Ochai Agbaji has a similar resume as Collin Gillespie, as the Jayhawk's senior leader at guard. The only reason I think Gillespie has a better shot at a triple-double than Agbaji, is because Kansas has a deeper rotation, and they won't need Agbaji to go nuts to win this game.
That being said, he is certainly capable of it:
As he averages 19 points and over 5 rebounds per game and while his passing rarely leads to gaudy stats, he is an excellent facilitator, that is always looking to set his teammates up for easy buckets.
In his last game, against the Miami Hurricanes in the Elite Eight, Agbaji filled up the stat sheet with 18 points, 5 rebounds, 4 assists, and 4 steals. That's a far cry from a triple-double, but does show me that the guy can do it all on the basketball court.
Most Points Scored By Any Player In A Single Game
This is an interesting bet, as we get 3 games to sweat this one out. This play is an over/under bet on the highest single-game point total of any player, from any team, during both of the Final Four games, as well as the national title game. There were some high-scoring players this season, guys like Peter Kiss from Bryant that led the nation in scoring at just over 25 points per game, Keegan Muray from Iowa who averaged 23.5 points per game, and Darius McGhee who scored nearly 25 points a game for Liberty. But none of the nation's top scorers are going to be playing this weekend in New Orleans.
?️ ANOTHER ONE@youngoch is a @WoodenAward Player of the Year finalist!

More → https://t.co/cWaKYRQtXp pic.twitter.com/hm4zpEqCNP

— Kansas Men's Basketball (@KUHoops) March 30, 2022
That makes this an intriguing Final 4 prop bet, as we don't have any single player that is expected to score this many points, but we do have several players that are capable of it. The highest scoring player, in terms of average points per game, that will be playing in the Final Four, is Ochai Agbaji from Kansas, who has scored at least 25 points in a game 6 times this season.
Duke's Paolo Banchero is next:
At just over 17 points per game, but Banchero is more of a consistently solid scorer than somebody who explodes for high point totals.
On the year, Banchero has only gone over this total once, and that game came all of the way back in November, against the Citadel. If I had to pick a couple of sleepers that could surprise people and push this total to the over, I would look at Brady Manek and Caleb Love from North Carolina.
Congrats Fellas ?

Armando Bacot – Most Outstanding Player pic.twitter.com/UPHAkp70al

— Carolina Basketball (@UNC_Basketball) March 28, 2022
Manek has been at his best in this tournament for the Tar Heels, as he scored 28 against Marquette and followed it up with 26 against Baylor. The big power forward from Oklahoma is a high-volume shooter from deep, and if he gets hot, he can light up the scoreboard. For Caleb Love, he too likes to let it fly from 3, as he has taken double-digit 3's in 4 of his last 5 games, and he torched UCLA for 30 points in the Sweet 16.
While there are players that CAN go over this total, I don't think there are any players that WILL go over this total.
The line is a fairly sharp one, but it feels just a bit too high. If this line were sitting at 24.5, I would probably take the over, but where it stands now at 27.5, the under is the play. The Final Four can be a place where stars are born, and players have the best performances of their careers, so this play is a bit risky, but if you are looking for the value side of this one, it is on the under.
Total 3-Pointers Made (Final 4 and Championship Game)
Similar to our last couple of bets, this bet is one that spans all 3 games this weekend. But unlike those bets, that focused on individual performances, this bet is a Final Four prop bet that combines the total team performance for each of those games. This play is the over/under on the total number of 3-pointers made in all 3 games of the Final Four.
? Check out our best #MarchMadness moments so far #GoNova pic.twitter.com/ZuoaYeUuIm

— Villanova MBB (@NovaMBB) March 29, 2022
All of these teams shoot the ball efficiently from beyond the arc, but none of them are overly high volume 3-point shooting teams. Villanova shoots the most 3's as a team of any of these teams by far, as 46% of their field goal attempts are from the land of 3, 20th highest in the nation this year. Kansas is the exact opposite, as they are 287th in the country in 3-pointers per made field goal attempt. Duke and North Carolina both have similar game plans, as while they shoot the ball well from outside, they aren't going to take too many of them.
So, for me, this bet boils down to which team wins the game between Villanova and Kansas. If Villanova wins, it will likely be because they were able to connect on a bunch of 3's, and if the Wildcats play twice this weekend, this bet is going to go over on sheer volume alone. If Kansas wins that game, it will be driven by their ability to limit Villanova's sharpshooting, and when they play in the title game, they aren't going to be jacking up many deep shots.
I really want Villanova to win, and if they had Justin Moore on the floor, I think that they would have done just that. But without Moore, I don't think that the Wildcats are going to beat Kansas, which means that I am going to jump on the under 45.5 3's being made.
As the Wildcats are the only team in this field capable of pushing this total to the over all on their own.
We are going to have to sweat it out, particularly if North Carolina upsets Duke, as they have a couple of guys that will jack up lots of 3's, but if the favorites both win and advance, and we get a national final game between Due and Kansas, our play on the under will be in fantastic shape.
The Bet
Under 45.5 Total 3-Pointers Made
Most Outstanding Player
Instead of listing all of the players that you can bet on to win the most outstanding player award, which is basically every player from all 4 of these Final Four teams, I am going to focus on the player on each team that shows the most value to take home the tournaments top individual honor. You might as well call this the best player on the winning team award, as that is who this award generally goes to each year.
Which upperclassman would you most want to lead your team: @youngoch or @Colling1021? ? pic.twitter.com/1Usfdilhh3

— FOX College Hoops (@CBBonFOX) March 31, 2022
Paolo Banchero – Duke (+240)
In terms of raw talent, there won't be a player in the Final Four any better than Duke's Paolo Banchero. Banchero came into this season as one of the highest-rated prospects in the country, and he has lived up to that ample hype, as he leads the team in scoring (17.1) and rebounding (7.7).
If this really is the best player on the best team award, it is Banchero's to lose, as the Blue Devils are the current odds-on favorite to win the national title and he is their best player.
What makes his case so compelling, is that he performs at his best when it matters the most. We saw that when he scored 22 against Kentucky, 21 against Gonzaga, and 22 against Texas Tech in the Sweet 16. If you like Duke to win the 2022 national title, Banchero is your play to win the most outstanding award.
Ochai Agbaji – Kansas (+475)
While the Jayhawks aren't the favorites right now, they aren't far behind, and in what I see as a wide-open Final Four, any of these teams could win it all. Ochai Agbaji has had a dream season for a senior, as he has been a consummate leader on the floor for KU.
Agbaji has emerged as one of the most versatile players in the nation.
He can create his own shot off of the dribble, he can shoot it from outside, and he plays lock-down defense. The Jayhawks aren't as deep in terms of star power, as teams like Duke or North Carolina, so if Kansas wins the natty this weekend, it will be Ochai Agbaji that leads the way.
Collin Gillespie – Villanova (+900)
If we are talking about which player will be playing in the Final Four this weekend is the best college basketball player, I am going to say it is Villanova's, Collin Gillespie. Now, I am not saying which player is the most talented or which player will be the best in the NBA, I am saying which player is the best college basketball player left in this tournament.
There are lots of guys that are bigger, stronger, and faster than Gillespie, but there aren't any that are more experienced when it comes to winning meaningful games in March and who have consistently hit more big shots than this kid.
The only thing holding me back from hammering this bet is that Villanova lost a key player in Justin Moore, and they would need a miracle to win this tournament right now. If the Wildcats do win their 3rd national title since 2016 in New Orleans, you might as well hand Gillespie this trophy right now.
Armando Bacot – North Carolina (+1000)
I have gone on record as saying that I think North Carolina is going to upset Duke on Saturday night and win the national championship on Monday night, likely in a matchup against Kansas. This team caught fire at just the right time, and there is no team in the country that is playing better than the Tar Heels have in the last month. There are plenty of guys that deserve some love for this run out of UNC including guys like Caleb Love and Brady Manek, but Armando Bacot has been a 1-man wrecking crew in the postseason.
Unreal performance from Bacot Jr. ? pic.twitter.com/eQhoKty0Kx

— NCAA March Madness (@MarchMadnessMBB) March 28, 2022
In the postseason this year, between the ACC tournament and the NCAA tournament, Bacot has had a double-double in all 6 games.
He embarrassed St. Peter's to the tune of a 20 point and 22 rebound explosion, and it could have been much worse for the Peacocks, as the Tar Heels called off the wolves early after running them off of the floor in blowout fashion. Momentum is huge in March and with Bacot leading the charge, the Tar Heels aren't going to go home without a fight.
It is an extra cherry on top that my favorite play on this bet is also the one that pays the best, and I will lock in my action on Armando Bacot taking home the most outstanding player award at a juicy price.
The Bet
Most Outstanding Player Winner: Armando Bacot
Wrap Up
With so many options out there for Final Four betting odds, it can sometimes be a bit overwhelming. But that is why we here at TheSportsGeek pride ourselves on being your number 1 resource for all things March Madness betting! We have handicapped the Final Four in just about every way possible from looking at point spreads, money lines, totals, future's, and now props, and as long as you take our advice, you are going to get paid this weekend when betting on the 2022 Men's Basketball Final Four!