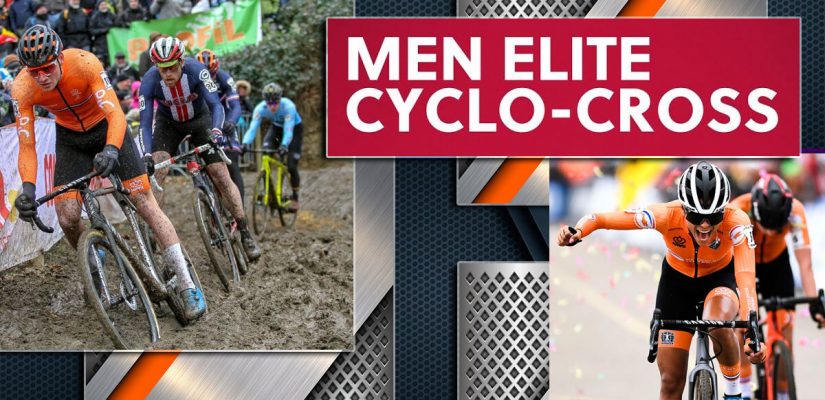 Beginning on Saturday, January 29th and finishing on Sunday, January 30th, the 2022 UCI Cyclocross World Championships is an exciting multi-day event for the sport of cycling that takes place in Fayetteville, Arkansas.
This is just the second time that the Cyclocross World Championships has been held outside of Europe since its inception in 1950. The first time came in 2013 when the event was held in Louisville.
The cyclo-cross worlds consist of six events with hundreds of talented men and women cyclists competing for gold. This cycling betting article will focus on the Men's Elite Race, which officially takes place on Sunday, January 30th.
2022 Men's Elite Course
The Cyclocross World Championships will be held at Centennial Park atop Millsap Mountain in Fayetteville, Arkansas.
This area underwent numerous changes over the years to construct a two-mile course specifically for this major event. The course begins with a straight track before heading into a sharp turn. A descent through grass into a wide road eventually leads to a steep climb with gradients of over 16%. Riders will then head through two off-camber sections, a tunnel and into the woods. A rocky section could see some different strategies in order to get through safely like dismounting and carrying bikes.
From there, riders will approach a set of stairs, then down a daring descent of over 20 percent gradient. Another trek through the pits will send the riders through corkscrew berms and then the finish line.
Weather could play a heavy role in this race.
Worlds week ?@CxFayetteville is ready to host the 2022 @Walmart UCI Cyclo-cross World Championships ?#Fayetteville2022

— UCI Cyclocross (@UCI_CX) January 24, 2022
Previous Men's Elite Race Winners
Jean Robic won the first ever Men's Cyclocross event which took place in 1950. Since then, Belgium's Erik De Vlaeminck would go on to win the most gold medals in this event with seven.
De Vlaeminck won six times in a row. Last year's winner was Mathieu Van Der Poel. He and rival Wout Van Aert have won the last seven World Championships. However, both men will not participate in this year's event.
The following is a list of previous winners dating back to 2000:
Cycling Betting Odds
The following odds are courtesy of Bovada:
Michael Vanthourenhout:
+900
Tom Pidcock (-150)
Pidcock had a strong season as he won three of the 12 races that he competed in and finished on the podium six more times.
He was third in the final event at Hoogerheide behind race winner Eli Iserbyt who also won the World Cup.
The 22-year old British cyclist is the odds on favorite to win the Men's Elite Road Race in Arkansas. Yet, Pidcock believes that it's going to be quite the battle as everyone has a shot at winning:
"My condition will be good next week. It's going to be a hard, fast race and a good battle. Everyone is in with a chance, it's going to be interesting next week. There are a lot of people who can win next week. The course is pretty similar and it's going to be a good race."
Pidcock's best finish at the World Championships was in 2020 when he won the silver medal. That goes along nicely with his 2021 Olympic gold medal in the cross-country mountain bike race and his 2019 gold medal for the Men's Under 23 World Championships.
A spectacular race today in Hoogerheide to wrap up this season's UCI Cyclo-cross World Cup! ?? Overall winner Eli Iserbyt wins after an amazing final lap! ? Lars van der Haar ?, Tom Pidcock?. #CXWorldCup pic.twitter.com/U1EHIZx5O5

— UCI Cyclo-cross World Cup (@UCIcyclocrossWC) January 23, 2022
Eli Iserbyt (+225)
Pidcock might be the betting favorite this weekend, but Eli Iserbyt was the man for the cyclocross World Cup this season.
He won seven races during the season including the final event in Hoogerheid.
The other six wins were Wateroo, Iowa City, Overijse, Koksijde, Besancon, and Flamanville. Eli finished with a 128 point lead in the standings over second place Michael Vanthourenhout.
Iserbyt made the following comments about the World Championships:
"If you see two of us are non-Belgian now we have to make good tactics. I think this has shown who are the best riders this weekend, so I don't think we have to change a lot for next weekend and put everything on me and maybe Toon (Aerts). We saw in the European Championships that going into a race with five different riders who can win is not the best tactics. Lars (van der Haar) is really good, (Tom) Pidcock is good and we have a chance with our Belgium squad but we really have to aim for one of two riders."
Iserbyt has yet to claim a podium spot in the Men's Elite race for the World Championships, but he does have two golds and one silver in the Men's Under 23 event at the Worlds. He won in 2016 and 2018, while finishing second in 2019.
Toon Aerts (+550)
Although Pidcock and Iserbyt are getting a lot of the attention with cycling betting sites, Toon Aerts is a rider that deserves your attention. He certainly has the attention of his competitors.
Aerts has won three bronze medals in a row at the World Championships.
Last year, he finished behind Mathieu Vander Poel and Wout Van Aert, which was the same running order in 2019. In 2020, Pidcock finished second ahead of Toon.
Toon finished third in the World Cup as he won just three races. Aerts won the World Cup in 2018-19 and 2019-20. He also beat Wout Van Aert in 2019 for the Belgian National Championships.
A consistent Top 5 rider this season, including leading the standings at one point, Aerts finished third in the standings and provides solid value for the World Championships on Sunday.
Lars Van Der Haar (+750)
Lars Van Der Haar finished 5th in the World Cup standings, but is the reigning Dutch Cyclocross champ having won that event this year.
He didn't pick up many wins in the World Cup, but he did have five podium finishes and was a consistent rider in the Top 10 and Top 5. Furthermore, Van Der Haar has plenty of experience in the World Championships with two bronzes in 2013, 2015 and a silver in 2016. He also won the Men's Under 23 in 2011 and 2012.
If that weren't enough to put Lars on your radar this weekend, Van Der Haar is also the reigning European Champion and considered a legitimate contender this weekend by his contemporaries.
What a massive and well-deserved win for @vth_michael ?? at the legendary #CXWorldCup Namur!! ?? pic.twitter.com/u5ZDbeQ0TU

— GCN Racing (@GcnRacing) December 19, 2021
Michael Vanthourenhout (+900)
Michael Vanthourenhout finished second in the World Cup this season behind teammate Eli Iserbyt. He tallied one win and eight overall podium finishes. Yet, the Belgian rider says that his win in Namur last month was the biggest of his career:
"At the end I believed in myself. I saw Tom was strong in the climbs but in the off-camber sections I was one of the strongest in the race. I didn't notice that Tom had made mistakes behind me, I just focused on my own race. This is the biggest victory of my career."
That's saying a lot considering Vanthourenhout won the silver in the 2018 Worlds Men Elite Race and also won the gold for the Under 23 in 2015.
Quinten Hermans (NA)
Hermans was one of the overall betting favorites heading into the World Championships after finishing 4th in the World Cup. Unfortunately, Hermans tested positive for covid and won't be able to compete in this weekend's event.
Laurens Sweeck (+2500)
Prior to Iserbyt winning the final race of the season, Sweeck had won at Flandriencross which was his second victory on the season.
He still finished over 262 points behind teammate Iserbyt in the World Cup standings.
Sweeck might not have the decorated resume as others in this competition, but the former Belgian cyclocross champion isn't someone to dismiss.
Corne Van Kessel (+12500)
Corne Van Kessel is listed as the massive longshot with online betting sites despite finishing 7th in the World Cup this year.
Van Kessel is a former Belgian cyclocross champion and has multiple podium finishes in the Dutch cyclocross championship race.
Van Kessel has the experience in both the juniors and men's elite levels. The only question is whether or not he will have the power to beat out the top favorites for this weekend's World Championships.
Tom Pidcock: My condition will be good for Worlds

'Everyone is in with a chance, it's going to be interesting'https://t.co/CYhBTrYA1w

— Cyclingnews.com (@Cyclingnewsfeed) January 24, 2022
Who Wins the 2022 Men's Elite Cyclo-cross World Championships?
I believe the Men's Elite Race will come down to two riders: Pidcock and Iserbyt. Now, Eli Iserbyt has gotten the best of Pidcock on the season, but I believe that Tom will finally get his first gold medal in this event.
He's the next cyclocross star to follow in the slipstream of Wout Van Aert and Mathieu Van Der Poel to go from cyclocross to road racing. Pidcock has already announced an aggressive road course schedule and showed last year that he belongs with the best in the world.
Furthermore, Pidcock proved he can win on the biggest stage of them all – the Olympics. I believe he will edge out Iserbyt and Aerts to take home the gold medal on Sunday, January 30th, at the World Championships in Fayetteville.