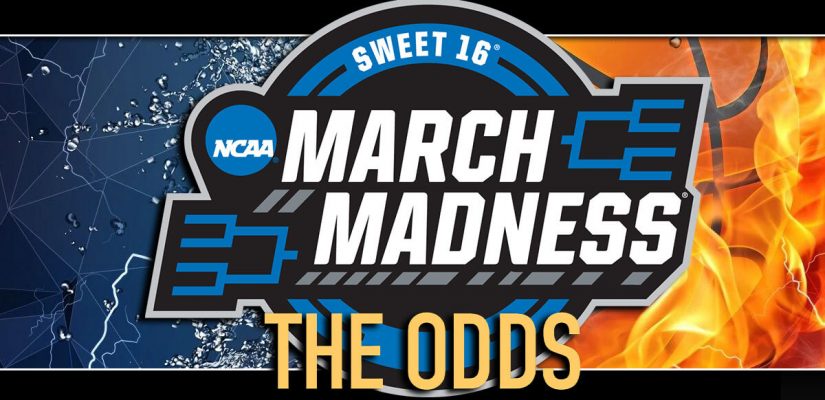 The opening weekend of the NCAA Men's Basketball Tournament is all about the madness! The 2nd weekend is all about separating the men from the boys and finding out which team is going to win the national title. As is almost always the case, the opening weekend was action-packed and filled with upsets, but as I look at these Sweet 16 matchups, I see a lot of chalk. We have 11 teams that are seeded 5th or higher still playing, and if history tells us anything, it is that the Sweet 16 is where Cinderella goes to die!
Which 15 seed's run to the Sweet Sixteen was most impressive: St. Peter's, Oral Roberts or Florida Gulf Coast's? ?? pic.twitter.com/BcflXMUClV

— FOX College Hoops (@CBBonFOX) March 21, 2022
But don't tell that to double-digit seeds like Michigan, Iowa State, Miami, or the biggest Cinderella of them all, 15th seeded St. Peter's, as these teams aren't here to pick up a participation trophy, they are here to win games and advance to the Final Four. For the casual basketball fans that don't even check in on college basketball until March, the NCAA tournament is just a lot of fun to watch, but for us sharps, we know that while the tournament certainly is a lot of fun, it is also one of the highest value times of the year to handicap college hoops.
Despite all of the upsets, had you followed my picks last weekend, you would have made money, as we finished with a winning record at 4-3. And while locking up a win in the middle of the madness is never a terrible outcome, we were a couple of late bad beats away in the USC and Arkansas games from having an elite record of 6-1. The only game we really "missed" on, was St. Peter's against Murray State, and I can confidently say that nobody, and I mean nobody, saw the Peacocks coming, so I won't beat myself up about it too much.
Today, we are going to preview the Sweet 16 Men's Basketball odds, and give you all of the high value betting advice that you need to get paid this weekend. It is still early in the week, and these odds could shift, so if you want to lock up max value, you are going to want to get these plays in now.
To make sure that you are getting the best deals, make sure that you swing by TheSportsGeek's March Madness betting page, where you can snag exclusive deals for our readers only! With that, let's jump right into it, as we head to the West Region, for the game between the number 1 overall seed Gonzaga Bulldogs and the 4-seed Arkansas Razorbacks!
#4 Arkansas Razorbacks vs #1 Gonzaga Bulldogs (-9)
Both of these teams are feeling pretty lucky just to have survived the opening round, as the Zags trailed for big chunks of both of their games, needing huge second half pushes to survive against both Georgia State and Memphis, and Arkansas had to win both of their games in the final minute, as Vermont and New Mexico State gave them all that they could handle. But now that we are here, we have the matchup that most people expected, between the Bulldogs and the Razorbacks, as the seeds held out, and the best teams advanced.
Gametime set. Plan accordingly.#Sweet16 x #GoZags pic.twitter.com/O0W068pBoJ

— Gonzaga Basketball (@ZagMBB) March 21, 2022
This line is a steep one and I have gone back and forth on it several times. Kenpom has the Zags winning this game by 10-points, so the analytics are on Gonzaga's side, but that doesn't stop me from feeling like this number is a bit too high.
That doesn't mean that the Bulldogs can't cover it though, as this team has made a living beating up on good teams by wide margins. Against top-50 teams this season, Gonzaga has wins over Texas by 12, Texas Tech by 14, UCLA by 20, BYU by 26 and 23, San Francisco by 16 and 10, and St. Mary's by 16. Arkansas was a sleeper team of mine before these brackets were announced as I am a huge Eric Musselman fan, and the Hogs have shown the ability to beat elite teams all season long. But they get a tough draw here, against the nation's top team. No team had an easier path to the Sweet 16 than Arkansas, as they had to beat a 13 seed and a 12 seed, and they just haven't played well, even against the soft competition.
The Razorbacks have been playing with fire a lot in the last month or so as they had losses to Texas A&M, Alabama, and Tennessee, and they had razor-close wins over LSU, Kentucky, and Auburn to go with the barely beating Vermont and New Mexico State in the Big Dance.
We ain't done yet ? pic.twitter.com/ovbGl3ComN

— Gonzaga Basketball (@ZagMBB) March 20, 2022
The Bet: Gonzaga Bulldogs (-9)
To me, this game comes down to which version of the Zags we see. Will it be the first half Zags that have come out flat? Or the second half Zags that have been monsters? My gut says this is the year for Gonzaga, and that they will play like they did late against Memphis, earlier against Arkansas, and run up this score and find a way to cover this jumbo line. Give me the Zags laying the points in this one.
#3 Texas Tech Red Raiders (-1) vs #2 Duke Blue Devils
I am a huge Coach K fan, and behind John Wooden, I think he is the 2nd greatest college basketball coach of all time. But his victory lap of a season has clearly taken its toll on the Blue Devils. As the pressure has mounted late in the year, with every game being billed by the media as Coach K's last regular season game, Coach K's last ACC tournament game, Coach K's last sip of Gatorade, the focus has been taken off of the team on the floor.
That has led to some shaky results.
While seeing Coach K win a national title in his final season after an illustrious 42-year career would be a moment that none of us would forget, I see this run ending in the Sweet 16 against Texas Tech. To win in March, you have to be able to stay loose enough to actually perform, and the Blue Devils haven't looked like a carefree team in over a month, as they are cracking under all the pressure of trying to deliver a 6th national title trophy for Coach K's mantle.
Ŧogether, we attack.

?: Duke Blue Devils
?: @CBS
⏰: 8:39 p.m. (CDT), Thursday
?: San Francisco

?➡: https://t.co/JF06dU8bI9 pic.twitter.com/rOJKtznFPZ

— Texas Tech Basketball (@TexasTechMBB) March 22, 2022
The Bet: Texas Tech Red Raiders (-1)
That pressure is going to be tough to overcome against a Texas Tech team that was supposed to stink this season after Chris Beard bolted for UT, so the Red Raiders have been playing with house money all season long, and they are making a killing! Texas Tech has the number 1 defense in the nation in terms of efficiency, per Kenpom, and I think they are going to smother the Blue Devils, force them into bad shots, and send Coach K off into the sunset. My heart wants another win for Coach K, but my brain says that this is the end of the line. I am taking Texas Tech, as they win a thriller against Duke.
The Bet
Texas Tech Red Raiders (-1)
#5 Houston Cougars (+1.5) vs #1 Arizona Wildcats
The Houston Cougars won one for the math nerds this week, as they pounded an Illinois team that had a far superior resume. Ken Pomeroy of Kenpom tweeted out a sarcastic tweet about how Houston, who famously had only 1 quad-1 victory in the regular season, and many people felt were massively overrated by his algorithm that had them ranked 5th in the nation, could possibly beat an Illinois team with 6 quad-1 wins.
Hey, @UHouston fans… You want to check out the full video of Sunday's #MarchMadness highlights vs Illinois

Click full link ➡️ https://t.co/0OTlQ3w5XB pic.twitter.com/PS6FWX6RSE

— Houston Men's Hoops ? ? (@UHCougarMBK) March 22, 2022
I am a bit on the fence between the data and the public, as I think Houston is clearly a much better team than the 5-seed that they got from the Selection Committee, but I don't think that they are as great as Pomeroy's analytics might suggest either. That being said, I think they match up really well with Arizona in this game, and I smell upset. Arizona probably deserved to lose to TCU in their last game, as they got away with murder late in that game, and the refs deserve a lot of the credit for the Wildcat's win.
The Bet: Houston Cougars (+1.5)
Arizona didn't have a lot of opportunities to play elite defenses like TCU during the regular season, and they did not react to it well. And in just about every metric that we have to rate a defense, Houston's D is even better than the Horned Frogs unit. People doubted Houston last year all season, and they laughed their way all of the way to the Final Four, and they would love nothing more than to prove those haters wrong again this year with a repeat trip to the 3rd weekend. Arizona has the better players, Houston has the better team, I am taking the Cougars.
#11 Michigan Wolverines vs #2 Villanova Wildcats (-5)
Remember when everyone was up in arms about Michigan even getting into the NCAA tournament? That seems like an eternity ago, as the Wolverines silenced their critics with wins over Colorado State and Tennessee to advance to the Sweet 16. Big Blue proved that they belonged in this field, and while I was impressed with the win over the Vols, they catch a tough matchup here with Villanova.
If I had to build a team to win the NCAA tournament, the first thing that I would do is have a senior leader point guard.
Guard play is what wins in March and having an upperclassman that can bring the ball up the floor and run the offense in crunch time is invaluable. There is no more accomplished of a senior leader in the nation right now than Villanova's Collin Gillespie. There might not be a more clutch player still playing in this tournament either, and when the Wildcats need a big bucket, he never fails to deliver.
Next stop: ??? ??????? #LetsMarchNova#MarchMadness pic.twitter.com/3sTfY46iXc

— Villanova MBB (@NovaMBB) March 21, 2022
The Bet: Villanova Wildcats (-5)
I am not going to say that Michigan's wins were fluky, as I don't believe in luck, and this team deserved to win those games, but there are levels to this game, and Villanova is quite simply on another level than the Wolverines. 'Nova coasted to a 10-point win over fellow Big 10 team Ohio State in their last game, and I see this one playing out in a similar fashion. Michigan won't lay down for Villanova, but they just don't have the firepower to hang with the Wildcats for 40 minutes. Expect 'Nova to pull away in the 2nd half for the win and cover.
#15 St. Peter's Peacocks (+12.5) vs #3 Purdue Boilermakers
I would absolutely love to see the Peacocks of St. Peter's win this game and become the first-ever 15 seed to advance to the Elite Eight. But as much as I want it to happen, it just isn't going to, as the Peacocks are going to be severely outmanned in this game. Purdue came into this event as a 3-seed, but they spent time this year at number 1 in the AP poll, so this is a team that could absolutely win the national title.
SWEET HISTORY!!

Rip up those brackets! We'll see you in Philly!!!#StrutUp? pic.twitter.com/UDZ5UzLfNc

— Saint Peter's Men's Basketball (@PeacocksMBB) March 20, 2022
Whether is it superstar Jaden Ivey, 7-foot-4 monster in the middle Zach Edey, or veteran big Trevion Williams, the Boilermakers will have all of the best players on the floor basically the entire game. The Peacocks were the best story of the opening weekend, but that was about as unlikely of an outcome as I have ever seen, and now that they are sitting at home listening to everyone in the media tell them how great that they are, I see them crumbling under the pressure.
As a 15-seed, this team played carefree with complete reckless abandonment. They weren't supposed to beat Kentucky or Murray State, so they had the major advantage of not having to worry about the outcome, and they just went out and played ball.
The Bet: St. Peter's Peacocks (+12.5)
Now that they have a chance at history, trying to become the first 15-seed to win a game in the Sweet 16, all of that carefree attitude is out the window, and that is going to cost them in this game. Purdue will get up early and coast late, and while I would be flabbergasted to see St. Peter's win this game, the Boilermakers won't see a need to run up the score, and we all know that the Peacocks are playing until the final buzzer. I expect St. Peter's to sneak in a back door cover in the game's final few possessions. The Boilermakers will win, but the Peacocks will cover.
The Bet
St. Peter's Peacocks (+12.5)
#8 North Carolina Tar Heels (+2.5) vs #4 UCLA Bruins
I have been riding on the North Carolina bandwagon since I watched them decimate Duke in Coach K's final regular season game, and I am not ready to jump off just yet, as this team has looked fantastic. The Tar Heels set a new record for the biggest blowout win ever in an 8/9 game against Marquette, and they nearly did it again in their following game, as they jumped out to a 25-point lead over 1-seed Baylor in the round of 32.
Normally, I try to never blame a win or a loss on the refs, as it is rarely as bad as it is made out to be by the fans and the media, but what the refs did to Carolina in the last 10 minutes of that game against Baylor needs a full-fledged investigation. It was criminal what happened to the Tar Heels, and while they survived the screw job, that felt like a game where we are going to have a 30 for 30 on it 20 years from now about how the refs took the money and that the fix was in.
Back in the #SweetSixteen ?#CarolinaFamily | #MarchMadness pic.twitter.com/vLfNpbuf5z

— Carolina Basketball (@UNC_Basketball) March 21, 2022
Atrocious referring aside, North Carolina has looked as any good in this field, and while UCLA is a very talented and experienced team, I am down on the Bruins right now. This team just doesn't feel hungry and for whatever reason, last year's all-tournament team player Johnny Juzang has no-showed so far this year. Juzang fought with injuries late in the year, and looking back on his last 8 games, he has scored more than 10 points just twice, and the normally lethal 3-point shooter has made only 4 of 21 shots from beyond the arc during that stretch.
The Bet: North Carolina Tar Heels (+2.5)
If you want to win games in the NCAA tournament you need to stay healthy and peak at the right time. North Carolina is playing their best basketball of the year right now, and UCLA isn't. I will grab the points in this one, as strange things can happen in the tournament, and I want some insurance in case the refs are out to get Carolina again. But don't get it twisted, I fully expect the upset in this game, as I have the Tar Heels winning and advancing against a sluggish Bruins squad.
The Bet
North Carolina Tar Heels (+2.5)
#4 Providence Friars (+7.5) vs #1 Kansas Jayhawks
The Providence Friars have had a magical season. The Friars won their first-ever Big East regular season title this year, and with a trip to the Sweet 16 for the first time in a long time, PC is riding high. But just like the Houston Cougars were the team that the data loved, and the public hated, the Friars were the exact opposite, as they are rated out as a bubble team by Kenpom and NET, but they were in the top-10 of the AP poll in March.
The analytics have called the Friars the luckiest team in the country, and instead of denying that moniker, Providence has embraced it.
Call them good, call them lucky, call them whatever you want, but you cannot deny that the Friars do one thing at an elite level, and that is win games against quality competition. PC has 14 wins over the top-100, and with wins over elite teams like Wisconsin, Texas Tech, and UCONN, the Friars aren't scared to play anybody. As strong as the schedule was for Providence this season, I am not sure that they have played a team as strong as this Kansas team.
No. 13 Men's Basketball NCAA Sweet 16 Game Notes Vs. No. 3 Kansas https://t.co/sKZKr9KzaW

— Providence MBB (@PCFriarsmbb) March 22, 2022
Kansas has everything you would want out of a Final Four team, as they have a talented roster, a great head coach, and loads of experience. The Jayhawks played the 3rd toughest schedule in the nation this season, which makes their 30 wins absurdly impressive. I have had the Jayhawks as a Final Four team all year, and now that they are right on the cusp of that 3rd weekend, I am not changing my mind about KU now.
The Bet: Providence Friars (+7.5)
The reason that the data hates on Providence, is because they tend to play a lot of very close games.
Win or lose, the Friars never seem to get up or down more than a couple of points.
I expect PC to again keep this game close, and while I do see their luck running out, as I have them losing this game, if you had given me the Friars with this many points all season, they would have a 29-3 record this year. That is far too many close games not to expect another one. I am on the Friars as they hang around close enough to get us paid in a losing effort.
#11 Iowa State Cyclones (+2.5) vs #10 Miami Hurricanes
I am shocked at this line. When I penciled in the Iowa State Cyclones to the Sweet 16 in my bracket pool, my friends laughed at me. They aren't laughing now though, as the Cyclones used their elite D to knock off LSU and Wisconsin, giving them a couple of the best wins of any team in this tournament. ISU played a savage schedule, top-10 in the country, and that has led to a resume chalked full of signature wins. The Cyclones have wins over teams like Memphis, Iowa, Texas Tech, Oklahoma State, TCU, Oklahoma, LSU, and Wisconsin, all teams currently rate out as being better than Miami.
Started at the bottom now we're in the Sweet 16. Work is not done.#Cyclones | #C5C pic.twitter.com/UjSBU1frUw

— Iowa State Men's Basketball (@CycloneMBB) March 22, 2022
Outside of St. Peter's, the only other team that I am truly surprised to see still playing this weekend, are the Miami Hurricanes. I wasn't overly impressed by their resume, and I felt that they were an overtime loss to Boston College away in the ACC tournament from not even getting into the field of 68. The seeds of their opening games tell you that those were elite wins, but USC has been mediocre much of the year, and Auburn clearly ran out of gas a month ago, and they were a candidate for an early exit.
I don't want to take too much credit away from Miami, as you still have to win the games, but prior to those wins last weekend, the Hurricanes hadn't beaten a team playing in the NCAA tournament since January! I felt that the committee mis-seeded both of these teams, and I guess that is what is driving this line, with Miami as the favorites?
The Bet: Iowa State Cyclones (+2.5)
Kenpom has Iowa State winning this game, and so do I, as I see Iowa State as a much better overall team. For this play, I will grab the points, but I will also be making a money line play on the Cyclones as well, as they are going to win this game, and to be honest, I am not even sure it is going to be all that competitive. In the regular season, Miami was just 5-5 against the top-50, and they aren't ready for what Iowa State is about to do to them. Iowa State will shut down Miami on D and win this game going away.
The Bet
Iowa State Cyclones (+2.5)
Wrap UP
And there you have it folks, my NCAA Men's Basketball Sweet 16 betting odds preview and picks. We still have a couple of days to wait until the madness returns, and you want to make sure that you are staying tuned to TheSportsGeek all March long, as our team of expert handicappers bring you high value free plays for all of these NCAA March Madness tournament games.