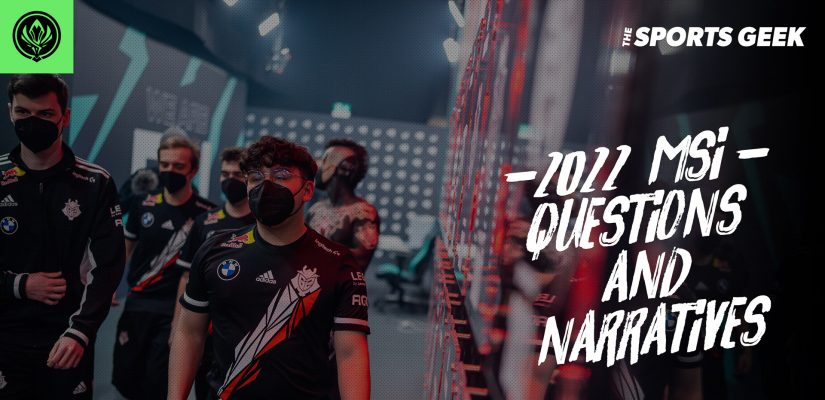 The forthcoming 2022 Mid-Season Invitational is ripe with mouth-watering narratives and storylines worthy of one's undivided attention. We have numerous champions duking it out for a sizable sack of cash and a chance at writing a bit of history.
There's obviously a lot on the line, so if you're into top-tier League of Legends — like so many of us are — make sure to clear out your schedule and tune in!
The Mid-Season Invitational is sort of a high profile litmus test. It is the second biggest stage the world of competitive League has to offer and is, therefore, a great place for the best teams (or champions, rather) to test their mettle.
It's been a point of convergence for the very best teams in the world for seven years straight and, well, you'd be wise to tune in as a good time is all but guaranteed. The meta, too, is astoundingly flexible and, by proxy, entertaining. It'll be interesting to see which team has the best read and just how big of an impact patch 12.8 will have on pro play.
We can only theorize at this point, but the LCK and LPL, in particular, have always been ahead of the curve in that regard and that's probably not going to change any time soon. That being said, the LEC and LCS representatives definitely have a shot at making waves. They've showcased immense potential and, perhaps most importantly, a fearless attitude and approach that could prove to be vital against their Asian adversaries.
That being said, Western fans would be wise to temper their expectations.
In any case, there's a lot to look forward to (and dissect), so let's dive straight into it!
T1 — As Good as Advertized?
The "winningest" organization in competitive League history is currently deemed as the biggest favorite to go the "whole nine yards" and, well, it's easy to understand why: they wrecked house over in the LCK and have been darn near perfect throughout the entire Spring Split.
Then again, one cannot help but wonder: were they as dominant as they were because they're really as good as people think or, perhaps, because there was no one capable enough to truly challenge them?
NOT THE MOST STACKED REGION
The LCK is one of the most top heavy regions in the world so it's definitely a rational thing to wonder about. T1's amazing, there's no doubt about it, but there's also a very real chance that we have a somewhat skewed perception of their might and overall potential.
Other than Gen.G, there's really no team in the LCK that's good enough from a "pound for pound" perspective. And, well, that's certainly not T1's fault, but the point stands nonetheless. The LPL, on the other hand, is stacked with exceptional teams all of which have the tools to contest for the throne. So when that region brings forth a champion, that sure does mean something.
Now, don't mistake this for doubt: we know for a fact that T1 are going to bring the house down and leave a mark in some way, shape, or form, but we're not yet sold on them being quite as good as people think.
Fortunately, they'll be able to dispel any and all doubt in just a few days.
2022 Mid-Season Invitational Betting:
Will T1 Reach the Finals?
RNG — The Return of the LPL Kings
The fact that Royal Never Give Up will return to defend their MSI title speaks volumes. And, well, them having to go through JD Gaming and Top Esports (twice) makes it all the more impressive. The line-up they have is astoundingly impressive. We've been watching these players dominate for quite a while now and they're still somehow finding new ways to impress and blow our minds.
The King of the Spring.

The Silver Dragon Cup glitters in celebration of the fifth championship of @RNG!

Congratulations to RNG again on winning the Spring Split Championship and representing #LPL at MSI for the second year in a row!🎊

#CrazyIsOurGame pic.twitter.com/blLR7aqJV3

— LPL (@lplenglish) April 24, 2022
Chen "Bin" Ze-Bin (of Suning fame) was more than up to the task of replacing Li "Xiaohu" Yuan-Hao who, after "lapping" the best top laners in the world, had decided to move back to mid and further solidify his position as one of the all-time greats.
They might not be as consistent as was the case back in 2021, but they're still one of the very best teams in the world and have earned themselves a cult following for a very good reason.
Will they be able to best T1, though? We'll find out soon enough.
2022 Mid-Season Invitational Betting:
Will RNG Defend Their Throne?
G2 Esports — A Revitalized Giant
This version of G2 is incredibly interesting for a wide variety of reasons. First of all, they have an incredible amount of momentum after pulling off one of the most mind-blowing lower bracket runs in the history of competitive League.
Secondly, they have a very interesting mix of both seasoned veterans and up-and-coming rookies, some of which may well end up growing into the superstars of tomorrow. Heck, they've already left a mark, despite the fact that they were facing some very unfavorable odds.
They're confident beyond measure and, well, they have every reason to be: they took down Team Vitality, Misfits Gaming, Fnatic, and Rogue in succession — and in the most tremendous of fashions, too.
Winning even a single Best of 5 requires an immense amount of talent and mental fortitude; winning four of them (with a brand new line-up, no less) is a feat seldom accomplished.
And so we cannot help but wonder: how will they fare against the very best teams in the world? Will Victor "Flakked" Lirola and Raphaël "Targamas" Crabbé be as effective as they were back on European soil? Will their confidence and bravado be enough?
There's really no way to know at this point in time but it's still a mighty interesting series of questions.
On the one hand, it's impossible not to doubt them, what with T1 and RNG being so much more experienced and, frankly, talented. On the other, we said the same back when G2 had to face Rogue and Fnatic and, well, we all know how that turned out.
That's perhaps the most interesting thing about this version of G2: they're fearless and have no intention of ever backing down, no matter the odds. And so if they could pull off the seemingly impossible once — albeit against weaker opposition — who's to say that they couldn't do it again?
The odds of them winning are obviously as slim as it gets, but they do have a shot at making waves. G2 are not to be trifled with, and if they can harness their inherent underdog status and come out the gates swinging, they could very well end up pulling off an upset (or two).
2022 Mid-Season Invitational Betting:
Will G2 Pull Off an Upset?
Evil Geniuses — Brash and Confident
Evil Geniuses are undoubtedly the biggest question mark coming into this year's Mid-Season Invitational, and we couldn't be happier for that being the case. It might sound like a strange thing to say, but it's actually a fairly good position for a North American team — it's much better than the alternative which is being deemed a failure before ever stepping foot on stage to compete.
In other words: being a "question mark" at least implies some kind of potential. No one's quite sure what to expect from the LCS champions which is at once both terrifying and exhilarating.
We have no preconceived notions to speak of and that, given the region from which they hail, is a very refreshing thing. They don't have any history of competing internationally which means we have no sample size to dissect and further analyze.
They have a clean slate which, frankly, is a luxury seldom given.
They're also incredibly confident after beating all of their North American adversaires to a pulp. They pulled off the exact same thing as G2 and for that they deserve our utmost praise and commendation. They'll also field a fairly comparable mix: three grizzled veterans and two incredibly promising rookies.
That is at once both a very promising set-up and one that is riddled with potential pitfalls and stumbling blocks. Beating LCS contenders is great and all, but going up against the very best teams in the world is a challenge one cannot prepare for beforehand — it is without comparison.
You cannot "simulate" going up against T1 or RNG in a scrim-like setting. You can't prepare for such a thing by watching VODs and practicing with your Academy team — or any other team for that matter.
They'll be going in blind which, depending on the way you look at it, is either a blessing or a curse. If they don't know what to expect then they might fight with a lot more fervor and zest — prior negative experiences tend to linger in one's mind and can, therefore, result in hesitation and a more passive approach to the game.
Now, three-fifths of their line-up does have experience at playing internationally, but Evil Geniuses have thus far found most of their success through their rookies. It's a strange way of going about it, no doubt, but their results speak for themselves.
It is, therefore, paramount for Joseph "Jojopyun" Pyun and Kyle "Danny" Sakamaki to feel like they have a shot at upending the status quo. They probably won't leave much of a mark once everything is said and done, but they've nonetheless earned our benefit of the doubt after styling over their more seasoned adversaries over in North America.
They have the mechanics and the confidence which are necessary for the job. Whether that'll result in anything worthy of note still remains to be seen, but they should not be underestimated whatsoever.
2022 Mid-Season Invitational Betting:
Underdogs Galore
It would be foolish of us to ignore the many underdogs — wildcard representatives, if you will — coming into this year's Mid-Season Invitational. PSG Talon, Saigon Buffalo, and DetonatioN FocusMe, in particular, all have a shot at upsetting in some capacity.
They've all done wonders throughout the last few years (relative to everyone's expectations) and should not be underestimated — despite what the oddsmakers have to say about it.
Now, we don't think they'll accomplish much once everything is said and done, but they do have a puncher's chance, especially in the Group and Rumble stages of the tournament. They're not as layered as some of their peers which means they won't thrive as much in the oh-so-exciting Best of 5 format, but they will put on a show nonetheless.
Closing Remarks
There's quite a lot to look forward to, all things considered. T1 and RNG are obviously the heavy favorites but they would be wise not to underestimate their Western adversaries, what with them being so confident and feisty.
G2 and EG have no illusions of grandeur. They are, however, exceedingly confident and have nothing to lose which is the perfect set-up for them to thrive and put on a show. Playing with reckless abandon is always a recipe for success against teams everyone deems far superior, so if they come out the gates swinging and don't fall apart at the seams they could very well end up making waves — in spite of the oddsmakers and their (admittedly very rational) predictions.