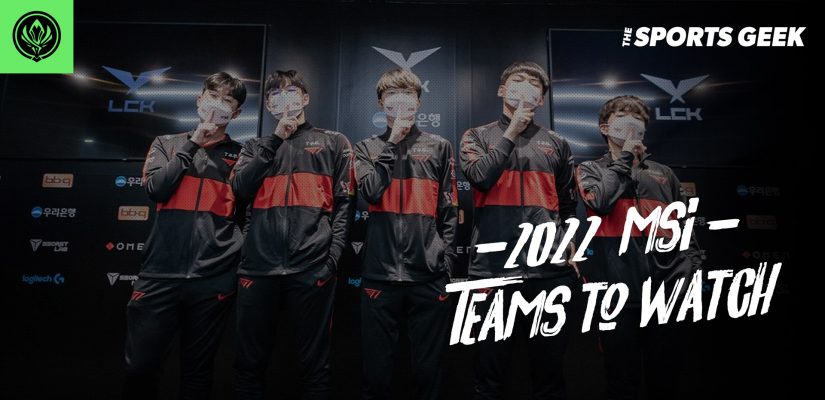 Betting on the 2022 Mid-Season Invitational definitely makes a lot of sense, but before you put your hard-earned money on the line, we need to first go over which teams are most likely to win and why.
To do this, we'll not only go over their most recent successes but also look at the broader picture and take everything we possibly can into consideration. Only four teams warrant our attention, but they're all endlessly interesting, each of them in their own right.
AN INTERESTING STATUS QUO
We also know who's better than whom, but surprises can still happen, as they often did in the past. At this point, it's less about predicting who'll come out on top and more about getting a better understanding of what these teams are truly capable of and just how much they've grown throughout the last few months.
As already said, this year's Mid-Season Invitational is sort of a foregone conclusion and, well, we don't really mind that being the case — at all. In fact, it's the kind of state we prefer, what with it being so favorable towards bettors.
In any case, there are many interesting topics for us to discuss and further dissect, so let's not waste any more time than necessary with these preliminaries!
T1 — As Dominant as Ever
The winningest organization in competitive League history is back and, well, it seems about as good as it ever was — which is really saying something. The things they did over in the LCK left no one indifferent. They brought the house down. They ran circles around their — seemingly talented and capable — adversaries, and they made it all look so easy, so effortless, as if it were the simplest thing in the world, beating the likes of Gen.G and DWG KIA and whoever else.
That, one could argue, is the true hallmark of a titan. It was one masterclass after another, a series of most dominant, lopsided beatdowns. Their biggest opponents were all staggeringly dangerous, and yet their might was neutralized in the blink of an eye.
And so it should really come as no surprise that most folks deem T1 as the biggest favorite to win this year's Mid-Season Invitational — they're the team to watch. The fact that they went 18-0 in a region as stacked and competitive as the LCK speaks volumes, and so does their near flawless playoff run — a run which left no question unanswered.
We're all blown away with their might and ability to dominate. And we also cannot help but wonder: will they be able to replicate the same dominance against teams like Royal Never Give Up? Against feisty, idiosyncratic opponents like G2 Esports and Evil Geniuses? Teams which have nothing to lose and are, by proxy, exceedingly dangerous?
These are all hugely important questions and while most of them seem easy to answer it would be ludicrous of us to just proclaim them as the biggest favorite before they've even stepped foot on stage to compete — they'll face some mighty stiff opposition over in Busan, and they know it, too.
2022 Mid-Season Invitational — Teams to Bet On:
RNG — LPL Royalty
To punch their ticket to Busan, Royal Never Give Up had to go through a veritable murderer's row. The teams they had to face (and beat) were all astoundingly dangerous; RNG, however, are cut from a different cloth.
No one could beat them. Not even FunPlus Phoenix, EDward Gaming, Bilibili, Weibo, LNG Esports, JD Gaming, Victory Five, and Top Esports. All of these teams are separated by the slimmest of margins and are comprised of some of the best and most capable players who've ever taken flesh.
And yet, despite the unfavorable odds, RNG still found a way to win.
The LPL has never been as competitive as it is today (and that's really saying something). The team that ascends the throne, therefore, deserves our utmost respect and commendation. The thing with RNG, however, is that no one's all too sure of just how good they really are. Or, rather, whether they're good enough to "tango" with T1. A most dramatic change in the LPL status quo took place over the last few months and we're still somewhat reeling from everything that went down.
EDward Gaming, for instance, were barely able to make Top 8. Let that sink in. We're talking about the defending World Champions here, one of the most layered and capable teams in existence. And yet they fumbled and failed in a myriad of different ways and are not an afterthought.
So, with that in mind, it's impossible not to be blown away with what Royal Never Give Up have accomplished, especially given the fact that they had Li "Xiaohu" Yuan-Hao switch back to mid. They weren't "supposed" to be as good as they are, but leave it to RNG to upend the status quo and exceed everyone's expectations.
They're definitely a cut above G2 Esports and Evil Geniuses (to absolutely no one's surprise), but they will meet their match in T1. It'll be a clash of epic proportions and a most historic match-up — one that will set the stage for what's to come in the future.
2022 Mid-Season Invitational — Teams to Bet On:
G2 — Hungry and Capable
Underestimating a team as layered and feisty as G2 is never a good idea, no matter who's competing under their legendary banner. They're the most successful organization in the history of Western League of Legends and, well, there's a very good reason as to why that's so.
Two-fifths of their line-up are also former MSI champions which is an achievement so few of their contemporaries have experienced and attained.
They are, therefore, a worthy adversary and a most dangerous contender. We don't expect them to accomplish much once everything is said and done — what with them having two brand new players — but they will put up a fight; of that you can be certain.
That's what everyone's wondering about: how will this peculiar new roster fare against the very best teams in the world? On the one hand, they're not favored to upend the status quo, but much of the same was said back when they first started playing in the LEC Spring Split and, well, we all know how that panned out — G2 exceeded any and all expectations.
A DIFFERENT KIND OF CHALLENGE
Competing at MSI, however, is something one can never really prepare for beforehand. It is not a setting one can replicate in scrims nor can a player know how he'll react once things go down to the wire — with hundreds of thousands of people watching.
Three-fifths of this G2 line-up has international experience and are amongst the most capable players Europe has ever fostered. The remaining two, however, are still somewhat exploitable, although they, too, have shown tremendous potential and have grown beyond measure throughout the most recent split.
So it's an interesting mix, one that will either yield great results (and, hopefully, winnings on our end) or, conversely, fall flat. We're optimistic about their chances, though. They're well aware that they're the underdogs and they don't mind one bit — it's easier to perform and deliver when no one thinks you have a shot at making waves.
It removes the burden from one's shoulders, making it easier to compete on the biggest of stages.
2022 Mid-Season Invitational — Teams to Bet On:
EG — "Armed and Dangerous"
This is the one team we're actually most interested in precisely because we have so little information to base our predictions upon. To put it bluntly: Evil Geniuses weren't "supposed" to be here, what with Team Liquid and 100 Thieves being so much more experienced and, frankly, more promising in terms of overall potential and talent.
But EG, to their credit, delivered when it mattered most. They "clicked" at just the right moment and basically leapfrogged all of their contemporaries — and they made it look easy, too. Too easy, in fact. They didn't eke out their wins or barely go through the gauntlet: they brought the house down in the most tremendous way imaginable and were head and shoulders above everyone else.
And what a fascinating line-up they have, too! Three seasoned veterans and two of the most promising young native players we've seen in years. The grizzled "old timers" did their job (as expected), but it was actually the newcomers who stood out the most.
The things Joseph "Jojopyun" Pyun and Kyle "Danny" Sakamaki pulled off against their more seasoned opponents left no one indifferent. They're already superstars and their popularity and overall position within the LCS ecosystem can only improve even further from this point onwards.
They're young, brash, overly confident, and have the mechanics necessary for the job, too. These things are vital as they're not even aware of just how good T1, RNG, and G2 actually are. They have no frame of reference which, in this case, is actually a blessing. EG are a momentum-based team and if their two up-and-comers think they can win then they'll play with a lot more zest and bravado than what would've been the case otherwise.
They've never been embarrassed on the international stage so they have nothing to fear, no painful memory to recollect and be affected by.
So don't be surprised if EG come out the gates swinging and pull off a few upsets. They're not expected to accomplish much overall, but their unyielding confidence may well be the key ingredient — one which their many forerunners seemed to have lacked.
Either way, there's a lot to look forward to if you're a fan of Western League of Legends. G2 and EG might not be as layered and capable as their Asian peers, but they'll nonetheless put on one heck of a show!
2022 Mid-Season Invitational — Teams to Bet On: