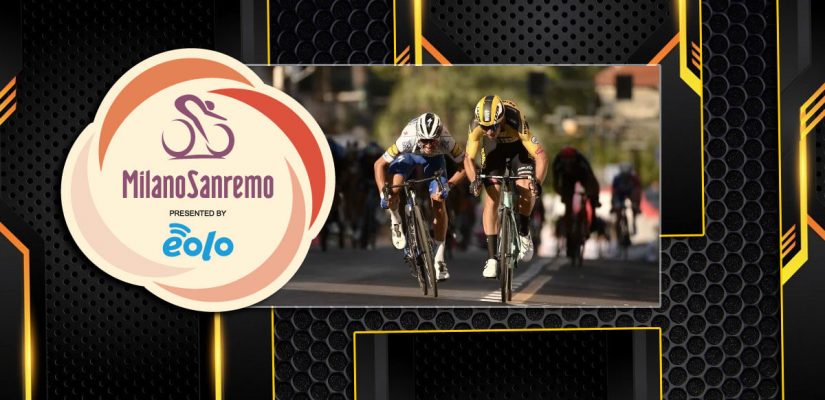 On Saturday, March 19th, the Monuments portion of cycling's season gets underway with the 112th edition of the Milan-San Remo also known as La Classicissima.
Although this year has revealed some debates over whether or not Strade Bianche should be added to the list of monuments, Milan-San Remo still remains the official beginning of the Monuments season.
It's not only the first of the five one-day monument races, it's also the longest one-day race in all of cycling at 298km which equates to 185.2 miles.
This race was also fondly referred to as the sprinters' classic, but that moniker will be put to the test on Saturday as some of the sport's biggest stars take the starting line hoping to add a monument win to their resume.
The biggest storyline heading into Milan-San Remo is the battle between Tadej Pogacar and Wout Van Aert.
These two men are the clear Milan-San Remo betting favorites, according to cycling betting sites, and both have showed incredible form already this year. Yet, they're not the only star cyclists hitting the roads as Primoz Roglic, Thomas Pidcock, Peter Sagan, Filippo Ganna and the sport's top sprinters will all be fighting for the victory.
Keep reading our 2022 Milan-San Remo betting preview to see who we are tipping as the winner of this classic one-day race.
Milan-San Remo Route
The last few years have seen alterations to the traditional route for this race. In 2020, Covid forced race organizers to take a different route after the event was moved from March to August.
Last year, severe thunderstorms forced a change as a landslide eliminated climbing up the Passo del Turchino.
This year, the iconic climb is back and it's positioned about halfway through the race. The race will be fast, but predictable until this climb.
The race will eventually ramp up with roughly 60km to go as the riders reach the Tre Capi which is three small climbs: The Capo Mele, Capo Cervo, and Cap Berta. Following the Tre Capi, it's another 20km until riders reach the foot of the Cipressa which is where the fireworks should take place. We could see an attack on the Cipressa by riders like Pogacar. The Poggio is the last climb of the day and it comes with just under 10km left in the race.
It's been a launching pad for recent winners and will definitely come into play again this weekend. The sprinters will hope to pull the race back together following this punchy climb.
Previous Milan-San Remo Winners
The first edition of this race was held in 1907 and won by Lucien Petit-Breton of France.
Since then, The GOAT Eddy Merckx would go on to win this race a record setting seven times. Last year's winner Jasper Stuyven aims to pick up a second consecutive victory. The last time a rider won this race two years in a row was Erik Zabel in 2000-2001.
The following is a list of previous winners dating back to 2010:
2019:
Julian Alaphiilippe
Milan San Remo 2022 Odds
The following Milan-San Remo betting odds are courtesy of BetOnline:
Julian Alaphilippe:
+1200
Soren Kragh Andersen:
+1800
Christophe Laporte:
+2500
Matthieu Van Der Poel:
+3300
Alejandro Valverde:
+6600
Milan-San Remo Betting Favorites
Wout Van Aert (+270)
Wout Van Aert got off to a great start for the 2022 season when he entered his first road race at Paris-Nice. WVA finished 1st in the points classification and 2nd in the mountains classification. He also had six Top 3 results in eight stages including winning the ITT on Stage 4.
However, it was his legendary performance on Stage 8 that not only added to his lore, but also helped his teammate Primoz Roglic win the yellow jersey. It also led Roglic to proclaiming that Van Aert was "half man, half motor." For Van Aert, this will be his 4th appearance in Milan-San Remo. He won here in 2020, but finished 3rd last year. His first appearance was in 2019 where Wout finished 6th.
Despite being listed as the Milan-San Remo betting favorite, Van Aert actually tips Pogacar as the man to beat:
"I expect Tadej Pogačar to be favorite to be honest. In Tirreno-Adriatico he could pull away from the rest on any molehill. He is definitely someone who will be difficult to follow on the Poggio."
Caleb Ewan (+425)
Of all the sprinters entering this race, Caleb Ewan looks to have the best legs this early into the season. He's already picked up three wins on the year with all of them coming in different stage races.
His most recent victory came on March 9th where he took the win on Stage 3 of the Tirreno-Adriatico before bowing out in order to prepare for Milan-San Remo. This is the 6th time that Caleb has entered this monument where he's finished 2nd on two occasions. In 2018, Ewan finished runner-up to Vicenzo Nibali. Last year, Ewan also finished runner up this time to Stuyven.
If the field can come back together following the Poggio, then there's a great chance that Ewan outsprints everyone else. Unfortunately, that's a big "If" as we haven't had a bunch sprint in this race since 2016.
Tadej Pogacar: "A long range attack in Milan-San Remo would be something special" #cycling https://t.co/EY7KCY46KC pic.twitter.com/vWSddLruzM

— CyclingUpToDate (@CyclingUpToDat3) March 15, 2022
Tadej Pogacar (+500)
So far, 2022 has been a perfect season for the 23-year old Tadej Pogacar as he dominated and won both the UAE Tour and Tirreno-Adriatico. Nobody could even come close to Pogacar at Tirreno-Adriatico as he pulled away on every notable climb.
However, his most impressive performance had to have been at Strade Bianche where Tadej went out on a long solo attack of 50km to win the race. The two-time Tour de France winner appears to be in a class of his own right now and it's going to take a perfect day from the other riders to beat him.E
Many of his contemporaries believe that Tadej will win the race. In fact, even former cyclists have compared Pogacar's level of cycling to a video game with what he can do on a bike especially at the end of a race.
And, that's exactly where many feel that Pogacar will pull away. They expect him to leave everyone behind once the peloton reaches the Poggio. Some pundits even believe that Tadej could go further out like at the Cipressa.
There's talk of Pogacar pulling a Nibali of 2018 where the Italian cyclist rode away from the field on the Poggio and didn't even have to worry about being caught at the finish. On Saturday, the Poggio could be renamed to the Pogacar after all is said and done.
Julian Alaphilippe (+1200)
When it comes to a one-day race, other than Wout Van Aert and Mathieu Van Der Poel, Julian Alaphilippe is always a great option.
Unfortunately, the French superstar was just announced on March 16th that he won't be competing in this race due to bronchitis. Alaphilippe is a former Milan-San Remo winner having won the race in 2019. He has three podium finishes in five appearances.
We'll have to wait to see how soon Alaphilippe can recover in order to get an idea of which monuments he will compete in over the next six weeks.
The Best Milan-San Remo Betting Value
After a stomach virus took him out of Strade Bianche, Tom Pidcock will be back in action at Milan-San Remo this weekend. He'll be co-leader alongside Filippo Ganna. https://t.co/89vayqdudq

— VeloNews (@velonews) March 15, 2022
Tom Pidcock (+2200)
Like Alaphilippe, Tom Pidcock also suffered an illness that kept him out of competition for a short period of time as he missed Strade Bianche.
However, the Brit will return for Milan-San Remo and is the leader of Ineos Grenadiers alongside Filippo Ganna who could be a sneaky pick if you believe there will be a bunch sprint at the end of the race. Pidcock was set to ride in the Strade Bianche but ended up pulling out on the eve of the race due to a stomach virus. He was expected to be a contender for that race.
If healthy, I do believe there's value with Pidcock's Milan-San Remo betting odds. This is his second appearance and he finished 15th in his debut last year.
Primoz Roglic (+2500)
Primoz Roglic is one of my favorite cyclists in the sport today and I was fired up to see him win at Paris-Nice especially after the bitter disappointment of last year's defeat when he would've won had he not crashed on the final stage.
With that said, Roglic is not entering this race to win it.
He's here to support his teammate Wout Van Aert, who is another favorite of mine. Primoz even said to the media what his intentions were for Milan-San Remo:
"Yes, definitely I'm there to be the support for Wout. That's why I'm going there. First of all, I think we need to come to the Poggio. It's 300km almost to the Poggio and then the second thing is that you still need the legs to be able to do something. So hopefully I'm there. We will see. It will be for sure a hard and challenging day."
Another reason for Roglic to support Van Aert is to pay him back for Wout's fantastic help in Paris-Nice.
On Stage 8 of Paris-Nice:
Wout Van Aert willed his teammate Roglic to the race win after Simon Yates broke away from the pack and won the stage. WVA's performance only added to his legend and had both critics and fans singing his praises. Roglic will mark Pogacar and other contenders in order to help WVA on the climbs. If anything happens to Van Aert along the way, then I think Jumbo Visma will swing their support towards Primoz.
There is some value with Primoz in his 2nd appearance of this monument because anything can happen in a long race like Milan-San Remo, but there are certainly better options to wager on.
Matthieu Van Der Poel (+3300)
Matthieu Van Der Poel has been out of action since last October when he participated in Paris-Roubaix.
The highly talented cyclist took time off to rehab his lingering back injury. Although he has odds for this race, MVDP is not expected to return to competition at Milan-San Remo.
He's another week or two away from racing again.
Peter Sagan will be back in the saddle for Milano-Torino next week ahead of monument bid at Milan-San Remo: https://t.co/NDZfxmk6pf

— VeloNews (@velonews) March 12, 2022
Peter Sagan (+4000)
Like with Pidcock and Alaphilippe, Peter Sagan has also been dealing with an illness that forced him to pull out of the Tirreno-Adriatico.
However, Peter showed that he's recovered as he finished 5th in the Milano-Torino on March 16th. Sagan is one of the most prolific cyclists of his generation at Milan-San Remo. In 11 appearances, Sagan has nine Top 10s and seven Top 5s. He's tallied three straight 4th place finishes and also has two runner ups. Unfortunately, Sagan hasn't won this monument despite the past success.
Although his best days are behind him, at +4000 odds, I do believe Sagan offers some value.
You might even call it a conundrum ?https://t.co/qO8ziSK2N2

— Neal Rogers ?? (@nealrogers) March 7, 2022
Top Milan-San Remo Betting Longshot
Giacomo Nizzolo (+6600) is my choice for the Milan-San Remo betting longshot. The sprinter is from Milan and this race is arguably the most meaningful for 33-year old Italian cyclists.
So far, his season hasn't produced any wins but he has been competitive in the sprints including a 2nd place finish on Stage 7 of Tirreno-Adriatico. This will be Nizzolo's 7th appearance in the Milan-San Remo race. His best result was 5th in 2020. He finished 18th last year.
For Nizzolo, he hopes that the sprinters will have a chance to win this race:
"I'm from Milan and I'm a sprinter, so Milan-San Remo is the race of the year for me. It's traditionally the Classic for the fast guys, but now the climbers like it too and they'll turn up wanting to win. As we've seen in recent years it's getting harder and harder for Milan-San Remo to end in a sprint finish. The big-name guys can make a difference on the Poggio. The sprinters can only hope that they look each other in the eye, ease up and so we can get back on and beat them. That's my hope anyway."
Who Wins the 2022 Milan-San Remo?
Before you place a wager on who the winner will be, you must first decide how you think this race will end: a bunch sprint or a breakaway on the Poggio.
Barring a crash, I don't see how this race is going to come back together after the Poggio.
I believe there will be a select few riders that will hang with Pogacar prior to the Poggio and even fewer will be able to go with him when he attacks on the final climb.
Ultimately, I see a battle between Van Aert and Pogacar deciding this great race. For Wout to win, he will need help from Roglic and his teammates to keep pace with Tadej up the climbs including the final two.
For Pogacar, he just needs to be in good form and not crash or have any bike issues. Tadej is at such a high level that it's hard for anyone to keep up with him.
In a Grand Tour, only Roglic can compete with Pogacar. In a monument race, I believe Van Aert and Van Der Poel have the horsepower to battle Tadej.
I believe the smart play is on Pogacar. He looks in excellent shape and has dominated the competition in three races so far. He also offers better value at +500 odds than Ewan and Van Aert.
It pains me not to pick one of my favorites in Wout Van Aert. I will be rooting for him and Team Jumbo Visma on Saturday. But, when it comes to making money, I'm going with my head and not my heart.
Pogacar makes it 4-for-4 on the year as he outduels Van Aert in an instant classic.