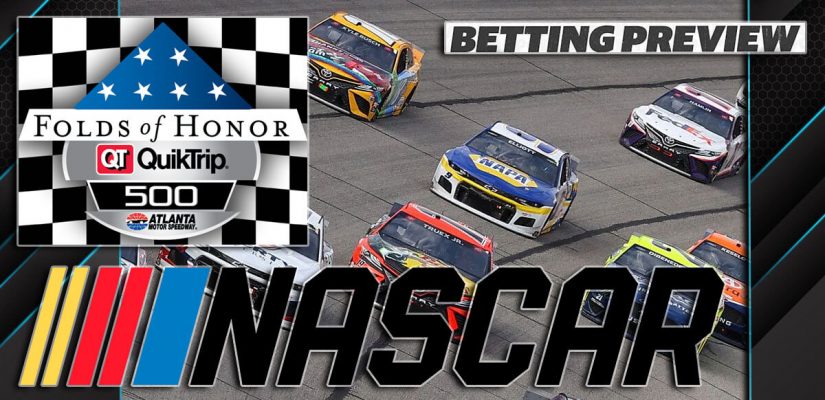 NASCAR steps into Atlanta for one of my favorite races of the year. TheSportsGeek has the NASCAR Atlanta odds and best picks for the Atlanta Folds of Honor QuikTrip 500.
This is a new track at Atlanta for 2022. It was repaved, and the configuration has changed. As one of my favorite tracks, I liked it as is, but it certainly needed new pavement.
The most notable change to Atlanta Motor Speedway for drivers has to be the banking. They've gone from 24 degrees to 28 degrees, while the new transition apron is up to 18 degrees from 4 degrees.
Let's get this show on the road. ? pic.twitter.com/00d3sqXnSG

— NASCAR (@NASCAR) March 16, 2022
How does this impact the NASCAR Atlanta odds 2022? The track remains a 1.54-mile course. You won't hear many complaints from drivers, who will likely appreciate the new pavement.
Officials have attempted to keep up with patchwork on the track for years, but it was time for a complete overhaul. The winner of the Folds of Honor QuickTrip 500 last year was Ryan Blaney. He is regarded as a favorite on the NASCAR Atlanta odds in 2022.
Blaney was not the NASCAR Atlanta odds favorite in that event, though he edged out the betting favorite in Kyle Larson. Larson is always highly regarded at 1-2 mile tracks. In the July race in Atlanta, Kurt and Kyle Busch finished 1-2, with Martin Truex Jr. in 3rd.
The 2022 Atlanta race odds favorite is tied between three drivers tied at +1000 at BetOnline. Larson, Blaney, and Joey Logano are all co-favorites on the NASCAR Atlanta odds board.
Chase Briscoe won at Phoenix last week to score 52 points. The 27-year-old held off Ross Chastain and Tyler Reddick for the winning run.
CONSISTENT AND STEADY WINS CHAMPIONSHIPS
Logano doesn't have a win, but he's been consistent and in the lead with 136 points going into Atlanta. Nor does Kyle Busch or Chase Elliott, who are in the top-3 in the standings. Consistency counts for more than wins right now.
Finding the best value is the most important betting tip for NASCAR. A lot can happen in one race, which goes for Atlanta as well.
It's important to pinpoint and shortlist the best 2022 Atlanta Race Odds for this weekend.
NASCAR Atlanta Odds 2022
This week, there is no clear favorite on the NASCAR Atlanta odds board. Several drivers should run well and have a chance at the top prize.
The following odds are courtesy of BetOnline:
| Driver | Odds | Team |
| --- | --- | --- |
| Kyle Larson | +1000 | Hendrick Motorsports |
| Ryan Blaney | +1000 | Penske |
| Joey Logano | +1000 | Penske |
| Chase Elliott | +1200 | Hendrick Motorsports |
| Denny Hamlin | +1200 | Joe Gibbs |
| WIlliam Byron | +1200 | Hendrick Motorsports |
| Kyle Busch | +1200 | Joe Gibbs |
| Kevin Harvick | +1400 | Stewart-Haas |
| Alex Bowman | +1400 | Hendrick Motorsports |
| Xander Schauffle | +2200 | USA |
| Martin Truex Jr. | +1600 | Joe Gibbs |
| Tyler Reddick | +1600 | Richard Childress |
| Chase Briscoe | +1800 | Stewart-Haas |
| Brad Keslowski | +2000 | Roush Fenway |
NASCAR Atlanta Picks 2022
Kyle Larson (+1100)
Kyle Larson is fourth in the Cup Series standings with 126 points. He trails Joey Logano by 10 points for the lead.
Larson has a win on his resume after rebounding from Daytona in the Wise Power 400 at Auto Club in the second week. He wrecked out of the Daytona 500 in the first race of 2022.
This guy might be the defending Cup Series champion and one of the best teams in NASCAR, but he still has a problem with superspeedways. That was just bad luck at Daytona, though.
A 1.54-mile track, though? Larson knows what he's doing and should thrive. He hasn't won at Atlanta in eight career races, but has been fast and close.
Larson has finished runner-up twice, including last March in this same race. His car has been fast at Atlanta, Larson just has to finish this time.
Note that Larson has qualified in the top-10 at Atlanta Motor Speedway in seven of eight starts and 12th or better finish in five races.
Larson's 2022 Atlanta Race Odds to win this race are pretty generous. Any time you get +1000 or better on Larson to win, he must be considered.
Chase Elliott (+1200)
Chase Elliott is running consistently and rates a threat to win at Atlanta. He enters the fourth race of 2022 in 3rd with 131 points.
Elliott hasn't won a race and has not even finished in the top-5 this season. However, when you're a driver that is consistent as Elliott, the points are going to add up.
He's avoided getting into accidents and goes about his business efficiently. Elliott has taken two poles at Atlanta in his previous three starts here.
In his last three outings at this racetrack, Elliott has finished 8th, 38th, 7th. He got unlucky in this race last March, but responded well in July in Atlanta.
Elliott has been fast this season with the fourth-most fastest laps run. If he keeps plugging away and staying the course without getting himself in trouble, Eliott should be rewarded soon.
Austin Dillon (+3300)
Austin Dillon of Richard Childress provides some of the best value NASCAR Atlanta odds in 2022. He is 16th in the Cup Series standings with a top-3 performance at Auto Club Speedway in the Wise Power 400.
The following week, Dillon ran well again in the Pennzoil 400, finishing 11th and picking up 26 points. He got involved with Daniel Suarez on the final lap last week at Phoenix Raceway.
Suarez and Dillon were competing for a top-10 spot before contact was made. Dillon settled for 26th and a DNF. Naturally, he was not happy with Suarez, and he made some comments after the race.
Dillon ran well again despite the accident and has had a nice car here over the last three years. Dillon finished 11th, 6th, 12th in his previous three stops at Atlanta Motor Speedway.
He's gotten into the top-15 in four of his previous four starts here. Dillon might need to catch a break somewhere, but at +3300, I'm willing to consider him to win in Atlanta at this value.