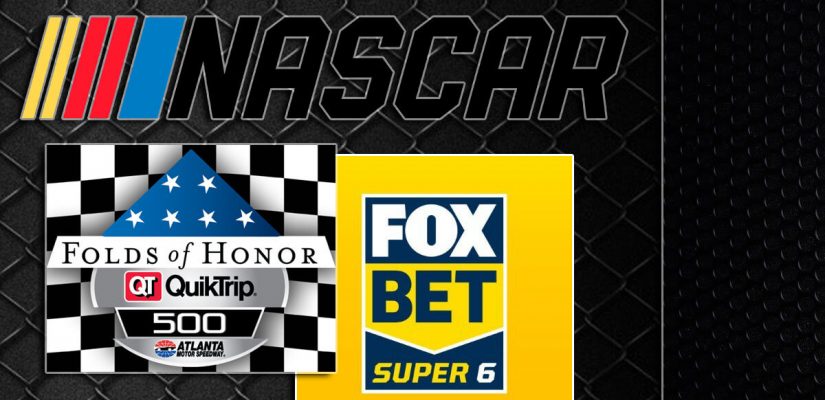 We're at Atlanta Motor Speedway for the NASCAR Super Six Atlanta. NASCAR makes a stop in Atlanta for their fourth race of the season at a newly configured Atlanta Motor Speedway.
The boys were drivin' hard all practice long. pic.twitter.com/ERidWqVMFR

— NASCAR (@NASCAR) March 19, 2022
Atlanta is on the top of my shortlist of favorite tracks in NASCAR, and from what I've seen in practice with these changes, it will remain that way.
It was a thrilling race throughout the 200 laps. There weren't many dull moments. Cindric has the lead going into NASCAR Cup Series standings with 85 points over Larson's 65 points.

Atlanta Motor Speedway had 24 degrees of banking on the old track. That's up to 28 degrees for the first time. I'm just happy to see new pavement down at Atlanta Motor Speedway.
The track has been patching things up over time, and improvements were clearly needed. Auto Club Speedway in Fontana is another racecourse that will undergo alterations soon.
NASCAR Super Six Atlanta
TheSportsGeek is back with the NASCAR Super Six Atlanta. You can find the NASCAR Super Six Folds of Honor on the FOX Bet Super 6 app. This is the only method to play the free game.
Free NASCAR Props Contest
The NASCAR Atlanta Super Six has $10,000 in free prize money available. Yes, there is nothing to lose on the NASCAR Super Six Folds of Honor, so make some picks and hope for the best, even if you know nothing about the sport.
Like most races, the NASCAR Atlanta Super Six has some questions that are going to be random. You have to get lucky to get all six questions correctly. Head below for our NASCAR Super Six Atlanta picks.
NASCAR Super Six Folds of Honor Picks
1. Where will the pole-sitter finish at the end of Stage 2?
There was no qualifying session for the Folds of Honor QuickTrip 500 after it was rained out in Atlanta.
We revert back to the finish of the Ruoff Mortgage 500 last week at Phoenix Raceway. In an upset, Chase Briscoe had a big win for Stewart-Haas.
Briscoe held off Ross Chastain and Tyler Reddick. The top-3 didn't go according to the oddsmakers.
Briscoe is 3rd, 16th, 35th, 1st this season. He started hot at Daytona and then won his first career last week in Phoenix.

Briscoe has finished 23rd and 15th in two starts at Atlanta in his career. This new configuration should result in a wide-open race.
The odds look like something you'd find at a Superspeedway. There is no clear favorite in Atlanta this year.
I'm not particularly high on Briscoe following up with another strong effort, so could see him drifting back out of the top-10 by the end of Stage 2.
He can be inconsistent, and you have to sell him high. I will side with Briscoe to finish outside of the top-10 for our first NASCAR Atlanta Super Six question.
2. How many lead changes will there be by the end of Stage 2 ?
From what we've seen from this new Atlanta Motor Speedway, it should be a wide-open race. There is a reason why there are several drivers around the +1000 price range.
They expect a crapshoot, and I can't disagree. In the last five years at Atlanta, there has been an average of 12.6 lead changes per game.

That's down from 17.2 lead changes across the previous 10 years. Last two years, it dropped down to 8.4 lead changes per race.
The most likely scenario is 6-10 lead changes. You can go against the grain and pick something else, but 6-10 lead changes is the most logical option.
3. Which of these drivers will have the fastest lap by the end of Stage 2?
(A) Christopher Bell
Joe Gibbs
(C) Erik Jones
Petty GMS Motorsports
(D) Tyler Reddick
Richard Childress Racing
(E) Martin Truex Jr.
Joe Gibbs
(F) Austin Cindric
Penske
My dark horse for this season, Tyler Reddick, just about got it done last week. I had Reddick at Phoenix Raceway, and, unfortunately, he had to settle for 3rd.
Kyle Busch Fast In Practice
He should be fast, but Kyle Busch has looked great at Atlanta. There was only one practice session for this race, with Busch the second-fastest behind Ricky Stenhouse Jr.
Busch has liked Atlanta, finishing 7th, 6th, 2nd, 5th, 2nd in his previous five starts. He starts fifth after a top-5 showing at Phoenix last week.
The best answer for this NASCAR Atlanta Super Six question appears to be Busch in his Toyota.
4. Which of these drivers will have the most laps led by the end of Stage 2?
(B) Ross Chastain
Trackhouse Racing
(C) Brad Keselowski
Roush Fenway
(D) Kyle Larson
Hendrick Motorsports
(E) Tyler Reddick
Richard Childress
Kyle Larson is going to be a popular pick to lead the most laps up to the end of Stage 2. I'm high on Larson winning this race from the back, but I don't know about leading the most laps.
Larson will start 21st on the grid after qualifying was squashed. He should linger near the front, but likely isn't going to power to the front right away.

After just singing the praises of Kyle Busch in this raise above, I'm going to be on him here as well. Busch is fifth with 77 laps led this season.
If you want to go opposite Busch, my next selection here has to be Tyler Reddick. He's been fast this season. However, believe that Busch can just edge him out for the NASCAR Atlanta Super Six Question 4.
5. How many laps under caution will there be by the end of Stage 2?
In a race that is going to feel new to drivers, I'm not going to be surprised if we have some incidents on Sunday. This is the first race at the re-configured Atlanta Motor Speedway.
It could be interesting with a superspeedway feel on a 1.54-mile track. Expect a lot of fireworks in likely one of the most entertaining races of the year.
That was an average of 20 yellow flags in the last 27.8 years at Atlanta. That dropped to 20 caution laps in the last five, and then 14 in two years.
We may see more than 14 caution laps at this new track. There should be plenty of activity. The most popular answer is 9-12, but I'll side with 13-15 caution laps at the end of Stage 2.
6. Which of the drivers will finish best at the end of Stage 2?
(A) Corey LaJoie
Spire Motorsports
(B) Aric Almirola
Stewart-Haas
(C) Chris Buescher
Roush Fenway
(D) Harrison Burton
Wood Brothers
(E) Bubba Wallace
23XI Racing
(F) Cole Custer
Stewart-Haas
Aric Almirola is having himself a good and underrated season in 2022. He has finished 5th, 6th, 6th, 12th in four races going into Atlanta.
Almirola is third in green-flag passes with 532 this season.

Through four events, Almirola is the sixth-best driver in the standings with a total of 112 points.
He stands above the rest in this field for Question 6. For our final selection for the NASCAR Super Six Folds of Honor, consider Almirola to finish the best out of these drivers.