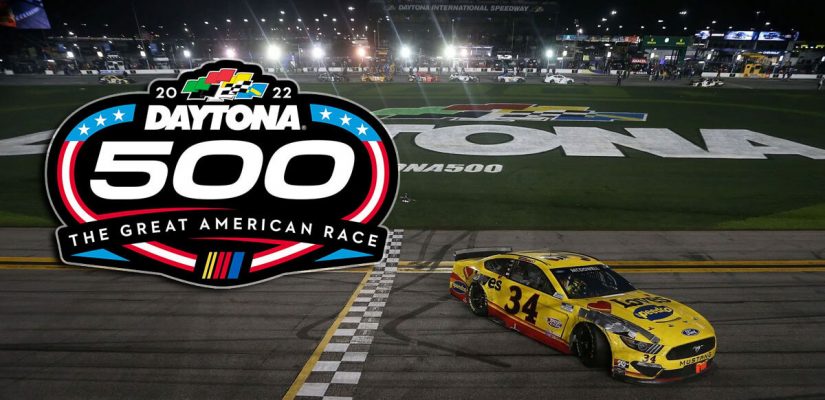 On Sunday, February 20th, NASCAR kicks off their 2022 season with the 64th running of "The Great American Race" – the Daytona 500.
NASCAR uses their "Super Bowl of racing" to start off the season on an annual basis. The festivities for this event is a weeklong on-track parade with qualifying, duels and the main race itself. Last year, Michael McDowell shocked the field by winning the 2021 Daytona 500 as he avoided last lap crashes. This year, he's considered a longshot to repeat.
According to the latest Daytona 500 odds, Denny Hamlin is the betting favorite. He's followed closely by Chase Elliott, the 2021 Cup Series champion Kyle Larson, Joey Logano who won the Clash at the Coliseum on February 6th, and Ryan Blaney.
Before we go any further, let me throw the yellow flag to caution all of you NASCAR bettors. Races at Talladega and Daytona are some of the hardest to predict due to the big wrecks at the end of the race. So, make sure you keep this in mind when placing wagers.
Without any further delay, let's get into our racing gear, strap in tightly, rev those engines, and make some Daytona 500 checkered flag winning predictions.
Race Profile
The Daytona International Speedway (DIS), is a high speed, tri-oval shaped track with an asphalt surface and a 2.5-mile lap distance. The turns feature 31-degree banking and come down to 18 degree banking in the tri-oval.
Sunday's big race breaks down as follows:
Final Stage:
Last 70 laps
The Daytona 500 is set to begin at 2:30 PM ET and will air live on FOX.
Welcome to race week! ??

RETWEET IF YOU'RE READY FOR THE 2022 #DAYTONA500 ON FOX pic.twitter.com/mvFCESgLk0

— FOX: NASCAR (@NASCARONFOX) February 14, 2022
What to Watch for at Daytona
With all of the excitement heading into the first weekend of the 2022 season, the following storylines are worth keeping an eye on at Daytona:
Who win's the first race of the season?
How the Next-Gen cars run at Daytona?
Can Kyle Larson get off to a good start in his quest to repeat as champ?
Will Denny Hamlin win another Daytona race?
The big wreck at the end of the race.
Previous Daytona 500 Winners
The first Daytona 500 race was run in February 1959 and won by Lee Petty, the father of "The King" Richard Petty. And it should be fitting that we segue into Richard Petty because he holds the record for most Daytona 500 wins with seven.
Of the active drivers, Denny Hamlin has the most wins in this race with three. As mentioned above, Michael McDowell is the defending Daytona 500 winner.
The following is a list of the previous Daytona 500 winners dating back to 2005:
Daytona 500 Odds
The following Daytona 500 odds are courtesy of Bovada:
Ricky Stenhouse, Jr.:
+2500
Daytona 500 Betting Favorites
According to most NASCAR betting sites, the following drivers are considered the odds on favorites to win the Daytona 500:
| | | | | | | |
| --- | --- | --- | --- | --- | --- | --- |
| Driver | Wins | Top 5 | Top 10 | Avg Start | Avg Finish | DNF |
| Denny Hamlin | 3 | 11 | 12 | 16.2 | 15.9 | 3 |
| Chase Elliott | 0 | 2 | 3 | 10.6 | 21.1 | 4 |
| Kyle Larson | 0 | 0 | 5 | 18.5 | 21.1 | 6 |
| Joey Logano | 1 | 6 | 9 | 15.5 | 18.1 | 7 |
| Ryan Blaney | 1 | 3 | 5 | 13.2 | 19.5 | 6 |
Denny Hamlin (+850)
There's a reason why Denny Hamlin is the betting favorite and that's because he's won the Daytona 500 three times in the last six years. He's also the only active driver with more than one victory in this race.
Hamlin first won this big event in 2016.
It would be three more years before the #11 car would take another checkered flag in the Daytona 500, but he would do it in consecutive years. Last year, Hamlin finished 5th in this race, giving him five Top 5s in the last six Daytona 500 events.
Hamlin discussed his recent success at this track:
"In general, I just think I have a good understanding of the air here and how it moves around the walls. Talladega is different. If you look at our results, we haven't won as much at Talladega, but we've been pretty good. Here, there is just something about, whatever it is, the banking or the width of the track, height of the walls or something that I just kind of know where those little pockets of air are, it seems like, that are a little bit better."
In 32 starts at this track, Hamlin has three wins, 11 Top 5s, 12 Top 10s, a 15.9 average finish and 3 DNFs. Of drivers with at least three starts at DIS, Hamlin has the 4th best average finish.
I like for Hamlin to be a Top 10, Top 5 and Top 3 car on Sunday. He will also be the man to beat in the final laps. We'll see who lady luck favors the most in the closing laps at Daytona.
Chase Elliott (+1000)
The 2020 Cup Series champ has turned his fortunes around at Daytona. From the 2018 Daytona 500 through the summer Daytona race of 2019, Elliott had crashed out of four straight DIS events.
Beginning in 2020, Chase has put together a streak of coming across the finish line in four consecutive Daytona races. He also has a 7.2 average finish over that stretch which includes two Top 5s and three straight Top 10s.
Elliott has finished runner up twice at DIS including last year's Daytona 500.
I would ignore his career average finish of 21.1 at Daytona and just focus on his last two years at this track.
Chase has proven that he's figured out how to race here and I expect him to be a Top 10 car with a Top 5 ceiling.
Leading the field to ? green ? this Sunday for the 64th #DAYTONA500 will be @KyleLarsonRacin after winning the #BuschLightPole.

Congrats to the driver of the No. 5! pic.twitter.com/wJWjildm55

— NASCAR (@NASCAR) February 17, 2022
Kyle Larson (+1100)
It's a new season, so I'm allowed to once again mention how Kyle Larson is one of my favorite drivers and from my hometown. Larson is also the reigning Cup Series champion after a dominating 2021 season which saw Kyle resurrect his self-sabotaged career.
Daytona has been a track where Larson has struggled at for most of his career. In 15 starts, Kyle has zero wins, zero Top 5s, five Top 10s, 6 DNFs and a 21.1 average finish.
However, he does have three Top 10s in a row at the Daytona 500, which does give us some hope that he can keep that streaking going this weekend.
I believe Larson is another Top 10 car with a Top 5 ceiling just like his teammate Chase Elliott.
Joey Logano (+1200)
Joey Logano has now become the unquestioned leader at Team Penske since Brad Keselowski moved on to Roush Fenway racing as a driver and part owner.
Logano is also a former Daytona 500 winner having taken the checkered flag in this race back in 2015. For his career, he also has six Top 5s, nine Top 10s and an 18.1 average finish in 26 DIS starts.
Logano has been snake bitten at this track over the last five years. During that span, Joey has just two Top 5s and two Top 10s. He's finished 25th or worse in six races including 30th or worse in two events.
Logano has also crashed in three of the last four Daytona races including the last two Daytona 500 events. For his career, Joey has seven DNFs at DIS.
The #22 car is certainly capable of winning at any track. He's as talented as they come. However, with his recent run at Daytona, I have a hard time believing that Joey can finish higher than 10th.
Ryan Blaney (+1200)
As one of Logano's teammates at Team Penske, I actually like Blaney's chances better than Logano but not by much.
Blaney has one win, three Top 5s, five Top 10s, a 19.5 average finish and six DNFs. He's crashed in five of the last eight DIS races. However, Blaney does have three Top 6 finishes in the last four DIS races including winning the Coke Zero Sugar 400 last August.
I can see Ryan being a Top 15 car with a Top 10 ceiling on Sunday, which should put him a few spots ahead of Logano.
The Best Daytona 500 Betting Value
The following NASCAR drivers offer betting value for the Daytona 500 due to their current betting odds, their past success at this superspeedway, and their 2022 season so far:
| | | | | | | |
| --- | --- | --- | --- | --- | --- | --- |
| Driver | Wins | Top 5 | Top 10 | Avg Start | Avg Finish | DNF |
| Austin Dillon | 1 | 3 | 8 | 14.2 | 14.9 | 3 |
| Kurt Busch | 1 | 13 | 18 | 18.8 | 18.4 | 6 |
| Kevin Harvick | 2 | 11 | 16 | 14.0 | 17.2 | 8 |
Austin Dillon (+2000)
In 17 races at Daytona International Speedway, Austin Dillon has one win, three Top 5s, eight Top 10s, and three DNFs. His 14.9 average finish is the 3rd best among active drivers with at least three starts.
Dillon won the 2018 Daytona 500 and has proven to be a solid driver on the superspeedways. He was 3rd last year in the Daytona 500 and 12th in 2020. Over the last four Daytona 500 races, Austin has an 8.0 average finish.
I believe Dillon will be a Top 10 car with a Top 5 ceiling. He knows how to navigate the final laps at this track and has proven to be successful in the sport's top race.
One lap around @DAYTONA tonight for qualifying.

Final results:

P16 @BubbaWallace
P25 @KurtBusch#Daytona500 pic.twitter.com/ipz1JENrcB

— 23XI Racing (@23XIRacing) February 17, 2022
Kurt Busch (+2000)
Busch moved over to 23XI racing after spending the last three years at Chip Ganassi. He will team up with Bubba Wallace and drive the #45 car. Kurt will also reunite with Billy Scott who guided him in 2018 with Stewart Haas racing. Both men are looking forward to this reunion.
In 41 starts at DIS, Busch has one win, 13 Top 5s, 18 Top 10s, an 18.4 average finish and six DNFs. Busch leads all active drivers in Top 5s and Top 10s.
Since winning the 2017 Daytona 500, Busch only has one Top 10 at this track. He also has five crashes during that span.
I believe the value is with Busch's race winning Daytona 500 betting odds. His Top 10 prop bet could be appealing if they drop below -150 and that's possible based on his qualifying position.
Kevin Harvick (+2200)
Behind Kurt Busch for the most Top 5s and Top 10s at Daytona is Kevin Harvick who is coming off a poor 2021 season. The #4 car is looking for a fresh start and more success in 2022, which could happen this weekend considering Harvick's last few races at this track.
In 41 DIS starts, Harvick has two wins, 11 Top 5s, 16 Top 10s, and 8 DNFs. His 17.2 average finish is 5th best among active drivers
I believe there's value with Harvick's Top 10 odds this weekend especially if they fall below -150. Over the last four DIS races, Harvick has an 11.0 average finish. Yet, he's scored two straight Top 5 results in the Daytona 500.
The Top Longshot Odds to Win the Daytona 500
Michael McDowell (+6600) is my pick for the top longshot to win the Daytona 500. He has one win, three Top 5s, seven Top 10s, a 20.3 average finish and six DNFs in 21 starts at this track.
McDowell did win this race last year and does have a 7.2 average finish over the last four Daytona 500 races. Over the last six DIS events, he has finished in the Top 15 for five of them including two Top 5s.
A blown engine broke that streak last August in the Coke Zero Sugar 400. I really like his Top 10 Daytona 500 odds of +200 as they offer solid value for the defending race winner.
The Rest of the Field at Daytona 500
The following drivers are worth keeping an eye on in this weekend's race:
Byron is the 4th odds on favorite to win the Cup Championship this year at +800 odds. However, he's been pretty bad at Daytona with a 22.8 average finish and four DNFs in eight DIS starts. He does have one victory as well.
I would avoid Kyle this weekend as he's tallied four straight DNFs and has just one Top 10 in the last 10 DIS races. There are better options than Busch this weekend.
In addition to Larson, Truex is my other favorite driver. Unfortunately, Daytona is not a good track for the 2017 Cup Series champ as he has just three Top 5s and five Top 10s in 33 starts at this track. He also has a 22.2 average finish and 8 DNFs. Avoid the #19 car.
Bowman has the 6th best average finish among active drivers (17.5) and just one DNF in 11 starts. He also has Top 10 odds of -155, which I really like as the #48 car could be a sleeper this weekend.
The intrigue over Brad isn't because of his success at Daytona, but more so due to his new racing team. Keselowski will drive the #6 car for Roush Fenway Keselowski (RFK) racing. But, he should be avoided this weekend due to a 23.2 average finish and 12 DNFs in 25 DIS starts.
In three starts at Daytona, Haley leads all active drivers with a 6.7 average finish which includes one win, one Top 5, and two Top 10s. He won the Coke Zero Sugar 400 in 2019 and his worst result was 13th in the 2020 Daytona 500. He didn't compete in this race last year.
The Best Top 5 Bet for Daytona 500
The best Top 5 wager for the 64th running of the Daytona 500 is Denny Hamlin at -110 odds. Hamlin is tied for the second most Top 5s with 11, but has four consecutive Top 5s in the Daytona 500 including two victories. He's become the cream of the crop at this hallowed speedway.
The Best Top 10 Bet for Daytona 500
I was tempted to go with other drivers, but I really can't overlook Justin Haley this weekend. His Top 10 Daytona 500 betting odds are +100 and he has a 6.7 average finish at this track including a victory.
As long as he stays away from Larson, Haley should fly under the radar into the Top 10.
If this is too risky for you, look at Austin Dillon, Kevin Harvick, or Alex Bowman.
? ?

Do you think @dennyhamlin will deliver his first NASCAR Cup Series Championship in 2022? pic.twitter.com/oLTi1NHmpa

— NASCAR (@NASCAR) February 9, 2022
Daytona 500 Checkered Flag and Betting Recap
Roll the dice, throw a chip on the roulette table or throw a dart at the dart board because that's pretty much what we're doing here when predicting a Daytona race.
Throw in the new car and we're looking at a tall task for making a prediction. With that said, I am going to play it safe and take Denny Hamlin to win this race. He's proven to be the best driver at Daytona among the field and he has both the confidence and the car to win this weekend.
My Top 5 drivers are Hamlin, Elliott, Bowman, Wallace and Dillon. But, you can really put together just about any combination of five drivers for Sunday's race.
Denny Hamlin
Chase Elliott
Alex Bowman
Bubba Wallace
Austin Dillon
Longshot: Michael McDowell (+6600)