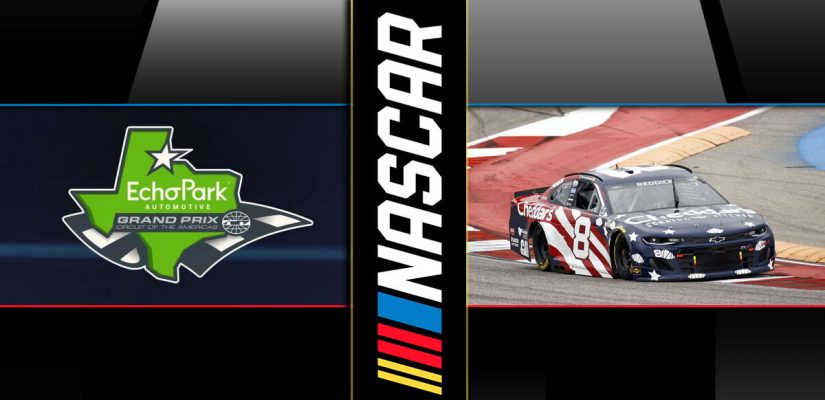 In the first road race of the 2022 season, NASCAR is in Austin for the 2022 EchoPark Texas Grand Prix. We have the latest NASCAR at COTA odds for this Sunday. You have to approach the NASCAR at Circuit of the Americas odds with a different approach.
Road courses are a different beast than a traditional NASCAR race. Some road course ringers come out for these races, and they have to be thrilled to see that NASCAR has up to seven road courses on the schedule.
Our special weekend at @NASCARatCOTA begins now! pic.twitter.com/d66eGSSwHQ

— NASCAR (@NASCAR) March 24, 2022
The popularity of Formula 1 might have something to do with NASCAR adding more road races, especially the Circuit of the Americas in Austin. This is an F1 track in Austin, providing something different to garner more attention.
One of the most notable road course specialists is Boris Said. He has been going at it in NASCAR road courses for more than 20 years now.
Said is almost 60, but still comes out and gets sponsored to appear in road races. Is he going to beat the NASCAR at Cota odds on Sunday?
Said has finished in the top-10 eight times in his NASCAR career. He's never won a Cup Series race, so this would be a first. His NASCAR COTA race odds are +50000, so he does not have the most confidence from the oddsmakers.
There are some very good full-time drivers in the Cup Series that have success on the road. Chase Elliott has the most road course wins with seven, while Kyle Busch and Martin Truex Jr. are tied in second with four wins.
Elliott leads the NASCAR standings going into Austin with 171 points. He also has favorable NASCAR at COTA odds, so he has a nice chance to extend his lead over Joey Logano. Get the best NASCAR at COTA odds below and our betting picks.
Previous NASCAR at COTA Winners
There has only been one NACAR race at the Circuit of Americas. In other words, there isn't much to go over as far as previous winners are concerned.
The most prolific road course driver on the current Cup Series roster scored in the inaugural race in Austin last year. Chase Elliott won a rain-soaked race, which was stopped because of the weather conditions.
Memorable Moments of the 2021 NASCAR Season:

#5 – The highly anticipated NASCAR debut at COTA was spoiled by rain, which resulted in crashes caused by major puddling on the track and visibility issues. The race was declared official 14 laps early with Chase Elliott the winner. pic.twitter.com/SgC9uamIZT

— Bob Pockrass (@bobpockrass) December 19, 2021
It was entertaining racing, with multiple incidents on the track, but not a good experience for drivers. At times drivers couldn't see anything, especially if they were behind cars.
As dominant as Elliott has been at road courses, he probably would have gone on and won anyway. This year, the oddsmakers feel confident in Elliott, as he is one of the top contenders on the NASCAR at COTA odds board.
NASCAR at Circuit of the Americas Odds
There aren't any surprises for the NASCAR COTA race odds in Austin on Sunday. Chase Elliott has dominated the road courses, so no shocker to see him as a +250 favorite at the Circuit of Americas.
The second-favorite on the NASCAR at COTA odds is no stranger to success. Kyle Larson checks in at +300. There is a significant drop-off from Larson to the rest of the drivers on the grid. Kyle Busch and Martin Truex Jr. are both +1000 to win the EchoPark Texas Grand Prix.
Some drivers cannot stand road courses, hence why you'll see some of the more common names well back with steep NASCAR COTA race odds. Joey Logano is a longshot with his COTA race odds to win at +2500.

You aren't getting the best value with Elliott and Larson in Austin. Of course, the Hendrick teammates are a serious threat to win on Sunday, but there may be better bets on the NASCAR at COTA odds board.
A.J. Allmendinger is a part-time driver in Cup Series these days, but sticks out as a potential winner on this road course. Allmendinger finished 20th in his last Cup Series appearance in the Ruoff Mortgage 500.
The following odds are courtesy of BetOnline:
| Odds | Driver | Team |
| --- | --- | --- |
| +250 | Chase Elliott | Hendrick Motorsports |
| +300 | Kyle Larson | Hendrick Motorsports |
| +1000 | Kyle Busch | Joe Gibbs |
| +1000 | Martin Truex Jr. | Joe Gibbs |
| +1400 | Austin Cindric | Penske |
| +1600 | Denny Hamlin | Joe Gibbs |
| +1600 | Chase Briscoe | Stewart-Haas |
| +1600 | A.J. Allmendinger | Kaulig |
| +1800 | William Byron | Hendrick Motorsports |
| +1800 | Ryan Blaney | Penske |
| +1800 | Christopher Bell | Joe Gibbs |
| +2000 | Ross Chastain | Trackhouse |
| +2500 | Joey Logano | Penske |
| +2800 | Alex Bowman | Hendrick Motorsports |
Predictions
Martin Truex Jr. (+1000)
Martin Truex Jr. is no stranger to road courses. He has four wins on his road course resume. In his most recent victory, Truex Jr. struck at Sonoma in 2019.
Truex Jr. can drive at Sonama in his sleep. He has three wins there dating back to 2013. His road course portfolio also includes a win at Watkins Glen in 2017.
He got caught in a wreck involving Michael McDowell and Cole Custer on a track that many drivers deemed unsafe last year.
Ratings and money were put ahead of health, as drivers were struggling to see out of their windshield because of how heavy the rain was coming down.
ALWAYS A THREAT ON THE ROAD
Despite crashing out last year, Truex Jr. is a serious road course driver that has to be involved near the end of this one. He is coming off a productive showing in Atlanta last week and has been consistent in 2022.
Truex Jr. is eighth in the Cup Series standings, finishing in the top-13 in four of five starts thus far. This stop at a road course should put him in control of another solid ending.
Note that since 2018, Truex Jr. has had an average finishing position of 4.8. It's hard to count him out of this one in Austin. His NASCAR at COTA odds certainly carries value.
A.J. Allemdinger (+1600)
A.J. Allmendinger opened his professional auto racing career in open-wheel racing. He was a well-known fixture in CART and IndyCar racing throughout the 2000s.
During his tenure in open-wheel racing, Allmendinger had to take on several road courses as part of the schedule. When he made the transition to stockcar racing, it was widely accepted that Allmendinger was going to rate highly in road courses.
Currently running in the Cup Series part-time and Xfinity full-time, he will participate in the road courses for Kauling Racing. In his Xfinity career, Allmendinger has 10 wins and 41 top-10 performances.
As a Cup Series driver, his team has two wins. Do you want to guess where his two wins were? They were road courses at Watkins Glen in 2014 and the road course at Indianapolis Motor Speedway last year.
Allmendinger was the last-man standing of a crazy finish in Indianapolis. He deserved it after coming close in recent road course attempts.

In four of his previous six road course entries, Allmendinger has finished in the top-5. He ended up 5th at COTA last year, as the shortened race may have helped or hurt him.
Elliott and Larson are going to be good, but I want better odds than +250 and +300. I'd rather take a chance on Truex Jr. and Allmendinger with their NASCAR at COTA odds to win.