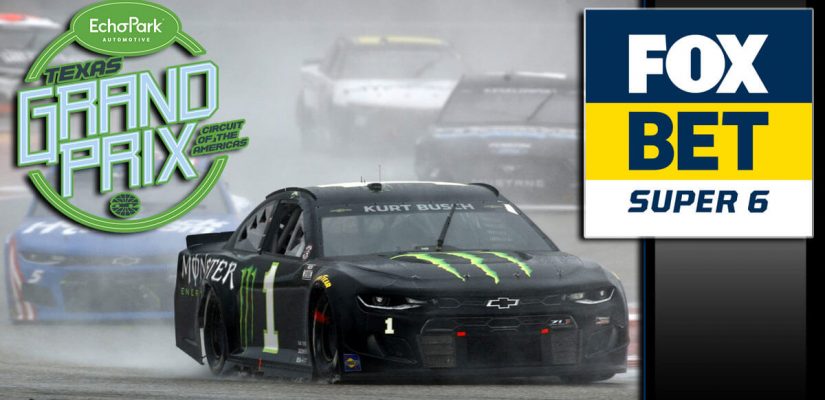 For the first time in 2022, we're at a road course circuit on the NASCAR schedule. It's the second running of the EchoPark Texas Grand Prix on a track designed for F1 that NASCAR debuted at last year. We have NASCAR at COTA Super Six Odds for the latest FOX Bet contest. This Stage 2 contest offers $10,000 in prize money.
What's your favorite turn at @NASCARatCOTA? pic.twitter.com/ilZztOsj0v

— NASCAR (@NASCAR) March 25, 2022
The odds aren't traditional betting odds found at a sportsbook, but more of a prop bet contest on the FOX Bet contest app. This is a free contest open to residents of the US.
Without it costing a dime to play, there isn't much to lose by giving it a go. Check out our preview and picks page if you are looking for NASCAR at COTA betting odds.
Even if you aren't the biggest NASCAR fan and don't know much, random guessing for fun might work out. TheSportsGeek will do our best to guide you in the right direction for your Circuit of the Americas Super Six Picks.
Last year's Texas Grand Prix at Circuit of the Americas was a rainy mess, with the race called early because of unsafe conditions.

The race probably shouldn't have it that far. Chase Elliott, who is the best road course driver in the Cup Series, won the rain-shortened event.
Elliott leads the grid with seven road course victories in his career. He has the most road course wins going into this weekend.
Check below if you want NASCAR at COTA Super Six Odds and our NASCAR COTA Super Six Picks. TheSportsGeek also has the best online sportsbooks for NASCAR betting this weekend in Austin.
Circuit of the Americas Super Six Picks
1. Where will the pole-sitter finish at the end of Stage 2?
Qualifying has yet to take place, but you can expect Kyle Larson, Chase Elliott, Kyle Busch, and A.J. Allmendinger to do well. Tyler Reddick won the pole last year and finished 9th and 3rd at the end of Stage 2.

Elliott, who won the race, qualified 8th, and 2nd at the conclusion of Stage 2. There usually isn't a lot of movement between positions in road races. Qualifying can be important.
NASCAR has more movement than you typically find in F1, but qualifying is ultimately the key in a road race. The one wildcard is that this is the first road course with next-gen cars.
It's more important than on an oval most of the time. I'm taking a lucky guess and go with the pole-sitter being 3rd at the end of Stage 2.
NASCAR at COTA Super Six Odds
2. How many drivers will finish in the top-5 in both Stage 1 and Stage 2?
Carrying on from my previous point, it's difficult to move from the back and threaten near the front on a road course. If the car isn't cooperating, it's not happening.
Barring mechnical problems, generally the top qualifiers arent going to be that far away through the race. I'm confident that the best road course drivers will rise to the top during qualifying.

On that point, Stage 1 and Stage 2 may not have the most changes. Two or three drivers should peel away and get comfortable.
Without knowing the qualifying results, I'm going to side with three drivers running in the top-5 by the end of Stage 1 and Stage 2.
NASCAR at COTA Super Six Odds
3. How many cautions will there be by the end of Stage 2?
You can go back to previous events and look at the cautions for this question usually. However, you are not going to have that benefit in the 2022 Texas Grand Prix.
Last season was terrible weather with heavy rain throughout at Circuits of the Americas. Drivers were complaining about visibility being a major problem, resulting in a ton of yellows.
Wild NASCAR Debut at COTA
Some of the cautions were caused by standing water on the track. There were also red flags and delays to contend with last year.
The temperature is expected to be hot and steamy this year with no rain in the forecast. It's the first road course in next-gen cars, though. That could make this race interesting.
Note that in NASCAR, a full caution comes out for debris. That will count towards this prop question. Let's go with six cautions in the Texas Grand Prix on Sunday.
NASCAR at COTA Super Six Odds
4. Which of these drivers will have the fastest lap by the end of Stage 2?
(A) Kyle Larson
Hendrick Motorsports
(B) Kevin Harvick
Stewart-Haas
(C) Chase Elliott
Hendrick Motorsports
(D) Martin Truex Jr.
Joe Gibbs
Case Elliott has success on his resume at road courses. Elliott would likely complete well if he was a full-time driver on a road course circuit. He is going into this weekend with seven road course wins.
Seven is easily the best among active drivers, with Kyle Busch and Martin Truex Jr. three wins back with four each. There is value to be had, especially on Truex Jr. in this race.
If you want to bet Elliott or Larson, you will have to pay for it at +250 and +300. Plus money is nice, but that's not the best value to win a race in NASCAR.
In any case, Elliott running the fastest lap wouldn't be hard to see occurring. He has to be thrilled to see NASCAR continuing to push for more road courses on the schedule.
While you can find better value to win the EchoPark Grand Prix, Elliott is going to be fast regardless. He's probably the best choice to run the fastest lap.
NASCAR at COTA Super Six Odds
5. Which of these drivers will have the most laps led by the end of Stage 2?
(A) Denny Hamlin
Joe Gibbs
(C) Kevin Harvick
Stewart-Haas
(D) Kurt Busch
23XI Racing
(E) Christopher Bell
Joe Gibbs
Ryan Blaney hasn't minded racing in road courses. He has a win at Charlotte Roval and consistently runs pretty well on the road.
Blaney has appeared in 20 road courses since debuting in 2016. He notched a win in 2018 and hasn't been the worst by far since then.
In 13 races, Blaney has finished in the top-10 in seven races after winning in Charlotte. Blaney looked good in his last two outings, finishing 2nd at the Indy Road Course and 9th in Charlotte most recently.
However, Denny Hamlin is probably the better option for this question. Hamlin has more experience and likes to get up front.

Hamlin is 6th, 3rd, 14th, 8th, 5th, 5th, 23rd, 5th in his previous eight road courses. He led 86 laps during that time.
In his last two starts on a road course, Hamlin led for 52 laps at Charlotte and Indy. Look for Hamlin to have a good chance of being the right selection.
NASCAR at COTA Super Six Odds
6. Which of the drivers will finish best at the end of Stage 2?
(A) Aric Almirola
Stewart-Haas
(B) Chris Buescher
Roush Fenway
(C) Cole Custer
Stewart-Haas
(D) Michael McDowell
Front Row Motorsports
(E) Bubba Wallace
23XI Racing
(F) Brad Keslowski
Roush Fenway
None of these drivers have had a lot of success on the road in their careers. Michael McDowell started out in Grand-Am Road Racing in the 2000s, so his lack of success on road courses has been disappointing.
That said, he's had some of the better results out of the field involved in this question. His best finish on a road course was here at COTA last year. McDowell finished 7th in a pretty decent showing in that one.
In his most recent start on a road course, McDowell finished 16th at Charlotte in October. His performance in Austin under poor conditions last year was a favorable effort. I'm going to back McDowell in the final question of the NASCAR Super Six at COTA.
NASCAR at COTA Super Six Odds