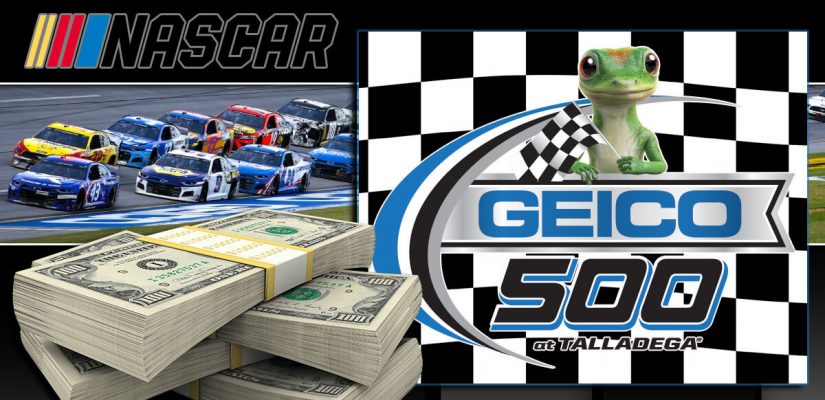 If you are tired of short-track racing, you will like what is on the NASCAR schedule this weekend. NASCAR is at Talladega Superspeedway after three straight short-track races. TheSportsGeek has the best NASCAR Geico 500 odds online for the big event in Alabama on Sunday.
Safe to say … @TALLADEGA is big.

Like, really big. pic.twitter.com/bCozImw5QZ

— NASCAR (@NASCAR) April 20, 2022
The NASCAR schedule went through Richmond, Martinsville, and Bristol the last three weeks. If you are a fan of fast cars and not so much the strategy racing at a short-track, you'll be glad to see Talladega up next. The Talladega NASCAR Geico 500 odds are wide-open as you would come to expect at a superspeedway.
Kyle Busch won a thriller on the dirt at Bristol this past Sunday night. In a race he fell back late, Busch was afforded a gift after Tyler Reddick and Chase Briscoe spun out on the final corner of the race. Reddick was leading towards the end of the race, and Briscoe took a huge gamble to reel him in.
His gamble didn't pay off. Briscoe got into Reddick, and they both spun out, while Busch came from 3rd to 1st at the wire to edge out Reddick, who nearly recovered. Tough break for Reddick, but that's dirt racing.
It was a big +1400 winner for us on Busch, as we head back to the pavement in Alabama for a superspeedway showdown. If you looking to locate for the best NASCAR betting sites, we have you covered at TheSportsGeek for the Geico 500.
The last time we were on a superspeedway it was the season opener on February 20 in the Daytona 500. Austin Cendric won in an upset to start the year.
In the most recent race at Talladega, Bubba Wallace won his first and only Cup Series race in October. Get the best NASCAR Geico 500 betting odds and our Talladega picks below.
GEICO 500 Odds
There is no clear betting favorite in the 2022 Geico 500 odds. They can get wild and sometimes produces an unexpected winner.
Wallace doesn't mind these types of races at all. As a winless Cup Series driver, it came as a surprise to see him win at Talladega, but he always seems to be lurking at superspeedways.
If he's good at anything, it's being competitive at superspeedways. With that in mind, his NASCAR Geico 500 odds as one of the favorites makes sense.
Keep in mind that there are four drivers tied with the best odds at +1100. In other words, oddsmakers don't have a clear favorite for the Geico 500. The Geico 500 odds suggest that they don't know what is going to happen.
Thrilling wins. Tough losses. Our drivers have experienced it all at @TALLADEGA.
@GEICO | #GEICO500 pic.twitter.com/wSJqm9tuAi

— NASCAR (@NASCAR) April 19, 2022
This often creates good value, which can be said for the NASCAR Geico 500 odds. No matter the drivers you are betting on Sunday, you are going to get a good price on the NASCAR Geico 500 betting odds board.
The following odds are courtesy of Bovada:
| Odds | Driver | Team |
| --- | --- | --- |
| +1110 | Bubba Wallace | 23XI Racing |
| +1100 | Denny Hamlin | Joe Gibbs |
| +1100 | Joey Logano | Penske |
| +1100 | Ryan Blaney | Penske |
| +1400 | Austin Cindric | Penske |
| +1400 | Denny Hamlin | Joe Gibbs |
| +1400 | Brad Keselowski | Roush Fenway |
| +1400 | Chase Briscoe | Stewart-Haas |
| +1400 | Chase Elliott | Hendrick Motorsports |
| +1800 | Aric Almirola | Stewart-Haas |
| +1800 | Kevin Harvick | Stewart-Haas |
| +1800 | Kyle Busch | Joe Gibbs |
| +1800 | Kyle Larson | Hendrick Motorsports |
| +1800 | William Byron | Hendrick Motorsports |
NASCAR GEICO 500 Best Odds To Win
Tyler Reddick (+2500)
Tyler Reddick and his team ran a beautiful race on the dirt at Bristol last week. Reddick did everything right but get clear from Chase Briscoe, who got too close to Reddick on the final corner to knock both of them out of contention.
Tyler Reddick reacts to the final lap … and Chase Briscoe apologizes. pic.twitter.com/8s9xMzrIY3

— FOX: NASCAR (@NASCARONFOX) April 18, 2022
Yes, Briscoe getting into Reddick was the difference in the race, but if Reddick doesn't allow anyone to get that close, it doesn't happen.
Reddick's response following the race was classy, with no bad feelings towards Briscoe. He understood that leaving the door open for Briscoe played a role in the crash as well.
Reddick's time is going to come soon. He is 11th in the Cup Series standings with three top-5 finishes. His numbers don't lie either. Reddick is fourth in laps led this season with 196 and fifth with an Average Driver Rating of 93.7.
He's only raced at Talladega four times in his career, with two solid attempts to finish 7th. Reddick got caught up in a wreck in the last race at Talladega. There wasn't much he could do about that after finishing in the top-5 at the end of Stage 1.
As a driver getting +2500 odds to win the Geico 500 at Talladega, Reddick has to be worth considering to win on Sunday.
NASCAR Geico 500 Odds
---
Brad Keselowski (+1400)
Keselowski won this race last April after starting 10th on the grid. The veteran has to be considered to win at Talladega, a track that he's had favorable results at in recent outings. He typically has a fas car here as well.
Keselowski has qualified in the top-10 in six straight races at Talladega. In 11 of his previous 12 attempts, he's qualified in the top-5. Having a fast car at a superspeedway has never been a problem for him.
After winning in Alabama last year, Keselowski came back in October to finish runner-up to Bubba Wallace. Combined with Daytona, he has won two of his last superspeedway races.
Keselowski won at Daytona last February and was 9th in the Daytona 500 to open this season. Passing on Keselowski in the Geico 500 doesn't look like it would be the best plan at Talladega on Sunday.
NASCAR Geico 500 Odds
---
Talladega GEICO 500 Prediction
Ryan Blaney (+1100)
Ryan Blaney likes racing at superspeedways and is getting plenty of value at +1100 to win at Talladega. He knows his way around Talladega and always likes when the Cup Series schedule goes to Alabama.
Blaney has finished 1st, 1st, 25th, 9th, 15th in his previous five races at Talladega. Two wins at Talladega in his last five outings isn't a bad success rate. He also had a good run at Daytona this season, finishing 4th in the Daytona 500.
This has been a successful season for Blaney despite not finding a win yet. He has four top-5 finishes and top-10 in four races in a row. Blaney enters second in the Cup Series with 321 points. Chase Elliott leads Blaney by three points going into Talladega.
Blaney keeps getting close, and there aren't too many other tracks on the NASCAR schedule for him to win than Talladega. The No. 12 looks like a good bet to win the Geico 500.