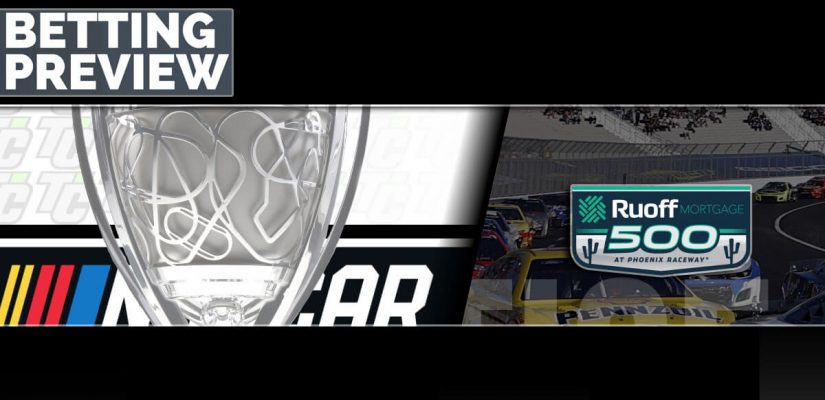 We stay in the desert for the fourth race of the NASCAR Cup Series betting campaign on Sunday. After Hendricks Motorsports' Alex Bowman landed a win last week at Las Vegas in the Pennzoil 400, it's a short trip to Phoenix for the Ruoff Morgage 500.
Phoenix Raceway is a mile track, which should play into the hands of a few drivers. Bowman will have a chance to repeat and sweep the desert schedule in Nevada and Arizona. There will be a chance, but he'll need to be better.
You ready to rock, @phoenixraceway? pic.twitter.com/TMH9QH8Lek

— NASCAR (@NASCAR) March 11, 2022
Bowman would love to win in front of the home crowd. Phoenix Raceway is his home track as a local from Tuscon. This hasn't been his best track, so we'll see how it goes for the Pennzoil 400 winner. He has finished outside of the top-10 in eight starts appearances in Phoenix.
The winner the week before at Auto Club Speedway, Kyle Larson, put on another big run to finish behind Bowman. Larson goes into Phoenix with the points lead. He has 113 points over Matrin Truex Jr.'s 107 points going into the fourth week of racing.

Joey Logano, Austin Cindric, and Kyle Busch round out of the top-5 in the standings. Five of the last seven winners at Phoenix are in the top-5. The Kyle's have had a lot of success here in the past. Larson is the defending champ, while Busch won back-to-back races in 2018 and 2019.
Phoenix looks like a good place to start if you've missed out on NASCAR betting this season. The NASCAR betting odds are something that tends to provide value often. The NASCAR odds for the Ruoff Mortgage 500 appear as something we can work with in Phoenix. Head below for our best bets for the Ruoff Mortgage 500 on March 13, 2022.
NASCAR Ruoff Mortgage 500 Best Bets
Kyle Larson (+350)
If you can find Kyle Larson at better than +300 odds to win the Ruoff Mortgage 500, there is value to be had in Phoenix. A mile will once again play to his strengths.
He's done well at similar tracks and Phoenix Raceway. Larson is the defending winner at Phoenix in November.
If it wasn't for going too fast on pit stops, Larson probably would have won the first race in Phoenix last year as well. He was penalized more than once for going too fast.

Larson has finished in the top-10 in six straight races at Phoenix Raceway. He's had a good car the past two weeks after getting away from Daytona.
His weakness is superspeedways, but Larson has handled a mile quite well. Since finishing 32nd after crashing out of the Daytona 500, Larson's finished 1st and 2nd.
He is first in Average Running Position and Average Driver Rating. Larson is also leading NASCAR in Quality Passes going into Phoenix.
His car is running well, while Larson feels confident at Phoenix. If you're getting odds of +300 or better, Larson has to be considered to win the Ruoff Mortgage 500.
RUOFF MORTGAGE 500 BETTING ODDS
Kyle Busch (+800)
Kyle Busch did well to overcome adversity last week in Las Vegas. After crashing out in practice, Busch had to go to the backup car and start from the back of the field.
That didn't bother Busch, as his backup vehicle rocketed towards the front of the field. Busch led 49 laps in the Pennzoil 400 for a pretty good race all things considered.
He ultimately finished fourth after failing to hold the lead late. Despite leading 49 laps, Alex Bowman won with 16 laps led.
Busch let Bowman know that he got lucky. I disagree, but a late yellow certainly helped. Busch isn't shy to let people know his mind. This week in Phoenix, Busch could return to the winner's circle.
He's won here three times, most recently in back-to-back fashion in 2018 and 2019.

In his previous 13 outings at Phoenix, Busch has appeared in the top-10 in 11 races, one of the races he didn't, Busch was 11th in 2020.
Through three races, Busch is third in laps led with 77. It's hard to oppose Busch with these odds at +800 on Sunday.
RUOFF MORTGAGE 500 BETTING ODDS
Tyler Reddick (+2000)
Tyler Reddick has been on the Cup Series for two full seasons. This is the third year that Reddick has a full-time seat in NASCAR.
Reddick has finished in the top-10 in 14 races. He's come close to winning at times in his career, but just short too often. I liked what Reddick was doing last week and led some laps.
In fact, Reddick is first in the Cup Series with 90 laps led. He's also been fast. Note that Reddick has run the fastest laps the most times this season with 45.

He is six laps better than the second-best Martin Truex Jr. Reddick is due for a breakout campaign soon, which has been a good start for him in 2022.
Reddick may not be the most likely winner on Sunday at Phoenix, but his current form and generous odds make him a solid flier and value bet for the Ruoff Mortgage 500.
RUOFF MORTGAGE 500 BETTING ODDS