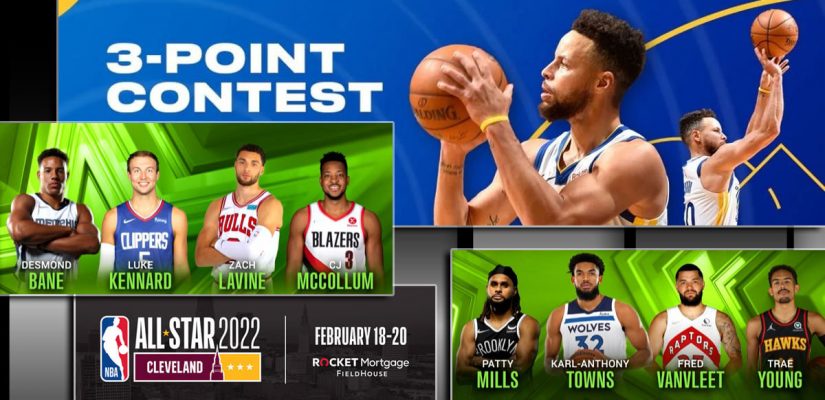 The 2022 NBA 3-Point Contest takes center stage on Saturday night as part of the league's All-Star Game festivities. Eight of the finest shooters on the planet will be taking aim from long-range to see who comes out on top. We're here to tell you whom you should consider betting to win the contest at top gambling sites.
Among all the events that take place during All-Star Weekend in the NBA, the 3-Point Contest holds a special place in the hearts of basketball fans.
After all, it's something to which anybody who has ever played the game can relate, as most of us can throw in a shot from long-range (while few of us can dunk.) In the 3-Point Contest over the years, some of the best shooters to have ever played the game have showed us how it's done.
Before the 1988 3-Point Contest, Larry Bird asked everyone competing, "Who's coming in second?"

Bird won in his warm-up jacket and celebrated before the last ball went in.

Happy birthday to Larry Legend. pic.twitter.com/V0UsJX5FhO

— Bleacher Report (@BleacherReport) December 7, 2018
In recent years in the NBA, 3-Point shooting has broadened out from just the specialists to where even towering centers shoot the shot. That's because the analytical side of the game has decided that the long balls are the best way to win. The 3-Point revolution is well underway and doesn't show any signs of slowing down.
This year's contest figures to be a hotly-contested one, with eight excellent candidates going at it. If you're planning on wagering on the event, you shouldn't go into it blind. Instead, you should take as close a look as possible at each candidate and their qualifications to see where the most betting value lies. We're here to help with that prospect by taking a close look at the NBA 3-Point Contest from a betting perspective.
To do that, we'll explore each of the players competing and take a look at their 3-Point Contest betting odds. And we'll also give you an idea of who we'd be taking if it was our money that was on the line at top NBA betting sites.
Who Won the 3-Point Contest?
In last year's NBA 3-Point Contest, Steph Curry fired away to win it for the second time in his career in seven tries.
Curry set records for most points in a round and most points in a final round to really add an exclamation point. Perhaps that's why he decided against competing this year, even though he'll be in Cleveland to play in the All-Star Game after once again being elected a starter.
Over the last five seasons, here are the players who have won the NBA 3-Point Contest:
In terms of multiple 3-Point Contest wins over the years, here are the players who have achieved it (and you'll notice some pretty big names on this list, along with some that might surprise you):
Some notes on this year's competition that you should know before your 3-Point Contest betting takes place:
Last year's event was limited to those players who were already going to be at the site for the All-Star Game. The league didn't want more players travelling than necessary in the height of the COVID crisis. This year, it's open to everybody again, which makes for a much more competitive field.
This will be the first time in quite some time that there isn't one winner in the field. In other words, whoever wins the 3-Point Contest on Saturday night will be doing so for the first time. That should make for a more balanced contest without any clear-cut favorites (which, as you'll see, is reflected in the 3-Point Contest betting odds.
Only three of these competitors have ever even been in an NBA 3-Point Contest before. As a result, it will be one of the more inexperienced group of shooters in some time. We'll see if that gives one of the new hopefuls a better shot to win than it they were facing a more seasoned group.
When is the 3-Point Contest?
This year's NBA 3-Point Contest is set for this Saturday night (February 19). The time of the event depends on the event in front of it and how long it runs. All-Star Saturday Night starts at 8 PM Eastern Time, and features the following three events, in this order:
As for the location, it will be Cleveland, Ohio, specifically the Rocket Mortgage FieldHouse. None of the eight 3-point marksman call Cleveland their home right now, so there shouldn't be any kind of advantage in one way or another. It will instead be all about who gets the hot hand at the right time.
3-Point Contest Format
It's a good idea to get yourself acquainted with the 3-Point Contest rules, as that could affect the players that you end up choosing for your real money wager. All eight players compete in the first round.
The three players with the best scores in the first round move on to the finals, and the player that posts the best score in the finals wins. There will be five racks of five basketballs each that the player has to shoot in the allotted time (70 seconds). Two racks will go in the two corners, two more on the two wings, and one at the top of the key. These racks will all be placed so that the shooter can take their shots from just beyond the 3-point arc at that spot.
There will also be one ball each placed on racks to the left and top of the key. These racks will be six feet beyond the arcs. It's a nod to the players who now take three-pointers from well beyond the arc.
Regular balls: 1 point
Money balls (the last ball of four of the five racks and then every ball in the fifth rack, which the player gets to choose): 2 points
Way downtown balls (the two way behind the arc): 3 points
The long shots added a little twist to the proceedings when they were first introduced a few years back. It gives just a little bit of an edge to those who have serious range on their shots.
2022 3-Point Contest Competitors
You should try to take a look at each of the eight possible 3-Point Contest winners before making your bets. These guys are all marksmen, so focusing on just one possible winner can be a mistake. It's best to take a look at the field as a whole and see which names then stand out for you.
Fred VanVleet, Toronto (+400)
It's a huge weekend for the Toronto point guard who leads the NBA in minutes played per game as part of Coach Nick Nurse's tight rotation with the Raptors. VanVleet is not only playing in his first All-Star Game, but this will also be his first 3-Point Contest. Now in his sixth year in the league out of Wichita State, it's been a steady climb for this rock-solid performer.
VanVleet has been launching them at a pretty good rate, as he is second behind only Stephen Curry in made three-pointers this year. But he's also been pretty accurate with them. He's never been lower than 36 % in a season shooting threes, and his 40% clip this season from downtown is second-best in his career.
VanVleet usually doesn't venture too far behind the arc when he shoots, so those downtown balls could cause some issues. His demeanor, however, seems tailor-made for this kind of competition. He has proven during his time in the league to have the proverbial ice water in his veins, which means the pressure here shouldn't bother him.
Even as the favorite, Van Vleet is still getting odds for 4 to 1. Horse racing fans would tell you at a 4 to 1 favorite in field of only eight is as tepid a favorite as you'll fine. In other words, the value is still there, and how, for those who want to cast their lots with VanVleet.
Trae Young, Atlanta (+425)
When it comes down to those downtown on Saturday night, nobody is better suited for them than the star Atlanta point man. Young has no conscience when he plays, and he shouldn't be daunted by those shots from well back. That might give him an edge over the others who don't stray that far.
Young is in midst of another stellar season, even if his team has been underachieving a tad. He's a high-volume 3-point shooter, and, as we said, he'll often do so from distances where other players wouldn't dare try. On top of that, he's shooting 38% this season from behind the arc, which would be a career high for him if the season ended right now.
When you compare it to other players in the field, 38% is a bit on the mediocre side. Can Young be accurate for the entirety of a complete round of shooting? Young was unable to do much in the event as a rookie three seasons back, scoring last out of all competitors, which is an ominous side.
A bet for Young would be based on name recognition, and that's definitely not the way to approach this wager. If you didn't know who it was and saw his career stats (just 35% on threes in his career), you wouldn't be that excited to take him. Especially considering that he's the second choice in the field.
Patty Mills, Brooklyn (+425)
It's hard to believe that Mills hasn't been in the contest to this point, but you have to remember that he's had a relatively low profile till now. Now 13 years and in his 13th season in the league, Mills has always made his living based on his marksmanship. This year, he's getting more of the spotlight with Brooklyn and is having a career season.
The Nets have trusted Mills as more than just a specialist, although he serves that role as well. There are time when he's their #1 option on the floor, especially with all their injuries in the first half of the season. He's at a career high in points per game and 3-pointers made (he's 4th in the league in the latter category.)
But what's been impressive this season is that his accuracy hasn't waned with the higher shooting volume. In fact, he's at 41% from deep, which puts him in the Top 15 in the league. He's been one of the best shooters in the league for many seasons, and it's just now that the rest of the world outside the league is catching up to it.
Mills certainly has the compact stroke that bodes well for this kind of competition, where it needs to be repeated over and over. He's been waiting a long time for this moment. We'd be surprised if he didn't make the most of it.
Luke Kennard, Los Angeles Clippers (+550)
Fun fact: a left-handed shooter has never won the NBA 3-Point Contest before.
Kennard, who snipes off the bench for the Clippers would love to change that. You certainly won't see too many sweeter left-handed strokes than the one belonging to Kennard, who undoubtedly has a chance to make history with a win.
Kennard has made much more of an impact in his second year with the Clips since signing a big contract on arrival from Detroit. Injuries have nagged him somewhat, but his numbers are up in just about every category with increased playing time. But what stands out with Kennard, in terms of this competition, is his accuracy behind the arc.
Of all the players in the competition, he has the highest percentage this season, knocking down 3s at a rate of over 43% (good for 4th in the league). And it's no fluke, as his career percentage of just shy of 42% is fifth-best among active players. Based on what he does in his game action, he actually might excel at the wing three racks, which is an area where many players tend to struggle.
Kennard is another one of those guys who just seems right for a competition like this, with a smooth, effortless stroke. Is there some sort of lefty bias that will keep him from contending? Or will he be the one to break the mold at excellent odds?
Desmond Bane, Memphis (+600)
If you haven't been paying close attention to what's been going on in the NBA this season, you might not know who Bane is. He's in his second year playing for the Grizzlies, and he was a part-timer, albeit an effective one, as a rookie. This year his play has earned him a permanent spot as the starting 2 guard, and the results have been revelatory.
Bane, who was drafted at the end of the first round in 2020 and traded to Memphis, has upped his points per game from 9.2 points per game to 17.7, making him a prime contender for Most Improved Player at the end of the season. He's doing a lot of that damage from 3, as he's tied for 9th in the league in made 3-pointers and is 10th in 3-point percentage at 41.9.
It's only been two years, but he has the highest career 3-point percentage of these eight players. He's not built like your typical 3-point marksman, as he is a chiseled 6'5", 215 pounds. But when he gets an open look, it's usually going down.
All the stats seem to point in his direction as an excellent contender. The one concern might be his inexperience compared to the rest. But in a year where Memphis has outperformed all expectations, wouldn't it be fitting if one of their players were to keep that rolling on All-Star Saturday.
Zach LaVine, Chicago (+750)
There are several red flags when it comes to LaVine as a possible contender here. For one, he's been banged up of late, missing the last several games for the Bulls. While he's still scheduled to play in the All-Star Game and participate in the 3-Point Contest, it should give you pause that he might not be at 100 percent.
The other concern is that he's been in this event twice before and the results have been mediocre. In his first try on his home court in Chicago in 2020, he just missed the finals, while last season he fell way short in the qualifying round. LaVine is trying to become the first player ever to win both the Slam Dunk Contest (which he's done twice) and the 3-Point Contest.
LaVine's efficiency has risen in recent seasons, which means he should conceivably be a good contender. But his shot isn't the most economical, which perhaps works against him. And maybe his experience will start to pay off with an improved performance this time around as he tries to find his rhythm.
LaVine is getting great odds here, so it would seem like there's all kinds of value in taking him. But the results in the contest have been going in the wrong direction. We think that it's probably a good idea to pass on LaVine this time around.
C.J. McCollum, New Orleans (+1000)
McCollum will be making his third 3-Point Contest appearance, and his first in five years. It's been a whirlwind turn of events for the nine-year veteran. Many thought he would be a career Blazer, but that team's implosion caused a trade to New Orleans, where he has immediately taken on a starring role for the young Pelicans.
What's been interesting so with the Pels is that as McCollum's scoring has gone way out (admittedly in a small four-game sample size), his three-point volume has dropped. But he's still one of the readiest bombers in the league, knocking down an average of 3 per game, making it six years In a row now that he's been over two per game. He can still stroke it with the best of them.
It will be interesting to see if his approach changes in his third chance at the crown. But a little bit of veteran savvy might go a long way in an event that, as we mentioned, features no former winners. McCollum could take advantage of that and make a pretty deep run.
You're getting 10 to 1 odds for one of the finest shooters in the game. McCollum is not a spot shooter in the mode of Mills, VanVleet or Kennard, often getting his off the dribble. But it's hard to turn him down when you consider the value that you're getting to take him.
Karl-Anthony Towns, Minnesota (+1400)
KAT becomes the first seven-footer since Dirk Nowitzki to compete in the NBA 3-Point Contest, which should make him a fun entry. Obviously, the oddsmakers aren't too keen on him going very far in the contest, and maybe that's understandable. He's not the type of guy who's going to glide from rack to rack, although he does have an easy-going shooting stroke, which should certainly help.
Towns is an excellent bomber from behind the arc, coming in at nearly 40% for his career. That's 14th among all active players, which proves that he's more than adept from back there. And he shoots a lot of them, as his 2.1 made per game this year is actually down from previous seasons with Minnesota.
Towns is coming off two seasons plagued by injuries and illness, and many were beginning to wonder if he'd ever become the superstar to lead a franchise. That it's happening right before our eyes this year with the Timberwolves looking like a playoff team has been one of the more exciting turns of the young season.
Wouldn't it be something if Towns could add an unlikely 3-Point Contest title to this year's list of accomplishments?
The Pick
With a bet like this, it's best to throw out the options that you don't think are possibilities, so that you can see the favorites are bit more clearly. In this case, we're tossing LaVine, for his past struggles in the competition and his recent injuries, and Towns, because if Nowitzki couldn't do it at that size, it's hard to believe anybody can.
We're also tossing Young, who's just not accurate enough, and Bane, because of the worries about inexperience.
From there, we're left with four, and we think a good way to play it would be to put bets on all of them while hoping that the longest shot, McCollum, comes in to give you the best profit. But if we were going to choose one, we think that Patty Mills will get it done in his first ever NBA 3-Point Contest. Take him at odds of just better than 4 to 1 for a sizable return on your betting investment at top sports betting sites.