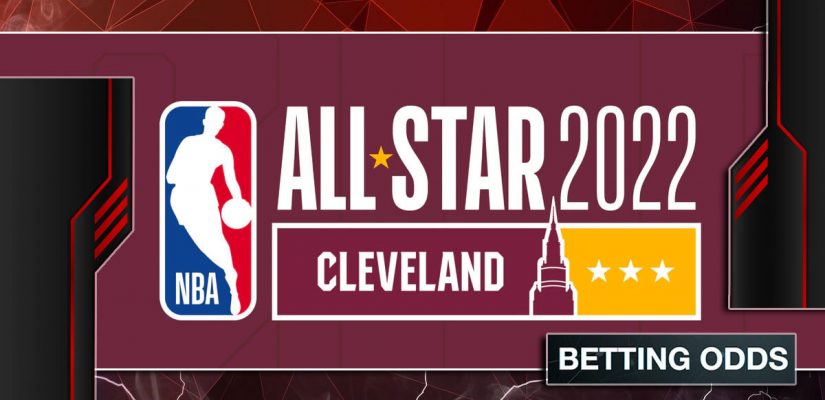 The 2022 NBA All-Star Game takes place this Sunday night from Cleveland, Ohio. As has been the case the past several years, the format features a pair of captains picking teams, with Kevin Durant and LeBron James making the selections.
We're going to take a look at the betting angles available on the game from top real money sports gambling sites and give you our picks. The 2021-22 NBA season has been rolling along steadily for the last several months, and it's been an exciting and unpredictable one so far.
Phoenix and Golden State have separated themselves a bit in the West, while the East is an utter logjam at this point from top to bottom. Teams like Memphis and Chicago have surprised, while preseason favorites like the Los Angeles Lakers and Brooklyn have been sputtering.
#NBA Eastern Conference standings pic.twitter.com/QLCSFJ0Ezv

— Keith Pompey (@PompeyOnSixers) February 16, 2022
But now it's time to put all of that on hiatus for a few days and enjoy the All-Star Game. No other sport puts on an All-Star spectacle quite like the NBA. That not includes the game, but it also includes all of other activities and competitions that will be taking place all through All-Star Weekend, held this year at Rocket Mortgage FieldHouse in Cleveland.
The game itself is the culmination of it all:
With 24 of the world's greatest players going at it in a thrilling display of athletic artistry. Granted, there won't be a lot of defense played during the game, at least in the first three quarters of play. But bettors will still be focused on whether it will Team LeBron or Team Durant that comes out on top, by how much, and what the final score turns out to be.
In the following article, we're going to break down the 2022 NBA All-Star Game from a betting perspective. We'll take a look at the rosters and then we'll explore the main bets that are available to you on the game at top NBA gambling sites. At the end of it all, you should have an idea of what bets you want to place and which options you want to choose.
Exploring The 2022 NBA All-Star Game Rosters
As has been the case the last four years, the old East vs. West format is out of the picture. While players are still selected based on 12 per conference, a "draft" was held where the team captains, Kevin Durant of Brooklyn and LeBron James of the Los Angeles Lakers, picked among the All-Star choices for their respective teams. For Durant, that's all he can do, as he won't be able to play due to injury.
Here is what the rosters look like for Sunday night's game:
Team Durant
Jayson Tatum, Boston:
Starter
Andrew Wiggins, Golden State:
Starter
Joel Embiid, Philadelphia:
Starter
Trae Young, Atlanta:
Starter
Ja Morant, Memphis:
Starter
LaMelo Ball, Charlotte:
Reserve
Devin Booker, Phoenix:
Reserve
Rudy Gobert, Utah:
Reserve
Zach LaVine, Chicago:
Reserve
Khris Middleton, Milwaukee:
Reserve
Dejounte Murray, San Antonio:
Reserve
Karl-Anthony Towns, Minnesota:
Reserve
Team LeBron
Giannis Antetokounmpo, Milwaukee:
Starter
LeBron James, Los Angeles Lakers:
Starter
Nikola Jokic, Denver:
Starter
DeMar DeRozan, Chicago:
Starter
Stephen Curry, Golden State :
Starter
Jarrett Allen, Cleveland :
Reserve
Jimmy Butler, Miami:
Reserve
Luke Doncic, Dallas:
Reserve
Darius Garland, Cleveland:
Reserve
Donovan Mitchell, Utah:
Reserve
Chris Paul, Phoenix:
Reserve
Fred VanVleet, Toronto:
Reserve
Assessing The 2022 NBA All-Star Game Matchups
In order to make a wager on the NBA All-Star Game in 2022, you need to know how the two teams match up. To do that, we went over the rosters and identified some strengths and weaknesses for both squads. Take a look at what we found.
Team Durant Strengths
The current favorite for the MVP is Joel Embiid, so that's a big feather in the cap of Team Durant. This is especially true if the game is close late, because Durant might be better than anybody else right not in a half-court situation in terms of making the right decision from the post.
Center play as a whole is a strength for Durant, as Karl-Anthony Towns and Rudy Gobert are waiting to come off the bench and keep the rim protected. Perhaps the other big strength possessed by Durant's squad is the speed of the two point guards in the starting lineup. Team LeBron is going to have a hard time keeping in front of Trae Young and Ja Morant when they're on the floor. Morant should be especially motivated in his first ever All-Star appearance as a reward for what's been a stellar season for him and his team.
There is also a lot of scoring versatility throughout the roster. Tatum, Booker and LaVine can all hurt you in multiple ways when they have the ball in their hands. And even though his selection was a bit controversial, Middleton is one of the best pure shooters that will suit up on Sunday.
Team Durant Weaknesses
So often in basketball a strength on one side of the ball is a weakness on the other. Just as Morant and Young will be hard to guard for Team Durant, they'll have an equally hard time dealing with the size on Team LeBron. One of them can guard Steph Curry, but the other is going to be stuck in a major mismatch on the defensive end.
Wiggins has had an excellent year for the Warriors, but he is the one starter in the game who just seems a tad out of place when you consider the exploits of everyone else in here. Also, If the team is strong at the center position, that's not necessarily the best scenario for an All-Star Game. Until the game gets close in the fourth (if it even does), the need for the big guys in half-court will be mitigated by the up-and down, frenetic pace.
There is also the fact that Durant will only be a spectator on his team. He is the very best right now in the league right now at getting a bucket when called upon, no matter the defense. That particular quality will be missed in Sunday's game.
Team LeBron Strengths
This roster is absolutely stacked. Incredibly, the starting lineup features four guys who have won a combined 9 of the last 13 MVP awards in the league. And that doesn't even count DeRozan, having a career year as the mid-range master.
Go the bench and there's Doncic waiting, the perfect facilitator for the second team who should get everybody their shots where they want them. And if it's not Doncic doing it, it will be Paul. The veteran is having one of his best seasons ever, and his experience, along with James', really should make a major difference. Giannis is particularly difficult to stop in All-Star games, as you're not going to see anybody to throw up a wall or take a charge in a game that really doesn't mean all that much.
Butler and Mitchell are snipers who should be able to fill it up on command while they're in the game. This is a dream team of sorts, one that is going to be tough to stop if they're all on their games.
Team LeBron Weaknesses
It can be difficult to delegate in a one-game situation when you have so many guys who are the Alpha on their particular team (and in the league in general.) For example, when Team Durant really needs something on offense, you know they're likely to go through Embiid. Does Team LeBron go through the captain, or Steph, or the Joker, or Giannis?
The second team has some players who are making their first ever appearance in the game, which could lead them to be a bit tentative. Allen and Garland have been brilliant for Cleveland this season as they make a playoff surge. But they might have a hard time finding their rhythm.
One other minor quibble is that this team doesn't really have too many three-point marksman, at least in terms of it being a specialty. Curry certainly qualifies, but even he has had some shooting struggles (relative to his past anyway) this season. If Team Durant is getting 3 for 2 consistently, all that firepower might not be enough.
2022 NBA All-Star Game Betting Odds
Before you can decide on a pick for your NBA All-Star Game betting, you have to take a look at the odds. That's will help you to figure out where you can find some value. Here are the current betting odds for the NBA All-Star Game in terms of the three major bets available to you.
Let's take them one at a time and see how they stack up.
Moneyline
This is one of the bets where you have to really consider value before deciding what you're going to do. It was obvious as soon as the rosters were announced that Team LeBron was going to be favored. Durant, in an effort to put together a youthful team, may have strayed too far from established stars with his picks.
This is an All-Star Game, where the activity level of veterans can sometime be a bit lax, at least early in the game. As a result, it's hard to come down on the side of betting such a heavy favorite. Paying that premium to get back a small profit is really going to smart if the younger team plays inspired ball and pulls off the upset.
Our thought is that you should probably avoid this bet if you really think that Team LeBron will roll with no problems whatsoever. However, if you think there's even an inkling of an upset, you should be going with a Team Durant. Odds of better than 2 to 1 will really make that worth your while.
Point Spread
First of all, in the two bets where final score matters (the point spread and over/under), it's important to remember that the so-called Elam Ending will be in effect. The rule, named after its creator, adds 24 points to the score of the team that's ahead in the fourth quarter. That becomes the target score, and the first time to reach that total wins the game.
That doesn't necessarily mean that there won't be a blowout in the game, as last year proved. But it does mean that the fourth quarter could be more of a back-and-forth affair, and some meaningless free throws by the favorite to cover the spread late are lass likely. That gives a bit of an edge in the spread betting to the underdog Durant squad.
As we said earlier, it would seem like young guys like Morant and Young might have a little bit more motivation to shine in a game like this than LeBron's established stars. That even goes for Embiid, who seems bound and determined to prove himself the league's most dominant player this year. It makes it awful hard to go for the favorite with your wagers.
Over/Under
Obviously, an over/under in the All-Star Game is going to be extremely high. The Elam Ending helps put a bit of a limit on it, however. After all, 24 points by the winning team is a lot less than would be scored in a normal All-Star Game quarter by one of these teams.
Yet that doesn't mean we're going to see a pitcher's duel here.
Last year featured the two teams putting up a combined 320 points. That would have been comfortable over the total points on this year's line. One thing that could hold the scoring down is that there doesn't seem to be as many long-range bombers sneaking onto the rosters as in years past. For that reason, the under seems like the right bet.
It feels like it will be a close game, which, with the Elam Ending, also means the losing team won't be called on to score too many points either, further depressing the total.
The Picks For The 2022 NBA All-Star Game
To recap, here is how we would be the 2022 NBA All-Star game at top sports betting sites:
Moneyline:
Team Durant (+210)
Point spread:
Team Durant (+6)
Over/under:
Under 311.5 (-110)
You can piggyback off those picks if you'd like. In any case, we hope that the info that we've provided help you with your selections. It should certainly be an entertaining show on Sunday night, and we hope that your wagers are on the right side of it.