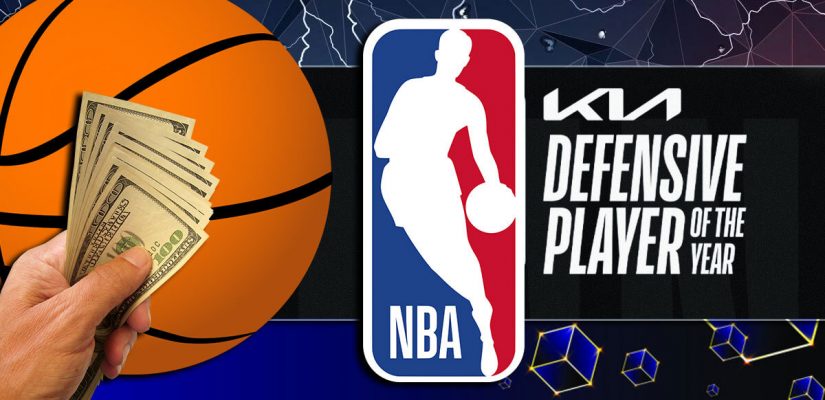 We don't often see the NBA Defense Player of the Year Award generate quite as much spirited online discussion as, say, the MVP Award does.
You will still see a few hardcore NBA nerds debating the merits of certain players to win DPOY, but it's hardly the most prestigious award out there. That said, not every player in the NBA is an offensive dynamo. Many other, oft-overlooked players pride themselves on their defense above everything else. NBA Defensive Player of the Year odds fluctuate over the course of the season at NBA betting sites. While this award has been dominated by a few of the same names in recent years, the field of contenders vying for the prize in 2021-22 is awfully deep.
Which player will take home the trophy this season? The updated NBA Defensive Player of the Year odds entering the last week of the season may surprise you.
NBA Defensive Player of the Year 2022 Odds
Bet on NBA Defensive Player of the Year betting at Bovada.
Giannis Antetokounmpo:
+1300
It's typically pretty difficult to quantify defense in the NBA. While we do have a couple of popular stat categories in blocks and steals on which to base some of our hot takes, those metrics don't typically paint the whole picture. Blocking a lot of shots doesn't necessarily make you a plus defender.
Just ask Andre Drummond or Hassan Whiteside.
Steals are a little more reliable, but there's much more to defense than just picking up steals.
We have some heavy, odds-on favorites in a number of other awards categories, but that isn't the case in the current NBA Defensive Player of the Year odds. How should you bet on NBA Defensive Player of the Year heading into the end of the regular season?
Marcus Smart (+120)
The Celtics have flown under the radar for most of the season, which is a bit surprising for one of the NBA's flagship franchises. Boston is tied with Milwaukee and Philadelphia for the second-best record in the Eastern Conference (49-30) entering the last few games of the season.
The Celtics' resurgent defense is the main reason this team is in a prime position to contend for a conference title this summer. Boston owns the NBA's best defense, as they're yielding just 103.8 points per 100 possessions.
In some years, the top defender on the league's stingiest defense wins Defensive Player of the Year. Marcus Smart is your current leader in NBA Defensive Player of the Year odds at +120, and with good reason. The Oklahoma State product has become one of the best all-around perimeter defenders in the sport.
Me listening to all the Marcus Smart DPOY hype pic.twitter.com/zUIGvGPEJ2

— CelticsBlog (@celticsblog) April 6, 2022
So far this season, the Celtics' defense has conceded four more points per 100 possessions with Smart off the floor than they have with him on it. Those kinds of numbers can be misleading, but it does give you a good glimpse into just how important Smart has been to the NBA's top defense. The Celtics have been below-average in that department with Smart off the bench, which makes his Defensive Player of the Year case pretty compelling.
Of course, this award has been dominated by big men over the years.
Rudy Gobert has won it three times since 2018. If Smart goes on to win it, the 6'3″ guard will become the shortest Defensive Player of the Year since the league started handing out the award back in the 1982-83 campaign. The 6'4″ Gary Payton, who won it in 1994-95, was the last guard to claim the award, as well.
Bam Adebayo (+300)
Much like the Celtics, you don't hear too much about the Heat. This is in spite of the fact that Miami (52-28) is a near-lock to finish as the No. 1 seed in the East. Miami also ranks fifth in the league in defensive efficiency, allowing 106 points per 100 trips down the floor.
You don't typically see Bam Adebayo mentioned in the discussions of the league's best centers, but perhaps it's time for that to change. The former Kentucky Wildcat ranks among the league leaders with an average of 1.4 steals per game, which ties him with Nikola Jokic for first among centers. Bam also blocks about a shot per game, which is fairly impressive for an "undersized" 6'9″ center.
Earlier this week, Adebayo said publicly that he believes he should win DPOY. His defensive versatility is what sets him apart from most other players at his position. Adebayo has the foot speed and agility required to step out and capably defend the perimeter. Most centers are too slow-footed for such things and prefer to patrol the paint.
"In my mind, I think I'm the Defensive Player of the Year,"

– Bam Adebayo ?
(h/t @AlexKennedyNBA ) pic.twitter.com/lENItrTdVe

— NBACentral (@TheNBACentral) April 1, 2022
When asked about Adebayo's useful defensive versatility, Heat head coach Erik Spoelstra said, "We want him to put his fingerprints on the game defensively in all different kinds of ways, in a lot of different schemes and guarding really every position, one through five. That's legit. That's not just a saying. Every single night at some point he will guard every single player … and he's one of the few guys in the league that can do that."
Bam was one of just three players to earn a first-place vote for Defensive Player of the Year a season ago.
He finished fourth last season and fifth the year before that. The NBA Defensive Player of the Year 2022 odds say Adebayo is among the frontrunners (+300) again this year. Smart seems to have a little more momentum as of now, but Adebayo certainly isn't a bad alternative at his current odds.
Mikal Bridges (+350)
As mentioned, Defensive Player of the Year is an award that has been dominated by big men over the years. However, without an obvious frontrunner this season, the door is suddenly open for a few non-centers to make their claims.
The Suns will tell you swingman Mikal Bridges belongs among the most likely candidates to win it in 2021-22. Phoenix is the runaway best team in the league. Tuesday's win over the Lakers was the Suns' 63rd of the year, which set a new franchise record.
Devin Booker and Chris Paul get most of the headlines for this team, but they wouldn't be where they are without the contributions of their immense crop of role players. Bridges, who is almost always tasked with guarding the other team's best player, is chief among them.
Count Draymond Green as someone who believes Suns' Devin Booker and Mikal Bridges should be taking home some NBA awards this season.#ValleyProud https://t.co/795dlG53wI

— 98.7 Arizona Sports (@AZSports) April 6, 2022
Suns players aren't the only ones advocating for Bridges to win Defensive Player of the year. Golden State's Draymond Green, who won this very award five years ago, says Bridges should win it this time around.
Green said on his internet series, "Mikal Bridges has to be in the conversation. What I like about Mikal Bridges is he's a good defender. He's not a good on-ball defender, he's a good defender. He's good on the ball, he's good off the ball, he can block shots weakside, he can plug passing lanes, he's in the right spot, he's always in help (defense). He's a good defender."
Green added, "There's some defenders that compromise your defense in order to be good defenders. Mikal Bridges don't compromise your defense to be a good defender. Mikal Bridges has to be in the conversation and is probably deserving to be the winner of it."
You won't often see players in the running for awards advocate for one of their direct rivals to win it, but that's high praise coming from one of the best defenders in NBA history. As a result, Bridges' +350 NBA Defensive Player of the Year odds look awfully alluring.
Rudy Gobert (+500)
If there is one player in the modern era that defines modern NBA defense, it's Rudy Gobert. You can pretty easily argue there is not any other single player in the sport that transforms his team's defense the way Gobert does with the Jazz. He's become a source of ridicule for opposing fans over the years, but there's no doubting the tremendous impact he has on Utah's team defense.
Gobert has won this award three times in the last four years.
He racked up 84 of a possible 100 first-place votes just last season. However, Utah's defense has fallen off a bit this year, and Gobert has endured some injury issues. The Stifle Tower has suited up in 63 of Utah's 79 games. That typically isn't enough missed time to disqualify Gobert for Defensive Player of the Year, however.
The Jazz are just 11th in defensive efficiency so far this year.
While Gobert clearly hasn't lost a step on that end of the floor, that's still a steep drop for a team that ranked third in the same category a season ago. It's worth noting the Jazz's defense is allowing seven more points per 100 possessions with Gobert on the bench than they allow with Gobert on the floor, but narratives tend to play a major role in awards voting.
A player with Gobert's track record will always be worth a flier, but Utah's overall defensive decline will likely cost him this time around. The value speaks for itself, but Gobert at +500 isn't my favorite way to bet on NBA Defensive Player of the Year this season.
Giannis Antetokounmpo (+1300)
Giannis Antetokounmpo, another former Defensive Player of the Year winner, checks in with the fifth-best odds this year at +1300. Giannis won this award two years ago while also claiming his second consecutive MVP trophy. Michael Jordan and Hakeem Olajuwon are the only other two players in the history of the NBA to win both awards in the same year. That's some pretty good company for the Greek Freak.
As is the case with the Jazz, however, the Bucks' defense as a whole has taken a step back in 2021-22. Milwaukee ranks just 14th in defensive efficiency on the year. They were 10th in that department last year, and they led the league in D-rating the year Giannis won DPOY. That steady regular-season dip hasn't made the Bucks any less threatening as an NBA title contender. Perhaps they're just not valuing regular-season games as much as they were earlier in Giannis' career.
As elite as Antetokounmpo is on the defensive end of the floor, we likely won't see him at his best in that regard until the playoffs roll around. Frankly, it would be weird for a player on a team ranked 14th in defense to make a legit claim for Defensive Player of the Year. Pass on Giannis' +1300 NBA Defensive Player of the Year odds.
Jaren Jackson Jr. (+1600)
The Grizzlies will earn some recognition at the end of the campaign, and rightfully so. The Grizz have essentially come out of nowhere to post their best season in franchise history. That isn't a very long franchise history.
Of course, but 55 wins (and counting) for a team many expected to contend for a play-in tournament spot is a remarkable feat.
Ja Morant is a heavy, heavy favorite to win Most Improved Player. Taylor Jenkins is among the favorites for Coach of the Year, too. Jaren Jackson Jr. is one of Memphis' many young talents, and he's generating a bit of Defensive Player of the Year buzz at +1600 odds, as well.
The addition of Steven Adams last summer helped fortify the Grizzlies' defense, but JJJ is really the team's rim protector. There's a reason he's earned the nickname "The Block Panther." Jackson's length has always been his best attribute as a player, and he's putting it to good use so far this season. Jackson is averaging a career-best 2.3 blocks per game, which leads the league.
In many years, the player leading the league in blocked shots has gone on to win Defensive Player of the Year. However, I think most voters have since advanced beyond simply relying on blocks as a way to judge overall defensive impact. JJJ may have a trophy awaiting him in the future, but there are better ways to bet on NBA Defensive Player of the year this season.
Robert Williams (+3500)
Were it not for The Block Panther, the "Time Lord" may well be leading the NBA in blocks so far this season. Robert Williams, who has become the lynchpin of Boston's league-best defense, has swatted an average of 2.2 shots per game this season.
Williams has always been a prolific shot-blocker, but this is his first season as the Celtics' full-time starting center. Williams averaged north of a block per game in each of his first three pro seasons despite never averaging even 20 minutes per game. In a career-high 29.6 minutes per game so far this year, his numbers have predictably improved.
Unfortunately, Williams will be sidelined for the next few weeks after tearing his meniscus late in the season. His absence takes a lot of the bite out of Boston's stingy defense.
It'll be interesting to see how they fare in the postseason without him.
Williams is another player that should rank among the perennial Defensive Player of the Year favorites, but Smart will likely earn more praise among Celtics this term.
Draymond Green (+10000)
Had he stayed healthy, Draymond Green likely would have won this award this season in a landslide. Golden State had the best defense in the NBA in the first half of the season, but they slipped back to the pack in that regard after Green went down. The 2016-17 Defensive Player of the Year missed just over two months between January and March with a back injury.
Draymond Green will definitely go down as one of the best 2nd round picks of all-time ? pic.twitter.com/AwADxeiDar

— Warriors Nation (@WarriorNationCP) April 5, 2022
Green is still arguably the game's best and most versatile defender, and his presence is enough to make the Warriors a title contender. However, he's only suited up for 43 games so far this season. That's enough to take him out of the running as a viable betting option, even with attractive +10000 NBA Defensive Player of the Year odds 2022.
Evan Mobley (+10000)
Evan Mobley is another player that figures to be in the running for this award every single year for the foreseeable future. Unfortunately, rookies don't typically gain much traction when it comes to winning Defensive Player of the Year.
In fact, no rookie has ever won it.
That doesn't mean it can never happen, but Mobley is a +10000 long shot for a reason.
I do think he deserves a little more praise for his ability to defend multiple positions as a seven-footer, but a rookie winning it this year would be a massive surprise.
Matisse Thybulle (+20000)
Matisse Thybulle is essentially the Eastern Conference version of Mikal Bridges. He'll rarely put up noticeable offensive numbers, but he has a major role on a contender because of his defensive prowess.
Sixers' president Daryl Morey has long been on the Thybulle-for-DPOY train. You can bet he'll continue to tout his young forward via social media and through the press, but Thybulle likely isn't a big enough name to win Defensive Player of the Year…yet.
You probably won't find a player with a more favorable defensive reputation around the league, but it's hard to have too much faith in his massively long +20000 Defensive Player of the Year odds.
Joel Embiid (+25000)
Joel Embiid is mounting a serious push to win league MVP.
At this point, that award will likely come down to Embiid or Nikola Jokic.
The Sixers' center is still averaging a healthy 1.5 blocked shots per game, but other contenders have surpassed him this season when it comes to this award.
Deandre Ayton (+30000)
If you think a Sun wins this award, Mikal Bridges makes for a much better way to bet on NBA Defensive Player of the Year.
Who Wins NBA Defensive Player of the Year?
This is one of the few awards that will likely come all the way down to the wire. Marcus Smart (+120) is a worthy frontrunner, but I'm not convinced he should be that heavy a favorite.
It wouldn't surprise anybody if either Adebayo (+300) or Bridges (+350) won it instead.
Given the NBA Defensive Player of the Year odds, I think Bridges (+350) stands out as the bet with the most value. I'd take a shot on Bam after that (+300) before settling on Smart at +120.
I'll rank my favorite Defensive Player of the Year bets for 2022 as follows: