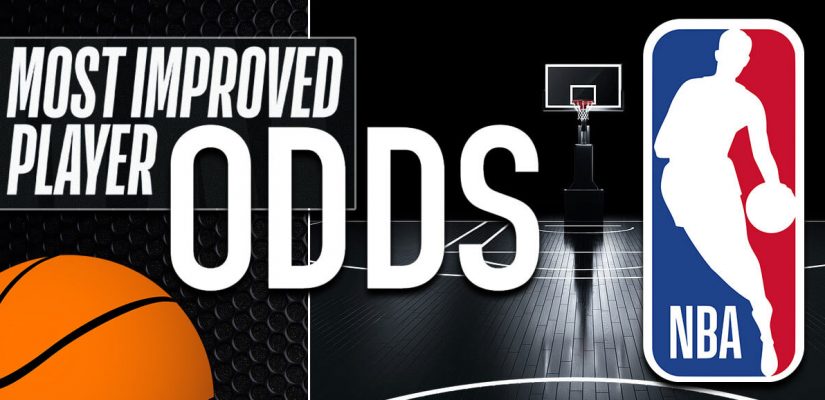 In recent years, the NBA's Most Improved Player Award has served as a springboard. Over the past decade, a number of the biggest names in the league have won Most Improved Player.
Giannis Antetokounmpo, Jimmy Butler, CJ McCollum, Paul George, and Kevin Love are just a few luminaries to have won it since 2011. This is always one of the most fascinating races of the NBA's awards season. Watching young players blossom into stars is one of the most fun aspects of NBA fandom, and we know there is no shortage of quality young talent around the league these days.
As a result, the field of contenders, per the NBA Most Improved Player odds, looks quite impressive in 2021-22. Which player is the best bet to win Most Improved Player?
NBA Most Improved Player Odds 2022
NBA Most Improved Player betting odds via Bovada.
This award is always interesting for a variety of reasons. In some years, the winner is a young player that simply shows signs of improvement following a rough season or two. In other years, we see players already considered young stars rewarded when they make the leap to superstardom.
Julius Randle, last year's winner, was already an established NBA veteran by the time he won it. The former lottery pick bounced around the league a bit before enjoying a breakout season in his first year with the New York Knicks.
This year's field seems to have a mix of both categories. Ja Morant, the betting favorite, has been on everybody's radar for years already. However, the likes of Anfernee Simons, Desmond Bane, and Miles Bridges have quietly turned themselves from benchwarmers into key starters for their respective teams.
Ja Morant (-3000)
Were it not for injuries, the Most Improved Player Award might not be the only trophy for Ja Morant this season. The Grizzlies' third-year guard is currently on the fringes of the MVP race, but he's highly unlikely to earn much recognition. However, Morant is a massive -3000 favorite in this category, per the NBA Most Improved Player odds 2022.
Through 56 games, the Murray State product is averaging a career-high 27.6 points along with 6.7 assists and 5.7 rebounds per game.
His scoring average is up at the expense of his assist totals, but that's a trade the Grizzlies will gladly take given the results. Thanks in large part to Morant's incredible season, Memphis is 55-23 and in second place in the Western Conference. Memphis needs two victories over their final four games of the year to set a new franchise single-season record for wins (57).
Can anybody explain the Grizzlies without Ja Morant thing?

– 10 wins a row in games without him
– 20-2 record overall without him
– Net rating is 3.8 points per 100 possessions better with him on the bench

Is Memphis actually better without Morant?

— Greg Ehrenberg (@gehrenbergdfs) April 5, 2022
Morant's scoring average jumped considerably from year two to year three. He contributed 19.1 points per game last year on 44.9 percent shooting from the field. He's up to nearly 50 percent from the floor this term, as well.
Morant has clearly improved quite a bit over his first three years as a pro.
But I'm a bit surprised he's such a massive favorite, according to the NBA Most Improved Player odds. There are quite a few legitimately good contenders this year, yet the odds suggest Morant is essentially a lock to win it at -3000.
Darius Garland (+700)
Like Morant, Darius Garland is a former lottery pick that earned his first All-Star nod this year. Garland was taken three picks behind Ja with the No. 5 overall selection back in 2019. After a couple of tough years, the former Vanderbilt Commodore has really come into his own in 2021-22.
Thanks, in part, to injuries to Collin Sexton and Ricky Rubio, Garland has been forced to take on a bigger role with Cleveland in year three. He's up to a career-high 21.6 points per game after he averaged about 17 a year ago. Unlike Morant, however, Garland hasn't really improved upon his shooting percentages. His scoring average seems to have taken a leap as a result of higher volume, more than anything else.
Garland's biggest leap has come in the assist department. His 8.6 dimes per game rank sixth in the league, and it's a marked improvement over the 6.1 he averaged last year.
Sexton's absence for most of the season means Garland constantly has the ball in his hands for the new-and-improved Cavaliers. However, because Morant is such a huge favorite, you can get Garland at fairly long +700 Most Improved Player odds.
Dejounte Murray (+2000)
Sensing a trend yet? Murray is the third young point guard fresh off of the first All-Star appearance of his young career. With DeMar DeRozan leaving for Chicago over the summer, Gregg Popovich handed Murray the keys to the Spurs' offense for the first time.
It didn't take long at all for the former first-round pick to make the leap from prospect to franchise centerpiece.
Murray is averaging career-highs in points (21.2), rebounds (8.4), and assists (9.3) on better than 46 percent shooting from the field. Scoring from beyond the arc still isn't his strong suit, but Murray is athletic and long enough to do all sorts of damage in the paint. He's averaging a career-high 18.3 shot attempts per game, as well.
I Randomly Got Sick And It Sucks It Happen At This Crucial Time While Me And The Team Are Rolling. I Lost 7-8 Pounds And Been Feeling Awful And Doing Everything To Get Healthy First Then Working Out To Get Ready To Help The Team Get In This Play In And Fight For The Playoffs. ??

— Dejounte Murray (@DejounteMurray) April 4, 2022
The Spurs haven't taken off as a team the same way Morant's Grizzlies or Garland's Cavs have, which may be why Murray is all the way down at +2000 in the NBA Most Improved Player betting odds.
However, it's worth noting Murray is putting up gaudy offensive numbers while also supplying the Spurs with his standard stout defense. The former All-Defense Second Team member leads the league with an average of two steals per game. Murray is another candidate that has the numbers to win this award in most years.
This year, however, he has been almost completely overshadowed by Morant, who was voted in as an All-Star starter at Murray's expense.
Miles Bridges (+2000)
If they gave out the Most Improved Player Award in November, Miles Bridges might've won it. Now, though, he has fallen back into the pack. Bridges' +2000 Most Improved Player betting odds tie him with Murray for the fourth-best of any player in the field.
It took a while for Bridges to develop into the player he is today.
The former Michigan State standout spent most of his first three years in the league playing a small role off of the Hornets' bench. He started to make strides late last year before becoming a full-time starter for the first time last fall.
In his first full campaign in that role:
Bridges is averaging 20.3 points, 7.1 rebounds, and nearly four assists while logging nearly 36 minutes a night. Bridges had never averaged more than 13 points in any of his first three years in the league. As is the case with most players in the running for this award, Bridges' vastly improved numbers are likely a result of a better opportunity than anything else.
Like most of the other players in the running, Bridges' Most Improved Player case has fallen by the wayside as a result of Morant's incredible run. Ja's late-season injury could open the door to another player, but I'm not sure Bridges is worth the gamble at the +2000 Most Improved Player odds.
Desmond Bane (+4000)
One of the reason Morant's -3000 Most Improved Player betting odds are so surprising is because one of his own teammates is a legitimate candidate, as well. Desmond Bane, who spent most of last season as a little-used bench piece for Taylor Jenkins, is now firmly entrenched as Morant's running mate in the Memphis backcourt.
The former TCU sharpshooter averaged a modest 9.2 points per game in barely over 22 minutes a game last season playing primarily in a reserve role.
Bane has started in all 73 of his appearances so far this season, and the results have been tremendous. The 23-year-old has upped his scoring average to 18.2 points per game, nearly doubling his rookie year production.
The Memphis Grizzlies starting lineup of Ja Morant, Dillon Brooks, Desmond Bane, Jaren Jackson Jr., and Steven Adams has only played 96 minutes of game time together this season.

Despite this, the team is still 54-23, the 2nd best record in the NBA.
??? pic.twitter.com/1QZSGpn0ZA

— GrizzMuse (@GrizzlyMuse) April 1, 2022
Bane is also shooting 43 percent on a whopping seven three-point attempts per game.
He's quickly become one of the game's most dangerous volume shooters from downtown and a major reason for the Grizzlies' unexpected rise to the top of the Western Conference standings. Bane may not have a handful of All-Star selections awaiting him in the future, but that isn't the criteria for Most Improved Player, anyway. I think you can do worse than taking a stab at Bane's current +4000 Most Improved Player odds.
He should be more of a frontrunner than that number indicates.
Tyrese Maxey (+6000)
Part of the reason the Sixers were comfortable trading Ben Simmons for James Harden was because of the rapid development of Tyrese Maxey. Maxey was reportedly a hot commodity on the trade market, but Sixers president Daryl Morey ultimately refused to include the second-year guard in any deal.
The NBA boasts an almost embarrassing amount of promising young guards, which may cause Maxey to go overlooked by the masses. However, it's hard not to be impressed by what he's already accomplished in his young career. After averaging 8.0 points per game off the bench last year, Maxey has upped his scoring average to 17.1 per game in his sophomore campaign.
Perhaps most impressively of all, Maxey has improved his three-point shooting stroke. After hitting about 30 percent of his triple tries last year, Maxey is up to nearly 42 percent on even higher volume in 2021-22. He's taking exactly four three-pointers per game after attempting just 1.7 per game a season ago. Shooting a significantly higher percentage on much more volume is the very definition of improvement.
Because he plays alongside Joel Embiid and James Harden, however, Maxey's exploits haven't generated many headlines. That, of course, will be a detriment to his Most Improved Player case.
Anfernee Simons (+20000)
This season has been a nightmare for the Trail Blazers, but there have been a couple of bright spots. Chief among them is Anfernee Simons, who finally appears primed to take over as the next face of the Blazers' franchise.
In 57 games this season, including 30 starts, Simons averaged 17.3 points and nearly four assists per game. Those numbers don't look that impressive until you see that he never contributed more than 8.3 points per game in any of his first three NBA seasons.
Simons has spent the vast majority of his career buried on the bench behind Damian Lillard and CJ McCollum. However, Lillard's injuries and McCollum's eventual trade to New Orleans opened the door for Simons to play a major role for the first time.
Is Anfernee Simons poised for stardom?

In 30 games as a starter, the 22-year-old averaged 22.0 points, 5.5 assists, 4.1 threes and 2.8 rebounds on 45.2/41.5/87.1 shooting splits.

Can he become the fourth @trailblazers player to win Most Improved? https://t.co/mtjwcRoy7D

— Alex Kennedy (@AlexKennedyNBA) March 29, 2022
Simons' excellent showing was one of Portland's justifications for trading McCollum. Simons is still only 22, and he knocked down 40.5 percent of his three-point attempts on nearly eight tries per game.
His combination of athleticism and marksmanship makes him a very tantalizing player around which to build over the next few years. I do think Simons has a chance to actually win this award next year, assuming he improves further as a full-time starter.
Appearing in only 57 games will likely cost him some votes this year. For now, I'll pass on Simons at his long +20000 NBA Most Improved Player odds 2022.
Who Will Win Most Improved Player?
The NBA Most Improved Player odds tell us Ja Morant is almost surely going to win the award in a few weeks. While I do think some of the other candidates are going undervalued by oddsmakers, there's a reason Morant is a huge favorite at every major NBA betting site.
The Grizzlies have been the league's most pleasant surprise, and Morant has firmly established himself as arguably the best young point guard the league has to offer. If you want, it is certainly viable to throw a few bucks down on the likes of Garland (+700), Murray (+2000), or Bane (+4000). As mentioned, any of the three would likely be betting favorites in any other year. As of now, this is just Morant's award to lose.
There isn't much upside in Morant's -3000 NBA Most Improved Player betting odds, but he is, undoubtedly, the most likely bet to cash at this point.