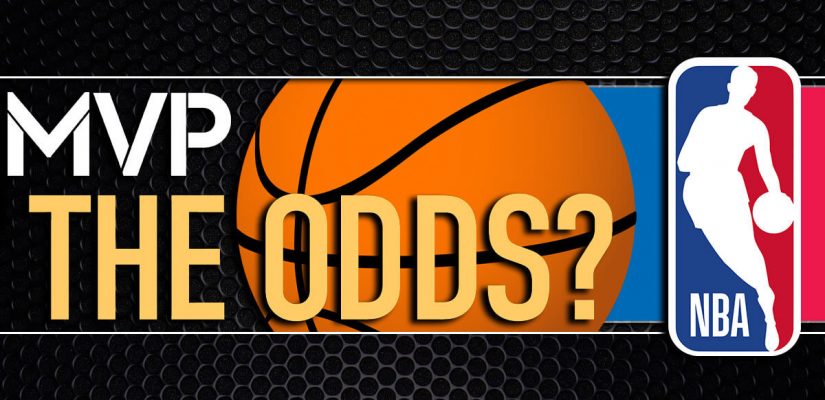 These days, the NBA individual awards races are almost as compelling as the dash to the postseason. 20 of the NBA's 30 teams qualify for some sort of postseason play, which, admittedly, saps some of the drama of the regular season's latter stages.
Of course, there can only be one MVP.
There have never been co-MVPs in the 75-year history of the league. In most years, the MVP race is all but decided by this point. There is less than a week left in the season, and most teams know their playoff fates by now.
However, the updated NBA MVP betting odds indicate this is still a three-horse race. Denver's Nikola Jokic is the odds-on favorite, but Philadelphia's Joel Embiid and Milwaukee's Giannis Antetokounmpo are still very much in the discussion.
You can be sure NBA betting sites will be updating their odds with each passing game over the course of the final week of the season.
Which international star is the best bet to win MVP?
NBA MVP Betting Odds 2022
NBA MVP odds via BetOnline.ag.
Giannis Antetokounmpo:
+350
As you can see, all three frontrunners have odds at +350 or below. Antetokounmpo, a two-time winner of this award, is the long shot of the trio at +350. Jokic is still a fairly heavy -300 favorite, while Embiid's NBA MVP betting odds have slumped to +275.
Luka Doncic undoubtedly has at least one NBA MVP award in his future, but he'll have to wait at least another year. The Mavs' young phenom is ending the season on a high, but he doesn't have the full-season body of work to match the three leaders.
Devin Booker likely falls victim to the Suns' well-rounded offense. DeMar DeRozan's case has worsened with the Bulls' recent struggles, while Ja Morant likely won't play in enough games to earn much serious consideration from voters.
Nikola Jokic (-300)
As you can see, the NBA MVP betting odds indicate Jokic is now a clear favorite to capture the trophy. If he goes on to win it, Jokic will become the third player since 2015 to win back-to-back MVPs. Antetokounmpo did so in 2019 and 2020.
While Stephen Curry accomplished the feat in 2014 and 2015.
Thanks in large part to Jokic's incredible play, the Nuggets are fifth in the Western Conference at 47-32 on the year. Without Jokic, this team likely would've struggled to qualify for the play-in tournament. Despite a seemingly endless array of injuries, Jokic has been one of the few constants for Mike Malone's squad.
jokic really went into LA to beat AD and got MVP chants from lakers fans lmfao

— ₁₅?????????? ? (@JokerWRLD) April 3, 2022
Through 72 games, the 27-year-old is averaging 26.8 points, 13.7 rebounds, eight assists, and nearly two blocks/steals per game. Remarkably, he seems to be getting stronger as the year goes on. Over his last five games, the Joker is up to 34.8 points, 16.2 rebounds, and 8.4 assists. The Nuggets are 4-1 in those games, as well.
Last year, Jokic claimed 91 of the possible 100 first-place MVP votes.
Voters are generally more inclined to reward a first-time winner, but it will be very difficult for them to deny the Nuggets' All-Star a second consecutive trophy this term. The fact that Jokic is playing his best basketball of the season at this late stage – which is no small feat – will only strengthen his MVP case.
Joel Embiid (+275)
For the second consecutive year, Joel Embiid actually emerged as the MVP frontrunner in the middle of the season. Embiid got off to a fairly slow start by his standards, but really picked things up around January.
Embiid actually had the best NBA MVP betting odds of any player in the league. Jokic only recently made his move. As is the case with Doncic, it's hard to imagine Embiid won't win an MVP award at some point in his career. All he's done so far this year is average a career-high 30.2 points per game along with 11.6 assists, 4.2 rebounds, and 1.5 blocked shots. Embiid is narrowly behind LeBron James (30.3 points per game) in the race for the scoring title, though Antetokounmpo (30.1) isn't far behind, either.
If Embiid comes from behind to win the scoring crown, he'll be the first center to do it since Shaquille O'Neal in 1999-2000. Of course, Shaq also won his one and only MVP award that same year.
If LeBron wins the scoring title, he'll be the oldest player in NBA history to win it. If Giannis wins the scoring tittle, he'll be the only player beside Michael Jordan to win MVP, DPOY, FMPV, and scoring title. If Embiid wins, he'll be the first center since 2000 Shaq to do it. pic.twitter.com/GjSvcwq3mL

— LeDrumstick (@LeDrumstick1) April 3, 2022
Embiid's Sixers (48-30) do have a slightly better record than Jokic's Nuggets, but will voters punish Embiid for playing next to another ex-MVP? It's silly, but some voters do take into account how any team may fare without that MVP candidate on the floor. In all likelihood, the 76ers would still be a playoff team even without Embiid, thanks to the presence of Harden. That likely wouldn't be the case for a Jokic-less version of the Nuggets.
It's an utterly pointless exercise, but that is the logic some voters will use to justify their adjudications.
It's also worth noting that Embiid is ending the season on a high, as well. He averaged 30.5 points and nearly 13 rebounds per game in March. Over his last five outings, the big man is going for averages of 35.2 points, 15 rebounds, and 1.8 blocks. That includes an incredible 44-point, 17-rebound, five-block effort in Sunday night's win over the Cavaliers to help clinch a playoff spot for Philly.
Giannis Antetokounmpo (+350)
Antetokounmpo has trailed Jokic and Embiid in NBA MVP betting odds for most of the season. The two-time winner entered the year at +750 to win it for the third time. If he does, he'll become just the ninth player in league history to win at least three MVPs.
Giannis added an NBA Finals MVP trophy to his mantle last summer, but Milwaukee's title defense season hasn't necessarily gone as planned.
That said, the Bucks are another team getting healthy and playing their best basketball at the right time. All the Greek Freak has done through 64 games so far this season is post averages of 30.1 points, 11.6 rebounds, 5.8 assists, and 1.4 blocks. In most years, those numbers would easily carry him to another MVP trophy.
Once upon a time, Giannis said that he wanted to be the MVP and all of the reporters laughed at him pic.twitter.com/w1M1hZZGey

— Justin Wills (@itsjwills) April 2, 2022
At this point, it almost feels like we aren't fully appreciating the greatness right in front of us. Antetokounmpo is in the midst of one of the finest statistical seasons we've ever seen, yet he's likely, at this point, to finish no better than third in the MVP voting. If he does it, this will be the first time in Antetokounmpo's career that he will have averaged at least 30 points per game.
The chorus of pro-Giannis MVP chatter has loudened as a result of Antetokounmpo's stellar play to close the season.
Over his last five games, all he's done is average 33.4 points, 13.2 rebounds, and 4.6 assists. That includes a 40-point, 14-rebound showing in the Bucks' win over Embiid's Sixers last week in Philadelphia. After that game, Giannis' NBA MVP betting odds improved from +1000 to +500 at BetOnline. Another two strong showings caused his odds to improve even further to +350.
Luka Doncic (+10000)
The leap from Giannis at +350 to Luka at +10000 is a huge one. Doncic is still on the fringes of the MVP race, but it's too little, too late. The NBA is almost embarrassingly loaded with young superstars these days, and Doncic is the headliner.
In just his fourth NBA season:
The 23-year-old is averaging 28.3 points, 9.1 rebounds, and 8.7 assists per game. Slow starts have cost Luka considerably over the last two years when it comes to MVP.
The Slovenian star has come into training camp woefully out of shape, and it's taken him quite a bit of time to round into form. Meanwhile, more seasoned pros like Jokic, Embiid, and Antetokounmpo are putting up monster numbers wire-to-wire.
In 6 wins since March 1, Luka Doncic has outscored 7 fellow All-Stars — LeBron, Steph, Mitchell, Rudy, Tatum, KD and Giannis — by a combined 48 points.

All while Mavs' defense had its worst month.

How Luka keeps outplaying NBA's best in low-key MVP push: https://t.co/wI6foJOuin

— Callie Caplan (@CallieCaplan) April 4, 2022
Mark Cuban said earlier this year that he believes the light has come on for Luka this year in terms of knowing how to better prepare himself for the rigors of an 82-game NBA schedule.
Next year, I do not expect Doncic to show up to camp needing to play his way into shape.
Don't be surprised if Luka opens next year as the early NBA MVP betting favorite. For now, though, he's nothing more than a flier to win it this year at the long +10000 NBA MVP betting odds.
Who Will Win NBA MVP?
NBA MVP betting is all about timing.
The odds themselves fluctuate over the course of every season.
With the schedule running from October into April, you have plenty of opportunities to get a good bang for your buck.
The writing seems to be on the wall when it comes to this year's MVP award. At this point, it is Jokic's to lose. The NBA MVP betting odds indicate exactly as much. It's not impossible to think either Embiid or Antetokounmpo could make things interesting over the final week of the season, but I see no reason to believe Jokic will slow things down any time soon, either.
Given how likely he is to win it, you can still argue there's some value left in Jokic's -300 NBA MVP odds.
If you want a little more upside with a little more risk, both Embiid (+275) and Giannis (+350) offer some value. Of course, you're making that bet with the knowledge that you're not particularly likely to win it. Both players would have to continue their dominance while Jokic comes back down to earth over the past few games. It's possible, but not all that likely.
Jokic will win the award for the second straight year, and deservedly so. Take a shot on Jokic's -300 NBA MVP betting odds before they shorten even further.