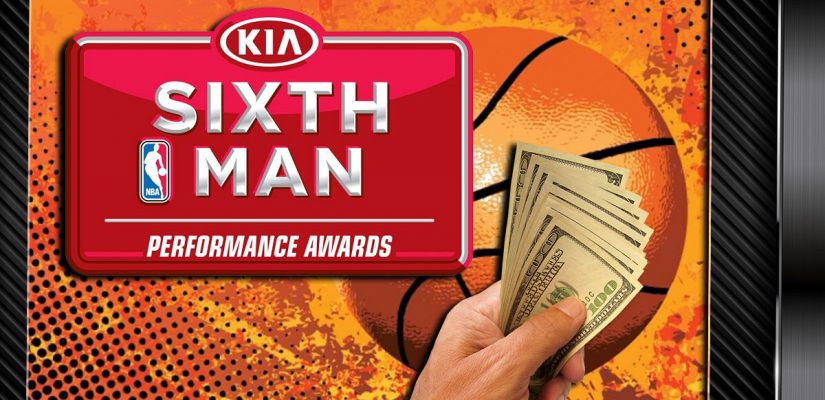 The NBA's Sixth Man of the Year Award is one of the most fascinating races to follow every year. In case you didn't know, Sixth Man of the Year is designed to recognize the top bench player in the league every season. For whatever reason, some players tend to perform better when they play a reserve role.
This award has one simple stipulation. Every candidate has to come off the bench for more games than he starts. So, you can still technically take home Sixth Man of the Year even if you start 40 games in a season. That said, voters tend to shy away from voting for players that essentially split time between the starting unit and the bench.
NBA betting sites constantly keep tabs on the latest development in the major awards races every year. Of course, Sixth Man of the Year is no exception.
NBA Sixth Man of the Year 2022 Odds
Bet on NBA Coach of the Year betting at Bovada.
Tyler Herro (Miami):
-10000
Kelly Oubre Jr. (Charlotte):
+6600
Kevin Love (Cleveland):
+6600
Montrezl Harrell (Charlotte):
+12500
Jordan Clarkson (Utah):
+15000
Buddy Hield (Indiana):
+15000
Cameron Johnson (Phoenix):
+15000
A handful of players have dominated this award over the past decade. Jamal Crawford and Lou Williams have each won Sixth Man of the Year three times since 2010. However, Crawford's recent retirement and Williams' descent into relative obscurity in Atlanta will open the door for others in the years to come.
Tyler Herro (-10000)
As you can see, however, the Sixth Man of the Year 2022 odds are skewed very, very heavily in favor of Miami's Tyler Herro to win it. Herro became the betting favorite after a strong start to the season, and he hasn't softened his grasp on the trophy as the campaign has progressed, either.
Herro has played in a total of 65 games for Miami this season with only 10 starts.
So, he'll certainly qualify. The sharpshooting swingman is averaging 20.8 points, 5.0 rebounds, and just under four assists per game in nearly 33 minutes a night. Most bench players don't even sniff 30 minutes a game, yet Herro plays an absolutely crucial role for Erik Spoelstra's Heat.
Tyler Herro's play since All-Star break has been strong #miamiheat https://t.co/34jma3HE7o

— Shandel Richardson (@ShandelRich) April 7, 2022
Herro is one of the few bench players in the league that closes almost every game. The Kentucky product leads all bench players in scoring average by a wide margin.
After struggling last year in his second pro season, Herro has bounced back in a big way as an NBA junior.
As was the case after his rookie year, Herro suddenly looks like a building block for Miami's bright future. As the Sixth Man of the Year odds indicate, he's almost a lock to win the award this year at -10000.
Kelly Oubre Jr. (+6600)
No other player has more favorable Sixth Man of the Year NBA odds than Kelly Oubre Jr. at +6600. That pretty much sums up the competitiveness of the race at this point.
Is Kelly Oubre Jr. even the best sixth man on the Hornets?
Debatable. Oubre is averaging a solid 15 points per game so far this season for Charlotte, and just 13 of his 73 appearances on the season have been starts. The Hornets signed Oubre last offseason to serve as a microwave-type scoring option off the bench, and he's filled that role nicely in his first year with the team.
However, his playing time has fluctuated considerably over the course of the season. Oubre is averaging 26.5 minutes per game on the year, but that playing time has dwindled to about 19 minutes per game since the beginning of March. At this point, you can argue Cody Martin is a more important piece to James Borrego's bench rotation than Oubre is.
There is certainly upside to be had in Oubre's Sixth Man of the Year odds if he somehow wins it, but his chances of doing so are incredibly slim.
Kevin Love (+6600)
Frankly, Kevin Love's Sixth Man of the Year NBA odds should be much better than Oubre's. The former All-Star is no longer a franchise cornerstone for the Cavs, but he has played extremely well this season as a gunner off the bench. If Comeback Player of the Year were an NBA award, Love may well be the frontrunner.
The resurgent forward is averaging 13.4 points and better than seven rebounds per game on the year.
Those numbers don't jump off the page, but keep in mind he's only logging about 22 minutes per game. Love is still a major threat from beyond the arc, as evidenced by his 38.5 percent accuracy from three-point range, as well.
Kevin Love for Sixth Man of the Year?@johnhollinger makes the case.

"His return to being a floor-spacing, rebounding, out-letting menace is one of the biggest reasons the Cavs are a winning team again."https://t.co/KGq5p4GDsT pic.twitter.com/MKeWyUB3G1

— The Athletic NBA (@TheAthleticNBA) April 6, 2022
Even with Evan Mobley and Jarrett Allen injured, JB Bickerstaff prefers to keep Love in his bench role. The 33-year-old has just four starts across his 72 appearances on the season. Love would be the best bet to win if Herro didn't, but it's still hard to have too much confidence in Love's chances given his +6600 Sixth Man of the Year odds.
Montrezl Harrell (+12500)
Montrezl Harrell won Sixth Man of the Year two years ago with the Clippers before finishing among the leading vote-getters behind Utah's Jordan Clarkson a season ago.
Harrell is on his third different team since leaving the Clippers, however.
He began the season in Washington before a midseason trade sent him to Charlotte.
Harrell played a crucial bench role for the Wizards earlier in the year, but Charlotte doesn't rely nearly as heavily on the limited big man. In about 21 minutes per game with the Hornets, Harrell is averaging 11.3 points and five rebounds per game. His playing time has declined since he averaged north of 24 minutes per game off the Wizards' bench early on.
Harrell seems to be grandfathered into the Sixth Man of the Year odds this year at +12500. I see no actual reason for him to be a viable bet to actually win it this time around.
Jordan Clarkson (+12500)
Jordan Clarkson opened the year as the favorite, per the early-season Sixth Man of the Year 2022 odds, but his chances have dipped considerably ever since. This is in spite of the fact that Clarkson is playing the exact same role in which he thrived for the Jazz in 2020-21.
He just hasn't played nearly as well in said role.
After averaging north of 18 points per game off the Utah bench last year, Clarkson's scoring average has declined to 16.2 this season. That still ranks among the league leaders among reserves, but well behind Tyler Herro.
Clarkson still gets plenty of usage with the Jazz's second unit, but his marksmanship has fallen off from where it was last season, too. At this point, Clarkson is more of a volume scorer than a guy Utah can rely on to score with much efficiency. The Jazz, as a whole, have fallen off this season, as well, which will likely cost them in the various award races.
Clarkson may have another Sixth Man of the Year trophy in his future, but it won't be coming this year.
Buddy Hield (+15000)
Buddy Hield is no longer wasting away in Sacramento, which is likely good for his future. However, I wouldn't say his situation with the Pacers is a whole lot better.
Hield has fared much better since swapping his Kings uniform for a Pacers one. Buddy quickly fell out of favor with the Kings' coaching staff earlier in the year, but Rick Carlisle has been happy to rely heavily on the sharpshooting veteran.
Hield started just six of his 55 appearances with Sacramento earlier in the year. Since moving to Indiana, Hield has started all 24 games.
Since joining the Pacers, Buddy Hield is averaging a career high in assists (4.9 assists per game).

I introduce you to, Buddy Dimes. pic.twitter.com/jSTkVq6uBT

— Alex Golden (@AlexGoldenNBA) April 3, 2022
Buddy is averaging north of 18 points per game with the Pacers after contributing just 14 points per with Sacramento. Unfortunately, most voters likely won't view Hield through the sixth man lens now that he's entrenched as a full-time starter in Indiana. He wouldn't be the worst wager at those +15000 Sixth Man of the Year odds, but he's unlikely to garner much enthusiasm among those that vote on the award.
Cameron Johnson (+15000)
If you want a long-shot flier with a remote chance of cashing, Cameron Johnson is your guy. Johnson was indispensable for the Suns during their run to the NBA Finals last year. He's picked up right where he left off this season, as well.
At long +15000 odds, Johnson looks supremely undervalued by those that make NBA Sixth Man of the Year odds.
With Jae Crowder and Mikal Bridges starting on the wing, Johnson is free to get a bit more usage with the Suns' second unit. In 64 games this year, the North Carolina product is contributing about 13 points and four rebounds per. He has also started just 15 of those 64 games, so he's certainly qualified for the award.
Who Will Win Sixth Man of the Year?
The issue with the vast majority of these candidates, of course, is that Herro is such a gigantic favorite.
Betting on anybody not named Tyler Herro is likely to result in you winning $0. As much as I think Cameron Johnson can win this award in the future, that triumph is highly unlikely to come this term. You are not getting any upside whatsoever in Herro's -10000 Sixth Man of the Year odds, but you should feel pretty confident in your bet's chances of cashing.
It's boring, but Tyler Herro is your 2021-22 NBA Sixth Man of the Year.