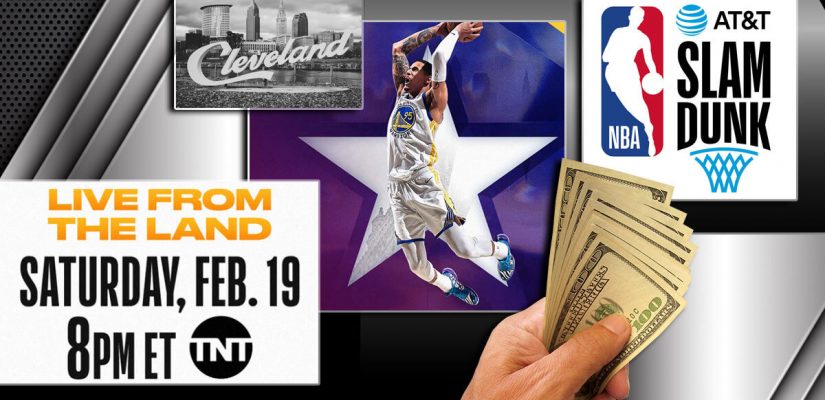 The NBA Slam Dunk Contest will take its place as one of the usual highlights of All-Star Weekend when it goes down on Saturday night in Cleveland. Four aerial artists will take center stage trying to impress the judges with their throwdown.
Those betting on the action should know all the participants and the angles before they make their selections, which is what this preview is intended to do.
You can have the Home Run Derby or the NHL Skills Contest. For our money, there is no All-Star Game extra in professional sports that can hold a candle to the Slam Dunk contest. Ever since Larry Nance dunked two balls at once to win the first ever contest, we've been entranced by the exploits of these incredible athletes.
Larry Nance made this dunk to secure victory in the inaugural NBA Slam Dunk Contest, then continued his ascenscion into space where he began farting a rainbow trail behind himself. pic.twitter.com/wz0ChOrf71

— Super 70s Sports (@Super70sSports) January 24, 2020
This year's contest should be a thriller as well, with a packed crowd on hand at the Rocket Mortgage FieldHouse in Cleveland, Ohio cheering on the participants. We'll be watching closely regardless because if you look away, you might miss an incredible dunk. The four guys who are taking part this year have the ability to really soar and potentially do something no one has seen before.
You can also wager on the event if you choose:
Picking the winner out of the four possibilities. The dunk contest isn't the easiest thing in the world to forecast. But that also means that there is rarely an overwhelming favorite, meaning that you can excellent odds on just about any of the picks you make.
We're here to take an in-depth look at those NBA Slam Dunk Contest betting odds at top gambling sites. To do that, we'll take a look at the recent past in the event and also tell you all the details. And we'll also go through this year's dunkers and we'll give you our pick for who we think will win this mesmerizing event.
Who Won The Slam Dunk Contest?
In last year's event, Portland Trail Blazers guard Anfernee Simons was able to win the Dunk Contest in his first ever appearance. Here are the winners of the last five events:
2021:
Anfernee Simons, Portland
2020:
Derrick Jones Jr., Miami
2019:
Hamidou Diallo, Oklahoma City
2018:
Donovan Mitchell, Utah
2017:
Glenn Robinson III, Indiana
Over the years, there have been a few players who have been able to pull off multiple dunk contest victories. Here are the multiple winners:
Of those players, only LaVine is active. While he'll be in Cleveland this weekend as a participant in the main All-Star Game, he will not be in the Dunk Contest. That means that we'll be looking at a brand new champion being crowned on Saturday night.
The only one of the four players competing who have been in the contest before is Obi Toppin, who finished second out of three competitors a year ago.
The others will be making their debuts. We'll see if the fact that Toppin was in it before will give him any advantage when it comes to the 2022 Slam Dunk Contest.
Where is the Slam Dunk Contest?
This year's Slam Dunk Contest will be part of the NBA All-Star Weekend festivities in Cleveland, Ohio. The arena is the Rocket Mortgage FieldHouse, home of the Cleveland Cavaliers.
No Cavaliers are in this year's Slam Dunk Contest, so there won't be any home court advantage for any of the participants.
The contest takes place on Saturday night to cap off a complete evening of All-Star Weekend festivities. Here is the order in which the events will go down, starting at 8 PM Eastern Time:
As usual, the Slam Dunk Contest, being the biggest attraction, is the last event of the evening. By that time, the crowd should be really revved up. Keep the schedule in mind as you prepare to make your wagers based on the NBA Slam Dunk Contest betting odds you receive from the gambling site of your choice.
Rating The 2022 NBA Slam Dunk Contest Competitors
After last year's All-Star Game witnessed just three players competing, the league once again expanded to a quartet of dunkers. That was the number from 2015 through 2020. Each dunker will get a chance at a preliminary round, with the top two making it to the finals.
Judges will determine who moves on and who wins with their scores.
That's usually the most controversial aspect of the NBA Slam Dunk Contest. After all, ranking dunks is a subjective matter, and no two people see a dunk in exactly the same way.
Let's take a look now at the four men who will be competing. We'll give a quick overview of their qualifications as well as looking at their odds. And we'll also talk about their overall outlook as a possible winner of this year's contest.
Jalen Green, Houston (+130)
Green has been an exciting find for Houston out of last year's NBA Draft in the first round, taken with the second pick overall behind Cade Cunningham. The Rockets are a young team and they've been going with the extremely inexperienced backcourt of Green and Kevin Porter Jr.
After skipping college and posting big numbers in a brief stint in the G League last year, Green has predictably experienced some ups and downs, all while showing a ton of promise. He is currently averaging a solid 14.4 points per game, albeit in inefficient fashion (just 38 percent shooting.) Yet at 6'4", he's shown an excellent ability to get to the basket for dunks. In 42 games played, he has managed 33 throwdowns, a pretty good percentage for his size and positioning.
Green might have just what it takes to capture the attention of the crowd as well, as the guy is only 19 years old. Several of the dunks he's managed in games have been of the highlight-reel variety. It's understandable that he's the favorite coming into this year's contest.
The worry here is that you're getting the least value in what is a relatively unpredictable contest. But he is definitely a guy who can light up a crowd with his charisma. And odds of a little more than 6 to 5 are still a pretty good payback for a favorite in a small four-man field.
Obi Toppin, New York (+210)
Toppin returns for his second go-round in the Dunk Contest, after losing in the finals last season to Portland's Anfernee Simons in a split decision. While we mentioned that there is no home court advantage for any of the dunkers, Toppin does have a bit of a hometown advantage. He played his college ball at Dayton in Ohio, so he should have plenty of local fans backing him.
Toppin has inhabited an interesting place with the Knicks in his second season. He is undoubtedly a fan favorite, in part because he is such an authoritative dunker when he comes off the bench. But you could also look at it that he's not quite contributing to the level that you would like for a guy who was the 8th pick overall in the 2020 NBA Draft.
Nonetheless, there is no doubting his dunking acumen. His 75 dunks in 54 games with the Knicks accounts for nearly half of his field goals on the season. The guy can soar, and at 6'9", the tallest in the competition, he should have a built-in edge over some of the smaller guys who'll be trying to take the crown.
The local factor and his experience in the contest should give Toppin a nice edge. By the same token, the judges might be drawn to the newer faces trying to make a name for themselves. We feel like his odds might come down a bit as the betting progresses the next few days, so now might be the time to strike if you like Toppin.
Cole Anthony, Orlando (+350)
At 6'2" tall, Anthony is the smallest in the competition, which is both a good and bad thing. On the one hand, he'll be hard-pressed to match what a guy like Toppin can do. But on the other hand, little guys like Spud Webb and Nate Robinson have wowed in the Dunk Contest before, which gives Anthony hope.
The second-year player out of North Carolina has surprised a lot of people with his production in the league. As the 15th pick two years ago, he muscled his way into the Magic lineup thanks to injuries last year. This season, he's been given the reins as the Magic's go-to guy, and he's scoring 17.7 points per game (albeit at under 40 percent shooting and nearly three turnovers a game.)
Anthony has managed just 12 dunks in 46 games this year, but that can be written off in part to his position on the floor. Sentimental judges with close connections to the NBA might give him some love as well. His father Greg was a longtime player in the league and now a major part of the broadcast team at NBA TV.
Anthony needs to make sure he can provide a bit of a flourish when he puts together his dunks. They need to look as impressive as the those of the big guys while also highlighting the fact that he is overcoming the obstacles of his height. That's how the other smaller guys did it in the past, and he needs to learn from their examples to deliver at pretty fetching odds.
Juan Toscano-Anderson, Golden State (+600)
Toscano-Anderson has been a fan favorite over his three seasons in Golden State as an undrafted player who does all the little things. His playing time has diminished some this year as the Warriors are much healthier and have some rookies contributing off the bench as well. Still, when he gets his chance, he usually makes an impact, often with his dunking.
So far this season, Toscano-Anderson has delivered 21 dunks in 56 games played. That might not sound like a lot, but he is playing less than 15 minutes per game, by far the least of anybody in this quartet. When you consider dunks make up more than 20 percent of his field goals, you can see that he's pretty adept in that department.
Toscano-Anderson is 6'6" and a smooth jumper who gets off his feet in a hurry to elevate to the basket. He is working against the fact that he's the least-known player out of all the choices here. But he is a demonstrative player when he's on the court, so he might just be the kind of guy who can whip the crowd into a frenzy to help his chances.
You're getting 6 to 1 odds of Toscano-Anderson taking home the Slam Dunk Contest crown, which means he is absolutely the best return on your betting investment if he wins. That's a big if, although it wouldn't be surprising to seem him pull in a Warrior buddy like Stephen Curry or Draymond Green to help him with a dunk and to give him access to some star power. Don't count him out.
The Pick
As we've mentioned throughout, this is the Slam Dunk Contest, which is not an easy bet to pin down. You don't know what these guys have planned. Certainly, they've been practicing and devising unique dunks to wow the judges, but pulling them off in front of the glare of the crowd is another matter entirely.
For our money, Toppin seems like the wise choice.
Many thought he should have won last year, he has the size advantage, and he should have a good portion of the crowd backing him up. The fact that he's the second choice at top NBA basketball betting sites gives him a bit of value as well to sweeten the deal.