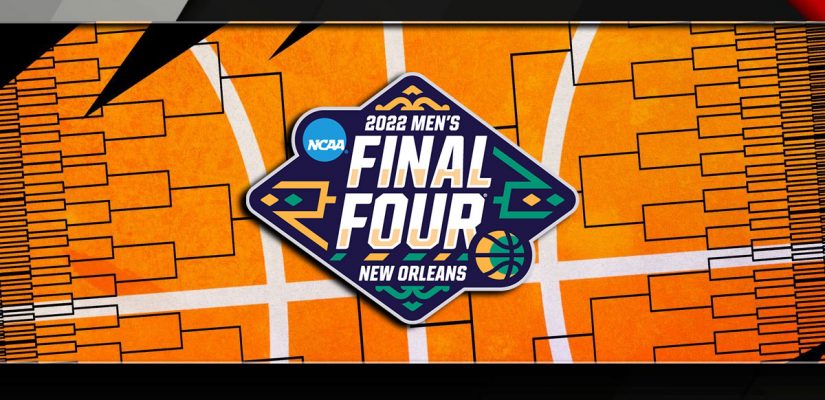 We are now just a couple of days away from crowning the 2022 NCAA Men's Basketball National Champion!
It has been a wild ride so far:
With St. Peter's captivating the nation as the first-ever 15 seed to make it to the Elite Eight, Miami, Duke, and North Carolina all making it to the Elite Eight from the ACC after everyone wrote the league off this year, and a host of shocking early upsets that saw teams like Iowa, UCONN, Alabama, Kentucky, Colorado State, LSU, and USC all go one and done.
But after one of the craziest NCAA tournaments ever, we are now down to just 4 teams left playing, and somehow after 2 weeks of madness, we ended up with what just might be the most Blue Blood Final Four of all time!
Each of these remaining teams have won recent national titles, and between them, they have won a whopping 17 national titles combined.
This weekend in New Orleans will feature the elite of the elite in college basketball squaring off for the national title.
? @UNC_Basketball has the most National Titles of the remaining tournament teams

Which of these four teams' championship runs was most memorable to you? pic.twitter.com/x7t1o8Na7V

— FOX College Hoops (@CBBonFOX) March 29, 2022
In this article, we are going to break down the NCAA Men's Basketball Final Four odds and give you the high-value betting advice that you need to make money this weekend.
We have been steaming hot in the month of March betting on college hoops, as just in the last week, we went 2-0 on bets in the Elite Eight, a combined 5-1 on the NIT Elite Eight and Final Four, and we went 7-1 on the Women's Sweet 16 bets. Even with March coming to a close, it is not too late to jump on the bandwagon and get paid, as we still have plenty of action left on the board!
With that, we will head to New Orleans and preview the Men's Final Four odds and tell you what you need to bet on to make money betting on NCAA Men's Basketball!
Men's Final Four Odds
Before we jump into the individual game breakdowns, we are first going to check in on the futuret odds for teams to win the 2022 Men's Basketball Final Four.
A quick glance at these odds shows me that while the Duke Blue Devils are currently favored to win the 6th title of Coach K's career, these teams are evenly matched, as we can get dog money on all 4 squads. At these odds, I don't think any of these bets are necessarily bad ones, as they all do show some value, but one team in particular sticks out to me, and that is the North Carolina Tar Heels.
Men's Basketball Final Four Odds
North Carolina Tar Heels:
+500
Clearly, the books like Duke to beat North Carolina on Saturday night, and that is reflected in these odds, as the Tar Heels are priced aggressively. And while that is certainly understandable, as the Blue Devils are the betting favorites in that game, these odds just don't make a lot of sense when you see how well the Heels have played in the last month.
This North Carolina team reminds me a lot of that Kemba Walker led UCONN team that got hot late in the season and rode that momentum all of the way to the national title back in 2011. After a 12-6 start to their season, the Heels have a 16-3 record since. And it's not like North Carolina has been beating up on a bunch of bad teams during this run, as they have racked up some awfully impressive wins.
North Carolina has recent wins over Duke, Baylor, and UCLA, with the Blue Devils in this year's Final Four, and both the Bears and Bruins in last year's Final Four. There isn't much more a team can do to convince me that they can win in the Final Four than beating up on teams that have been there recently, and if you don't think the Tar Heels can win it all this weekend in NOLA, you are out of your mind!
✅ #MFinalFour as a player
✅ #MFinalFour as a coach
✅ @UNC_Basketball legend pic.twitter.com/Mwqp8fZHgN

— NCAA March Madness (@MarchMadnessMBB) March 30, 2022
It wasn't very long ago that North Carolina went into Cameron Indoor Stadium and handed Coach K a loss in his final home game ever. That was a game that Duke badly wanted to win, and the Tar Heels spoiled the party by blowing the Blue Devils out on their own floor. In this rematch, Duke will again be very motivated, but with this game coming on a neutral floor.
If North Carolina does find a way to get past Duke on Saturday night, the hedge value alone will be enough to justify a play, as I see UNC being favored if they play Villanova and small underdogs if they play Kansas in the national finals. If the price is right, you must fire, and at (+500), there is too much value to pass up on here. Give me the North Carolina Tar Heels to cut down the nets this weekend at a jumbo price!
Men's Final Four Odds Bet
North Carolina Tar Heels (+4) vs Duke Blue Devils
If this were a movie, we would all say that the script isn't believable enough, as to see Duke and North Carolina playing against each other in the Final Four, in the first meeting ever between these programs in the NCAA tournament, in Coach K's final season at the helm of the Blue Devils, would just be too much.
With the Tar Heels and Blue Devils playing for a chance to advance to the NCAA Men's Basketball Tournament championship game.
The books have Duke as the betting favorites, laying (-4) points on the most recent men's basketball Final Four odds, in what will be the 100th time that Mike Krzyzewski has coached against his arch-rival Tar Heels in his Hall of Fame career.
Duke's record in those 99 games against North Carolina with Coach K at the helm? 50-49! That is as close as it gets!
North Carolina Tar Heels (28-9)
It was a slow start to Hubert Davis' tenure in Chapel Hill, as the Tar Heels played a fairly soft non-conference schedule, and for the most part, when they did play good teams, they lost to them. But UNC did a great job of getting better throughout the season, and now Davis becomes the first person ever to make the Final Four as a player and then return to coach at his alma mater and lead them to the Final Four as a head coach.
The ACC faced a lot of criticism this season, but after watching the league dominate the NCAA tournament, it is looking like we all had it wrong, as the ACC was a very talented league this year.
North Carolina always had good players, as guys like Armando Bacot and Brady Manek are studs, the problem was, they weren't playing like a team. But those concerns are gone now, as there isn't a team in this Final Four that is hotter right now than North Carolina.
Next level ?#CarolinaFamily | #MarchMadness pic.twitter.com/KmlXGYEQnk

— Carolina Basketball (@UNC_Basketball) March 29, 2022
The Tar Heels haven't been beating teams in this tournament, they have been slaughtering them. North Carolina set a new record for the biggest blowout ever in an 8/9 matchup when they smashed Marquette by 32 points in the round of 64. And late in their game with Baylor, they were up 25 points before the refs decided to take over, where some very questionable calls opened the door for the Bears to get back into the game. In their last game, against St. Peter's, the giant killers that were upsetting everybody? North Carolina toyed with the Peacocks enroot to a 20-point victory.
Duke Blue Devils (32-6)
There is a reason that the media is making such a big deal out of this being Coach K's final year as a head coach. Krzyzewski has every record imaginable when it comes to winning games in the NCAA tournament, as he has the most wins, most Final Fours, and trails only John Wooden when it comes to winning national titles. The spotlight has been on Coach K much more than it has been on the team on the floor, and at the end of the season, that mounting pressure was looking like it was getting to the Blue Devils.
Dubs up, nets down ✂️✂️✂️✂️ pic.twitter.com/J6gwMNoviQ

— Duke Men's Basketball (@DukeMBB) March 27, 2022
We already talked about the regular season finale against UNC, where the Blue Devils got blown out in front of stands filled with fans that had camped out for weeks to get tickets, and a bevy of his former players and assistant coaches cheering him on. Then just a week later, Duke lost to Virginia Tech in the ACC tournament finals, handing the Blue Devils 2 losses in a week, after they only lost 4 games all season long prior to March.
You always want to be peaking in March, and that just wasn't the case for Duke.
Coach K isn't the GOAT for nothing though, and he has somehow managed to keep his team focused on the task at hand, despite the players having the pressure of their next loss being the final one of his career. I am not going to say that Duke has played carefree and loose, as they have had closer than most people expected games with Michigan State, Texas Tech, and Arkansas, with all 3 games being decided by single digits. Will Krzyzewski find a way to add one last trophy to his mantle before hanging them up?
The Bet: North Carolina Tar Heels (+4)
What a great game we have in store for you in this one! No matter which team ends up winning the national title this year, you can be sure that this Final Four game between Duke and North Carolina will be one that won't be forgotten for a very long time. While I understand why the books are on Duke, I respectfully disagree.
Winning in March is all about peaking at the right time, and had North Carolina played like they have in March, the entire season, they would have been a top seed like the rest of these teams. Maybe Duke does rally, and they find a way to win one for the Gipper and get Coach K back to the national championship game, but even if that is how this one plays out, I can't imagine that this game isn't going to be tightly contested.
To be able to get the red-hot Tar Heels and more than a full possession's worth of points shows outrageous value. My gut says that North Carolina wins this game, but I will take the lower variance, but equally high-value play, on the Tar Heels getting +4-points.
Men's Final Four Odds Bet
North Carolina Tar Heels (+4)
Villanova Wildcats (+4.5) vs Kansas Jayhawks
Nearly all of the mainstream media attention on the Final Four is focusing on Duke and Carolina, and while that game has a lot of extra baggage surrounding it that makes it bigger than the game, this contest between Kansas and Villanova is a blockbuster as well.
Between a couple of the top programs in all of college basketball.
Both of these teams were ranked in the top-10 nationally in the preseason, and when the final AP poll of the year came out prior to the madness, both teams were still in the top-10. These are teams that have been on the national title radar all season long and I am excited for this game!
Villanova Wildcats (30-7)
I mentioned earlier that North Carolina is the hottest team left in this field, but the Wildcats of Villanova aren't far behind, as they too have been playing at a high level in the last several weeks. The Wildcats ride a 9-game winning streak into this game against the Jayhawks and going back to the regular season, Villanova has won 14 of 15 and 23 of their last 26 games. But unfortunately for Villanova fans, the Wildcats are going to have to play this game without one of their best players, as Justin Moore tore his Achilles late in the game against Houston.
?? #GoNova #LetsMarchNova pic.twitter.com/JJzPiAtF73

— Villanova MBB (@NovaMBB) March 29, 2022
Moore was 2nd on the team in scoring, assists, and steals before the injury, and not having him on the floor is going to make it tough for the Wildcats to hang with this loaded Kansas squad. But the guy that Villanova will have on the floor in New Orleans is senior leader point guard Collin Gillespie. Gillespie is a 5th year senior that does everything for the Wildcats, and he always seems to come through when Jay Wright needs someone to hit a big shot late in the game.
Kansas Jayhawks (32-6)
I have talked quite a bit about Kansas this season, as I felt that the Jayhawks were being a bit ignored by the mainstream media. We heard a lot of talk about Baylor and Texas Tech in the Big 12, but Kansas was almost an afterthought. That never made much sense to me, as this roster is as talented as any in the nation, and with Bill Self running the show, this is a program that knows how to win meaningful games in March.
? Can't wait pic.twitter.com/H7s1Vsffwq

— Kansas Men's Basketball (@KUHoops) March 30, 2022
A quick glance at the Jayhawk's record shows me that they played the 4th toughest schedule in the nation this year and that no team had more quad 1 victories this season than KU. The rock chalk Jayhawks have played a savage schedule all year, and for the most part, they have beaten the majority of these elite teams. In this tournament, Kansas had close calls against Creighton and Providence, but they looked fantastic in their last game, as they hammered the Miami Hurricanes 76-50 in the Elite Eight.
The Bet: Villanova Wildcats (+4.5)
At first, I was a little hesitant to back the Wildcats, as the loss of Justin Moore is a tough pill to swallow. But then I remembered that Villanova still has Jay Wright as their head coach and Collin Gillespie as their leader on the floor. Wright has led his Wildcats to their 3rd Final Four since 2016, and he won the national title back in 2018 with Gillespie as his starting point guard.
Those 2 guys alone make Villanova a threat to win this game.
If I had to take a stand on which team wins this game outright, I would lean towards Kansas. They are a talented and well-coached team, that is no stranger to playing in, and winning, big games in March. But this spread feels a bit too high. Even with as great as Kansas has played down the stretch, their March wins over TCU, Texas, Texas Tech, Creighton, and Providence all came by single digits.
? #WallpaperWednesday
Final Four Edition! ? #LetsMarchNova #MFinalFour #GoNova pic.twitter.com/MP6QbJ53qA

— Villanova MBB (@NovaMBB) March 30, 2022
And on the flip side, when I go back and see the games that Villanova has lost in the 2nd half of the year, they lost to UCONN by 2 points and Marquette by 3 points. On the year, Villanova has only had 2 losses where the games were decided by more than 10 points, and both of those came way back in December in true road games. Kansas might win this game, but the Wildcats are going to win this bet. Give me Villanova and the points as they give Kansas all that they can handle in what is sure to be a barnburner of a game with a trip to the national title game on the line!
Men's Final Four Odds Bet
Villanova Wildcats (+4.5)
Wrap Up
And there you have it, our breakdown of the 2022 Men's Basketball Final Four odds! We have given you our pick to win it all, as well as individual game bets for both of the national semifinal games on Saturday night. Make sure that you stay tuned to TheSportsGeek the rest of the way out, as our team of expert handicappers are here to give you all of the high-value betting advice that you need to get paid betting on college hoops!