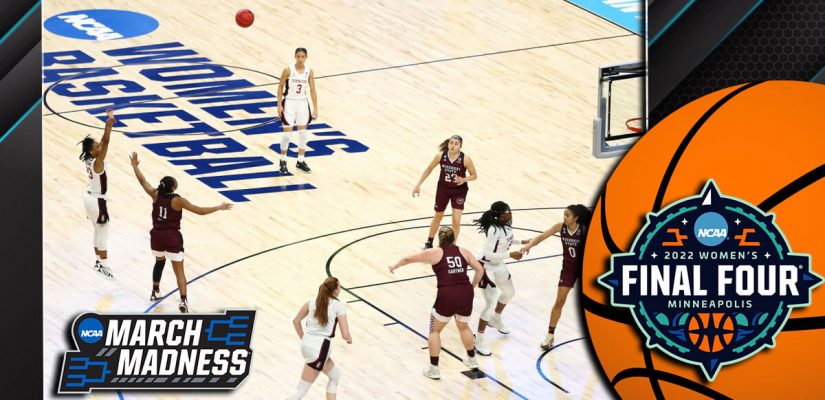 The 2022 NCAA Women's Basketball tournament finally arrives this week after a wild regular season and a crazy set of conference tournaments. This year's field is as balanced as it has ever been on the women's side of things. That's why it provides such outstanding betting opportunities at the top sports gambling sites.
There is nothing quite like the excitement of NCAA tournament action in college basketball.
The setup of one-and-done means that the pressure in every game is ratcheted up to an unbearable level. The NCAA Women's tourney presents the opportunity for stars to step up and teams to make their case as not only the best in a particular season, but also as one of the all-time greats.
The trophy has arrived in Minneapolis! Who will be joining April 1-3?#WFinalFour pic.twitter.com/UxOlkpgKU8

— NCAA Women's Final Four (@WFinalFour) March 14, 2022
This year the field has been expanded to 68 teams on the women's side, as the bracket now mimics the way the men have been doing it. That means four play-in games on Wednesday and Thursday before the bulk of the action kicks in on Friday. But the brackets pretty much look the way they always have, with teams needing to win six in a row (seven in the case of the play-in teams) to win it all.
In past women's tournaments:
The number of teams who seemed to legitimately have a shot of winning it all was extremely limited. But gone are the days when you could automatically pencil Tennessee and UConn for the finals. The women's game is much more balanced than it ever has been before, which means that you should be able to find betting value both in individual games and in tournament-wide wagers.
We're going to get you set for you betting at top sports gambling sites with a preview of the 2022 Women's College Basketball Tournament. To do that, we'll give you a snapshot look of each bracket, the teams involved, and the odds that they're carrying to win it all. Finally, we'll give you our picks of who is headed to the Final Four and who we think will be cutting down the nets following the championship game in Minneapolis.
2022 NCAA Women's Basketball Tournament Schedule
It's important that you don't miss out on any of the betting action available to you concerning March Madness on the women's side.
That's why TO know these key dates when the action is taking place:
March 16-17: First Four (Play-in games, field cut to 64)
March 18-19: First Round (Field cut to 32)
March 20-21: Second Round (Field cut to Sweet 16)
March 25-26: Regional Semifinals (Field cut to Elite Eight)
March 27-28: Regional Finals (Field cut to Final Four)
April 1: National Semifinals (Field cut to two)
April 3: National Championship Game
2022 NCAA Women's Tournament Regional Previews
Greensboro Region
#12 Stephen F. Austin:
+50000
#13 Nevada-Las Vegas:
+70000
#14 Texas-Arlington:
+90000
#15 Illinois State:
+100000
#16 Incarnate Word:
+100000
The Favorites
South Carolina dominated the college basketball world for much of the season on the women's side, which is why they're the overall top seed. They became the first team in four years to start the season ranked #1 and finish it that way as well. But they are coming off a loss to Kentucky in the SEC Championship, which is a little bit concerning considering the tepid odds.
Iowa makes for an interesting #2, one that no one, even South Carolina, would want to see in a conference final. The Hawkeyes posted the highest-rated offense (in terms of points per possession) this past season. Caitlin Clark's statistics are video-game worthy, and yet even they don't capture the impact that she makes on the game.
Iowa State, the #3 seed, would love to get another crack at Iowa in the Greensboro semis. The Cyclones defeated the Hawkeyes in the regular season, and might have a chip on their shoulder about being the lower seed. Arizona, who just missed a surprising national title a year ago, is hoping to get back key player Cate Reese for another Cinderella run.
Sleepers
Creighton disappointed down the stretch with losses in their last two games that nearly left them on the bubble. But this is another team that can light it up. If they can get hot at the right time, they could make it as far as the Sweet 16 or maybe a round further.
The best upset candidates often tend to be the teams from the non-Power 5 schools with talent and something to prove.
Stephen F. Austin rolled through the Western Athletic Conference this past year to sweep the regular season and the conference tournament. After just missing a first-round upset last year, they could have learned from experience to seal the deal this time around.
The Pick for Regional Champion:
Spokane Region
#11 Missouri State:
+60000
#11 Florida State:
+70000
#12 Florida Gulf Coast:
+30000
#14 Jackson State:
+90000
#16 Montana State:
+100000
The Favorites
Few teams can match the 1-2 punch that Stanford boasts with Haley Jones and Cameron Brink. They lead a crew with a ton of experience after winning the national championship a year ago. And they are arguably the hottest team in the country right now, riding a 20-game winning streak into the tourney.
Texas is a solid team without a lot of holes, as they rank very well in advanced stats on both offense and defense. But they might not have the star power that #3 seed LSU possesses. In point guard Khayla Pointer, the Tigers might have the best all-around player in the entire tournament.
LSU also benefits from the tournament experience of coach Kim Mulkey. As for #4 seed Maryland, the main concern is that they come in off a frustrating Big Ten tournament where they were one-and-done. Can they right the ship on a short turnaround and find the groove that had them playing much better earlier this year.
Sleepers
When you think of Kansas, you tend to think of the success of their men's team. But this year's women's hoops squad has been a major surprise, one that believes it has what it takes to make a deep run. That would require getting past Stanford in the second round, of course, but the Cardinal might be feeling the pressure of that long winning streak.
Florida Gulf Coast is another one of those #12 seed mid-majors with upset on their minds.
The Eagles were frankly robbed with their seeding, as they easily could have been as high as a #9 seed based on their record. They've lost just twice all year long, playing a freewheeling style and featuring an outstanding go-to girl in Kierstan Bell.
The Pick for Regional Champion:
Wichita Region
The Favorites
As you can see from the odds above, even the oddsmakers aren't sure about who to take between the top teams in the region. Louisville might not look too flashy, but they're one of the nation's finest defensive teams. Defense doesn't slump, as they say, which means that Louisville is well-suited for tournament play.
Baylor has a smooth transition to a new coach this season, regaining their standing as one of the forces in the game. In NaLyssa Smith, they have one of the nation's elite talents, near impossible to stop. Even if you can force her to tough shots, her offensive rebounding ability will ensure her some easy baskets.
Beyond the top two, there is Michigan lying in wait as the #3 seed, with Naz Hillmon, another likely first-team All-American, leading the way. As for Tennessee, they might be a bit removed from the glory days. But this is still a team with a talent level that makes them extremely dangerous in a survive-and-advance format.
Sleepers
Gonzaga is a team that does all the little things really well, which means they can be a real pest in the tourney. They're one of the best teams in the nation in rebounding the basketball. Coming off a big win in the conference tournament final, they could have momentum on their side for a surprisingly deep run.
You want to go for a really deep sleeper?
Take a look at Hawaii, which only received a #15 seed despite being the dominant force in the Big West, a solid mid-major. They've won their last eight games and believe that the experience that they received playing good non-conference opponents early in the season will pay off now.
The Pick for Regional Champion:
Bridgeport Region
#1 North Carolina State:
+1000
#7 Central Florida:
+20000
#8 Washington State:
+40000
#12 Massachusetts:
+50000
#16 Mount St. Mary's:
+100000
The Favorites
You'll not that this is the only region where the team with the lowest odds isn't the #1 seed. But that team, Connecticut, has the richest history of any team in college basketball history. You'll have to pay a tax to bet on them, essentially, and you have to do so knowing that Paige Bueckers, their top player, is a huge question mark coming back from injury.
As for the actual top seed North Carolina State, they pretty much obliterated the competition in the ACC Tournament. They've also struggled against some of the top teams they've faced this season. In any case, they should be motivated after getting knocked out of the Big Dance last year despite earning the #1 seed.
Indiana fell short of Iowa in the Big Ten Championship game, but they have some impressive wins on their record. Notre Dame is the #5 seed, but we should talk about them as one of the favorites in this region because of their history of tournament success. This is a young team with a second-year coach, but they've posted some very big wins during the year.
Sleepers
There is a big drop-off in the championship odds from #5 Notre Dame to #6 Kentucky. But the Wildcats could easily make their way to the regional final. This is a team that is coming off a stunning victory over South Carolina in the SEC Title game and have a legitimate star performer in Rhyne Howard, who puts up over 20 points per game.
Kentucky's SEC rival Florida also might have something to say about this region from their most spot as the #10 seed.
Many people are writing this team off because of a key injury to their star performer Kiki Smith. But watch out for them pulling themselves up off the mat and pulling off an upset or two in the tourney.
The Pick for Regional Champion:
2022 Women's Basketball National Champion Pick Wrap Up
You can tell by our regional selections that we think there are going to be some upsets throughout this tourney. Why not a surprise for the title as well, as Caitlin Clark will lead the Iowa Hawkeyes to the crown.
Considering you're getting 40 to 1 odds on them winning it all, it's a wager you can't pass up at your favorite college basketball sports gambling site.