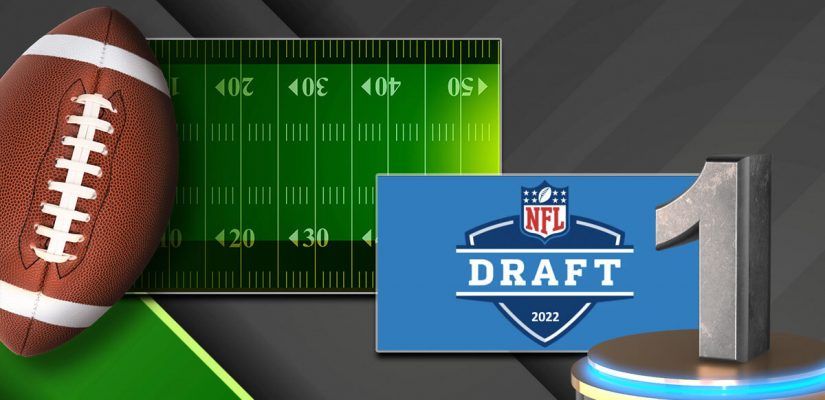 It's never too early to look ahead to the 2022 NFL Draft. If you're a fan of a bad team, you've been looking forward to next spring for a while now. As things stand now going into Week 14, the Detroit Lions have the first overall pick in the draft.
They won their first game of the season to advance to 1-10-1 on the year against the Minnesota Vikings in a walk-off at Ford Field. They are still dead last in the NFL, and have the rights to the first selection in the draft at the moment.
With its next pick, the @NFL selects … Las Vegas! See you in 2022. ? ? #NFLDraft pic.twitter.com/mOVSaIJOAU

— Vegas (@Vegas) May 1, 2021
If not the Lions, then it's looking like the Houston Texans or Jacksonville Jaguars for the first pick. The most important thing to know with this draft is that there isn't a clear consensus No. 1. There usually is by this point in the season, but we could go several more months without an answer.
Along with no consensus top pick, there isn't a quarterback that is a can't-miss prospect going into 2022. It's not to say a team isn't going to take a quarterback high, but it's not going to be obvious like a Trevor Lawrence.
Kenny Pickett, Malik Willis, and Matt Corral are top prospects, with Carson Strong of Nevada following behind. None have proven that they should go off the board first. Don't be surprised if a defensive player is the first gone in the draft in Las Vegas.
The teams at the bottom of the league have a lot of holes to cover, and a disruptive defender wouldn't be a bad place to start. The top two players on the betting board are edge rushers. Michigan's Aidan Hutchinson has flown up to go head-to-head with Kayvon Thibodeaux.
Head below for our NFL 2022 Draft first overall pick prediction on April 28, 2022. Also check out the best online sportsbooks that you can find online for betting the NFL and the NFL Draft.
Kayvon Thibodeaux (Oregon Ducks) – Defensive End
Kayvon Thibodeaux is going to be going to a lousy team next year. Which one is it going to be? According to the odds, he's going to head to the team that finishes with the worst record in the league. That would currently be the Detroit Lions.
The Lions drafted a big bodied offensive lineman with their first selection last season at No. 9 with Oregon's Penei Sewell. That was a no brainer for this team.
Oregon's Kayvon Thibodeaux announces he intends to enter the 2022 NFL Draft.https://t.co/QktixoHhSN pic.twitter.com/chBNB31g8j

— NFL Draft (@NFLDraft) December 7, 2021
Now they need a big stopper in the trenches on the defensive side of the ball. For a head coach like Dan Campbell who stresses defense, an edge rusher would be smart.
Thibodeaux is big, fast, and athletic off the edge. He has all of the characteristics of being a difference maker in the NFL. The Duck recorded 49 total tackles, 35 solo tackles, and 7 sacks in the regular season. He also forced 2 fumbles in 2021.
His athleticism allows him to shed blockers and force double teams with ease. A slow offensive tackle in the NFL is going to have a tough time blocking him. Thibodeaux also has the speed to chase down runners and provide contain with the best of them in this draft.
Expect Thibodeaux to dominate the combine. He is too good to not put up electric numbers in the tests he will be presented with in Indianapolis. Myles Garrett played on a mediocre Texas A&M team in his final year in college. The same went for Thibodeaux in 2021.
Oregon might have disappointed this season, but they could have a player going first in the draft.
Aidan Hutchinson (Michigan Wolverines) – Defensive End
Aidan Hutchinson was noted going into this season as one of the best defensive players in the Big Ten.
However, as a top overall pick in the draft, Hutchinson didn't register on anyone's radar. Even a month ago going into November, he wasn't regarded as a top selection in the top-5.
Aidan Hutchinson had 15 QB pressures vs Ohio State

Most in a game since we started tracking college in 2014 pic.twitter.com/Psmn0Fp6xh

— PFF College Football (@PFF_College) November 28, 2021
That has all changed, especially after Hutchinson forced his way into the backfield in The Game against the Ohio State Buckeyes.
Hutchinson took the game over with 5 tackles and 3 sacks. C.J. Stroud was running for his life and heard footsteps after Hutchinson was in the backfield a couple of times.
He added another sack in the Big Ten Championship. The Iowa play calling didn't give Hutchinson much of a chance to get going.
While his numbers weren't as impressive in that one, his fingerprints were all over that 42-3 win. The Michigan defense put on a clinic against the Iowa Hawkeyes in the Big Ten Championship.
Hutch 4 Heisman!

Congratulations, @aidanhutch97 on being named a Heisman Trophy FINALIST! #GoBlue // #Hutch4Heisman pic.twitter.com/afU5tm1nDM

— Michigan Football (@UMichFootball) December 6, 2021
Hutchinson posted 58 tackles, 14 sacks, and 2 forced fumbles against some good offensive lines in the Big Ten. He is a Joey Bosa clone, which bodes well for his chances to go first in the draft.
He doesn't have the athleticism of Thibodeaux, but makes up for it with his work ethic and desire to get into the backfield. He explodes off the snap. And that's not to say he isn't an athletic freak either.
Hutchinson isn't going to beat Thibodeaux in the 40 at the combine, but he may end up being the more complete player in the NFL. It's worth nothing that Hutchinson is a local kid in Michigan.
If the Lions have the first overall pick, selecting a Wolverine close to his hometown would be a nice story. This is a lunch pail defender that a coach like Dan Campbell would love to have on his roster.
Matt Corral (Ole Miss Rebels) – Quarterback
I will include a quarterback on my shortlist to go off the board first in the draft. The Detroit Lions and Houston Texans need a quarterback, so if they have the first pick, a quarterback here is possible. It's just not as likely as Thibodeaux or Hutchinson going No. 1.
Corral has been a stats machine in the Ole Miss offense. He has the arm and legs to make defensive coordinators stress having to prepare for him. Corral passed for 20 touchdowns and 4 interceptions on 68.8% completions.
Matt Corral has officially declared for the #NFL Draft

PFF's #1 QB in the 2022 Draft class pic.twitter.com/xxqHbuzvci

— PFF College Football (@PFF_College) November 20, 2021
He also gained 597 yards and 11 touchdowns on 4.1 yards per carry. He plays a little bit like Johnny Manziel in the way he takes off on the ground, but with a much stronger arm to make all of the throws required in the league. If Manziel had an arm and a head on his shoulders, he'd probably still be in the NFL.
Corral has that arm and he is smart with the ball as well. After throwing 14 interceptions a season ago, Corral improved his football IQ and took care of the ball much better this season. That's what had to improve, and he took it upon himself to get better. This was against some of the best defenses in the country in the SEC as well.
As an NFL team, that's all you can ask from a young quarterback. His talented skillset as a passer and runner is going to have him high on draft boards going into Las Vegas in April. I think the Lions are fine with Goff for now, but the Texans could be more desperate for a quarterback.
Pitt quarterback Kenny Pickett might sneak up and be worth a look as well.
The Final Verdict and Prediction
As much as I like what Kayvon Thibodeaux has the potential to do in his professional career as an edge rusher, he's a freak athletically, Aidan Hutchinson just has a knack for the quarterback. No matter the challenge, Hutchinson has stepped up in the biggest games and made his presence felt.
The difference between Michigan winning and Ohio State losing The Game was Hutchinson. Put him on Ohio State and the game might have been different, but this time, the Wolverines had their Bosa while the Buckeyes didn't have an edge rusher to compare.
.@UMichFootball DE Aidan Hutchinson good for at least one of these per game…the get off is elite. pic.twitter.com/Va6H4wDw4p

— Cole Cubelic (@colecubelic) December 6, 2021
If the Lions have the No. 1 pick, it just makes too much sense for them to pass on Hutchinson. Jared Goff is serviceable enough to carry the team at quarterback during this rebuilding process.
The Lions will need a new quarterback within the next two years, but this isn't the draft class to take a chance with this high. The Jaguars just drafted Trevor Lawrence. They're not going quarterback.
The odds might move considerably by the time you read this, but Hutchinson is going to carry the best value. Mock drafts aren't in love with Hutchinson, yet, so that will keep his odds bettable enough in the coming weeks and months.
The final month of the season puts Hutchinson ahead of Thibodeaux in my book. These are two very talented players with a bright future in the NFL. However, if teams are looking for the next Joey Bosa, they have him in Hutchinson.