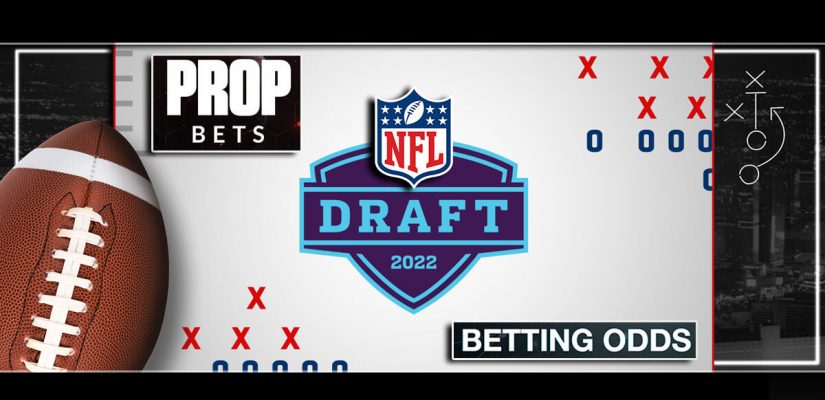 April is arguably the best month of the year to be a sports bettor. This month alone, we've got the NBA and NHL playoffs. The Major League Baseball season got underway. We just finished betting on the Masters, as well.
Pro football returns to our lives, in a way, with the 2022 NFL Draft. Thankfully,
NFL betting sites
give us the chance to put money on the festivities, which will go down from April 28th-30th in beautiful Las Vegas, Nevada.
The NFL Draft has become must-see TV over the years, but even the most hardcore football fans probably get at least a little bored over the course of the three-day marathon.
Betting is a good cure for boredom, no?
It's easy to find NFL Draft first-round odds if you know where to look. Which prop bets are we eyeing ahead of round one next week?
First QB Selected
There's no way "Dustin Crum" is a real name. I refuse to believe it. That's a children's book protagonist, not a future NFL quarterback.
The 2022 NFL Draft first-round odds say Malik Willis is now an odds-on favorite (-150) to be the first QB off the board. Most college football fans have likely never seen Willis play considering he starred at Liberty University, but he has quickly risen draft boards over the past few months. Willis is a bit undersized at just 6'1″, but scouts don't put nearly as much importance on height as they used to. Willis completed north of 62 percent of his throws for 47 touchdowns to just 18 interceptions in two years as the starter for the Flames.
His ability to change a game on the ground sets him apart from some of this year's other top QBs. Willis averaged over five yards per carry on his way to 1,822 yards and another 27 rushing scores at Liberty.
Liberty quarterback Malik Willis visits with Steelers to wrap up top 30 process #Steelers #NFL https://t.co/RpHlF5fGdC pic.twitter.com/cZn1gFnNrN

— Blitzburgh✨ (@Blitz_Burgh) April 20, 2022
Oddsmakers say Pittsburgh's Kenny Pickett (+160) is the likely choice if Willis is not the first QB selected. Much has been made of Pickett's smallish hand size, but many scouts still view him as the most complete QB prospect in this class.
Unlike in most years, however, we aren't all that likely to see a major run on QBs toward the top of this year's class. Most mock drafts have Willis and Pickett going in the first round, but the second QB off the board may not be taken until the Steelers' 20th overall selection rolls around. The jury is still out on whether a third quarterback (Desmond Ridder?) will go in the first round at all.
Willis may be the early favorite, but this situation has no consensus. Pickett appears just as likely to be taken first, which makes his +160 NFL Draft first-round odds look awfully enticing. If it's truly a coin flip, side with Pickett at plus-money.
Second QB Selected
If we think Pickett goes off the board first, then, naturally, Willis looks like the most likely bet to be the QB second off the board. Carolina is rumored to be heavily interested in a QB with the No. 6 pick. Willis and Pickett are certainly both in the running, and the Panthers look rather likely to end up with one of them.
The next team that figures to be in the market for a passer is the Steelers at No. 20 following Ben Roethlisberger's retirement. Pittsburgh has reportedly done its due diligence on Cincinnati's Desmond Ridder, so there is at least a small chance the Steelers shock the world and nab Ridder at 20th. It's not the most likely outcome, which makes Ridder's +550 2022 NFL Draft first-round odds pretty risky.
The same logic we applied to the first QB off the board bet applies to this one, of course. If Pickett goes first, Willis looks like an excellent value at +140 to go No. 2.
First WR Selected
Much like the QB market, the wide receiver class looks wide-open. Three of this year's top pass-catching prospects are listed with +250 NFL Draft first-round odds or shorter to be the first WR selected. Garrett Wilson of Ohio State is currently the even-money favorite, but Drake London (+200) and Jameson Williams (+250) aren't far behind. Wilson's college teammate, Chris Olave, is a relatively distant fourth at +1800.
The NFL Network's Pete Schrager actually has Williams, the former Alabama star, going first at No. 10 overall to the Jets. Wilson goes one pick later in Schrager's mock to Washington, with London and Olave dropping to 15th and 16th, respectively. Charles Davis has those same calls, just with London instead dropping to 18th overall.
It's hard to argue with the notion that Williams could be the best receiving prospect in this class after his sparkling career in Tuscaloosa. However, it's worth noting he's coming off a torn ACL, which could hurt his draft stock a bit. It's not expected to, but you never know whether teams may get cold feet on draft night.
Will the Chiefs fill the Tyreek Hill void by drafting Jameson Williams?

Rookie Snapshot from @LizLoza_FF ➡️ https://t.co/R2gei1qqnT pic.twitter.com/JurgeBDOSi

— Yahoo Fantasy Sports (@YahooFantasy) April 20, 2022
Some scouts view Wilson as the best all-around wideout in the class thanks to his ability to contribute in a variety of areas. After the Niners turned Deebo Samuel into a two-way star last season, teams around the league are suddenly looking for the next Deebo. Wilson may very well be that guy.
Again, this prop is more of a toss-up than the odds say. Wilson is great, and may very well be the right call, but is he a big enough favorite to where he should have even-money 2022 NFL Draft first-round betting odds to become the first receiver off the board. Doubtful.
In the end, I think this comes down to Wilson and Williams. Wilson's health and versatility might make him the safer pick, but I can't overlook the value in betting on Williams to go first instead at +250.
First O-Lineman Selected
With no clear-cut No. 1 QB in this draft, we're likely to see a few linemen taken with premium selections. Most mock drafts predict linemen to account for the vast majority of the very top picks in this year's class. That's something we haven't seen in quite a long time. The last time we didn't see a quarterback taken in the top five was 2013. Each of the first seven picks that year was either an offensive or defensive lineman.
This year's draft is likely to play out similarly.
A couple of defensive linemen appear to be vying for the No. 1 overall spot this year. However, we're almost surely going to hear an O-lineman's name called at some point in the top five. The early favorite to be the first OL off the board this year is Ikem Ekonwu, the junior tackle out of North Carolina State.
Ikem Ekonwu is quickly becoming my draft darling for the #Panthers.

— ?️anthers Culture (@PanthersCulture) February 28, 2022
Despite Ekonwu's fairly heavy -190 odds to be the first OL taken, however, there appears to be no consensus on that among draftniks. Alabama's Evan Neal is essentially viewed as a comparably good prospect. In the end, the fact that he played for Alabama is something that will never hurt a prospect's NFL outlook.
Even Mississippi State's Charles Cross (+1000) will be in the discussion, though he's a distant third to go first, per the NFL Draft first-round betting odds. Again, I'm more inclined to bet on the plus-money value than settle on a -190 favorite.
Ekonwu may well be the first lineman taken, but the fact that it's no sure thing makes both Neal (+150) and Cross (+1000) stand out as terrific value wagers. Neal looks like the safer bet of the two, but there is an awful lot of upside in taking a shot on Cross, as well.
First Offensive Player Selected
There is so much uncertainty at the top of this draft that you could realistically bet on any of the above players to be the first offensive player selected and I wouldn't think you're crazy. The biggest long-shot seems to be Drake London, who appears more likely to go in the mid-teens than anywhere inside the top 10.
I'll pass on London at those +1800 NFL Draft first-round odds.
Otherwise, take your pick! Ekonwu is the early -140 favorite, and with good reason. NFL betting sites say he's the most likely O-lineman to be drafted first, and we're far more likely to see a lineman taken before a QB or a wide receiver comes off the board this year.
I said previously I'd rather bet on the +150 value of Neal to go ahead of Ekonwu, and I'll stick with it. Ekonwu isn't as much of a lock as the oddsmakers seem to believe.
Some teams also try to act like they're not desperate for QBs…until draft night comes around. It feels like every year we see at least one team get antsy and make a shocking trade to move up and grab a QB. As of now, the Panthers at No. 6 look like the most QB-needy team. That could easily change ahead of the draft. If it does, either Willis (+550) or Pickett (+750) looks like a decent long-shot bet to become the first offensive player off the board.
The safe bet, once again, is Neal.
If you're more risk-tolerant, take a stab at Willis or Pickett to go first instead.