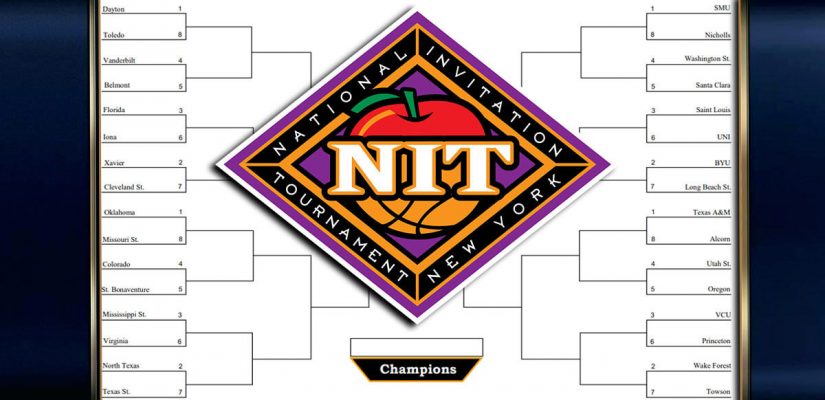 It isn't the tournament that all of these teams actually wanted to play in, as there isn't a team in the NIT field that wouldn't rather be playing in the NCAA tournament instead, but this is still a tournament with a solid field, and for some of these up-and-coming programs.
The NIT can be an excellent opportunity to win games under the national spotlight and build the program for years to come.
When you are handicapping these games, you have to make sure that you keep that in mind, as many times in the past, we have seen teams that likely should have gotten into the NCAA tournament either decline the invitation to the NIT, or have a quick exit, as they can't get over getting snubbed for the Big Dance.
The 2022 NIT bracket pic.twitter.com/bQB1IdrCpP

— Mitch Harper (@Mitch_Harper) March 14, 2022
While keeping that context in mind, in this article, we will provide a 2022 NIT betting preview, as well as odds and picks. First, we are going to preview the event as a whole and then take a look at the odds for teams to win the "Little Dance" and finally, we will give you all of the high value betting advice that you have come to expect from TheSportsGeek and give you the teams that you should be betting on to win the 2022 National Invitational Tournament. Let's get started!
NIT Betting Preview
This year's NIT has a nice mix of power conference teams, mid-major programs, and small conference teams, giving the field a nice well-rounded field of 32 programs. Unlike the NCAA tournament, which is played out on neutral floors, the NIT is played in the building of the higher-rated seed until the semifinals, making these games true home games for the top teams.
The 1 seeds for this year's NIT include Dayton, SMU, Texas A&M, and Oklahoma, and if it were up to me, I would have rather seen both the Aggies and the Sooners playing in the NCAA tournament, rather than the NIT, as I felt that they deserved to get in with strong finishes to their regular season. But alas, they will play their postseason tournament in the NIT instead. You don't hear a lot about snubs for the NIT, but there are teams that I think should have gotten into this tournament that didn't get in, most notably, Bob Huggin's West Virginia Mountaineers squad.
The Flyers are heading to the National Invitation Tournament ✈️?

We will play Toledo in the First Round‼️ #GoFlyers // @DaytonMBB pic.twitter.com/3vtdB2I3th

— Dayton Basketball (@DaytonMBB) March 14, 2022
The NIT will get underway later today as they try to schedule their games opposite of the NCAA tournament, giving these games and programs maximum exposure. This bracket of 32 teams will play their opening round games today and tomorrow, with the NIT Final Four coming at Madison Square Garden on March 29th and 31st to crown their champion.
the Memphis Tigers won an abbreviated version of the NIT, with just a 16-team field due to COVID-19. And when I look back at the last several winners of the National Invitational Tournament, I see Memphis joined by Texas and TCU as recent winners that are playing in this year's NCAA tournament.
That highlights the fact that if you are a program on the rise, winning the NIT can be a great springboard into moving up to the Big Dance in the following years.
NIT Odds To Win
Now that we have an idea of what the NIT will look like this season, let's take a look at the betting odds to win the 2022 NIT!
Betting Odds To Win 2022 NIT
Wake Forrest Demon Deacons:
+600
North Texas Mean Green:
+1800
Vanderbilt Commodores:
+3000
Colorado Buffaloes:
+3000
Mississippi State Bulldogs:
+3000
Missouri State Bears:
+3000
Saint Louis Billikens:
+4000
St. Bonaventure Bonnies:
+5000
Washington State Cougars:
+5000
Northern Iowa Panthers:
+5000
Nicholls State Colonels:
+7500
Cleveland State Vikings:
+8000
Texas State Bobcats:
+8000
Long Beach State Beach:
+8000
Alcorn State Braves:
+8000
Rather than going over every single one of these teams line by line, instead, I will break these teams down into 3 tiers and give you a team to bet from each tier. First, we will look at the favorites, then the contenders, and lastly, the longshots, and give you a team from each tier that shows high value for a play.
The Favorites
I have drawn the line on which teams are the favorites by including any team that pays out 15-1 betting odds or worse. It is hard to argue that a team is truly a favorite if they are paying out much higher odds than that, so that is where we will break this first tier of teams out from the rest of the pack. As these are the teams that are the most likely to win the NIT, I will give a quick breakdown of each of these programs.
Oklahoma Sooners (+425)
The Sooners should be playing in the NCAA tournament. Period, end of story. When you compare the Sooner's resume to a team like Michigan, that did get into the madness, OU is better no matter how you slice it. Oklahoma played the 4th toughest schedule in the country, and their wins over teams like Texas Tech, Baylor, Iowa State, Arkansas, Florida, and West Virginia should have been enough for OU to hear their names called on Selection Sunday.
???'? ??? ??? ??????' ⚡

? Missouri State
? March 15
⏰ 6 PM
? https://t.co/gzpEADJH9z
? ESPN | https://t.co/NYJlo9yRTd
? https://t.co/K68LpVDbl7
? https://t.co/IIz4nlhqW3 pic.twitter.com/jBdZwII1wn

— Oklahoma Basketball (@OU_MBBall) March 15, 2022
While I do think that the Sooners should have gotten into the Big Dance, I don't think they are going to win this tournament. It will be impossible for the Sooners not to feel like this is a consolation prize, and I see Oklahoma as a candidate for an early exit, as their hearts just aren't going to be in it. On top of that, their first-round game comes against a Missouri State Bears team that is going to give them all that they can handle. Taking the favorite is rarely the highest value play, and I will look further down the board for more value and pass up on a play on the Sooners.
Wake Forrest Demon Deacons (+600)
I love what head coach Steve Forbes is doing at Wake Forrest. Forbes turned East Tennessee State into a 30-win team, and after a brutal first year in Winston-Salem, Forbes had his Demon Deacons very close to breaking through with a trip to the NCAA tournament this year. In just about any other year that I can remember, having a 13-7 record in the ACC would be more than enough to get you into the NCAA tournament, but this year the ACC was way down, and it hurt the Demon Deacons.
These are the types of teams that I generally like in the NIT.
This is a rebuilding program that would take pride in winning, but when I see how few top-100 teams Wake Forrest has beaten this season, I don't think they are quite there yet when it comes to winning in the postseason. 17 of the Demon Deacon's 23 wins came over teams ranked outside of the top-100, and they are paying for their pitifully weak non-conference scheduling now, as they aren't battle-tested enough to win the NIT.
Texas A&M Aggies (+725)
Now we are talking! Buzz Williams led the Texas A&M Aggies to a furious finish to their season, with wins in 8 of their last 10 games. The Aggies nearly won the SEC tournament, losing to Tennessee in the finals, and wins over Arkansas, Auburn, and Alabama in March should have been enough to get the Aggies an NCAA tournament bid. But I guess the Selection Committee couldn't get over that nasty 8-game losing streak they had midseason, as Texas A&M got left out on Selection Sunday.
Postseason basketball tonight‼️

? vs Alcorn State at 8 p.m.
?️ FREE ADMISSION
? https://t.co/ss2pa8n3LZ
? https://t.co/VJIPZGdwS0
? ESPN2 » https://t.co/XZdTOkn06V
? B/CS: 1620 AM/94.5 FM pic.twitter.com/R427QcnUS5

— Texas A&M Basketball (@aggiembk) March 15, 2022
Buzz Williams has a long history of turning programs around, and now that he is in College Station, Texas A&M is going to be a program that is one to watch in the SEC over the course of the next several seasons. The Aggies have shown me that they can beat elite teams, and when I see that of their 12 losses on the year, 9 of them came against teams playing in the NCAA tournament, I love the Aggie's chances of winning this tournament, and they show outrageous value at this price.
SMU Mustangs (+1000)
SMU was hoping that their regular season sweep over Memphis was going to be enough to get them a pair of dancing shoes, but it wasn't, and I agree with the committee on this one, as I am not overly impressed with SMU this year. The Mustangs have a nice path to the Final Four with a 1-seed, and while they might make it all of the way to MSG.
They aren't going to win the tournament.
SMU has bad losses all over their resume, including losses to Missouri, Loyola Marymount, Cincinnati, Wichita State, and Temple, which makes me think that they could lose to any of the teams in their bracket. I would have rather seen several other teams up on that top line than SMU and will pass on making any bets on the Mustangs.
Dayton Flyers (+1200)
I have been high on Dayton for much of the 2nd half of the season and felt that they would find a way to make it into the Big Dance after a slow start to their season. The Flyers were on track to do just that, as they led by as many as 15 points in the second half in the A-10 semifinals against Richmond, before disaster struck.
Flyer's star player Malachi Smith blew his knee out on the final play of the first half, and without Smith on the floor in the 2nd half, they had nobody to go to on offense, and they completely fell apart down the stretch. The Selection Committee had the Flyers as the first team out for the tournament, and with Richmond winning in the A-10 finals to advance, a win over the Spiders would have been enough to get Dayton a bid.
That injury cost them the game against Richmond, a bid into the NCAA tournament, and it will cost them in the NIT as well. You hate to see injuries play a major part in a team's success, but without Malachi Smith on the floor, the Flyers won't be flying anywhere.
Xavier Musketeers (+1200)
I don't care who the Xavier Musketeers are playing; give me the other side! Xavier looked great in the non-conference, with a 10-1 record and wins over quality teams like Ohio State, Virginia Tech, and Oklahoma State, but the wheels have fallen off for the Musketeers since. X finished the regular season by losing 8 of their last 10 games.
We are back home at @CintasCenter on Tuesday night.

✍️ | https://t.co/42b5ZINwkg#LetsGoX pic.twitter.com/iHbZY4BQlA

— Xavier Basketball (@XavierMBB) March 14, 2022
That run included bad losses to DePaul, Butler, and St. John's, and at this point, I don't trust the Musketeers to beat anybody remotely talented. Xavier might sneak past Cleveland State in their opening round game, but I don't see them beating either Iona or Florida in the next round, so I am out on X.
BYU Cougars (+1500)
Coming into this season, I felt that BYU had the raw talent to potentially hang with the Gonzaga Bulldogs in the WCC. The WCC was as good as it has ever been this year, getting 3 teams in the tournament, but BYU wasn't one of them, as they just weren't able to compete at the top of the league this season.
The Cougars might have found a way to the madness if it weren't for ugly losses to Utah Valley and Pacific, and their late-season schedule didn't do them any favors either, as their last 5 wins all came against either 196th ranked Loyola Marymount (3 times) or 278th ranked Pepperdine (twice). I do see the Cougars winning some games in this tournament, but they aren't going to take home the title.
The Contenders
In this next tier of teams, we are going to focus on the teams that absolutely could win the NIT, but aren't the betting favorites to get the job done. None of these teams are going to shock anybody if they take down the NIT title, and with the higher odds, there is a lot of value in this 2nd tier of squads. I will cut this section off at teams paying better than 50-1 odds, and instead of breaking down all of these teams, I will give you 3 teams that show high value and 3 teams that you need to stay away from.
3 Teams That Show High Value
North Texas Mean Green (+1800)
The Mean Green of North Texas broke my heart in March, as I felt that this was a team capable of winning a game in the NCAA tournament. North Texas was one of the hottest teams in the nation for much of the season, as they hit the regular season finale with wins in 22 of their previous 23 games. But the Mean Green laid an egg in that final game of the year against UTEP, killing all of that momentum that took months to build.
We saw that lack of mo illustrated in the Conference USA tournament:
As North Texas scored just 36 points in a loss to Louisiana to end their bid for the Big Dance. It was a disappointing end to a great season for Grant McCasland and his team, but after watching North Texas win a game in the NCAA tournament last season, knocking off Purdue in the round of 64, this is a team to watch out for in the NIT.
McCasland has seen his team improve in each season of his tenure at North Texas, and after falling apart late in the year, this is a team that could get hot again and takes the NIT trophy home with them to Denton.
Santa Clara Broncos (+2500)
We already talked about the relative strength of the WCC this season, and while we are used to seeing teams like Gonzaga, Saint Mary's, and BYU have success out west, the Santa Clara Broncos are new to the party and they more than held their own this year in the WCC. Santa Clara beat BYU and Saint Mary's in league play, and their non-conference win over TCU is looking better by the day as the Horned Frogs have beaten some of the best teams that the Big 12 has to offer.
For the first time in quite a while…It's a Postseason Gameday!

? ESPNU
? https://t.co/4sbTDGIabI
? https://t.co/roNYft1YNw
? https://t.co/Oz9tJRq7Xe
? KDOW 1220 AM#StampedeAhead pic.twitter.com/byJ4tosI7S

— Santa Clara Men's Basketball (@SantaClaraHoops) March 15, 2022
If you haven't gotten a chance to watch Santa Clara play this season, you are missing out, as they play a fun brand of basketball. The Broncos play fast, score efficiently, and they can knock down the 3 ball. It has been a long road to contention for Santa Clara head coach Herb Sendek, but he has seen his team improve in each of the last 4 seasons, so to see the Broncos come close to breaking through with a tourney bid this year has to be satisfying for the former long-time coach at ASU and NC State. I have the Broncos penciled into the NIT Final Four, and you should too, as this is a motivated team on the rise, and they would love nothing more than to be playing at Madison Square Garden in late March.
VCU Rams (+3000)
The VCU Rams were looking like a lock to be playing in the NCAA tournament, as after a 3-4 start to their season, they caught fire with an 18-3 record in their next 21 games. But as quick as that success came, it disappeared, as the Rams lost their final game of the regular season to Saint Louis and then followed it up by losing their first game of the A-10 tournament to the eventual champion Richmond Spiders.
This wasn't a prolonged fall from grace like we saw with Xavier; this was 1 bad week that ended the Ram's season.
The Rams play elite defense, 4th best in the nation, which is even more impressive when you see that they played a very tough schedule, particularly in the non-conference, as their non-conference schedule was ranked 38th. The Rams have a tough draw with potential games against Wake Forrest and Texas A&M, but this team has the tools needed to win those games, and at this price, they show all kinds of value.
3 Teams That You Should Stay Away From
Virgina Cavaliers (+4000)
This one feels a little weird, as we are all used to seeing Virginia as one of the nation's best teams. And while this season wasn't a complete disaster, it wasn't up to the standard that Tony Bennett has set in Charlottesville, and it ends in the NIT, not the Final Four.
Even with as much success as Bennett has had running this Cavaliers program, the Cavs have had some hard to understand early postseason exits.
Virginia famously became the only 1-seed ever to lose in the first round a couple of years back, and they have had first-weekend premature ends to their season in 2021, 2018, 2017, 2015, and 2012. That is far too much losing early in tournaments to have any confidence in Virginia to win the NIT in a down year.
Oregon Ducks (+4000)
There might not be a more disappointing team in the country than the Oregon Ducks. Oregon has more than enough talent to be playing meaningful games in March, but they just couldn't stay consistent enough to get over the hump in the PAC-12. The Ducks really struggled towards the end of the year with losses in 7 of their last 10 games.
???????❕

? Utah State at 6pm (7pm MT).
? @ESPN
? @UOSportsNetwork #GoDucks | #AlwaysUs pic.twitter.com/XCqcJ0tgOL

— Oregon Men's Basketball (@OregonMBB) March 15, 2022
What makes this team so frustrating is that they have shown that they can beat quality teams with wins over UCLA (twice), USC, Washington State, SMU, and Colorado. But when it matters the most, they always come up short, so don't waste any money betting on the Ducks to win the 2022 NIT!
Utah State Aggies (+2500)
The Utah State Aggies were the odd man out in what I felt was a very underrated Mountain West Conference this season. The Aggies had a solid roster, but they couldn't beat the top teams in the MWC, and while their SOS was strong, they just didn't beat many of the best teams that they played this year. Utah State was a very streaky team this season, and they hit the skids late in the year, with a 2-5 record to end the regular season.
The Aggies also had some bad losses that have me selling all of the Utah State stock right now, as they lost to Nevada, Air Force, and UC Davis. I think there is actually a rule written somewhere that says if you lose to Air Force, you are disqualified from winning a postseason tournament. And if that's not a rule, it probably should be! 15 losses are too many to waste any money betting on Utah State and while they might be able to defeat Oregon in their first game, they have no shot at beating Texas A&M in their next game.
The Longshots
In this final tier of teams, we will give you the true hail Mary bets. These are the teams that would shock the nation if they made their way to MSG for the NIT Final Four, and even a win or two would be enough to unlock enough hedge value to make these bets worth a play. All of these teams pay out at least 50-1 odds and are your high risk, but equally high reward, gambles. You wanted madness? You got madness if one of these teams wins the NIT!
Northern Iowa Panthers (+5000)
It is rare that you can get a regular season league champion from a solid mid-major program at odds like these. The Missouri Valley Conference was up this year, as the MVC featured 5 teams in the top-100 nationally and another 3 teams in the top-200.
That makes the fact that Northern Iowa won the league that much more notable, as the Panthers played in a good league and ran up a 14-4 record.
The Panthers ran into Loyola Chicago in the MVC tournament, and we all know how tough it is to beat the Ramblers in March, so I won't beat them up too much for losing that game. When I look at the full body of work for Northern Iowa, I see a team that has wins over Loyola Chicago, Missouri State (twice), Bradley, Drake, and St. Bonaventure.
The Panthers are heading to the NIT with a return trip to St. Louis to take on the Billikens!

? : Saint Louis
? : St. Louis, Mo. | Chaifetz Arena
⏰ : TBA#EverLoyal pic.twitter.com/e9YHMl6EtQ

— UNI Basketball (@UNImbb) March 14, 2022
Most of UNI's losses came to teams playing in the NCAA tournament, and with a 19-11 record despite an SOS in the top-100, I am not sure why the Panthers are paying out jumbo odds right now, as this is a quality basketball team. It wouldn't at all surprise me to see Northern Iowa win their bracket and play for the title in the Big Apple, and I love a play on the Panthers at this price.
Towson Tigers (+8000)
Towson was far and away the best team in the Colonial this year, but when you play in a small league like the CAA, you either win your conference tournament, or you get left out of the NCAA tournament. The Tigers were the only team ranked in the top-100 in the CAA, coming in over 50 spots higher than the next closest team in the league. Towson shared the regular season title with UNC Wilmington and finished the regular season blistering hot with a 16-2 record in the 2nd half of the season.
But we all know how tough it can be to beat a team 3 times in 1 year, and that hurt the Tigers, as they failed to beat Delaware in the CAA tournament, and here they are playing in the NIT instead of the NCAA tournament. Towson scores efficiently, and they get after it on the offensive glass, and that is a recipe for success when it comes to tournament basketball.
And there is something to be said for being a team that has 25 wins on their record playing in a better than average league like the CAA. The path to NYC won't be an easy one, but the Tigers are a much better team than these odds might lead you to believe, so drop a couple of bucks on the Tigers and hope that they can stay hot and get you paid.
Wrap Up
With the NCAA tournament stealing most of the spotlight right now, that leaves a lot of value to be had betting on the NIT. We see massive casual action come in on the NCAA tournament, which can skew some of the lines and make it hard to find value. That isn't the case when you are handicapping the NIT, so do yourself a favor and check in on the other national postseason basketball tournament and get paid on what are some high value spots.
Thanks for reading and make sure that you check in with TheSportsGeek daily through the month of March, as our team of expert handicappers bring you all of the high value betting advice that you need to make money betting on NCAA Men's College Basketball!