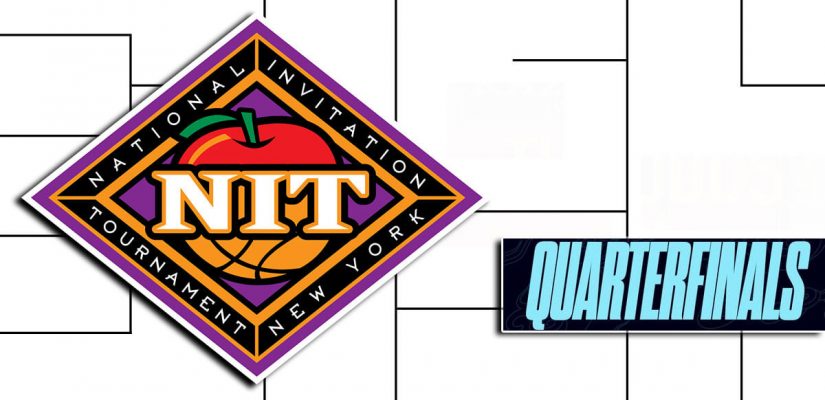 After a wild weekend of action on the college hoops hardwood, where the NCAA Men's Basketball Tournament whittled the field of 64 all of the way down to the Sweet 16 during 4 days of utter madness.
We now turn our attention to the other major national basketball tournament, the NIT!
While most of the coverage this week will center on the Big Dance, as you are sure to be flooded with stories about teams like St. Peter's, Michigan, Iowa State, and Miami, as each of those double-digit teams survived the opening weekend, we here at TheSportsGeek know that the name of the game is finding value, and there is plenty of it to be found when handicapping the NIT.
The 2022 NIT bracket pic.twitter.com/bQB1IdrCpP

— Mitch Harper (@Mitch_Harper) March 14, 2022
Casual fans will say that these games don't "matter," but try telling that to these kids on the court, as for the most part, these NIT games have been excellent. The NIT wrapped up their opening rounds last week, and we are now at the NIT quarterfinals with just 8 teams remaining from a starting field of 32.
This year, the NIT quarterfinals will feature 2 games on Tuesday and 2 more games on Wednesday to decide which squads get to head to the world's most famous arena, Madison Square Garden, in New York City, next weekend for the NIT Final Four.
NIT Quarterfinals: How Did We Get Here?
Many people look at the NIT as the runner-up tournament, as all of these teams would have much rather been playing in the NCAA tournament, but that hasn't made betting and sweating these games out any less entertaining or profitable. You could have made a case that several of these teams likely should have been playing in the Big Dance, and not the NIT, so there are some talented teams in this field.
In my NIT preview article last week, I mentioned that I am always very leery of the top-seeded teams in the NIT, as historically we have seen what I call the NIT hangover, as teams are so disappointed in not hearing their names called on Selection Sunday, that they no-show the NIT with a lackluster performance that leads to an early exit.
That premonition came true this year as well, as 3 of the 4 1-seeds were eliminated during the first 2 rounds of NIT action. The only 1-seed that is still alive? The Aggies of Texas A&M, the team that I picked to win this event at (+725) betting odds!
Mirror Image Of The Big Dance?
One thing that sticks out to me as I take a look at the results that have led us to the NIT quarterfinals, is that the leagues having success in the NCAA tournament, are also playing well in the NIT. From the highest of levels this season, most everyone felt that the most talented leagues in the regular season were the SEC and the Big 12, and that the ACC and the PAC-12 were both way down.
That was reflected in both the number of teams that got into the dance from those leagues, as well as their respective seeds.
But after the first weekend of the madness, it is looking like we might have all gotten that wrong, as the ACC and PAC-12 lead the nation in winning percentage in the tournament, with a combined 12-3 record, and the SEC has been decimated, with a losing record overall, and only 1 team, the Arkansas Razorbacks, still dancing. The Big 12 had a nice showing as well, so we didn't miss on that one, but tournament basketball is different, and when I see similar trends playing out in the NIT, I will use that information to help find max value on these NIT quarterfinal betting odds.
In the NIT's version of the Elite 8, we have 3 teams playing out of either the PAC-12 or the ACC that are still in action, with Wake Forrest, Virginia, and Washington State all competing for that trip to MSG. The PAC-12 and ACC are joined by 2 teams from the SEC, and 1 team each from the WCC, A-10, and Big East.
These elite leagues spend the entire 2nd half of the season beating up on each other, and it can be hard to predict how they will play against other conferences until the postseason, and with similar trends in both of these tournaments, I have some great data points to use to find my NIT quarterfinal best bets. With that, we will jump into my individual NIT quarterfinal game breakdowns by heading to the Cintas Center in Cincinnati for the game between Xavier and Vanderbilt!
Vanderbilt Commodores vs Xavier Musketeers
The 2nd seeded Xavier Musketeers will welcome the 4-seed Vanderbilt Commodores to town on Tuesday for a chance to punch their ticket to the Big Apple for the NIT Final Four next weekend. When these brackets were first announced, I was not very high on the Musketeers, as they played poorly in the 2nd half of the season, and I felt that their lack of momentum would cost them in this tournament.
And it was looking like my read was spot on:
As Xavier trailed at home late in the 2nd half against Cleveland State, and it looked like the Musketeers were going to be 1 and done in the NIT.
But I do have to tip my cap to Xavier, as they gutted out the win over the Vikings, and in their following game, they looked like the Xavier team that started out their season with an 11-1 record, not the one that lost 8 of their last 10 games prior to the NIT, when they beat down the Florida Gators 72-56. This team is undeniably talented and had they played like they did against Florida, at the end of the regular season, they would have been playing in the NCAA tournament, not the NIT.
?? ???? ???@XavierMBB vs. @VandyMBB
?: Tuesday, Mar. 22
⏰: 9:00 PM
?: https://t.co/aTYWuJ1ocx pic.twitter.com/XKNYSlS5ND

— Xavier Tickets (@XavierTickets) March 21, 2022
For Vanderbilt, the Commodores weren't a team that felt snubbed for the madness, as they weren't close enough to the bubble to even be part of the conversation. But they are playing well right now, having won 5 out of their last 6 games. It appears that tournament basketball suits the Commodores just fine, as they won 2 games in the SEC tournament before giving the Kentucky Wildcats all that they could handle in a loss, and they are 2-0 in the NIT, with wins over Belmont and Dayton.
This could very well be a make-or-break tournament for Vanderbilt head coach Jerry Stackhouse, as while the Commodores have improved their Kenpom ranking in each of his 3 seasons at the helm, Vanderbilt fans are sick of being the doormats in the SEC, and they brought in the former NBA all-star to turn this program around, and his 39-53 record leaves a lot to be desired to say the least.
For many of these programs, winning the NIT would be a footnote in their history, but for Jerry Stackhouse and his Commodores, this is their opportunity to be seen under the national spotlight and win in the postseason. I expect a full effort from Vanderbilt tonight as they try to break through with what could be a program-altering NIT title.
The Bet
A lot of people are hammering the SEC right now, as the league has performed terribly in the postseason. And while many are quick to say that the league was overrated, I am not so sure that is the case. I think what happened in the SEC is that all of these elite teams beat each other's brains out for 2 months, and now that they have been run through that gauntlet, these squads are worn out.
That is not to say that Xavier had it easy in the Big East, as that league was nasty too, but the SEC might have blown its load a bit early, and that explains why they are dropping like flies in these postseason tournaments.
Assuming that Xavier has gotten things turned around after their late-season slump, and their performance against Florida tells me that is the case, the Musketeers shouldn't have much trouble winning this game. Xavier rose to as high as 18th in the nation on Kenpom at one point this season, so this is a team that can play at an elite level when they are at their best.
Xavier needs to find a way to slow down Vanderbilt star Scottie Pippen Jr. to get the job done, but when I see that the Musketeers are 15-5 at home, I think that Xavier wins this game and advances to Madison Square Garden next weekend!
Virginia Cavaliers vs St. Bonaventure Bonnies
For much of the regular season, the ACC was a league that was easy to laugh at, as they sure didn't look like the power conference we have all come to know and love. Perennial powerhouse programs like Virginia, Louisville, Syracuse, and Florida State were all down, and the league got just 4 teams into the Big Dance, one of their lowest totals in recent memory. But after watching these teams perform in the postseason, with an 8-2 record in the NCAA tournament, and a 4-0 record in the NIT.
The ACC has quickly reminded everyone that this is absolutely an elite league.
Virginia looked like they were going to get hot enough late in the season to play themselves into the NCAA tournament when they won 5 of 6 games that included wins over Miami (twice) and Duke, but the Cavs dropped each of their last 2 home games of the regular season and after a quick exit in the ACC tournament, nobody in Charlottesville expected Virginia to get an at-large bid, and that ended up being the case.
"We really challenged him at halftime. 'We need you. These guys need you. You're a better player than you showed.' Boy, did he ever respond."
Armaan Franklin scores 17 points in the second half and OT to lead #UVa past North Texas in the #NIT. https://t.co/HudO0Wzbxu pic.twitter.com/nFAejvq8HJ

— Cavalier Insider (@cavalierinsider) March 21, 2022
The NIT was happy to hand out a bid to the Cavaliers though, and Tony Bennett and company have taken full advantage of this opportunity, picking up a win over Mississippi State in their opening game and then knocking off North Texas on the road in their last game. This is certainly not the level of talent that we are used to seeing out of Virginia under Bennett, but this is a proud program, and when they take the floor, they play hard, and they play to win.
The Cavs will try to pick up another win at home, as the Bonnies of St. Bonaventure travel to Charlottesville. The Bonnies were amongst the last teams that got into the NIT field, but they have not let that slow them down, as they beat Colorado and Oklahoma, both teams that could have made the Big Dance after solid seasons.
Winning on the road is never easy, but the Bonnies have done a great job of doing just that as they haven't lost a road game since February 4th, and they have true road wins at Oklahoma, Colorado, St. Joe's, Saint Louis, Duquesne, and La Salle this season. Do the Bonnies have what it takes to keep their season alive on the road at Virginia?
The Bet
The Bonnies are one of the hottest teams in this NIT field, as they are 10-2 in their last 12 games. And while St. Bonaventure has had a lot of success winning on the road this season, there are few places tougher to play than in Charlottesville.
My heart wants to back the Bonnies:
I love when mid-major programs can beat these power conference teams, but I think that Virginia is going to win this game.
Tony Bennett has far too long of a track record of success in March to doubt him in a true home game. While the Bonnies are going to be motivated to win and this game will likely mean a lot more to them than it does to the Cavs, I still expect Virginia to win this game.
? NIT Update ?
? St. Bonaventure
? Tuesday, March 22
? 7 p.m.
?️ @JPJArena
? ESPN
?️ https://t.co/vuDj8QRMh6
?⚔️? #GoHoos https://t.co/K3xhPkPd3m

— Virginia Men's Basketball (@UVAMensHoops) March 21, 2022
Had the Selection Committee gotten to see how great the ACC would play in the postseason prior to releasing the brackets, Virginia's 13 wins over ACC teams this year would have been a lot more impressive, and they might have had a real shot at the Big Dance. Expect Virginia to be small favorites and to win this game against a motivated, but limited, Bonnies squad.
Washington State Cougars vs BYU Cougars
The NIT quarterfinals get a little taste of the west coast in this game, as the Washington State Cougars square off against the BYU Cougars in Provo. BYU had more than enough talent to be playing in the NCAA tournament this year, but a late-season 4-game losing streak, and bad losses to teams like Utah Valley and Pacific, kept the Cougars out of the madness. BYU is gearing up for a move to the Big 12, and they would love to leave the WCC with this NIT tournament title in tow.
It was too little too late for BYU to get into the NCAA tournament.
But they do hit this game having won 7 of their last 9 games. Both of those losses came to teams that did hear their names called on Selection Sunday, in St. Mary's and San Francisco, and with this game coming on their home floor, they aren't going to go down without a fight. BYU is 14-2 in Provo this season, with losses to only Gonzaga and San Francisco, so if Washington State wants to win this game, they are going to have to play their best.
BYU vs Washington State.
Wednesday (Mar23).
7pm MT.
ESPN2.#BYUhoops #GoCougs pic.twitter.com/H3uqOhpW1m

— BYU Men's Basketball (@BYUMBB) March 21, 2022
This will be Washington State's 2nd game against the WCC in the NIT, as they ended San Clara's season in their opening game, beating up the Bulls to the tune of a 63-50 final score. WAZZU then took their show on the road and beat SMU, and they will again to be tasked with having to win in hostile territory at BYU.
The Cougar's resume wasn't very strong this year.
They were never in real consideration for an at-large bid, but the analytics love this team, as they are sitting at 46th on Kenpom right now. That ranking has WSU ahead of teams that did get at-large bids like Creighton, Seton Hall, and Indiana, so this is a team that is probably better than most people are giving them credit for right now.
The Bet
This is a sneaky good game, and the winner of this game could very well win the NIT, as both of these teams are in the top-50, and they both have top-100 strength of schedules, so they are used to playing against good teams.
The betting line for this game has yet to be released, as they won't play until Wednesday, but you can expect BYU to be favored. Kenpom has BYU winning this game by 4-points, and generally, the opening line is usually very close to Pomeroy's projected spread.
I would agree with Kenpom's valuation, as BYU should be favored, but when I see how many close games that Washington State has lost this year, it has me thinking that WSU is going to keep this game very tight. WSU lost at Oregon by 3, at USC by 2, and they had single-digit road losses at Washington and Colorado.
The match up is set – it's a clash of the Cougars Wed., March 23 at 7pm MT from the Marriot Center in Provo, Utah live on ESPN2#GoCougs | #RoadToTheGarden pic.twitter.com/POHQiQF3kZ

— WSU Men's Basketball (@WSUCougarMBB) March 21, 2022
It will be interesting to see where this line opens up, as, at the end of the day, it is all about the price. If the money line is reasonable, a play on BYU to win outright shows high value. But if the books are going to give you 5 or more points to back WSU, you are going to want to snatch up those points, as this one is going to come down to the final few possessions of the game to be decided.
Wake Forrest Demon Deacons vs Texas A&M Aggies
The final teams that will be playing for that trip to MSG are the Texas A&M Aggies and the Wake Forrest Demon Deacons. In my initial breakdown of the NIT, I made it very clear that I was all in on Texas A&M winning this tournament, as I felt that they did more than enough to get into the NCAA tournament.
And while most of the top seeds were sour grapes and bowed out early, I didn't see that happening with A&M, as Buzz Williams is still in the early stages of rebuilding this program in College Station, and he is going to want to cut down the nets next weekend. The Aggies are blistering hot right now, as going back to the end of the regular season, they are 10-2 in their last 12 games.
They have recent wins over top-100 teams Florida (twice), Alabama, Mississippi State, Auburn, Arkansas, and Oregon. Texas A&M is playing pissed off, which is what I expected, as a Buzz William's coached team isn't one that is going to pout about not getting into the Big Dance, they are going to prove the haters wrong, and show that they deserved the bid.
??? ????????????? | vs Wake Forest

? Wednesday, March 23 at 6 p.m.
?️ Free admission & parking
? ESPN2#GigEm pic.twitter.com/0c0HOyRQ0p

— Texas A&M Basketball (@aggiembk) March 21, 2022
The Aggies get the toughest draw of any of these teams though, as Wake Forrest came into this event as the 2-seed in the Aggie's region, making this the only region where we will have a 1-2 matchup in the NIT quarterfinals. Wake Forrest is in a similar position as Texas A&M, if maybe a year or two behind them, when it comes to building their program.
The Demon Deacons haven't been good in a long time, but new head coach Steve Forbes took them from just 6 wins in his debut season last year, to 25 wins this season. Had the ACC been a little better during the regular season, the Deacons 13 league play wins would have been enough to send them dancing, but the relative strength of the league hurt them, and they got left out.
Hopefully, Forbes learned his lesson this year, as Wake had a non-conference SOS of 351st this year, and had the Demon Deacons played a couple more quality teams in the non-conference, their resume would have potentially looked much better. I think Forbes is the guy for the job at Wake, to get this program turned around, and an NIT title would go a long way into speeding that process up.
The Bet
This is a really good game. I like both of these teams, and whichever team wins this game will be my pick to win it all next weekend at Madison Square Garden. My specific bet on this game is going to depend on the exact NIT quarterfinal betting odds that should be released later this week, as there isn't a lot that separates these squads, and the line will dictate my action.
If there was an Achilles heel for Wake Forrest this season, it was their inability to win away from home.
Of the Demon Deacon's 9 losses, 7 of them came in road, or neutral floor, games. That included some bad losses that they wish they could have back like the losses to Syracuse, Boston College, Louisville, and Clemson. None of those teams made the NCAA tournament and had Wake been able to beat them, they probably would have gotten into the madness themselves.
?Wednesday March 23
⏰ 7PM
?ESPN2#GoDeacs ??https://t.co/dId8PaWIcg

— Wake Basketball (@WakeMBB) March 21, 2022
I see Texas A&M winning this game, but I would be shocked if they blew it out. Both of these teams are going to be motivated to win this game, and both teams fit the mold of the type of up-and-coming programs we tend to see win in the NIT.
And while the Aggies are the side to back on the money line, if the books are going to give me more than a full possession's worth of points, I am likely snatching those up, as Wake just doesn't get blown out very often. If you ask me, this is the real NIT finals, as these are the best 2 teams still playing and we are in for an exciting affair on Wednesday night from College Station!
Wrap Up
And there you have it folks, my NIT quarterfinal's best bets! We are still waiting for the NIT quarterfinals odds to be posted, and we probably won't get those until game day on Tuesday and Wednesday, but now that you know what to expect, if the books post a bad number on any of these games, you want to punish them for it.
Thanks for reading, and make sure that you stay tuned to TheSportsGeek all March long, as our team of expert handicappers bring you all of the high value betting advice that you need to make money betting on the madness!