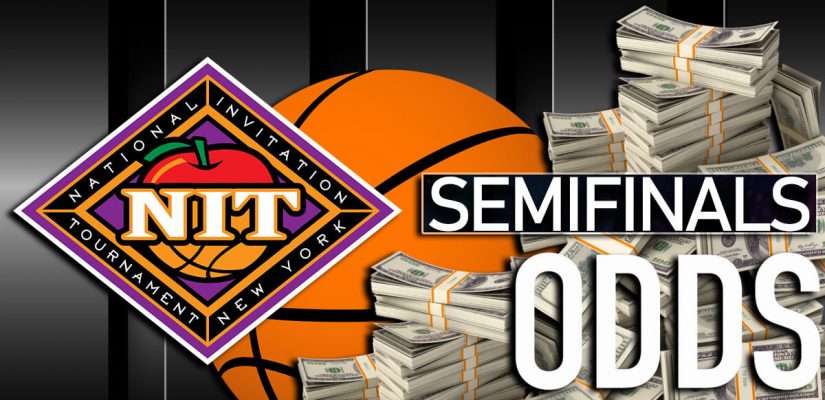 While the NCAA Men's Basketball Final Four is hogging most of the national spotlight, the NIT will play down to their winner this week as well, with the Final Four teams heading to the World's Most Famous Arena, Madison Square Garden, in New York City, to play for the NIT Championship. Winning the NIT doesn't carry nearly as much prestige as winning the national title does, but we have seen in recent years, that teams that win the NIT can use it as a springboard to get the program moving in the right direction.
There are only 8 teams left playing college basketball right now, and with the NIT playing their games on Tuesday and Thursday, and the NCAA Tournament playing on Saturday and Monday, the NIT will get the spotlight all to their own this week. That gives these programs the opportunity to play on the national stage and that can be an invaluable recruiting tool when it comes to attracting the next generation's top talent.
next stop: The Big Apple ?

— Texas A&M Basketball (@aggiembk) March 24, 2022
As I look back on my NIT coverage for TheSportsGeek, I am quite happy with our results. In my NIT preview, I tabbed Texas A&M as the team to beat, and had you taken my advice and made a play on the Aggies to win this tournament at (+725) odds, you would be sitting pretty right now, as A&M has played high quality basketball. In my quarterfinal breakdown last week, I correctly predicted 3 of the 4 games, giving you winners on Texas A&M, Washington State, and Xavier.
We just missed out on the full scoop, as we had Virginia winning and advancing against St. Bonaventure, and the Cavs were ahead with just 5 seconds left on the clock before a pair of made free throws late sent the Bonnies to the NIT Final Four. The NIT doesn't get much love from the casual fans, but it can be a great spot for high-value bets, and here at TheSportsGeek https://www.thesportsgeek.com/sportsbooks/college-
basketball/ it is all about the action and being able to find the value!
With the NIT semifinals playing out tomorrow, we are going to take our 3rd stab at handicapping the games, and we will look to stay red hot and stack some more cash by breaking down the NIT semifinal's odds and giving you our NIT semifinal's best bets. With that, let's jump right into it, as we first check in on the future's odds on each of these teams to win the 2022 Men's Basketball National invitational Tournament!
NIT Semifinal's Odds
There are only 4 teams left dancing here in the NIT, which opens up ample value on these future's bet plays, as you can lock in some high-value action without locking your money away for very long, as this tournament will be done on Thursday night. Many times, casual sports bettors pass on making future's bets, as they don't want to lose a big chunk of their bankroll for months, while they wait the plays out.
They are essentially giving away value for the sake of not being able to use those funds to find even more value! But as a sharp handicapper, you never want to give up any value, as it is too hard to find to pass up on! With these plays, we get our cake and eat it too, as we can make some profitable bets, and we will still be able to get all of our money back by this weekend, so we can fire on the Final Four!
Odds Top Win 2022 Men's Basketball NIT
St. Bonaventure Bonnies:
+280
Washington State Cougars:
+310
The first thing that sticks out to me about these odds is how tight they are. The Aggies are the favorites, and I can certainly support that, as I have been on A&M since the second that they got snubbed for the Big Dance, but based on these odds, all of these teams have a decent chance of taking home the NIT title. The other thing that these odds tell me is that the books have a much stronger opinion on the game between Texas A&M and Washington State, than they do on the game between Xavier and St. Bonaventure.
To see the Bonnies and Musketeers have identical odds to win it all says that while the books are favoring the Bonnies to win the game, they feel that the game could go either way, and that whichever team does advance to the finals, has about the same chances to beat either the Aggies or the Cougars. I am not sure I completely agree with this logic, but it is important to understand what a line is telling you if you want to be able to effectively exploit it.
Who Do I Like?
I have been riding with the Aggies from the outset and I won't change course now, as they still show nice value here at (+165). Assuming that Texas A&M gets past Washington State, they are going to be favored in the finals no matter who they match up against, so based on the hedge value alone, action on the Aggies makes sense.
But in reality, I like a play on A&M, because they are the most talented and hottest team in this field, and I think they are going to win this tournament.
When you are handicapping sports bets, it is less about whether a team will win or not, and much more about how much value they show at the current price. At the end of the day, it is all about the math, and if the price is right, you must fire.
An example of this concept would be if we could get Washington State at (+1500) not the current price of (+310). I don't think the Cougars are going to be able to win this tournament, but if they were priced like that, I would have no choice but to hammer it, as the price would make it a very profitable long-term play.
With this bet on Texas A&M, we get an attractive price, and we get to bet on the team that I think actually wins the tournament. It is the proverbial win/win and that is where I will take my stand when it comes to my NIT semifinals best bet on which team will win the 2022 Men's Basketball NIT! Now that we have that out of the way, let's go take a look at the individual games we have on tap for Tuesday night.
St. Bonaventure Bonnies vs Xavier Musketeers (+2)
I am not sure that this is the matchup that everyone expected, as the Bonnies of St. Bonaventure had a brutal path to make the NIT semifinals and Xavier was in free fall at the end of their season, with losses in 8 of their previous 10 games prior to the NIT. But it is the matchup that we have got, and when I look back on the full body of work for both of these teams, I think we are in store for a great game between the Musketeers and the Bonnies.
St. Bonaventure Bonnies (23-9)
St. Bonaventure suffered through a brutal stretch during the regular season that saw them lose 6 of 10 games. That nasty run all but ended the Bonnies' chances at making the NCAA tournament, but you do have to tip your cap to head coach Mark Schmidt, as he rallied the troops and finished the regular season with an 8-1 record in their final 9 games.
The Bonnies were a sexy dark horse pick in the A-10 conference tournament, but they failed to beat Saint Louis in their opening game, after beating the Billikens twice in the regular season, and that loss sent St. Bonaventure to the NIT as a 5-seed.
Vaccaro: Magical NIT Run Adds Fitting Chapter to Legacy of Seniors, Bona's Program https://t.co/Aq3LVejfcZ

— St. Bonaventure Athletics (@GoBonnies) March 28, 2022
To even see St. Bonaventure still alive has been impressive, as no team has had a tougher path to MSG than the Bonnies. Coming in as a 5-seed, St. Bonaventure had to win all 3 of their games on the road in true road games. They knocked off Colorado, Oklahoma, and Virginia, all power conference teams that could have easily been dancing in the NCAA tournament, rather than the NIT. Each of their last 2 wins came in the final seconds, making St. Bonaventure's run that much more unlikely, and this team feels like they can beat anybody after playing so well in the last 2 months.
Xavier Musketeers (21-13)
The Musketeers are a hard to nail down team this season. At times, they have looked like an elite team that not only should have been playing in the NCAA tournament, but were likely to win games in the Big Dance. This was evident when they started out the season 11-1, with wins over Ohio State, Virginia Tech, Oklahoma State, and Marquette. But the Musketeers hit the skids late in the year, as they just couldn't hang with the top teams in the Big East in conference play.
?? ????? ???? ????… pic.twitter.com/9vbw0UtBD4

— Xavier Basketball (@XavierMBB) March 25, 2022
X lost to Butler in their first game of the Big East tournament, and it was looking like the Musketeers had given up on the season and were ready to pack it up and call it a year. As bad as Xavier looked late in the season, they have quickly regained their early season form in this tournament, as they have gone 3-0, with wins over Cleveland State, Florida, and Vanderbilt.
We know that Xavier has the talent to win the NIT, the question is, which version of the Musketeers are we going to see this week in the Big Apple?
The team that has wins over Ohio State, Virginia Tech, Oklahoma State, Marquette, Creighton, and UCONN, to go along with their dominance in this tournament? Or the team that couldn't win for losing down the stretch and picked up questionable losses to teams like DePaul and St. John's?
The Bet: Xavier (+2)
I am fairly surprised at where this line is at right now. Kenpom has the Musketeers winning this game by a couple of points, which made the opening line of St. Bonaventure laying a point, already feel a bit wonky. I am not saying that every line needs to match the analytics exactly, but a 3-point gap in an opening line is exceedingly rare.
But the public hasn't seen it that way:
As they have mostly been on the Bonnies, shifting this line a full point towards St. Bonaventure, to where it stands now with the Bonnies laying (-2).
I have been fading the public all season long and getting paid, and that is what I am going to do in this game as well. I am not sure I can remember the last time I found a 4-point gap between the data and the betting line in a high-profile game such as this, and that is where I will find the value, with a play on Xavier.
We head back to @TheGarden this week for a NIT Semifinal matchup vs. St. Bonaventure.

✍️ | https://t.co/3VRGXehOEH#LetsGoX pic.twitter.com/OIzUd3HeBl

— Xavier Basketball (@XavierMBB) March 27, 2022
This team somehow managed to turn things around late in the year, and if this team really is back to playing at the level that they were in November and December, they aren't just going to cover this spread, they are going to win the game outright. I will take X and the points as they win and advance to the NIT finals with a win over the Bonnies!
MORE FREE SPORTS BETTING PICKS!
St. Bonaventure Bonnies vs Xavier Musketeers Pick
Washington State Cougars vs Texas A&M Aggies (-1.5)
While the other side of the NIT bracket has a couple of unlikely teams playing for a chance to win and advance to the NIT finals on Thursday night, this side of the bracket wasn't very hard to see coming, as both of these teams were squads that I felt could win this tournament when the brackets were first announced. Texas A&M might be the hottest team in the country right now with how they have played in the last 6 weeks and Washington State is ranked at 37th on Kenpom entering play tomorrow, suggesting that they were a lot closer to the bubble than most people thought they were on Selection Sunday.
Washington State Cougars (22-14)
Washington State has had a fairly predictable season. They have mostly beaten the teams that they were supposed to and lost to the teams that were better than them. The Cougs had a couple of bad losses to teams like Eastern Washington, UDUB, and Stanford, but for the most part, they beat the bad teams and lost to the good ones.
Brooklyn we go hard, we go hard…
B-R-O-OK!
L-Y-N come again!#GoCougs pic.twitter.com/UkRRUsDrlx

— WSU Men's Basketball (@WSUCougarMBB) March 28, 2022
With an SOS in the top-100, that has been enough to call this season a success in Pullman. Head coach Kyle Smith has a long history of turning programs around, as in his previous stints at Columbia and San Francisco, he left both programs in better shape than he found them, and now at WSU, he has seen his Kenpom ranking improve significantly in each season since he took over in 2020.
Washington State is a program on the rise in the PAC-12 and with the conference of champions having a resurgence with Arizona and UCLA helping put the league back on the map in terms of contending for a national title, you can expect to see WAZZU breakthrough with a trip to the NCAA tournament sooner rather than later.
Texas A&M Aggies (26-12)
The Aggies of Texas A&M should have been playing in the NCAA tournament. I felt that was strongly the case on Selection Sunday, when they got left out of the madness, and I feel even stronger about that opinion now, as they run through this NIT bracket.
Momentum is huge when it comes to winning meaningful games in March, and just like how we are watching North Carolina ride their strong push late in the season to the Final Four of the Big Dance, the Aggies caught fire late, and they are playing their best basketball of the season at just the right time.
From the outside looking in, you can't understand it.

From the inside looking out, you can't explain it.#GigEm?#getBETTER? pic.twitter.com/JXVYmFDgwQ

— Texas A&M Basketball (@aggiembk) March 25, 2022
Going back just over a month, the Aggies have a 10-1 record that includes top-100 wins over Florida (twice), Alabama, Mississippi State, Auburn, and Arkansas, as well as their wins over Alcorn State, Oregon, and Wake Forrest in the NIT. That lone loss came to a very good Tennessee team and had the Aggies gotten into the NCAA tournament, I am sure they would have been a very tough out. Buzz Williams is doing all of the right things in College Station and adding an NIT title to his resume just might be the boost that the Aggies need to compete at the top of the SEC in the next few years.
The Bet: Texas A&M (-1.5)
Washington State has done a great job of keeping games close this year, as nearly all of their losses have been tightly contested. Their ability to keep games close is what is making the analytics love them so much and explains their top-50 national ranking. And While I would think that trend will continue and this game will be competitive, I do think the Aggies win and cover.
We already talked about how hot Texas A&M has been in the last several weeks, but it isn't just that they are beating all of these good teams that impresses me, it is how they are winning them, that has me loving them in this game.
All 3 of their wins in the NIT have come by double digits and going back to the end of their season, their wins over Arkansas, Alabama, Mississippi, and Georgia were all decided by at least 10 points as well. This team isn't just winning, they are blowing most of their games out, and I see them handling WSU in this game and punching their ticket to the NIT finals and getting us paid along the way! Give me A&M laying a point and a half on Tuesday night from MSG!
MORE FREE SPORTS BETTING PICKS!
Washington State Cougars vs Texas A&M Aggies Pick
Wrap Up
And there you have it, my breakdown of the NIT semifinal's betting odds and my NIT semifinal's best bets! We have been smoking hot in March, and while the NIT isn't nearly as exciting as the NCAA tournament, it has been very profitable for us, and we will look to stay hot, with even more action on the 2022 Men's Basketball NIT! Thank you for reading and make sure that you stay tuned to TheSportsGeek as our team of expert handicappers provide you with all of the high-value betting advice that you need to finish out March Madness by making money!