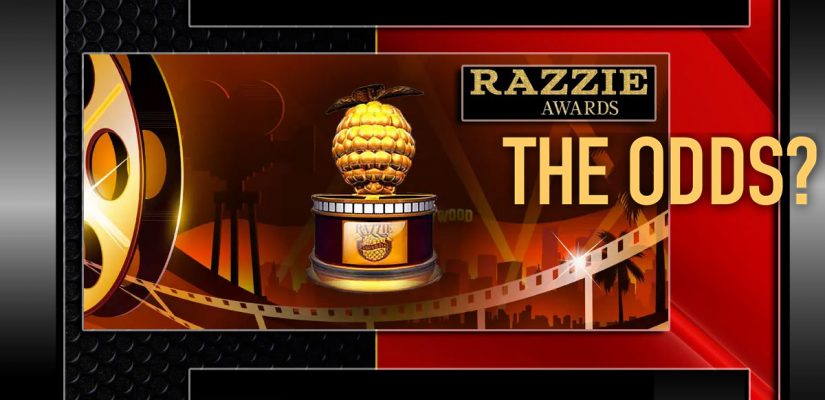 We are now in the thick of awards season. The Golden Globes, SAG Awards, BAFTAs, and Critics Choice Awards have all come and gone. The Academy Awards, regarded by most as the most prestigious film awards show of them all, will air on Sunday, March 27th.
The Grammys follow a week after that.
While these awards shows are typically a good excuse for Hollywood's best and brightest to pat themselves on the backs for a job well done, not all awards shows are created equally. A day before the Oscars, the Golden Raspberry Awards will hit the airwaves on March 26. Casually known as the Razzies, this show was essentially designed to be a parity of the Oscars. Instead of honoring the best movies of the last year, however, the Razzies exist to "celebrate" the year's biggest under-achievers in the industry. While you may see winning a Razzie as a rather dubious honor, some of the biggest names in Hollywood have enjoyed quite a bit of success at this show over the years.
As is the case with the aforementioned major awards shows, entertainment betting sites offer Razzie Awards betting odds, as well. With the show just a few days away, many of the top sites have already posted 2022 Razzie Awards odds.
What is a Razzie Award?
While the Razzies may not be quite as renowned as the Oscars or the Emmys, this isn't the first year you'll be able to find Razzies odds online. In fact, the Razzies actually originated way back in 1981 in the living room of publicist John JB Wilson.
Wilson, who hosted an Academy Awards viewing party at his home every year, decided after the 53rd Oscars in '81 to host a tongue-in-cheek ceremony to honor the worst films of the previous year. Wilson passed out ballots to each of the party's attendees covering a number of categories, including Worst Actor, Worst Picture, etc.
The guests were invited to make their own awards presentations to the various honorees. Can't Stop the Music, a musical/comedy starring Steve Guttenberg, Caitlyn (nee Bruce) Jenner, and the Village People, won Worst Picture at the first Razzies.
A few publications picked up the news of the first Razzies, which grew in popularity with each passing year. The number of attendees doubled each year between the first and third editions of the Golden Raspberries, with CNN and a few other major news wire services covering the third. Wilson eventually realized the Razzies needn't try and compete with the Oscars, so he moved the Razzies to the night before the Academy Awards.
The Razzies may sound like a joke, but things have gotten quite official over the years. Members of the Golden Raspberry Award Organization pay for their memberships.
The group currently consists of over 600 members from nearly 20 countries around the world.
Razzie Awards betting odds cover all of the major categories, including Worst Actor, Worst Actress, Worst Picture, Worst Director, and Worst Prequel, Remake, or Ripoff!
2022 Razzie Awards Odds
Worst Actor
LeBron James (Space Jam: A New Legacy):
-110
Ben Platt (Dear Evan Hansen):
+165
Mark Wahlberg (Infinite):
+500
Scott Eastwood (Dangerous):
+1000
Roe Hartrampf (Diana the Musical):
+1500
If you want a more detailed look at LeBron James' 2022 Razzie Awards odds for Worst Actor, look no further. LeBron is actually an odds-on favorite to win Worst Actor at the Razzies for his work in Space Jam: A New Legacy. Apparently, James wants the comparisons to Michael Jordan to extend beyond the basketball court.
The original Space Jam, which featured Michael Jordan teaming up with the Looney Tunes in a rather important intergalactic basketball game, was a smashing success. The film, released in 1996, generated over $250 million at the box office on an $80 million budget. Covid did LeBron's take on Space Jam no favors, of course. Space Jam: A New Legacy was released in July of 2021. While it still raked in over $160 million at the box office, it also barely turned a profit on its whopping $150 million budget.
James is the favorite, but he isn't the only actor with favorable Worst Actor Razzie odds. Ben Platt, who made a name for himself as a Tony-winning actor for his work on Broadway in Dear Evan Hansen, struggled to recreate that magic in the play's disastrous film adaptation last year. This movie fell flat at the box office, generating just $19 million, which was about $10 million under budget.
One look at the trailer tells you all you need to know:
Dismal stuff, to be sure. Platt's +165 Razzie odds give him better than a puncher's chance at beating LeBron out for that coveted Worst Actor trophy.
A couple of semi-familiar names round out the Worst Actor field.
Mark Wahlberg, the most well-known actual actor in the running, is listed at +500 in 2022 Razzie Awards betting odds for Infinite, a movie that looks exactly as dumb as the title makes it sound:
Clint Eastwood is Hollywood royalty and a four-time Oscar winner. He has a son, Scott, up for a Razzie this year with +1000 Razzie odds for Worst Actor. It sure looks like that apple has fallen far, far from the tree.:
Ever heard of Dangerous? Me neither. I'd assume considering watching a movie that bad would put anyone in mortal danger of making a horrific decision.
There is a lot of good competition for Worst Actor here.
James isn't all that appealing as a value at -110. You might as well take a stab at one of the other disastrous actors at plus-money odds. Eastwood at +1000 is the best value of the bunch.
Worst Actress
Jeanna de Waal (Diana the Musical):
-135
Taryn Manning (Karen):
+200
Amy Adams (The Woman in the Window):
+650
Ruby Rose (Vanquish):
+800
Megan Fox (Midnight in the Switchgrass):
+1000
The Worst Actress field isn't necessarily laden with stars, but you have heard of at least a couple of the nominees. Amy Adams, a six-time Oscar nominee, is listed with +650 2022 Razzie odds for Worst Actress for The Woman in the Window. Megan Fox is more known for her off-screen life than her actual on-screen accomplishments, but she's also nominated with +1000 odds for Midnight in the Switchgrass…whatever that is.
However, the nominee with the best Razzie Awards betting odds for Worst Actress is Jeanna de Waal at -135. Diana the Musical is exactly what it sounds like. It's a musical based on the life of Princess Diana that hit Netflix last October. Literally, every "accolade" on this movie's Wikipedia page is a Golden Raspberry nomination. Diana the Musical racked up nine nominations, including Worst Picture.
As was the case with Platt in Dear Evan Hansen, de Waal is making the move from the theater to the silver screen. For whatever reason, Broadway productions don't always transition well to film. De Waal seems to be a worthy Worst Actress favorite at those -135 Razzie odds. Apparently, there was a movie named Karen released last year. And, yes, the title says it all:
Looks great! Taryn Manning, who plays the eponymous Karen, surely delivers a performance worthy of as much ridicule as you would associate with a Razzie nominee. Manning does have some impressive credits on her résumé, but Karen looks like one to forget.
Midnight in the Switchgrass didn't even crack $100,000 at the box office, so you know it belongs here.
This is in spite of its cast, which features Fox (+1000), Bruce Willis, Emile Hirsch, and Machine Gun Kelly…for some reason. This movie registered on the Rotten Tomatoes Tomatometer at a whopping eight percent approval. Great!
This looks absolutely horrendous, which makes it perfect Golden Raspberry material. Fox is no stranger to the Razzies, either. She "won" Worst Supporting Actress back at the 2015 Razzies for Teenage Mutant Ninja Turtles, and she has eight other Razzie nominations to her credit.
Fox shouldn't be such a heavy underdog in the Razzie odds, which makes her a worthwhile gamble at +1000.
Worst Director
Christopher Ashley (Diana the Musical):
-115
Stephen Chbosky (Dear Evan Hansen):
+200
Coke Daniels (Karen): 
+400
Joe Wright (The Woman in the Window): 
+600
Renny Harlin (The Misfits): 
+1000
Director categories are difficult enough to peg at awards shows like the Oscars and Golden Globes. In many cases, the director of the favorite to win Best Picture wins Best Director, too.
Look no further than the Critics Choice Awards as an example.
The Power of the Dog won Best Picture, and its director, Jane Campion, won Best Director. Not only is The Power of the Dog the betting favorite to win the Oscar in the same category, but Campion is likely to take home the Best Director honor, as well.
So, let's apply that logic to the Razzie Awards betting odds for Worst Director. Diana the Musical is a -115 favorite to take home Worst Picture honors. In news that should surprise nobody, the film's director, Christopher Ashley, is also a -115 favorite for Worst Director. Makes sense!
Still not convinced Diana the Musical was the worst of the worst from 2021? Feast your eyes:
The entire thing is still on Netflix if you're a glutton for punishment. Watching a play on TV isn't quite as rewarding as watching the production in person. That said, I'm not sure the in-person viewing experience would save this thing from being a disaster, either.
Karen looked awful enough to earn Coke Daniels a shout for Worst Director at his current +400 Razzie odds, but this award is Ashley's to lose.
Worst Prequel, Remake, or Ripoff
Space Jam: A New Legacy:
-400
The Woman in the Window:
+350
If you're a fan of the original Space Jam and haven't yet subjected yourself to the horrors of LeBron's sequel…don't. As a self-identified Space Jam aficionado, I was not at all prepared for how dreary, dystopian, and un-fun the new version would be.
It was almost like Warner Bros. just tried to cram as many random references to other Warner Bros. content as they possibly could into the one-hour, 55-minute catastrophe. The new Space Jam is a worthy -400 favorite in this category.
Amy Adams' The Woman in the Window is viewed by critics as a ripoff of Rear Window. It's billed as a psychological thriller about a woman stuck in her home. We all just went through Covid, so this hits a little too close to home.
Karen is back for another shot at a Razzie at +500. This is, essentially, a remake of every other movie that features a loathsome person tormenting their new neighbors. Coke Daniels didn't exactly reinvent the wheel with this masterpiece.
Twist is a new take on Oliver Twist, a timeless classic. Michael Caine inexplicably signed on for this movie. We'll see if it does irreparable damage to his legacy. Twist racked up a nine percent rating on the Tomatometer.
Tom and Jerry is Tom and Jerry.
Space Jam's -400 Razzie odds don't give you much room for upside, which puts The Woman in the Window and Karen in play at +350 and +500, respectively. If you want a good value, this might be the spot to take a flier on Karen.
Worst Picture
Space Jam – A New Legacy:
+250
The Woman in the Window:
+1000
We've got quite a few heavyweights going toe-to-toe for Worst Picture. Karen and Infinite stand out as viable values at +350 and +600 here. Based on the trailer alone, Infinite looks almost impossibly bad.
Again, though, it all comes back to Diana the Musical.
We went with Christopher Ashley to take home Worst Director honors, which means we almost have to back the film itself to win Worst Picture. There is still value in these -115 Razzie odds, as well.