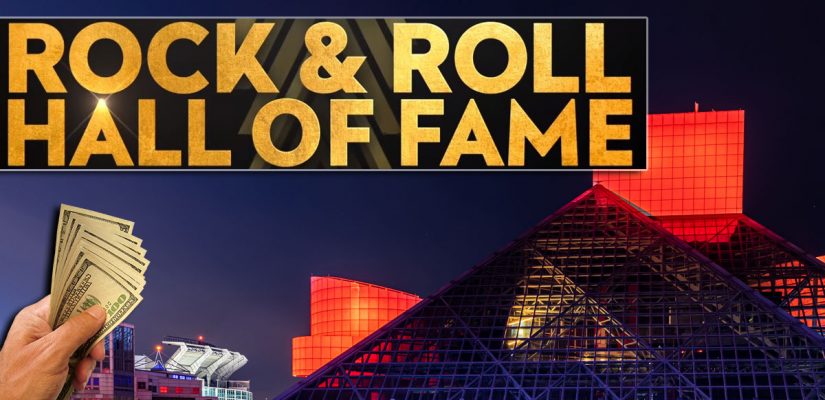 The Rock & Roll Hall of Fame recently announced its list of nominees for induction in 2022, and it's a very impressive group. Only a select few will be inducted, and speculation is running wild on top betting sites.
We're going to preview the betting and give you our thoughts on who'll be in and who'll be out when the announcements are made in May. Since the first nominees were inducted back in 1986, the Rock & Roll Hall of Fame has made news each year with its new inductees.
And there is often a lot of controversy surrounding the selections, as people complain that some who got in didn't deserve it. More often than not, the complaints are about those that should be in but don't get their name called.
Several first time Rock and Roll Hall of Fame Nominees were recently announced including Dolly Parton, Eminem, and Duran Duran. Results of the voting will be released in May.https://t.co/bIVRy7JmgX

— The Image Cartel® (@TheImageCartel) February 15, 2022
In the past few decades, the Rock Hall has really spread its inductees through many different genres of music, from rap to country to rhythm and blues, making it much more inclusive than it originally was. That has also meant that it is getting more and more difficult to project who will be inducted each year. Since music appreciation is subjective, it's really hard to pin down what the criteria of each voter might be.
Even though the Rock Hall has included a fan voting element in recent years, that is still just a small part of the overall selection process. As a result, projecting who will get in each year is still somewhat of a guessing game, although educated guesses can certainly narrow it down. The uncertainty of it all usually means that you can find excellent value when betting on the Rock & Roll Hall of Fame at
top entertainment gambling sites
.
If you're planning to do just that in 2022, we're here to help you out. We're going to go through the list of nominees one by one and dissect their qualifications for getting in to the Rock Hall. On top of that, we'll give you our honest assessment on whether we'd be betting for or against them.
How the Rock and Roll Hall of Fame Chooses Who Gets Inducted
Many people know that there is now a fan vote for the Rock and Roll Hall of Fame each year. But don't get carried away into thinking that the event has become a popularity contest.
The overall top five in the fan vote comprise just a single ballot, although some individual voters could conceivably be swayed by the results of that ballot to perhaps include one of the popular choices they otherwise might not have. That fan ballot then goes into the pile with the more than thousand others that are sent out to other musicians, journalists, and music industry types. Between five and seven will then be inducted based on those ballots. In recent years, five inductees has been relatively rare, with six or seven much more common.
This year there are 17 nominees who are up for induction, and they run the gamut of genres. Let's take a look at how they stack up in terms of their qualifications. And we'll look at their odds for induction to see if there's good value to be had.
Betting the 2022 Rock & Roll Hall of Fame Nominees
Odds listed are for nominees to get into the Rock & Roll Hall of Fame and are courtesy of
BetUs
. Nominees listed from longest to shortest odds at the time of writing.
MC5 (+800, 6th Nomination)
You can go all the way back to 2003 for the first time that these influential rockers were nominated. There was then a 14-year hiatus, but they've now been nominated in four of the last five years. The Rock Hall doesn't reveal how close the runners up came, like baseball does for instance, so there's no way of knowing if they've been knocking on the door.
With the MC5, many people know of them as an influence without really knowing of their music. In many ways, they were a forbearer of both punk and political activist rock. Their lead guitarists Wayne Kramer and Fred "Sonic" Smith were influential to many artists who have since bypassed them to get into the Hall.
In terms of their work, the searing "Kick Out The Jams" still sounds as potent today as it did back then. But their body of work is scattered, as they were almost too incendiary to keep it together. The concern is that a lot of the voters might not have been around at the time when they were a hot name on everybody's lips for their then-innovative music.
A lot of these longer shots are going to have a hard time breaking through this year because the top of the list is so strong. It looks like the MC5 might be stuck as a perennial nominee for a bit longer. They're probably not getting this year.
Judas Priest (+750, 3rd Nomination)
All of this band's nominations have come within the last five years, with the first coming in 2020. They were one of the most popular of the first wave of 80s heavy metal bands, the ones that came in before hair metal and speed metal diluted the genre. And frontman Rob Halford has kept them active over the years, so it's not like they've been resting on their laurels.
None of the band's 80s contemporaries in the heavy metal genre have received the call from the Hall just yet. Iron Maiden was nominated last year and didn't make it in. You could argue that Def Leppard, who did make it, can be considered metal, but they had massive crossover success that far surpassed others like them.
In truth, the only two pure metal acts who are in are Metallica and Black Sabbath, and both far outpace Priest in terms of popularity and overall exposure. It also doesn't help that there aren't too many JP songs that roll off the tongue. With the exception of "Breaking The Law" and "You've Got Another Thing Comin', there just aren't many signature tracks that resonate beyond hardcore fans.
It still feels like Judas Priest is a little too niche, as much as the Rock & Roll Hall of Fame has embraced diverse genres. If they had dominated metal, you could understand them getting into the Hall. But they're probably going to be an also-ran once again.
Fela Kuti (+700, 2nd Nomination)
Kuti is on the ballot for the second straight year, and he's one of the more interesting long shot candidates out there. Not many artists can say that they define an entire genre like Kuti, who passed away in 1997, was able to do. The issue is that many contemporary voters might not have an idea of what that genre is.
It's known as Afrobeat, and it has filtered into the West through many artists who were clearly influenced by what Kuti was doing. He created a fascinating fusion that was absolutely thrilling at its peak. Those who have borrowed from his influence usually can't quite capture the entire, challenging essence of his best work.
There is always a resurgence of appreciation for Kuti's work that swells up now and again, and maybe the timing is right this time around. Maybe last year's nomination forced some voters who didn't know him to check out what he was all about. And that could help him break down the dam this time around.
He is as deserving as they come, an absolute giant in the music world, albeit a part of the world away from popular music epicenters. There aren't that many great betting values out there on this year's ballot. But we feel like Kuti could bring you a nice profit with the chance that he surges among voters this year.
Eurythmics (+550, 2nd Nomination)
After a four-year absence following their first nomination in 2018, Eurhythmics are at it again. Every child of the 80s remembers just how striking those breakthrough singles ("Here Comes The Rain Again," "Sweet Dreams") were when they arrived. Part of that came from the visuals in the videos: Annie Lennox' short-cropped orange hair and piercing eyes contrasting with Dave Stewart's ramshackle hippie vibes.
They churned out a pretty impressive run of hits in a stretch of a half-decade or so before they split up the first time. Lennox has enjoyed an excellent and eclectic solo career. And Stewart became an in-demand collaborator, working with some of the brightest stars of that 80s time period.
The Hall has been a lot more welcoming to 80s hitmakers over the last five years or so. Just last year, it was the Go-Go's who made the list, and it seems like one of these groups is getting in with every class. Unfortunately for Lennox and Stewart, they've got to outpace Duran Duran to make it in, which could be a tough hill to climb.
If they had managed a bit more longevity, it would be easier to see them getting in. Their entire body of work is actually pretty consistent, but maybe the voters never got beyond the hits. They're not getting in this year, and they might need a soft class of nominees to ever get enough support.
Devo (+600, 3rd Nomination)
In a way, it's fitting that these guys are becoming perennial Rock Hall bridesmaids (all of their three nominations have come in the last four years.) After all, they were all about releasing catchy music that usually took subtle pot shots at the establishment. The Rock & Roll Hall of Fame is the ultimate stamp of approval of the music establishment, so why wouldn't Devo be kept waiting?
It's a shame, of course, because these guys' early body of work sounds just as original and innovative today as it did some 40 to 45 years ago. Their deconstructing of first rock and then R&B could have been mechanical, but the humor and chops kept it from being so. And they represent yet another band on the list whose influence is hard to even accurately measure.
Too many voters probably know them as the "Whip It" guys, which is probably an irony not lost on them, as that single was a kind of parody anyway. Todd Rundgren getting in was perhaps a good sign that an artist with no love lost for the Rock Hal managed to get in. Maybe that means that Devo could be next.
It feels like Devo will eventually muscle their way in someday. But this is not the year for that to happen. While there is a slim chance that they get inducted, we think that there are other nominees that will crowd them out of the picture.
Dionne Warwick (+550, 2nd Nomination)
If you only know Warwick from Saturday Night Live impersonations and her entertaining Twitter feed, you really didn't pay much attention to pop and soul music for about a quarter of century from the early 60s to late 80s. That's how long Warwick was churning out hits. And those songs endure thanks to her one-of-a-kind vocal delivery.
Nobody handled the twisty compositions of Burt Bacharach better than Warwick did in her hitmaking heyday in the 60s. She then made a smooth transition to the more danceable sounds of the 70s. And then she scored some more massive hits in the 80s while many others of her era were faltering.
Warwick picked up her first nomination last year, so it would seem that she's gaining momentum. The worry is that she in a very tough group this year. There are a lot of artists where it feels like a foregone conclusion this is their year, leaving little room for iffier candidates like Warwick.
This is one of the tougher calls on this year's Rock & Roll Hall of Fame ballot. Those odds are enticing, and heaven knows she deserves it. But it feels like she might just miss and have to wait for a lesser field to finally break through.
Kate Bush (+450, 3rd Nomination)
Cult artists tend to have a harder time breaking through in the Rock & Roll Hall of Fame selection process than the mainstream types. In the UK and overseas, Bush is a much more well-known musical brand. But here in America, there hasn't been a lot of occasions when she has made it into the zeitgeist, save for when she's name-checked by the many popular artists who call her an influence.
She has a couple of songs that crossed over into US airplay early in her career with "Wuthering Heights" and "Running Up That Hill." And many know her as the female vocalist on Peter Gabriel's "Don't Give Up." But aside from that, she is the type who has received a lot of critical acclaim (and well-deserved) without really being a household name.
It's hard to say whether that will get her across the finish line and into the Rock & Roll Hall of Fame. Those who know her music well tend to revere here, and she'll likely get their support with no problems. But is the base of that support enough to do better than some of the bigger names (in the US anyway) on this list?
Bush would feel borderline even if the field weren't so packed this year. The fact that it is renders more of a long shot than the odds would suggest. We think it's probably wise to look elsewhere with your real money Rock & Roll Hall of Fame wagers.
New York Dolls (+450, 3rd Nomination)
The Dolls have had somewhat of an interesting road with their Rock & Roll Hall of Fame nominations. They were first nominated all the way back in 2001. Then came a 20-year respite before they got the nomination again last year, and now this year make it two years in a row.
Like the MC5, the Dolls had a hand in the formation of several genres that would explode in popularity. They rode the wave of glam rock with their first two albums, but also served as a major influence on the punk rockers who would appear on the scene a few years after their demise. But their discography with their original lineup is pretty slim.
Maybe some of the voters were impressed by their three post-millennial comeback albums spearheaded by surviving members David Johansen (aka Buster Poindexter to a certain age group) and Sylvain Sylvain. But we're guessing that if they do make it in, it will because of their one-two punch of classic albums released in 1973 and 1974. Others with short discographies have made the hall (N.W.A. comes to mind), but that's tough to overcome.
Rock writers of a certain era tend to deify the Dolls, so they have that base of support. But younger voters might wonder what all the fuss was about. We're guessing they might not make it over the hump once again.
Lionel Richie (+400, 1st Nomination)
Richie is getting his first nomination despite being eligible for quite some time. That's not necessarily a dealbreaker, as Dolly Parton is in the same boat, and she seems a shoo-in. But there are some worries about Richie's qualifications, even as name recognition is going to help him out a ton.
The main concern is that Richie's biggest success came with songs that could be categorized as easy listening. That's not a genre that the Rock & Roll Hall of Fame has been in any hurry to support. As establishment as it is, it wants to cling to a modicum of cool, which is why artists like Richie often get snubbed.
Remember that his work with the Commodores, which included some harder-edged funk and disco amidst the sure-shot ballads, will not be considered. There are some who get all the feels when "Endless Love" or "Hello" comes on the 80s channel. And there are others who roll their eyes and change the station.
Had Richie been able to sustain a little bit better past the 80s, we'd feel a little bit better about his quest. Ballad lovers will give him a lot of votes. But those voters looking for artists with edge won't come near him, and we think that latter group will keep him out for at least this year.
A Tribe Called Quest (+400 1st Nomination)
Few artists from the first wave of hip hop get as much love from both critics and fans as the Tribe, and here they getting their first nomination. Not only were they great, but they were influential was well. They married innovative, often jazz-inflected beats to lyrics that veered away from the gangster rap and boasting that was prevalent at the time.
The trio of Q-Tip, Phife Dawg and Ali Shaheed Muhammad released five albums from 1990 to 1998, and it's fair to say that at least three of them are stone cold classics. To boost their bona fides even further, they beat all the odds with a comeback album in 2016 that stood with their best work. Since Phife Dawg had already passed away by the time of that release, that will likely go down as a fitting swan song and leave them with an impeccable batting average.
We've seen an increasing tendency by the Rock Hall to honor hip hop. The only rap act who was nominated and is still sitting on the shelf is Eric B. & Rakim, so there is precedent for a near-miss from the genre. But these guys are beloved, and it seems like their time has rightfully come.
We're stumping for a De La Soul nomination while we're at it, since they ran with the Tribe back in the day and deserve Rock & Roll Hall of Fame love. But we'll settle for this impactful trio. And we think that they'll get their due this year, making them a nice play at 4 to 1.
Rage Against The Machine (+350, 4th Nomination)
There were a lot of cynical folks who thought that Rage were a shoo in when they were first nominated in 2018. Tom Morello has been actively involved with the folks who make the decisions on the Rock Hall in recent years. And yet his band has come up short three times out of the last four years, only to score another nomination this time.
There are a few issues with Rage that should concern anyone backing them with a bet. First, the catalog is small, with only four full-length albums released in their time together, the last of which was a covers record. Second, the style of music that they helped popularize, a kind of hybrid of rap, rock and metal, didn't really have a long shelf life.
Granted, Rage performed that style much better than any of their contemporaries. But can they overcome a certain branch of voters who simply don't have the ear for that kind of in-your-face style. The fact that they keep missing out suggests that they a firm block of voters against them.
This is another act here that is on the polarizing side, with fiercely loyal backers, detractors who would never listen to their stuff, and not much in between. That scenario isn't the best for their chances at Rock & Roll Hall of Fame induction. We think they miss again this year.
Carly Simon (+300, 1st Nomination)
It's a little bit surprising that Simon has lasted this long before getting nominated. She was one of the most successful singer-songwriters of her era and is one of the artists that has more of a broad support than a rabid fandom. She has a raft of hit singles that hold up pretty well when some of the other folky stuff from the 70s hasn't.
"You're So Vain" has transcended just being a killer putdown song to having a life of its own as people try to guess the identity of the guy being described. She owns one of the best Bond themes in "Nobody Does It Better." And she proved nimble enough to interpret the songs of others very well while also writing plenty of her own hits.
She didn't quite carry her success over as well to the 80s, which could be a knock. But many of her songs remain staples, and she's one of the rare artists with a voice that truly stands out from anyone else's on the radio. Simon should have a really good shot at quickly finding herself in the Rock & Roll Hall of Fame after so many years of waiting for just a nomination.
Another close one here. We think that she might just squeeze past and make the cut. And the odds will pay back enough that we think that we'll make that bet.
Pat Benatar (+200, 2nd Nomination)
On the one hand, the track record of chart success for Benetar might be the best of anybody in this entire field (with Lionel Ritchie, Dionne Warwick, and Duran Duran also right in that mix.) She posted eight top 20 singles in a stretch from 1980 to 1985. What's impressive about that is that she straddled that era between arena rock and MTV's dominance with ease, while many other artists stumbled.
Benetar always showed a knack for knowing where the audience was going without sacrificing her signature sound. The raw edges of early singles like "Heartbreaker" and "Hit Me With Your Best Shot" were largely sanded down by the time she got to "Love Is A Battlefield" and "We Belong." But the bottom line is that they are all connected.
There might be some who think that Benetar's work is on the lightweight side, as critics were never all that kind to her. That has been less and less of a hindrance in recent years at the Rock & Roll Hall of Fame (think of Bon Jovi and Journey as two examples who overcame that.) The odds suggest that she's on the right side of the voters, but it might be tight.
Benetar's odds aren't that lucrative for someone who seems to be very much on the bubble. In 2020, when she was first nominated, the field wasn't quite as deep as this one. The worry is that she'll just get outranked in the final vote.
Duran Duran (+175, 1st Nomination)
Again, it's a stunner that they've waited this long to be nominated. They rose fast to such a level of superstardom that it would have been understandable if they flamed out. Instead, they're still out their dealing their sinewy, groovy, glamourous blend of rock and pop some 40 years since they started.
As we mentioned, the 80s, MTV-era bias that once ruled the Rock & Roll Hall of Fame seems to have faded away. It was always nonsense anyway to downplay the achievements of that era anyway. Duran Duran owned that time period along with a precious few other artists, all of whom have long since entered the Hall.
They always maintained a sense of humor about their pinup status, which rendered them likable even at their pinnacle. Their recent music fits seamlessly in with their catalog, because they're young at heart in terms of the songs that they write. And those early hits sound just as fresh today as they did at the time they were released.
This is one of our favorite bets of the entire batch, because it feels like Duran Duran has the best-paying odds of the sure things. We'd be stunned if they weren't immediately honored with induction. And anytime you can 8 to 5 for what feels like a certainty, you should pounce.
Eminem (+130, 1st Nomination)
Eminem is the only artist in the 2022 Rock & Roll Hall of Fame nominee field who is eligible in their first year of eligibility. That's not necessarily the sure thing that you might think. Many people were stunned when Radiohead didn't get in until their second year of nominations after they were up for induction the first year they were eligible.
Much like Duran Duran, the erstwhile Slim Shady was one of the preeminent artists of his most popular era. From about 1999 to 2004 he was a white-hot star whose every move was scrutinized and carried around controversy like a tote bag. Along the way, he managed to toe the line between hit singles (in a genre where they were relatively rare) and full-length album triumphs (2001's The Marshall Mathers LP is regarded as one of the best of the decade.)
He has pretty much outlasted the haters, and there've been more than a few vocal critics of him over the years. The one negative is that the general consensus is that his output hasn't quite stayed at the same high level as his first few records. But that was a pretty high standard that he set anyway.
Some voters might have it in their heads that artists have to pay their dues in terms of going a few years before induction. But that wasn't the case last year when the Foo Fighters and Jay-Z headed right in. Em gets in most likely, but the odds aren't that juicy when a surprise snub isn't totally out of the question.
Beck (+130, 1st Nomination)
We sound like a broken record, but it is a bit surprising that it took this long for a Beck Hanson appearance on the nominees list. He's been eligible since 2018, as his first recordings came out in '93. The big impact came a year later with the release of Mellow Gold and the slacker classic "Loser," which made him an out-of-nowhere star.
Since then, he's proven to be one of the rare artists that can deviate from his proven formula and stay relevant with a wide base of fans. He hit just about every genre (often in the course of a single song) on his massive '96 hit album Odelay. Midnight Vultures put him in klutzy funk/soul mode, and then he dropped one of the era's best break-up albums with Sea Change in 2001.
Beck hasn't slowed down a bit since, and he was rewarded with an Album of the Year from the Grammys for 2014's Morning Phase. That kind of longevity of impact is rare in this or any era of popular music. It should get him in at first asking.
We feel like the nominating committee simply committed an oversight by not putting him up for Rock & Roll Hall of Fame induction until now. The voters won't make the same mistake. Look for Beck to immediately find a home in the Hall.
Dolly Parton (-125, 1st Nomination)
We live in polarizing times, but the one entity that seems to be acceptable these days to all races, religions, political affiliations, heck, all creatures great and small, is Dolly Parton. Every move she makes seems to be the right and honorable one, and her renown only seems to grow with time. That makes it perfect to honor for the thing that got her to this exalted place: her music.
Before she was the ultimate hyphenate, Parton was a country singer-songwriter with a warmly inviting vocal tone and a fearlessness in her writing. She went from singing duets to being a solo artist (and wrote the all-time great "I Will Always Love You" about that transition) without missing a beat. Before you knew it, she was crossing over to the pop charts with massive success.
She was part of one of the most critically-acclaimed country projects of the 80s (the Trio album with her buddies Linda Ronstadt and Emmylou Harris.) And although her recording career sometimes takes a backseat to her one-person-conglomerate status these days, the catalog is already choc-full of smart, affecting classics. Trying to keep her out of the Rock & Roll Hall of Fame would be like trying to stop the sunrise.
The odds aren't that lucrative, but this seems like a lock. Maybe the country genre is underrepresented in the Rock & Roll Hall of Fame, but Parton is beloved across all genre lines. She'll get in and you'll cash in if you bet her.
Our Final Rock & Roll Hall of Fame Picks
As we said, there are anywhere from five to seven nominees who will get into the Rock & Roll Hall of Fame from the 2022 group. Because of the strength of this group, we're expecting the max this year. Here is what we think the final list will look like, in order of the likelihood of them getting in:
If there was one change on there, we think it could be Dionne Warwick instead of Simon. In other words, we wouldn't blame you if you went in that direction with your wagers. After all, the payoff is much better for Warwick as the odds stand right now.
The official announcement won't be made until the month of May. That gives you some more time to assess the field. Just keep in mind that the odds are always changing, and you might not get the same kind of value later as you will with some of the picks.
In any case, we wish you luck on your wagers at top gambling sites on who will be inducted into the 2022 Rock & Roll Hall of Fame. We don't envy the Hall voters having to choose between this year's deep field of nominees. Because there could be upsets, remember to lean to the value picks whenever you're undecided.