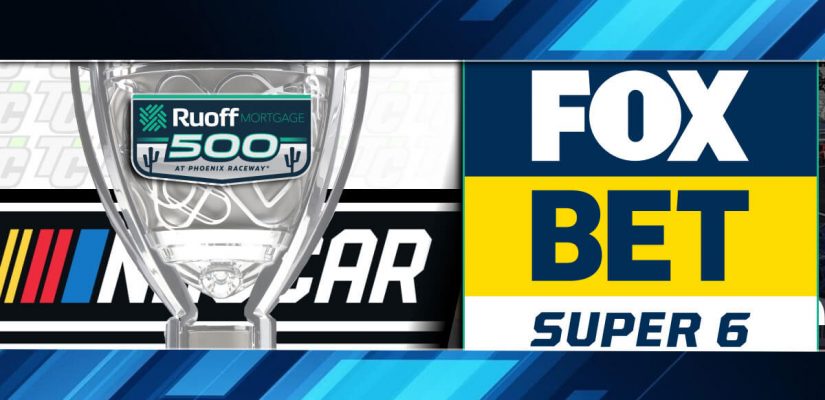 NASCAR rolls into Phoenix for the Ruoff Mortgage 500 at Pheonix Raceway. It doesn't feel like we're already into the fourth week of the 2022 NASCAR season, but Phoenix is already Race 4.
The FOX Bet app is back with another NASCAR Super 6 contest for this week. The FOX Bet Super 6 is a six-question prop bet contest. It's free to sign-up and play for a pool of $10,000.
Who are you keeping an eye on in the top 10 for Sunday's race? pic.twitter.com/yU7JtIEo3j

— NASCAR (@NASCAR) March 12, 2022
There have already been stops in Daytona, Fontana, and Las Vegas. Kyle Larson crashed out of the Daytona 500, but predictably returned to form in California and Vegas.
Last week, Larson won the Wise Power 400 and second-place in the Pennzoil 400. Alex Bowman had the upper hand over Larson for the win. It was an entertaining race at the 1.5-mile racetrack.
The defending Cup Series champion is leading in the standings going into Phoenix. Larson has a 6-point advantage over Martin Truex Jr. entering the Ruoff Mortgage 500.
He is the betting favorite to win this week and repeat as the Cup winner. With his consistency and reliable rig, Larson is always going to be a serious contender.
He's only a 29-year-old and has a lot more to offer. I don't know if we're looking at Jimmie Johnson domination, but the potential for a dynasty is there for Larson.
If you are looking for betting picks for the Ruoff Mortgage 500, check out our predictions at TheSportsGeek and the best online NASCAR betting sites. Head below for our free Ruoff Mortgage 500 FOX Bet Super 6 picks.
Ruoff Mortgage 500 FOX Bet Super 6 Picks
1. Which Of These Drivers Will Have The Fastest Lap By End Of Stage 2?
---
(A) Denny Hamlin
Joe Gibbs
(C) Austin Dillon
Richard Childress
(D) Chase Briscoe
SS Green Light Racing
(E) Ross Chastain
Trackhouse Racing
(F) Michael McDowell
Front Row Motorsports
It hasn't been an ideal start for Denny Hamlin this season. He has finished 37th, 15th, and 32nd. Hamlin did not finish at Daytona or Las Vegas.
Despite 32nd last week, he had the fastest car. Starting from the back of the field on Sunday, he will be able to catch a ride and drift.
It hasn't been a storybook start for Hamlin, but no surprise if he turns things around quickly. Hamlin should like a mile at Phoenix Raceway, and he's been fast here in previous races.
He was quick in qualifying and practice. Hamlin was clocked at 27.200 for the second-fastest qualifying time behind Ryan Blaney. This looks like a fast face for Hamlin on Sunday.
Hamlin has finished 5th, 1st, 20th, 4th, 3rd, 3rd in his last six starts with a Driver Rating of at least 108.4 in five races. Since 2014, Hamlin has had nine top-10 finishes and a win at Phoenix.
2. Which Of These Former Winners At Phoenix Will Finish Stage 2 With The Most Laps Led ?
---
(A) Chase Elliott
Hendrick Motorsports
(B) Martin Truex Jr.
Joe Gibbs
(C) Kyle Larson
Hendrick Motorsports
(D) Kevin Harvick
Stewart-Haas
I'm high on Kyle Busch and Kyle Larson in this race, so naturally, the Kyle's are going to make the shortlist for Question 2.
Larson is running really well at the moment, while Busch looked great last week and has been successful at Phoenix in the past.
The guy would prefer to skip superspeedways, but Larson is tough otherwise. At a mile, Larson will be lingering near the front of the field.
However, Larson is dropping to the back of the field after an illegal adjustment. He fixed a steering issue, which was not permitted.
Does this matter much? Maybe for the beginning of the race, though like Busch last week who went to the back, good drivers can overcome a penalty. He will be there barring a crash.
That said, this question is who will lead the most laps at the end of Stage 2. I'd rather go with Busch, who has led 77 laps this season.
Busch is third in laps led and was in front for 49 laps last week. He qualified 11th and has looked fast in Phoenix. In his last 13 races, Busch has finished in the top-5 ten times.
This looks like a good spot for Busch to get out front for the lead.
3. Where Will The Pole-Sitter Finish At The End Of Stage 2?
---
Ryan Blaney had a nice start at Daytona, finishing 4th in the season's first race. However, he dropped off to 18th and 36th. Daytona is always a wildcard race that can get hectic.
This isn't to say Blaney is a bad driver. It's a matter of not getting unlucky in a crash and surviving. However, when we get to 2 and mile racing, the best drivers tend to rise to the top.
In fact, Blaney has finished 3rd, 3rd, 37th, 6th, 10th, 4th in his last six races at Phoenix Raceway. He had three wins last year and was 7th in points.
8th or higher at the end of Stage 2 really provides several opportunities, though. Statistically, there's likely a better chance of 8th or higher for Blaney at this point in the race.
I will go with 11th to 14th to put him outside of the top-8.
4. How Many Drivers Will Finish In The Top-5 In Both Stage 1 and Stage 2?
---
Some of the questions on the Super 6 are complete gambles. This is one of those questions where you have to take an estimate and hope for the best.
The most likely scenario is 1-3 drivers in the top-5 in both Stage 1 and Stage 2. It's very unlikely that all five drivers will be there from Stage 1 at the end of Stage 2.
A lot can change between those laps. The public is probably going to be all over two drivers here. Going contrarian in some spots is required if you want more of the prize pool.
Let's fade the public and opt for one driver in Stage 1 and Stage 2.
5. How Many Cautions Will There Be By The End Of Stage 2?
---
The number of cautions up to Stage 2 is an estimated guess as well, but there is previous yellow flag data from this mile track.
It won't guarantee a winning pick, rather an idea of the carnage that usually happens in Phoenix. In the previous ten years, 18 races combined, there has been an average of 7 cautions.
Accidents Continue To Drop At Phoenix
There have been 6.4 cautions the previous five years, and then the last two years across two races, 5.3 cautions. The average continues to dip, with likely around a total of 6 cautions this year.
Three cautions at the end of Stage 2 looks about right at Phoenix Raceway on Sunday.
6. Which Of These Drivers Who Have Yet To Win At Phoenix Will Finish Best At The End Of Stage?
---
(A) Brad Keselowski
Roush Fenway
(C) Alex Bowman
Hendrick Motorspors
(D) William Byron
Hendrick Motorspors
(E) Aric Almirola
Stewart-Haas
(F) Christopher Bell
Joe Gibbs
None of these drivers have won at Phoenix before. We are being asked to answer which driver will finish the best at the end of Stage 2.
Alex Bowman is coming off a win and is going to be a popular driver. Ryan Blaney grabbed pole-position, so expect the public to gravitate towards him as well.
Both of them should run well in Phoenix. However, William Byron and Aric Almirola are also going to be a threat.
The public doesn't care much for Byron and Almirola, but it could be a mistake. Byron got on track at Las Vegas after finishing 38th and 34th.
He was 4th at Las Vegas Motorspeedway. Byron has finished 9th, 8th, 17th in his previous three attempts. He qualified third for Sunday.
Almirola is the biggest sleeper in this group, though. He starts 5th on the grid and has been consistent in Phoenix.
Almirola is 9th, 7th, 4th, 4th, 22nd, 8th, 13th, 11th, 6th in his last nine at Pheonix Raceway. He could be good for a longshot wager to win this one.