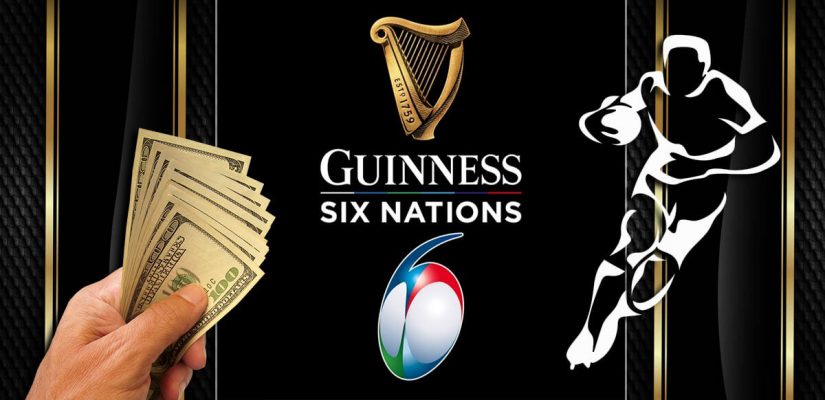 The final round of Six Nations Rugby betting odds is coming to a close, and we're taking a close look at all three games, the odds of France taking the Grand Slam, and what it takes for the underdog Ireland to win the whole tournament. 
The tournament final is on March 19th, 2022 10:15 AM ET, so place your bets on the final games and the tournament outcome with any of the green Bet Now buttons. If you need a little more guidance on Ruby betting before you place your bet, start with our guide. 
Rugby Six Nations Odds 2022 
We're looking at the Six Nations rugby betting odds for the final three games of the tournament in order of their airing. You'll have a little extra time to bet on the tournament final before it takes place at 4:00 PM ET. 
Odds on Rugby Six Nations: Italy vs Wales  
| | | | |
| --- | --- | --- | --- |
| Country   | Spread  | Money Line  | Total  |
| Italy | +27½, -108 | +1400 | NA |
| Wales  | -27½ , -122 | -10,000 | NA |
| Draw | | +3300 | |
Wales only lost to France 13 to 9, but it was mostly to conserve injury and energy for their final game. Italy is the weakest team in the league, losing to Scotland last weekend 22 to 33 in what was possibly their best game of the Six Nations 2022. 
The betting odds on the spread have to be affected by the brutal 57 to 6 loss that Italy was served up by Ireland.
Rugby six nations odds 2022: Spread Bets
Wales is going to beat Italy, so the only bet worth making is the Wales Spread. Betting the Italy spread implies they might win, which is a waste. Italy lost by 27 points to France and 33 to England. In the very last game of the tournament I don't see Wales pulling back against Italy. Three of the four teams so far have won by 27 points or more, but more telling is Wales' performance against Scotland, a 20-17 win in Round 2.
Wales beat Scotland in a Narrow win, the only one they've made in this tournament, and Italy kept pace with Scotland. I see the point spread as a good bet and predict a win within ten points in the first game of the finals of the Six Nations tournament. Our Six Nations betting pick is Wales Spread at -122. 
PLACE YOUR BETS NOW!
Odds on Rugby Six Nations: Scotland vs Ireland 
| | | | |
| --- | --- | --- | --- |
| Country   | Spread  | Money Line  | Total  |
| Scotland | +15½, -108 | +650 | NA |
| ireland | -15½ , -122 | -833 | NA |
| Draw | | +3300 | |
Scotland defeated Italy in Round 4 and upset England 20-17 in Round 1. They now face Ireland, the only other team than France that can win the tournament. This alone should bolster the Irish team's spirit. 
Scotland is an underdog bet, and they've made some interesting changes to their roster. They've replaced Finn Russell with Blair Kinghorn, based solely on Blairs deserving the opportunity to show up. Finn has been instrumental in several tries throughout the Six Nations 2022 tournament for Scotland, and this may cost them points. 
Andrew Conway and James Ryan were both injured on the Irish side in the last game with England, but it shouldn't have much of an effect on the outcome. 
Ireland needs to win with the four try bonus in order to take the Six Nations tournament. In the meeting with Scotalnd, they've won ten of the last eleven games and Scotland hasn't won in Dublin on Irish home turf since 2010. 
It's not worth betting the Spread, given how close Ireland's last game with England was, and I believe Ireland will be doing their best to crush Scotland. I predict Ireland winning by twenty points, and our Six Nations betting pick is Ireland's Money line at -833. 
PLACE YOUR BETS NOW!
Odds on Rugby Six Nations: France vs England 
| | | | |
| --- | --- | --- | --- |
| Country   | Spread  | Money Line  | Total  |
| France  | -7½, -122 | -278 | NA |
| England | +7½ , -108 | +260 | NA |
| Draw | | +2200 | |
The final game of the tournament pits France against England, the #3 teams in the tournament with ten points. England has gone 2-2, losing to Scotland in Round 1 and Ireland in Round 4. In losses, they've been beaten by seventeen and three points, defeating only Italy and Wales. The points spread for France seems paltry. France's win over Ireland was -7 ½ points and Ireland crushed England last week. The spread should be closer to -15 ½ to be taken seriously. Instead, focus on the underrated France money line. 
How can England Beat France at Six Nations 2022?
Jonny May making it rain (tries)#GuinnessSixNations pic.twitter.com/LOa7VhWoJP

— Guinness Six Nations (@SixNationsRugby) March 17, 2022
May will play in the game this Saturday, but one many can't shift the tide of the game.
England has made five replacements including George Furbank for their match with France. They've moved taller players to Wing to defend against France's kicking strategy. Still, it feels forced. George Furbank struggled in the full back position in the 2020 season. England has so many injured players like Owen Farrell and Manu Tuilagi, players that have been instrumental to season wins in the past. You'd think that France would start to feel like they have the Grand Slam clutched. Not at all. 
Manager Raphael Ibanez told the Guardian, 
"The absence of motivation does not exist. All their matches are important to them and it is that that makes them strong."
England is in for a long night. Our betting pick is the France money line at -278. 
PLACE YOUR BETS NOW!
Grand Slam Winner Six Nations Rugby Betting Odds
| | |
| --- | --- |
| France  | -300 |
| No Grand Slam Winner  | +240  |
Since we've established we believe France will beat England, they're shoe-ins for the Grand Slam. This -300 favorite pays at $33 per $100 wagered. France has lost to England in two of their last five meetings and 6 of their last 14 games since 2009. France has the momentum, and England has key players injured. 
PLACE YOUR BETS NOW!
Odds to Win 2022 Six Nations 
France is all geared up for their first Grand Slam since 2010. pic.twitter.com/hNkNwC2QSC

— Jacob clark (@jacob_is_write) March 18, 2022
The Six Nations odds on Ireland making an underdog win aren't as absurd as they seem. Ireland needs to beat Scotland with bonus points and France needs to lose, but not by much. In the event that both teams have gone 5-1 in the tournament, it will come down to the official points score. 
Currently, the ratings put France above Ireland by only two points. Bonus points take place when you've scored four or more tries or lost seven points or fewer. 
If France loses the game to England and Ireland wins having scored the four try bonus, Ireland will win the Six Nations tournament. 
France could also win while losing to England, as long as they did so within seven points to obtain a bonus point, winning the tournament but losing the Grand Slam. 
The Ireland victory is unlikely, especially given that we've seen France will take the Grand Slam. The 6 Nation Odds for Ireland to win just don't payout enough given that France has a-278 moneyline against England, and could still lose the game and win the tournament. The Ireland Six Nations win should be reserved for Ireland National Team fans only. 
PLACE YOUR BETS NOW!