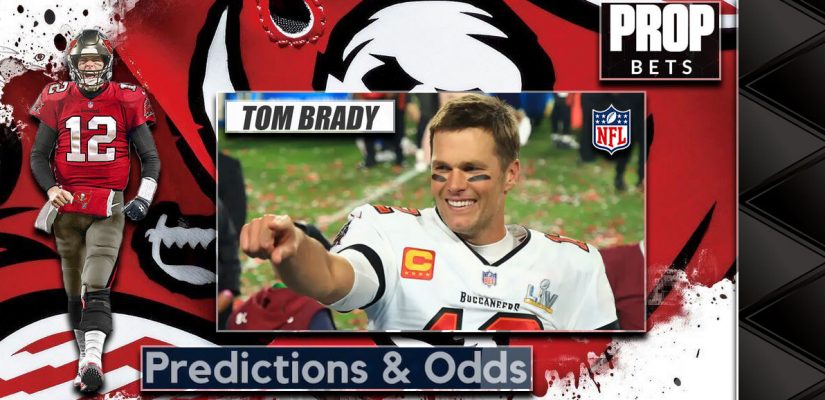 Brady enters the 23rd season of his NFL career with some solid numbers pertaining to betting data in addition to his eye-popping football stats.
Brady's record against the spread currently sits at 221-148-8 and he's covered 58.1 percent against the spread, which is fourth best in the league.
Even as the Bucs quarterback starts the NFL season at 45 years old, he has the third-best odds (+900) to win the NFL MVP. He trails only Buffalo quarterback Josh Allen (+700) and Kansas City Chiefs QB Patrick Mahomes (+800) so far.
Brady actually retired after the Super Bowl champion Los Angeles Rams upset the Buccaneers, 30-27, in Tampa Bay in last season's NFC playoffs. However, he spent 40 days out of the NFL, and the impetus and the potential to be a winner once again brought him back to the gridiron. With all of that said, it's no wonder that Tom Brady prop bets are a popular betting option for football fans for the 2022 NFL season.
Let's take a look at the latest Tom Brady odds and Tom Brady prop bets, according to the best NFL Betting Sites, and see where we should lay our money.
2022 Tom Brady Passing INTs
Oddsmakers, like BetOnline, currently have set Brady's 2022 interceptions total at 12.5 with both the over and the under netted at (-115).
Brady has thrown 12 interceptions in each of his two seasons in Tampa Bay. Before these, his last 12-interception season before that was in the 2011 campaign where he was with the Patriots.
His 886 pass attempts in the last two seasons are 149 behind the 1,033 passing attempts of his last three seasons in New England.
Tampa Tom's WR Trio 😎 @TomBrady | @CGtwelve_ | @MikeEvans13_ | @juliojones_11 pic.twitter.com/P90pePM3RS

— NFL (@NFL) July 27, 2022
The lack of depth at the skill positions could hinder Brady and the Buccaneers this season. Aside from Mike Evans and Chris Godwin as the top pair of wide receivers on this team, Tampa Bay added Russell Gage from the Atlanta Falcons and Julio Jones from the Tennessee Titans. Both have the potential to really help this offense.
Accruing a lack of interceptions will push Brady near the top of NFL MVP (+900) opportunities.
The key is how well the offense will perform with losses of players such as tight end Rob Gronkowski. Brady's history and his viability as a quarterback provide the idea that he will throw below 12.5 interceptions, even with a lack of a running game that will once again allow defenses to try to stop the pass.
2022 Tom Brady Passing TDs
Over 35.5 Passing TD's:
(-115)
Under 35.5 Passing TD's:
(-115)
Currently, There's a Tom Brady prop bet of 35.5 touchdown passes with the Over and the Under both sitting at (-115) and is already a feature to this season's Tom Brady prop bets.
After 24 touchdown passes in his last season in New England in 2019, he fought back for 40 and 43 TD tosses in his last two seasons in Tampa Bay. Likely, Brady will bash the 35.5 touchdown passes after throwing 83 TD tosses in his first two seasons in Tampa Bay combined.
When you look at the NFC South, four games against the Carolina Panthers and the Atlanta Falcons should pace the Tom Brady odds well as he should be on his way past 35.5 touchdown passes.
Over/Under 35.5 Passing TDs for Tom Brady this NFL season? pic.twitter.com/qManxqVqrB

— DraftKings Sportsbook (@DKSportsbook) July 25, 2022
Neither team was monumental in causing interceptions or manifesting turnovers, in general, last season. Atlanta was tied for 18th in the NFL with 20 takeaways while finishing tied for 19th with 12 interceptions.
They were well below the curve as they were tied for 25th in sporting only nine interceptions all season while a (-13) in turnover differential as they were tied for 29th with the Jets and Bears.
Brady was dominant over both teams last season as he had nine touchdown passes against only one interception against the Falcons.
He nailed four more TD tosses against the Panthers with no interceptions.
Having these two teams that comprise almost one-quarter of the 17-game schedule is a plus if you are taking the Tom Brady odds for over 35.5 touchdown tosses.
Tom Brady Passing Yards 2022 Reg. Season
Over 4650.5 Passing Yards:
(-115)
Under 4650.5 Passing Yards:
(-115)
Analyzing the most passing yards in any season throughout the last 20-plus years, comes back up to the identity of a team and with Brady, obviously, pass-first is still the schematic.
Passing yards are always an agenda item with Brady and he has been set at 4,650.5 yards passing with an under of (-115) and an over at (-115). Last season, he obliterated that total with 5,316 yards, the best total in his career, as he broke his own passing record of 5,235 yards in 2011.
With the aforementioned lack of depth among running backs and wide receivers, it stands to reason that Brady will once again have to play the role of making his wideouts even better.
He will also hope that Chris Godwin and Leonard Fournette are healthy and ready to consistently perform at the top of their games without injuries. The addition of Julio Jones, on paper, should also help Brady's numbers.
With that said, the numbers of these three players will be immensely important for both the Buccaneers and Brady because Tampa Bay doesn't have ideal depth in the skill positions.
Take the Tom Brady betting odds for the Over and come close to 5,000 yards again.
NFL Bet:
Over 4650.5 Passing Yards